Found May 15, 2013 on Camden Crazies:
The other day on the radio, I heard some argument as to whether or not the Orioles should sign Matt Wieters to a $10 M a year contract. The part that got me was that even the people in favor seemed to assume that Wieters would take such a deal. When I expressed that idea, I received a fair bit of push-back - it seems like people don't think that Wieters is actually that good. These people are mistaken. The bar for offense at the catcher postilion is not very high. The bar for offense at the catcher position is really not very high when said catcher also saves you upwards of 10 runs a season with the glove. Therefore even a league-average hitter is going to be quite valuable (in the neighborhood of 3-3.5 wins above replacement), if he's also a plus defensive catcher. Such a player, if he were a free agent now, might be expected to sign for something like $15 M a year (with the influx of money into the sport recently driving up salaries it seems). So, is Matt Wieters such a player? Maybe, but he's probably better. In 2011, Wieters started to hit for some more power. Over the next two seasons, he hit a combined .255/.329/.442. That doesn't look that impressive, but it's good enough for an above average .335 wOBA. Combined with his plus defense, that allowed him to average 4.3 fWAR over the two years. That's quite good, obviously - tied for the third highest mark for all catchers for '11-'12, behind Yadier Molina (signed a 5 year, $75 M deal; is four years older than Wieters) and Buster Posey (signed for 9 years and $167 M; not arguing Wieters is in Posey's class).  But Wieters' poor start to 2013 means he's no longer that guy, right? Seasons BA OBP SLG wOBA BB% K% ISO BABIP '11-'12 .255 .329 .442 .335 9.4% 17.1% .187 .275 2013 .237 .309 .427 .308 10.0% 18.0% .191 .248 The batting line is down, but the walks, strike-outs, and power numbers are all pretty much the same. The only real difference is a drop in BABIP. Wieters is hitting more flyballs so far this year, which probably has something to do with it. I imagine it will come up though, and if it was actually at  the .275 level like the last two years then his batting line would be more like .249/.320/.443 - not too far off from the first line in the table. And once again, while that doesn't look like much it's actually a bit better than what the average Major League batter has done this year - walks plus power makes up for a mediocre batting average quite well. On the other hand, the BABIP might come in a bit lower if Wieters keeps hitting a lot of flyballs, but the flip side to that is that the extra balls in the air might allow him to a few extra home runs. Either way, I expect him to finish the season as around a league average hitter, and that's after getting off to a slow start. Someone actually suggested to me that Wieters has gotten worse as a hitter since he came up, which I guess is based on his batting average being .288 as a rookie (buoyed by a .356 BABIP that was just not going to be sustainable for a slow-as-molasses catcher). He's mostly the same guy, but just double the home run power - which seems like a plus to me. Maybe people allow their expectations to get the better of them - Wieters surely isn't the guy we thought he might be given his Minor League numbers (and that's unlikely to happen). But judging him just based on what he's doing as a player, I don't think it's reasonable to call him a "bad" hitter; he's solid - average-ish to a bit above. And he's just turning 27 this season, which in no way precludes him from getting better. Not that he'd need to to make signing him for $10 M a year a very easy decision for the Orioles.
Original Story:
http://www.camdencrazies.com/2013-art...
THE BACKYARD
BEST OF MAXIM
RELATED ARTICLES
The Baltimore Orioles' winning ways have carried over from last season, as the team is currently in the mix for the top spot in the American League East. While this continued success can be attributed to the team's offense and bullpen, the O's are winning in spite of their starting rotation. As a result, Jon Heyman of CBS Sports believes that Baltimore will be seeking a...
Wei-Yin Chen is expected to go on the DL with a strained oblique, leaving the Orioles with just two members of their original rotation. With an already average starting rotation at the beginning of the year, the Baltimore Orioles could hardly afford to lose many arms, particularly this early in the season. But with Wei-Yin Chen expected to go on the disabled list Tuesday with...
Orioles left-hander Wei-Yin Chen has been placed on the 15-day disabled list with a right oblique strain. Chen left Sunday's start against Minnesota with a pain in his right side. The move, made Tuesday, is retroactive to May 13. Chen isn't sure how much time he will miss. Through an interpreter, he said, ''The only thing I can do right now is help myself and get...
Two Baltimore Orioles' players are taking the mound and stepping up to the plate for a cause this season. Pitcher Darren O'Day and first baseman Chris Davis will make performance-based donations throughout the 2013 MLB season to Luke's Wings. Luke's Wings is a non-profit Wounded Warrior Transportation Assistance Program (W.W.T.A.P.) founded in 2008 which is dedicated to supporting...
Starting last season, Chris Davis has basically come out of no where to become one of the best power hitters in the game. He emerged last season in his first full season as a Baltimore Oriole, he hit 33 home runs and 85 RBIs. However, his regular season success could not be found in the postseason, where he hit a cold streak and didn't contribute much to the Orioles postseason...
The Baltimore Orioles placed left-hander Wei-Yin Chen  on the 15 day disabled list with the right oblique strain. In  his last start chanting left after five shutout innings with the pain in his right side.  he was evaluated and an MRI revealed the strain. Chen, who is 3-3 with a 3.04 ERA Becomes a second member of the Orioles starting rotation to go on the disabled list in the...
Are you looking for a spectacular new piece of art for your home collection or your man cave? Well you are in luck, because the guys over at Ball Hogs Radio have partnered up with artist Pierick Smith — aka Paintin Manning — for a May giveaway. Go ahead and try to think of a better name for an artist. You'll be busy for the rest of your life. The lucky winner of this giveaway...
Well, the Baltimore Orioles lost last night to the San Diego Padres, 3-2, in a thrilling game that didn't end very well. They rallied in the eighth inning, breaking a 1-1 tie, thanks to a stolen base and heads-up base running by Alexi Casilla, followed by an RBI single from Steve Pearce. Baltimore was stifled for much of the night by San Diego starter Andrew Cashner; however...
A right oblique strain has sidelined Orioles starter Wei-Yin Chen. Baltimore reported that Chen was placed on the 15-day disabled list prior to today's series opener against the San Diego Padres. For the third time this season, Reliever Alex Burnett has been called up from the Norfolk Tides (Baltimore's AAA affiliate). Also added was Yamaico Navarro replacing reliever Mike...
Baltimore Orioles fans hoping their side can achieve a second successive run into the playoffs this fall know all too well early-season wins make all the difference. The Os have been strong this spring after currently sit second in the AL East with a 23-16 record after close of play on Tuesday night. They have a rest day on Thursday following a brief series with the Padres...
Jason Hammel's emergence as the Baltimore Orioles' best starting pitcher played a big role in the team's surprising success last season. This year, they've managed to stay near the top of their division despite a far less effective Hammel. The Orioles hope their struggling right-hander can get back on track Friday night when they open a three-game set against the...
It looks like Wei-Yin Chen will be on the disabled list. I figured that would happen, it did not look good for Chen when he was on the mound Sunday. He was diagnosed with an oblique strain. Considering that Chen is perhaps the most consistent starter on the team, it remains to be seen what will happen with the Orioles. From the Baltimore Orioles: Orioles place LHP Wei-Yin...
MLB News

Delivered to your inbox

You'll also receive Yardbarker's daily Top 10, featuring the best sports stories from around the web. Customize your newsletter to get articles on your favorite sports and teams. And the best part? It's free!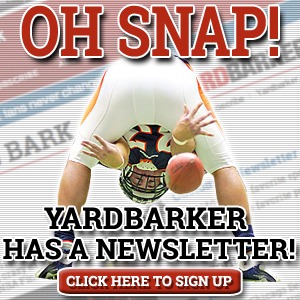 Latest Rumors
The Backyard

Today's Best Stuff

For Bloggers

Join the Yardbarker Network for more promotion, traffic, and money.

Company Info

Help

What is Yardbarker?

Yardbarker is the largest network of sports blogs and pro athlete blogs on the web. This site is the hub of the Yardbarker Network, where our editors and algorithms curate the best sports content from our network and beyond.