Found October 09, 2012 on Mets Merized Online:
PLAYERS:
Sandy Alderson
,
Johan Santana
,
RA Dickey
,
David Wright
,
Jason Bay
,
Jon Niese
,
Frank Francisco
,
BJ Upton
,
Oliver Perez
,
Terry Collins
,
Melky Cabrera
TEAMS:
New York Mets
,
Tampa Bay Rays
,
Seattle Mariners
,
San Francisco Giants
There's plenty of intriguing possibilities, only if the Mets were willing to take a financial gamble, which Sandy Alderson said they are not inclined to do.As I posted yesterday, the Mets have $79.5 million of their earmarked $100 million to spend on six players: Johan Santana, RA Dickey, David Wright, Jason Bay, Jon Niese and Frank Francisco.B.J. Upton would be terrific in Citi Field, supplying defense to aid the pitching staff and offense. At 28, he's just the kind of player you could sign to a multi-year deal and build around. Trouble is he comes with some attitude baggage and the Mets would be wary of surrounding their young talent around him. That's one of the reasons they were willing to eat the contracts of Oliver Perez and Luis Castillo.Upton would be much better on a veteran laden team – like the Yankees – that has the leadership to keep him in line. When the Mets sputtered in the second half and Terry Collins suggested they were quitting, that's the scenario where Upton mi...
Original Story:
http://metsmerizedonline.com/2012/10/...
THE BACKYARD
BEST OF MAXIM
RELATED ARTICLES
I did a piece last week on the Top 20 Blue Chip Prospects in the New York Met system.  I wrote about Zack Wheeler, Wilmer Flores and Jeurys Familia but avoided talking about a number of solid players who could, in every likelihood, still help the franchise.  Today's list is the top 20 prospects who lack the same ceilings as the blue chippers.Collin McHugh, SP: McHugh is the...
Aaron W. asks…Who is the better starter between Jenrry Mejia and Jeurys Familia? Is one better than the other? Are they starters or relievers in your opihion?Sean replies...The Jeurys Familia/Jenrry Mejia question will loom large in 2013, and honestly – there aren't many accurate answers. Familia had a mixed season, and despite his ERA his control did in fact improve as the...
According to Jon Heyman of CBSSports.com, the Mets plan to kick off negotiations with their franchise slugger David Wright with about $100 million opening bid in an effort to make him a Met "for life". Heyman goes onto say that the Amazin's will be flexible in their negotiations as they will negotiations through October before even consider dealing their third baseman.The Mets...
John Delcos and myself have collaborated before on several projects and are contributors to each other's blogs. We will be working again this offseason beginning with today's feature on the Top Ten Positives to take away from the Mets' overall disappointing season. Tomorrow we'll examine the Top Ten Negatives. So in no particular order we give you our top ten positives...
Richard Sandomir of the New York Times is reporting that Mets flagship station WFAN could be switching from 660 AM to 101.9 FM in the coming months.It looks like that for the time being they will be broadcasting in simulcast on both stations, but that could change once the majority of the listenership gets used to the idea.This could shutout many listeners on the outskirts of the...
1999 TOPPS FINEST GOLD REFRACTOR AL LEITERI peeled Al Leiter tonight.OK, it might be helpful if I rewound a bit and explained.Back in the late '90s, card manufacturers were dabbling in all manner of metallic printing.Collectors loved the shiny stuff, but balked at how easily these cards would get scratched or otherwise defaced.The Topps Finest issues were particularly vulnerable...
Mr. Met may be the New York Mets' lovable, baseball-headed mascot, but for intents and purposes, it is third baseman David Wright who is truly Mr. Met. Now, the Metropolitans are looking to make sure that Wright remains a Met for life. CBSSports.com reports that the Mets are looking to sign Wright to a contract extension, and it's likely that deal will be in the neighborhood...
The Mets have a long list of things to do this off-season, one that really begins and ends with R.A. Dickey and David Wright. I honestly can not believe that they have some many issues to address. I thought this season would be one where we found some solutions going forward. Instead we found that we don' t really have much on the current roster who will be here in the future...
According to a report by CBSSports.com, the New York Mets are expected to offer David Wright about a $100 million when both sides open negotiations. The New York Mets are serious about re-signing David Wright and making him a Met "for life". The Mets are expected to negotiate throughout the month of October before even considering making a trade. Wright has a good relationship...
The New York Mets are set to start negotiations with David Wright very soon, Jon Heyman of CBS Sports reports. The opening offer will start off in the neighborhood of $100mm with the Mets set to give negotiations all of October in hopes of working out a deal. If the sides are unable to work out a deal, the Mets may look at trading the third baseman. The obvious goal for the Mets...
Rich asks…What do you think the effect will be on our prospects moving from Buffalo to Las Vegas? I read that the climate could be bad for our pitchers and I'm concerned about Zack Wheeler. I know that you talk to these players a lot and was wondering what you felt about this move? Was this a bad thing for us or nothing to worry about?Sean replies…To first address was the move...
The Tampa Bay Rays finished their season with a display of runs. But much like the rest of the season, if it weren't for Evan Longoria's three home run night during the final game of the season, it would have been another offensive outage for the Rays on the scoreboard. So how can the Rays fix that? The team went a long way with what they have had to work with. They had minor...
MLB News

Delivered to your inbox

You'll also receive Yardbarker's daily Top 10, featuring the best sports stories from around the web. Customize your newsletter to get articles on your favorite sports and teams. And the best part? It's free!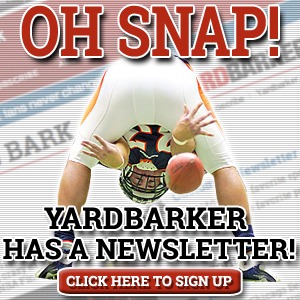 Latest Rumors
Best of Yardbarker

Today's Best Stuff

For Bloggers

Join the Yardbarker Network for more promotion, traffic, and money.

Company Info

Help

What is Yardbarker?

Yardbarker is the largest network of sports blogs and pro athlete blogs on the web. This site is the hub of the Yardbarker Network, where our editors and algorithms curate the best sports content from our network and beyond.