Found July 06, 2012 on MetsOnline:
The New York Mets came back in the 9th inning to defeat the Philadelphia Phillies by a score of 6-5. The Mets are now seven games over .500, with three games left until the all-star break. Winning Pitcher: Bobby Parnell (2-1, 2.91) was the winning pitcher for the Mets tonight. Losing Pitcher: Jonathan Papelbon (2-3, 3.45) first blew the save, and then received his third loss of the season. R.A. Dickey pitched seven innings, however did not look like his usual self. Dickey gave up 5 earned runs, but still gave the Mets seven innings and did keep them in the game. The Mets won the game on a walk-off, bases loaded, texas leaguer (bloop single) off the bat of the great David Wright. Daniel Murphy tied the game in the at-bat before Wright, which was a hit right back at Papelbon that hit off of him and it rolled to far away from him to make a play.
Original Story:
http://metsonline.com/mets-6-phillies...
THE BACKYARD
BEST OF MAXIM
RELATED ARTICLES
Phillies closer Jonathan Papelbon rushed from his seat to stop a fan from climbing into the bullpen during the seventh inning of Philadelphia's game against Atlanta on Saturday night. A man wearing a yellow shirt ran onto the field from near the right-field stands and headed directly toward the Phillies' bullpen behind the center-field wall. Once the fan started climbing...
The juiciest/craziest story of the summer is not best seller "50 Shades of Grey". It's not the dissolving union of Tom-Kat. (Is there hope for any of us?) It's New York Mets' R.A. Dickey, who is defying the odds with the rarely used knuckleball. For the love of god, R.A. Dickey has successfully reinvented himself at a point in his career where even some of the better players...
The New York Mets will attempt to win their third series against the Phillies this season as R.A. Dickey squares off against Cole Hamels tonight at 7:10 p.m.  Both pitchers have been hot coming into this contest but it's Dickey that was named National League pitcher of the month for June earlier this week. Photo by Michael G. Baron Dickey, 37, went 5-0 in six June starts, leading...
Final: Phillies 5, Mets 6. WP: Bobby Parnell (2-1, 2.91 ERA) LP: Jonathan Papelbon (2-3, 3.45 ERA) In order for the Philadelphia Phillies to climb out of the hole in the standings that they have dug themselves into, they must start to win as many series as possible in the final remaining months of the season. Tonight, unfortunately, they were not able to do just that.   Cole Hamels...
Since Cole Hamels last took the mound and was a hard-luck loser to Mark Buehrle and the Miami Marlins, the Phillies have one just once, and trade rumors have swirled around the 28 year-old lefthander.   In 2012 Hamels is currently 10-4 with a 3.08 ERA and will be representing the Phillies in the National League for the annual All-Star game on Tuesday in Kansas City.  This will...
David Wright singled off Jonathan Papelbon with two outs in the bottom of the ninth inning, lifting the New York Mets to a 6-5 comeback victory over the Philadelphia Phillies on Thursday night that preserved R.A. Dickey's 11-game winning streak. Daniel Murphy lined a shot off Papelbon's leg for the tying run with two outs, setting the stage for Wright. Cole Hamels outlasted...
The New York Mets will take on the Philadelphia Phillies tonight at 7:10 PM EDT. Tonight is the rubber game of this three-game series. Tonight's Lineups: Mets Thurs. lineup vs. Philly: Tejada-SS, Murphy-2B, Wright-3B, Hairston-LF, Duda-RF, Davis-1B, Thole-C, Nieuwenhuis-CF, Dickey-RHP — New York Mets (@Mets) July 5, 2012 Tonight's Pitching Probables: R.A. Dickey (12-1, 2...
Philadelphia Phillies (37-46) vs. New York Mets (44-38) Cole Hamels (10-4, 3.08) vs. R.A. Dickey  (12-1, 2.15) Time: 7:10, Citi Field TV: CSN Weather: Sunny, 92 Media: Twitter and Facebook Cole Hamels has been the center of several rumors lately.  You have to wonder if these next few starts are his last in a Phillies uniform.  All Cole can do is go out there and try to get...
So apparently R.A. Dickey was available out of the bullpen on Saturday. Presumably because the All-Star break is coming up and Terry Collins wanted to get him some work in case Tony La Russa decides to be the fly in the punch bowl and not pitch him because he's scared that two all-star catchers can't catch a knuckleball. But also perhaps because Terry's bullpen, which...
The Philadelphia Phillies' 2012 season sank to a new low on Thursday at Citi Field. All-Star closer Jonathan Papelbon, who had reeled off 17 straight saves to begin his Phillies career, blew his second save opportunity in his last three chances in a 6-5 loss to the Mets. The defeat put the Phils a season-high 13 games behind the Washington Nationals in the National League East...
So it wasn't the sweep I had hoped for. But two out of three with a two-out rally is the next best thing. And I'll gladly take it. The first thing to realize is that while R.A. Dickey's numbers will look like solid line drives in the boxscore, a bunch of the eleven hits he gave up tonight were bloops and bleeders. It was a combination of Dickey having an off night...
MLB News

Delivered to your inbox

You'll also receive Yardbarker's daily Top 10, featuring the best sports stories from around the web. Customize your newsletter to get articles on your favorite sports and teams. And the best part? It's free!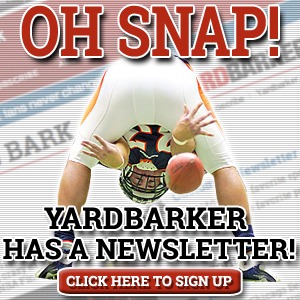 Latest Rumors
Best of Yardbarker

Today's Best Stuff

For Bloggers

Join the Yardbarker Network for more promotion, traffic, and money.

Company Info

Help

What is Yardbarker?

Yardbarker is the largest network of sports blogs and pro athlete blogs on the web. This site is the hub of the Yardbarker Network, where our editors and algorithms curate the best sports content from our network and beyond.