Found August 15, 2012 on Mets360.com:
R.A. Dickey goes for his 16th win of the season as the Mets take on the Reds at 7:10 PM. It may take the software a minute to load when you first click on the page. Please be patient. Enter your comments in the text box above where it says "Powered by Quick Chat" and the various emoticons. Right above that text box is a small rectangle where you type in your name for the chat. The default is "360fan_xxx" and it's best if you change that. We're a friendly bunch and we want to know who we're chatting with during the game! Powered by Quick Chat Related Posts:Mets Game Chatter – 7/31/12Mets Game Chatter – 8/1/12Mets Game Chatter – 8/14/12Mets Game Chatter – 7/29/12Mets Game Chatter – 7/28/12
Original Story:
http://feedproxy.google.com/~r/Mets36...
THE BACKYARD
BEST OF MAXIM
RELATED ARTICLES
According to Andy McCullough of the Star Ledger, R.A. Dickey and the Mets discussed a short-term extension into at least 2014 earlier this season, people with knowledge of the talks have said. The team elected to wait and observe Dickey during the course of the season. The cost of waiting always seems to burn the Mets lately, and now Dickey will have to be paid commensurate with...
How much damage can a friendship bracelet do in a Major League Baseball game? One umpiring crew tends to think they give a pitcher quite the advantage, apparently. Mets pitcher R.A. Dickey was on the receiving end of a seemingly unreasonable request on Wednesday night when pitching against the Cincinnati Reds. Home plate umpire James Hoye decided that he hated fun or something, and...
Do it for Dickey I'll admit it. My frequency and dedication to watching the Mets has waned. You can chastise me. Work. Kid. Whatever the excuses, be they worthy or not, the fever has faded. The little team that could probably can't. We know that. It's not a surprise. It doesn't detract from what they've done. This was (and is) a team flawed in so many ways that being merely...
R.A Dickey was not happy after struggling against the Reds. And some of his frustration had little to do with his performance. Dickey was asked to cut off a friendship bracelet given to him by his daughters during the Mets' 6-1 loss to the Reds Wednesday. Crew chief Jim Joyce following an MLB directive asked Dickey to cut the bracelets off during the second inning. Dickey...
The opener between the Cincinnati Reds and New York Mets at Great American Ball Park was scoreless until the game's final pitch. The Reds could again have some trouble offensively going up against R.A. Dickey, who seems to have returned to form following a rough patch. The NL Central leaders hope to carry some momentum from a thrilling win into Wednesday night and prevent Dickey...
Last Game Last night, the Reds won again. With Mike Leake going against R.A. Dickey, that was NOT what I expected to happen. But Leake put in a complete game, the offense damaged Dickey's Cy Young chances a little, and the win streak was extended to 5. Final score: Mets 1, Reds 6 Next Game The Reds go for the sweep of the Mets tomorrow at 7:10 p.m. in Great American Ball Park...
The Reds took down the Mets and 15-game winner R.A. Dickey last night to ensure the win of the series. Mike Leake started for the Reds, and before the game it hardly seemed like a fair match-up. But Leake was up to the task and put in a … [visit site to read more]
It was truly an uneven game for R.A. Dickey in Cincinnati. He threw some knuckleballs that were so filthy that Josh Thole couldn't catch them. (Though with the problems Josh Thole usually has catching and holding on to baseballs that might not be saying much.) And other knuckleballs were not only sent over the wall, but landed in Covington. Scott Rolen: 380 feet. Jay Bruce: 414...
The Mets collapse in the second half of this season has been disappointing on many levels. One of the more disappointing things has been the failure of players to step up and cement their place with this team for the future. Is it safe to say that the only players that have stepped up at all this year have been Daniel Murphy, Ruben Tejada, and R.A. Dickey? David Wright doesn't...
Terry Collins told reporters in Cincinnati that he will use a modified six-man rotation beginning Sunday, when Jeremy Hefner will start in Washington. The one exception is that R.A. Dickey will continue to pitch every fifth day. This is weird… So a heavily taxed bullpen will be short a man and Josh Edgin is still the lone lefty. Jim Morrison was right…
Mets have to make the Wright Move Mets News and Notes: David Wright told Mike Puma in the Post he's "optimistic" he will remain a Met long term. But, Wright added — which consistently has been the case — that it's ultimately about the opportunity to win. Wright said he won't negotiate during next season either. So essentially he signs an extension this offseason...
Mets News

Delivered to your inbox

You'll also receive Yardbarker's daily Top 10, featuring the best sports stories from around the web. Customize your newsletter to get articles on your favorite sports and teams. And the best part? It's free!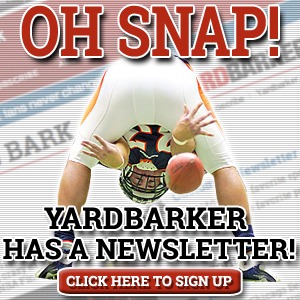 Latest Rumors
Best of Yardbarker

Today's Best Stuff

For Bloggers

Join the Yardbarker Network for more promotion, traffic, and money.

Company Info

Help

What is Yardbarker?

Yardbarker is the largest network of sports blogs and pro athlete blogs on the web. This site is the hub of the Yardbarker Network, where our editors and algorithms curate the best sports content from our network and beyond.