Found June 23, 2013 on New York Mets Report:
PLAYERS:
Matt Harvey
,
Clayton Kershaw
,
Clay Buchholz
,
Patrick Corbin
,
Adam Wainwright
,
Felix Hernandez
,
Stephen Strasburg
,
Max Scherzer
,
Justin Verlander
,
Tom Seaver
TEAMS:
New York Mets
,
Los Angeles Dodgers
,
Boston Red Sox
,
Arizona Diamondbacks
,
St. Louis Cardinals
,
Seattle Mariners
,
Washington Nationals
,
Detroit Tigers
Matt Harvey is having a terrific season for the New York Mets, and the team and its fan base should be thrilled and excited about his future. But, can we have a little perspective please? I read a blog post where the writer said he wouldn't trade Harvey for any pitcher "on the planet,'' which is an overused expression to begin with, one having cliché proportions. HARVEY: Good, not great. (AP) Harvey will be making his 26th career start this afternoon, so that's clearly jumping the gun. As good a season as he's having, there are others having better years; others with better career numbers; and others with futures seemingly as bright. Clayton Kershaw and Clay Buchholz, Patrick Corbin and Jordan Zimmerman, Adam Wainwright and Felix Hernandez. They are all good, young pitchers with bright futures as gleaming as Harvey's. And, don't overlook Stephen Strasburg. There's also the majors' best pitcher this year in Detroit's Max Scherzer, and his teammate, Justin Verlander, who is regarded a...
Original Story:
http://www.newyorkmetsreport.com/2013...
THE BACKYARD
BEST OF MAXIM
RELATED ARTICLES
Ahhh, what a week! Taking 3 out of 5 in Atlanta AND 2 out of 3 in Philly is a huge breath of fresh air for this slumping ballclub (and maybe another sign of the decline of western civilization!).  Even though they stumbled out of the blocks at the start of the week, not giving Gee any run support and losing on a walk-off by Chipper—I mean, Freddie Freeman, they were, for the most...
Danny Knobler of CBS Sports spoke to two scouts who were on hand for Super Tuesday, when Matt Harvey stymied the Braves and Zack Wheeler made his long anticipated debut with six scoreless innings for a Mets doubleheader sweep in Atlanta. "I don't know if you're doing a survey, but put me down for Harvey over Strasburg, and it's not even close," said one scout who watched...
If you hadn't heard of Matt Harvey before today's ballgame, you now can't forget him. In a division that already includes young starters like Stephen Strasburg and Julio Teheran, Harvey has become the leader. Already 6-1 (should probably be 9-1) with a 2.16 ERA and a 3.7 WAR, Harvey would...
Grade the Trade is a new feature here at 643ball.com that hopes to engage you, the reader in discussion about a trade. The information and discussion may even help you in trade talks in your league as you look to improve your standing in the second half of the year. We'll give you the scenario of both teams and the league settings. Then, you the reader can use the comment sections...
Imagine waking up tomorrow morning, checking out MMO and reading that Matt Harvey got injured. Our jaws would drop, our stomachs would sink and our heart would skip a beat. Then, to take it one step further, imagine if our ace and the pitcher we intend to build our future around was injured not by pitching, but while taking a turn at bat. Wouldn't it be that much worse? The question...
New York Mets vs Philadelphia Phillies Citizens Bank Park, Philadelphia • 1:35 PM RHP Matt Harvey (6-1, 2.16) vs LHP John Lannan (0-1, 5.49) Starting Lineup Eric Young, Jr. – LF Daniel Murphy – 2B David Wright – 3B Marlon Byrd – RF Josh Satin – 1B John Buck – C Juan Lagares – CF Omar Quintanilla – SS Matt Harvey – RHP Game Notes The Mets rallied from a...
As some of you might have noticed, on Sunday evening Nik Wallenda walked on a wire across the Grand Canyon on the Discovery Channel with no net. The event, known as #SkyWalk, had Twitter captivated as people were wondering if he would fall and how many times he would mention Jesus. Well now that he has safely made it across, the question is now what will he do next? Well as you see...
It's been very difficult to be a Mets fan these past few years. Since their epic collapse in 2007, fans have witnessed over five years of injuries, disappointing signings, embarrassing losses (Luis Castillo, anyone?) and poor ownership. There have been bright spots, such as Dillon Gee's 7-0 start and Jose Reyes' batting title in 2011, and R.A. Dickey's Cy Young Award last...
New York Mets (29-42) at Philadelphia Phillies (36-39) Matt Harvey (6-1, 2.16) vs. John Lannan (0-1, 5.49) TIME: 1:35, Citizens Bank Park TV: PHL17 WEATHER: 84, chance of rain MEDIA: Facebook or Twitter Kevin Fransden saved the day yesterday after the Phillies blew a 6 run lead.  The bullpen really needs to step up as they have the worst ERA in all of baseball at 4.67.  Even...
David Wright homered, tripled and matched a New York Mets record with four extra-base hits to back the latest splendid start by Matt Harvey in an 8-0 victory over the Philadelphia Phillies on Sunday. Wright went 4 for 5 with two of New York's season-high seven doubles to help the Mets take two of three in Philadelphia after winning a five-game series at first-place Atlanta....
As the Mets wrap up an uncommon five game series win with the Atlanta Braves, we have an even more uncommon edition of 3 Up and 3 Down, featuring five "Ups" centered on the Mets youth movement. Dillon Deserved Better: I actually missed Monday night's game. The rain delay of over three hours was too much for me to bear. From all reports though, Dillon Gee pitched a gem, going...
RHP Kris Medlen was the only starting pitcher to notch a win in the 5-game set against the Mets. The Braves at times seemed baffled by the pitching thrown at them by New York in the 5-game series at Turner Field. They faced Matt Harvey who didn't allow a hit until the 7th inning of his outing and found themselves scuffling for hits until the final game of the series when they managed...
MLB News

Delivered to your inbox

You'll also receive Yardbarker's daily Top 10, featuring the best sports stories from around the web. Customize your newsletter to get articles on your favorite sports and teams. And the best part? It's free!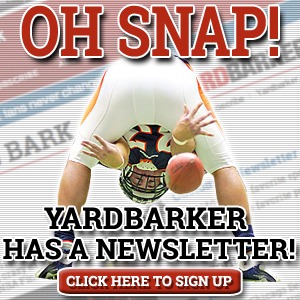 Latest Rumors
Best of Yardbarker

Today's Best Stuff

For Bloggers

Join the Yardbarker Network for more promotion, traffic, and money.

Company Info

Help

What is Yardbarker?

Yardbarker is the largest network of sports blogs and pro athlete blogs on the web. This site is the hub of the Yardbarker Network, where our editors and algorithms curate the best sports content from our network and beyond.