Found June 27, 2012 on The Daily Stache:
PLAYERS:
Jon Niese
,
Jeff Samardzija
,
Andres Torres
,
Ruben Tejada
,
David Wright
,
Lucas Duda
,
Ike Davis
,
Scott Hairston
,
Josh Thole
,
Ronny Cedeno
,
Kirk Nieuwenhuis
,
Joe Mather
,
Starlin Castro
,
Anthony Rizzo
,
Alfonso Soriano
,
Jeff Baker
,
Geovany Soto
,
Darwin Barney
,
Luis Valbuena
,
Reed Johnson
TEAMS:
New York Mets
,
Chicago Cubs
Hello and welcome to another lovely day of Mets baseball. The Amazins (39-36) have once again followed up an encouraging winning streak with a series of defeats to cancel it out. This time, they've lost four in a row, and they've got just one more chance to win against the Cubs (26-48) before bolting for a weekend tilt in Los Angeles. Jon Niese takes the hill for New York and is backed by a series of successful starts. In his last four outings, Niese has posted a 28:4 strikeout-to-walk ratio with six earned runs allowed. On the other side, Jeff Samardzija has struggled recently, but he's the midst of his breakout season as a major leaguer. This year he's logged 84 strikeouts in 83 innings as a starter. Today's game starts at 2:20 ET and will be televised on SNY in New York and on CSN in Chicago. As always, you can also listen to the action on WFAN 660. Mets lineup
1. Andres Torres, CF
2. Ruben Tejada, SS
3. David Wright, 3B
4. Lucas Duda, RF
5. Ike Davis, 1B
6. Scott Hairston, RF
7. Daniel Murphy, 2B
8. Josh Thole, C
9. Jon Niese, LHP Murphy's continued struggles have moved him down in the lineup even against right-handers, but you have to wonder how long the Mets will put up with his bat when Ronny Cedeno is such an improvement on defense. Kirk Nieuwenhuis gets a breather today after 15 strikeouts in his last nine games. Chicago Cubs lineup
1. Joe Mather, CF
2. Starlin Castro, SS
3. Anthony Rizzo, 1B
4. Alfonso Soriano, LF
5. Jeff Baker, RF
6. Geovany Soto, C
7. Darwin Barney, 2B
8. Luis Valbuena, 3B
9. Jeff Samardzija, RHP Reed Johnson usually gets the start for Chicago against left-handed pitchers, but he's riding the pine today in favor of Jeff Baker, who only has six starts in the outfield all season. Despite young Anthony Rizzo's left-handedness, he gets his second straight start this afternoon and why not? The phenom got his season off to a great start with a 2 for 4 last night and the Cubs see him as an everyday player of the future anyway. Pitching Match-up
NYM — Jon Niese (3.75 ERA, 79 SO, 29 BB)
Despite an increase in walks per nine from last season (3.20), Niese is having a career year. His ERA is down below four and he's striking out more batters (8.71 per nine) than ever before. He's been bit by the home run bug but a 20% home run per fly ball rate has nowhere to go but down. His increased use of the cutter this season will help Niese get the groundballs he needs in the second half, and you get the feeling he's using the fastball as more of a swing-and-miss pitch. CHC — Jeff Samardzija (4.34 ERA, 84 SO, 30 BB)
In his first season as a major league starter, Samardzija has been a great success. He's somehow striking out more batters (9.11 per nine) than he did as a reliever last season, and his walks are down from 5.11 in 2011 per nine to a much more acceptable 3.25 this season. Add in the concussion scares in the NFL, and Samardzija's decision to work summers has become very defensible. Despite all that, he's gotten beaten up lately with 16 earned runs in his last three starts (just 14 innings). Today will go a long way to telling if the league has caught up with Samardzija or if this is just a blip on the radar.
Original Story:
http://dailystache.net/archives/2244?...
THE BACKYARD
BEST OF MAXIM
RELATED ARTICLES
Ike Davis is tied for fifth in the National League with 20 RBI in June and is batting .267 (20-75) with five home runs, two behind the NL lead, this month. Since June 9th, Davis is batting .353 (18-51) and has five multi-RBI contests during that stretch. His last seven hits have all been for extra-bases. Yesterday against the Cubs, Ike had his first career game with yhree extra...
The New York Mets have followed up their game one win in the 'chicken series' against the Yankees by laying three straight eggs.  These past few games have been as difficult to watch unfold as any I can remember this season.  I was baffled by the way Terry Collins handled the bullpen late in games two and three against the Yanks and couldn't believe the clubs performance...
Ike Davis is showing signs of getting it, both at the plate and with his demeanor. During yesterday's game in Chicago, Davis apologized to plate umpire Manny Gonzalez for inadvertently touching him with his glove in a dispute at first base the night before. Davis was ejected, will be fined and could be suspended for at least a game. "I just told him I'm sorry for touching him...
Terry Collins didn't mince words last night, and his pre-game concerns of how he sensed a lack of energy from the Mets inside the clubhouse before the game, proved to be prophetic. "We were a little flat," Collins said. "They're human beings and the adrenaline knock out for a while, and the fact that they got about probably five or six hours of sleep didn't help either...
Just over 18 months ago, the Mets hired Sandy Alderson in hopes that he could turn around an overpaid and underachieving franchise. In his first season as General Manager, Alderson hired Terry Collins, signed Chris Capuano and Chris Young to small, incentive-laden deals, and plugged some holes on the roster with veterans such as Scott Hairston and Willie Harris. The season turned...
The Mets were an absolute disaster last night as they had no answers for the lowly Cubs. Tonight the Mets will infuse their lineup with Nieuwenhuis and Murphy, and Fearless Ike looks to pass the Mendoza Line. Tonight's Mets lineup Vs. Chicago: 1.  Nieuwenhuis - CF 2.  Tejada - SS 3.  Wright - 3B 4.  Duda - RF 5.  Davis - 1B 6.  Hairston - LF 7.  Murphy - 2B 8.  Thole...
CHICAGO -- The New York Mets had a blast Wednesday at Wrigley Field. Actually they had a few blasts. Daniel Murphy hit two home runs as the Mets avoided a sweep by pounding the Chicago Cubs 17-1. The Mets scored three runs in the fourth inning and six each in the fifth and sixth to snap a four-game losing streak. Daniel Murphy hit two home runs, and Scott Hairston highlighted...
When Theo Epstein took over as the Chicago Cubs' team president and Jed Hoyer became the general manager last fall, they talked of "parallel tracks." In other words, they were building a "foundation for sustained success" for the Cubs while trying to be competitive in 2012. The 2012 Cubs fell off their parallel track a long time ago. But Epstein sees progress...
Starlin Castro. List of SS with 400+ hits and .300+ average at age of 22: bbref.com/pi/shareit/z6p… Maybe people should stop complaining about Starlin Castro. — Matt Meyers (@mtmeyers) June 27, 2012 That list, if you can't or don't want to click through, has four players besides Castro on it: Alex Rodriguez, Arky Vaughan, Rogers Hornsby and a guy named Dick...
See what happens after a well timed kick in the pants during a game in which the wind is blowing out? You get 17 runs, that's what happens. And you get dingers from Ike Davis, Scott Hairston and ... [youtube]IKXEmXB7h3E[/youtube]Daniel Murphy! His first two of the season, even!!!It's what makes this team maddening sometimes. Not only because they survived against some...
Cubs go for the sweep!!! Mets Cubs #Torres, CF Mather, CF Tejada, SS Castro, SS Wright, 3B *Rizzo, 1B *Duda, RF Rizzo, LF *Davis, 1B Baker, RF Hairston, LF Soto, C *Murphy, 2B Barney, 2B *Thole, C *Valbuena, 3B *Niese, P Wells, P A solid debut for Rizzo yesterday, going 2/4 with a double and the game-winning RBI, even if the official scorer was a little kind...
MLB News

Delivered to your inbox

You'll also receive Yardbarker's daily Top 10, featuring the best sports stories from around the web. Customize your newsletter to get articles on your favorite sports and teams. And the best part? It's free!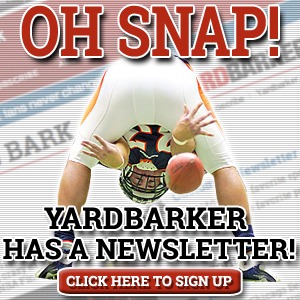 Latest Rumors
Best of Yardbarker

Today's Best Stuff

For Bloggers

Join the Yardbarker Network for more promotion, traffic, and money.

Company Info

Help

What is Yardbarker?

Yardbarker is the largest network of sports blogs and pro athlete blogs on the web. This site is the hub of the Yardbarker Network, where our editors and algorithms curate the best sports content from our network and beyond.