Found September 23, 2012 on NESN.com:
As nearly every playoff race in the American League becomes closer, so does the MVP race between Angels outfielder Mike Trout and Tigers third baseman Miguel Cabrera. Going into Sunday's games, Cabrera is the clear favorite based on standard statistics. He leads the league in batting average, home runs and RBIs -- the Triple Crown categories. No one has won the Triple Crown since Carl Yastrzemski in 1967. Needless to say, Cabrera would be very deserving should he complete the near-impossible feat. Trout, on the other hand, is the clear favorite based on sabermetrics. He overpowers Cabrera in several statistical...
Original Story:
http://www.nesn.com/2012/09/mike-trou...
THE BACKYARD
BEST OF MAXIM
RELATED ARTICLES
DETROIT -- It's kind of an odd time to be Miguel Cabrera right now, yet he's handling it as well as anyone could. His team is fighting to catch the Chicago White Sox in the Central Division at the same time he's fast approaching a feat that hasn't been accomplished since 1967. So what does a guy leading all three Triple Crown categories do when he heads home? If...
Not since 1967 has Major League Baseball seen a Triple Crown winner. The last man to accomplish that feat was the Boston Red Sox' very own Carl Yastrzemski. The Detroit Tigers' Miguel Cabrera, could be the next man to don the Triple Crown. After launching his 42nd home run on Saturday, Cabrera tied Josh Hamilton for the American League lead in home runs. The Detroit slugger...
It has been the location of baseball's glamour profession, the real estate of Ty Cobb and Tri Speaker, annexed by Joe DiMaggio. Hallowed ground fought over for supremacy by Willie Mays, Mickey Mantle and Duke Snider, who all played a subway ride away from each other. Its vastness has both swallowed the slow and incompetent whole and enabled the fleet and light-footed to appear...
Miguel Cabrera is doing all he can to help the Detroit Tigers remain in the hunt for a second straight AL Central title.The Tigers hope Max Scherzer is healthy enough to do the same.With Scherzer on the mound in the opener and Cabrera in pursuit of history, the Tigers conclude their weekend home series against the Minnesota Twins on Sunday with a split doubleheader. Cabrera hit his...
If Ron Gardenhire had a vote for AL MVP, he would cast it for Miguel Cabrera. ''I'm just tipping my hat to Cabrera, he's the best player in this league,'' the Minnesota manager said Friday before the series opener in Detroit was postponed by rain. ''He's going for a Triple Crown, that's an MVP season. His team is in a playoff hunt not solely...
Miguel Cabrera hit his 42nd homer, putting him in Triple Crown position, and Doug Fister pitched his first career shutout to help the Detroit Tigers beat Minnesota 8-0 Saturday, keeping their hopes high in the AL Central race. Detroit began the day 1 1-2 games behind the division-leading Chicago White Sox, who played later at the Los Angeles Angels. Cabrera's solo shot in the...
Twins manager Ron Gardenhire isn't sold on sabermetrics, those new-age baseball statistics aimed at more accurately assessing a player's success through such arcane numbers as WAR (Wins Above Replacement), BAPBIP (Batting Average on Balls in Play) and RC27 (Runs Created Per 27 Outs). That's why the Twins manager endorsed Tigers third baseman Miguel Cabrera for the...
Ryan Braun is putting together another MVP season, leading the NL in Home Runs and RBIs. He is also in the top 5 for BA although unlikely to catch Melky Cabrera or Andrew McCutchens. Braun seems like the natural MVP with his team playing strong down the stretch. However his offseason speculated struggles might scare voters as it has for the Hall of Fame. Regardless, TGR is...
It's an archaic notion, straight out of 1969, 1993 or at least 2011. Win the division or go home. No wild card. No second wild card. No safety net , to borrow the radioactive political term. The American League Central is old school: one bid, two teams, 10 games left. The new wild-card round has transformed races across baseball ... except for this outlier. In every other...
Or a dogma and pony show. Couldn't decide on which was the best pun... The American and National League Most Valuable Player Award for 2012 is going to be debated for a long time. Which does not make this year any different than last year. Everybody chooses a side and a dogma to hang onto and the problem for just us average joes is wondering who the heck is right...
Last Week: 3-4 This Week: KC (9/24-27); at Min (9/28-30) So, What Happened? Just another bob and weave ride on the choppy waters inside the Good Ship Tiger Pop. That's what this team does to you: raises and lowers your hopes like a school flag. The Tigers fell three games back on Monday after suspect (and MMM is being kind) defense doomed them in a makeup game in Chicago. That...
The Angels are messing with baseball's narrative. National writers want so badly to get on to the business of celebrating the A's and Orioles (and to be fair they have been quite remarkable), but the Angels simply will not go away. Didn't anyone tell them their shot at the playoffs is over? Why do they insist on just hanging around on the fringes with something akin to...
MLB News

Delivered to your inbox

You'll also receive Yardbarker's daily Top 10, featuring the best sports stories from around the web. Customize your newsletter to get articles on your favorite sports and teams. And the best part? It's free!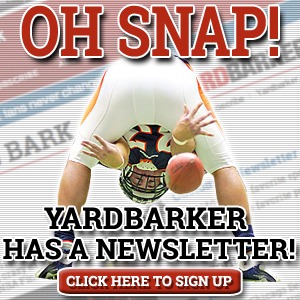 Latest Rumors
Best of Yardbarker

Today's Best Stuff

For Bloggers

Join the Yardbarker Network for more promotion, traffic, and money.

Company Info

Help

What is Yardbarker?

Yardbarker is the largest network of sports blogs and pro athlete blogs on the web. This site is the hub of the Yardbarker Network, where our editors and algorithms curate the best sports content from our network and beyond.