Found August 16, 2012 on Fox Sports Kansas City:
Once again, there has been talk lately in media circles about moving one of the Royals' young bullpen studs into the rotation. The candidates include right-hander Aaron Crow, left-hander Tim Collins and right-hander Kelvin Herrera. Everett Teaford, another young left-hander, has started this season and although in the bullpen now, would be another candidate for the rotation. But Royals general manager Dayton Moore is cautious about disrupting the bullpen, which happens to be the team's strength. "Every organization goes through the same evaluation, searching for future starters," Moore said. "You always start internally. We have several good pitchers in our bullpen. They all have different pitch mixes and because of that you can project them as potential starters. "But they're all relievers at this point in time for a reason. To all of a sudden, change the course, change direction, you have to be certain. You better be certain." Taking one or two of the young guns out of the bullpen is risky. As it is now, the Royals are in a position to virtually checkmate opponents when they have a lead late based on the strength of their bullpen. Diluting that strength could do more harm than good. "It's a good exercise to go through and evaluate all you pitchers and think about who will be impactful in your rotation," Moore said. "But if they're just going to be average starters, and they're really good in the bullpen, you really have to weigh the risk versus the reward." Herrera, for example, was a below-average starter in the minors. In 2010, he was 2-3 as a starter at Class A with a pedestrian 4.35 ERA. But in 2011, Herrera was switched to the bullpen where he could utilize a max-effort type of delivery. His velocity shot up from the low 90s to near 100 mph. And the results shocked the Royals. He quickly got on the fast track to Kansas City, rising through three levels of minor-league ball in 2011 while posting a 7-1 record with a 1.60 ERA and 33 saves. "That's the debate you would have," Moore said. "If a guy was a starter and then became a great reliever, why would you switch him back? We had a similar debate about Joakim Soria. "But that's what happens. If guys are really effective out of the bullpen and they can command three pitches, the obvious question is 'Can they start?' But you have to judge whether they have the mindset to start, do they want to start, are they durable enough to start? Can they go 35 starts and 200 innings? "If a guy is used to throwing 70 innings a year, how is he going to throw 200? Sure, guys can do that. We see it around the league. But you have to evaluate and be sure that guy is the right candidate. " The other concern, of course, is if the Royals were to take Crow, Collins or Herrera out of the bullpen, where do they find their replacements? It may be another year or two before the next wave of good young relievers come through the system. "They're not growing on trees," Moore said. But the thought of converting one of the bullpen arms into a starter no doubt will dominate the off-season chatter about the Royals' 2013 rotation. ""We do have some power arms in the bullpen. No question," Moore said. "But I'm not sure it's a slam dunk solution. "You have to make tough decisions sometimes. I wouldn't say we wouldn't try it. You have to have an open mind. But I don't have an answer right now on any of the guys in the pen about who we might want to start. I just don't. You don't know it until you do it. Then you have to live with it."
Original Story:
http://www.foxsportskansascity.com/08...
THE BACKYARD
BEST OF MAXIM
RELATED ARTICLES
KANSAS CITY, MO - The open auditions for the Royals' No. 3-hole hitter march on. Next up: Alex Gordon. Gordon, entrenched in the leadoff spot where he flourished the past two months, now will get a serious look in the three spot. We knew Gordy wasnt a prototypical leadoff hitter, but hes a guy who has high on-base (percentage) and puts the ball in play, Yost said. But we also...
Alex Gordon has thrived as the Kansas City Royals' leadoff hitter, but for the remainder of the season he will be hitting third. Gordon was moved to the third slot in the order Thursday against the Athletics, while Jarrod Dyson batted first. Gordon went 0-for-4 and struck out in the 3-0 loss to the A's. "We felt the time was right to go ahead and put Alex in that...
KANSAS CITY, Mo. So if it turns out you swapped a doper for clunker, who wins the final recount? Jonathan Sanchez cheated you out of your enjoyment, out of your hard-earned ticket money. Melky Cabrera cheated the game. Sanchez played baseball wretchedly. Cabrera played it brilliantly, but only after signing over his soul first. Sanchez is a pariah in Kansas City. Cabrera is a...
KANSAS CITY, Mo. (AP) -- Kansas City Royals second baseman Chris Getz is expected to miss the rest of the season with a broken left thumb. Getz was injured in the fifth inning Friday night when he tried to bunt against the Chicago White Sox. The pitch hit his hand and the ball went foul. Getz began the night batting .280 with no homers and 17 RBIs. He is scheduled to have surgery...
On July 20th, the Rockies traded Jeremy Guthrie to the Royals for Jonathan Sanchez. It wasn't so much a change-of-scenery trade as it was synchronized self-preservation, as if both teams' rosters reflexively rejected a toxic substance and instinctively sent it somewhere, anywhere else. The two starters' stats, before the trade: Sanchez: 53 1/3 IP, 6.1 K/9, 7.4 BB/9, 7...
Today we learned that Melky Cabrera has been suspended for 50 games for violation of the MLB performance-enhancing substance policy for having tested positive due to elevated testosterone. One cannot help but wonder if Dayton Moore (or someone else within the Kansas City Royals organization) had knowledge of Cabrera's use of PEDs last season when he was a member of the club...
Will Smith pitched seven strong innings, Chris Getz doubled home the go-ahead run and the Kansas City Royals defeated the Oakland Athletics 3-2 on Wednesday night. Smith (4-4), a 23-year-old rookie left-hander, limited the A's to two runs and five hits, while striking out five and walking one. In winning his past two starts, Smith has allowed four runs and 11 hits in 14 innings...
When the Colorado Rockies traded for starting Jeremy Guthrie last February, they expected him to be a reliable innings-eating pitcher with a deceptive fastball, a good slider and change up. The right-handed Guthrie was the Opening Day starter for the Baltimore Orioles the last three seasons and Guthrie was the Opening Day starter for the Rockies. By July 20, Guthrie's 2012 season...
Salvador Perez hit a tiebreaking two-run double with two out in the seventh inning and the Kansas City Royals beat the Chicago White Sox 4-2 on Friday night. Luis Mendoza pitched seven effective innings as Kansas City won for the third time in four games. Lorenzo Cain hit a solo homer. Paul Konerko hit a solo drive for Chicago after being activated from the seven-day concussion...
The Kansas City Royals are a great example of how far a great farm system can take you and also the limitations of that farm system. The lineup is chalk full of exciting young players and there are more on the way. Unfortunately, the mound hasn't seen the same level of success, so the team is still struggling overall. Still, if you want to watch an exciting young team...
KANSAS CITY, Mo. (AP) -- Salvador Perez hit a tiebreaking two-run double with two out in the seventh inning and the Kansas City Royals beat the Chicago White Sox 4-2 on Friday night. Luis Mendoza pitched seven effective innings as Kansas City won for the third time in four games. Lorenzo Cain hit a solo homer. Paul Konerko hit a solo drive for Chicago after being activated from...
KANSAS CITY, Mo. (AP) -- Coco Crisp and Yoenis Cespedes homered, and Dan Straily picked up his first major league victory as the Oakland Athletics beat the Kansas City Royals 3-0 on Thursday night. Crisp, who played for the Royals in 2009, was 2 for 27 this season against Kansas City before the home run. Crisp drilled a 2-0 pitch from Luke Hochevar deep to right. The ball hit high...
Royals News

Delivered to your inbox

You'll also receive Yardbarker's daily Top 10, featuring the best sports stories from around the web. Customize your newsletter to get articles on your favorite sports and teams. And the best part? It's free!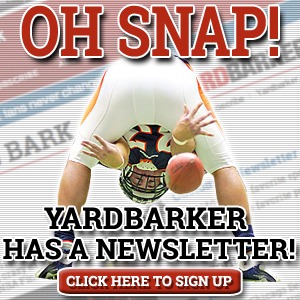 Latest Rumors
The Backyard

Today's Best Stuff

For Bloggers

Join the Yardbarker Network for more promotion, traffic, and money.

Company Info

Help

What is Yardbarker?

Yardbarker is the largest network of sports blogs and pro athlete blogs on the web. This site is the hub of the Yardbarker Network, where our editors and algorithms curate the best sports content from our network and beyond.