Found March 14, 2012 on Fox Sports North:
PLAYERS:
Justin Morneau
,
Ron Gardenhire
,
Roy Halladay
,
Jason Marquis
,
Denard Span
,
Chris Parmelee
,
Jonathan Papelbon
,
Jimmy Rollins
,
Josh Willingham
,
Steven Pearce
TEAMS:
Minnesota Twins
,
Philadelphia Phillies
,
Pittsburgh Pirates
CLEARWATER, Fla. Justin Morneau is struggling at the plate, but the Twins first baseman isn't concerned about his offense just yet. After a 0-for-5 performance Wednesday against Philadelphia, Morneau is batting .136 (3-for-22) with five strikeouts this spring. Morneau missed a good portion of the last two seasons after a concussion in 2010 and multiple ailments in 2011. He played just 150 combined games the last two years. Yet the 2006 American League MVP knows there's still plenty of spring left. He says he'll have a better gauge on where his timing is at once he has 40 to 50 at-bats in spring against live pitching. "I think we leave three weeks from today, so that's a lot of at-bats between now and then," Morneau said after Wednesday's 6-4 Twins victory. "Probably the last 10 days, I think, are the most important. Obviously, it'd be nice to be getting hits right now, but it's not my first spring training. I've had good ones before. I've had bad ones before. As long as it's there towards the end, that's all that really matters." Wednesday was Morneau's second straight day in the lineup, as he played first base Tuesday against Toronto in Fort Myers. For Morneau, staying healthy this spring is key. Being able to play back-to-back days or three games in a row, like he did earlier this spring is a sign that he's feeling good. "It's about health. He's got that now," Twins manager Ron Gardenhire said. "He's just out there hitting. He's the one that wanted to hit again. He wanted more at-bats. Just get him as many as we can, be smart about it and we'll go from there." Morneau struck out twice Wednesday, once against Phillies ace Roy Halladay. He also shattered his bat during two plate appearances. Still, the important thing at this point in spring, Morneau said, is facing as much live pitching as he can even if that means making the trek from Fort Myers to Clearwater. "You spend five hours on a bus, I may as well get as many at-bats as I can," he said. He had one at-bat per hour of the bus ride, if you're keeping score at home. "Now it's just about getting a lot of at-bats," Gardenhire said. "You've got to remember how many games he's missed and how many at-bats he's missed over the last couple years. He's going to be a little bit behind. He's getting live pitching. He's going to have some good days and bad days when the ball's jumping on him a little bit." Marquis sees the bright side: Twins pitcher Jason Marquis allowed four runs in four innings of work during Wednesday's start, but the veteran right-hander was happy with a lot of things in his outing. "I felt like I executed my pitches the way I wanted to today. Obviously, by the amount of ground balls, obviously that shows that," Marquis said. "The change-up felt real good. I'm feeling really good about my delivery and getting everything out front, and the action of the pitches, the quality of the pitches, and that's really all you can focus on right now, you only can control what you can control." Added Gardenhire: "If my pitcher feels good, then I feel good." Following Wednesday's start, Marquis has now allowed nine runs on 14 hits in 8 23 innings (three starts). During those outings, he said he's been throwing only his sinker and change-up for the majority of his pitches. He plans to add his slider and cutter into the mix later in spring. "It's a process. Listen, by the end of spring, your last two starts, you do want good results to get you in a positive frame of mind going into the season," said Marquis, a 12-year veteran. "But being around for so long, having that luxury to work on things, and the team knows what they expect of you, not having to be a young guy trying to impress and make the club and have to come in ready and have all my pitches sharp." Span gets three hits: Twins center fielder Denard Span missed the last four games after experiencing tightness in his neck. But he was back in the lineup as the leadoff hitter Wednesday against the Phillies, and he picked up three hits all singles. Span led off the game with a single to right against Phillies ace Roy Halladay but was thrown out while trying to steal second base. Span singled to left in the third inning and later scored on a three-run homer by Chris Parmelee. Span's third hit of the day came in the fourth inning off Philadelphia reliever Jonathan Papelbon. In his fourth at-bat, Span grounded out to shortstop Jimmy Rollins to finish the day 3-for-4. Willingham hits first homer as a Twin: The Twins signed veteran outfielder Josh Willingham this offseason with the hope he'd provide some power from the right side of the plate. He did just that Wednesday, taking Halladay deep in the first inning for a solo homer to left. Willingham hit a career-high 29 homers last season with Oakland. His homer Wednesday was his first this spring and first in a Twins uniform. "We saw him do that against us. We know he can hit homers," Gardenhire said. "He popped that one pretty good. He had a good day. Pearce out at least a week: Twins infielder Steve Pearce will be sidelined 7-10 days with a calf injury, Gardenhire said. Pearce, 28, left Tuesday's game against Toronto. He's batting 2-for-15 with two RBIs in seven Grapefruit League games this spring. Pearce has played in 185 total major league games in five seasons with the Pittsburgh Pirates. In 465 at-bats in the majors, Pearce has batted .232 with a .302 on-base percentage. Follow Tyler Mason on Twitter.
Original Story:
http://www.foxsportsnorth.com/03/14/1...
THE BACKYARD
BEST OF MAXIM
RELATED ARTICLES
FORT MYERS, Fla. Twins left-hander Francisco Liriano cruised through his first two starts of the spring, throwing a total of five scoreless innings. Through two more scoreless innings Tuesday against Toronto, he seemed to be continuing that trend in start No. 3. But the wheels fell off for Liriano in the third inning as he allowed four runs on four Blue Jays hits, including back...
FORT MYERS, Fla. The Minnesota Twins had issues with health at first base and catcher. They also lost a pair of right fielders in free agency. Now, the Twins are hoping veteran Ryan Doumit can fill in at any of those positions whenever they need him. Minnesota signed the versatile Doumit to a one-year contract this offseason, and he's now in his first spring training with his...
FORT MYERS, Fla. The first round of cuts came Thursday for the Minnesota Twins, as they optioned six players and reassigned three others to the minor league camp. Pitchers Deolis Guerra, Lester Oliveros, Scott Diamond and Tyler Robertson and outfielder Darin Mastroianni were all optioned to Triple-A Rochester. Outfielder Oswaldo Arcia was optioned to High-A Fort Myers. Three players...
While spring training can be devastating for those who have to face the reality of not making a team, it also brings out a great deal of happiness for some, especially for those players who have labored a long time to reach a certain level.  Down in Fort Myers, FL where the Minnesota Twins train there seems to be one really happy, perhaps giddy player.       The guy who we...
Two minor league pitchers in the Minnesota Twins organization have been suspended 50 games each under baseball's minor league drug program. Major League Baseball announced Tuesday that Yeison Florentino and Ezequiel Zarzuela each tested positive. They both play on the Twins' team in the Dominican Summer League. Florentino tested positive for metabolites of Nandrolone and...
FORT MYERS, Fla. Brian Dozier is a pretty good baseball player, but he's also a pretty good golfer. Dozier, the Minnesota Twins' 24-year-old shortstop prospect, was a four-sport athlete at Itawamba Agricultural High School in Fulton, Miss. He was the quarterback of the football team and the point guard on the Indians basketball team, as well as a shortstop. But he always...
A couple of home runs given up by Roy Halladay hurt the Phils as they lose to the Twins, 6-4. The Twins took the lead in the first as, with two men out, Josh Willingham hits a solo home run, his first home run of the spring, giving the Twins a 1-0 lead. The Phils tied the game up at one-all in the second as, with two men on, and with one man out, Carlos Ruiz hits an RBI infield single...
NEW YORK (AP) -- Two minor league pitchers in the Minnesota Twins' organization have been suspended 50 games each under baseball's minor league drug program. Major League Baseball announced Tuesday that Yeison Florentino and Ezequiel Zarzuela each tested positive. They both play on the Twins' team in the Dominican Summer League team. The suspensions are effective at...
If these guys are around in the mid to later rounds make sure to invest them. 9) Ben Revere (OF, Minnesota Twins) As a late pick I REALLY like Revere. Last year in 117 games he stole 34 bags; this season he should easily steal 40+. We know Revere lacks power, but other than that he doesn't hurt you fantasy wise. Although he only hit .267, in September Revere turned it on with...
Francisco Liriano's fast spring start slowed Tuesday when the Toronto Blue Jays scored four runs off him in the third inning and beat the Minnesota Twins 8-2. The streaky lefty, who pitched a no-hitter last year while going 9-10, struck out five. But Toronto's Travis Snyder and Travis d'Arnaud hit consecutive two-run doubles off the right-field fence against Liriano...
MLB News

Delivered to your inbox

You'll also receive Yardbarker's daily Top 10, featuring the best sports stories from around the web. Customize your newsletter to get articles on your favorite sports and teams. And the best part? It's free!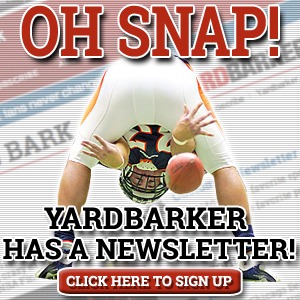 Latest Rumors
The Backyard

Today's Best Stuff

For Bloggers

Join the Yardbarker Network for more promotion, traffic, and money.

Company Info

Help

What is Yardbarker?

Yardbarker is the largest network of sports blogs and pro athlete blogs on the web. This site is the hub of the Yardbarker Network, where our editors and algorithms curate the best sports content from our network and beyond.