Found March 06, 2013 on Fox Sports Midwest:
JUPITER, Fla. Jason Motte has so much confidence in Yadier Molina that hed throw a curveball in any count if his catcher signaled for one with him on the mound. And thats saying something for a guy who doesnt even have a curveball. "Id say OK and flip one up there if he called it," Motte said. "And Id do it with 100 percent confidence." Its been a constant battle for Motte the past few years as he battles the urge to just throw his fastball as hard as he can every pitch while also realizing the need to mix in other pitches. And hes back there again this spring. After working on a cutter last season, Motte has turned his attention to a changeup. He began throwing it late in the 2012 season and worked on it during the offseason. Now hes hoping to perfect the pitch this spring and take it with him to the mound on a more regular basis in the regular season. "Its a pitch Im going to use," Motte said. "Its just like with my cutter and everything last year and in years past, its just getting to where I have the confidence in it. I threw it a good amount at the end of the year last year, just kind of messing with it. The last pitch of the year I threw last year was a changeup. "Ive been working on it. If you can do something like that thats one more weapon you can have when you go out there and the more weapons you have the better it is." Motte tied for the league lead with 42 saves last season and posted a 2.75 ERA in 67 games. It was the third consecutive season the hard-throwing righty posted a sub-3 ERA as he continues to become one of the more dominant relief pitchers in the game. And now hes trying to get even better, making the changeup an emphasis during his bullpens and live batting practice sessions early in camp and during his first three appearances in games. Hes given up two home runs this spring but neither have come on changeups. He threw a couple of good changeups to get outs during an appearance Friday in Kissimmee that drew unsolicited praise from pitching coach Derek Lilliquist. "Its a pitch that may become a weapon for him," Lilliquist. "Its something hes going to try to develop to be a big league pitch. If he has a four-seamer, a two-seamer and a cutter and a decent changeup, thats just a different weapon. "Hes actually the one that really has been working on it and trying to develop it in the offseason and now trying to make it a pitch in games here. Hes going to try to continue to try and throw it and well see what it looks like." For a pitcher that routinely hits 100 MPH on the radar gun, throwing a changeup can certainly take some getting used to. Even with the cutter in his arsenal last year, Motte would routinely go to his bread and butter fastball because he felt most confident in it. And sometimes that loyalty or confidence would backfire. When Motte would get beat with a fastball, fans and media would wonder why he didnt throw the cutter. Its a battle that Motte has fought the past few years and figures to fight again this year if he adds the changeup into the mix in the regular season. One thing Motte doesnt want to do is just make the changeup a waste pitch that he throws in the dirt once in a while. If hes going to use it, he wants to be able to throw it for strikes in all counts and situations. "With the way these guys hit, if you go up there and the only time you throw it is to waste it, then these guys arent going to swing at it," said Motte, who grips it similar to a split-fingered fastball. "You have to prove you can throw it for a strike because if you dont, they wont even swing at it. Some guys have nasty stuff but if you cant throw your off-speed for a strike, it can be the nastiest pitch in the world but if you dont throw it for a strike it doesnt matter. "They will sit for the fastball. If Im going to use it I have to pick and choose when I use it. I know with Yadi back there, it doesnt mater if its 3-2 count with the bases loaded, if he calls it, Ill be like, Yeah, lets do it." Trevor Hoffman used a changeup to become one of the greatest closers in baseball history. The seven-time All-Star retired with 601 saves in 2010 and continued to be an effective reliever late in his career despite having a fastball that didnt reach 90 miles per hour. With Motte possessing a much harder fastball, the pitch could be an even greater benefit for him. "It doesnt matter how hard you throw," Motte said. "A changeup is a good pitch regardless because if you can throw it and make it look like a fastball, it doesnt matter if you throw 84. If you have something that looks like 84 and its 74, thats a big difference. "The whole point of the changeup is to throw it, and when I caught and we talked about it in years past as a hitter or whatever, you want to throw it in fastball counts so people think fastball and they swing at it like a fastball. You want swings and misses or miss-hits and guys to get it off the end of the bat." Asked how many times Motte threw his changeup in a game last season, Lilliquist jokingly estimated, "Probably zero." Motte says it was more than that, including the final pitch he threw against the Giants when he got a weak ground ball up the third base line. How much he throws it in 2013 remains to be seen. "Well see," said Motte, "It just depends on when Yadi calls it."
Original Story:
http://www.foxsportsmidwest.com/03/06...
THE BACKYARD
BEST OF MAXIM
RELATED ARTICLES
St. Louis Cardinals manager Mike Matheny made a very interesting comment on Wednesday. With regard to the three-way battle for the final rotation spot among Joe Kelly, Shelby Miller and Trevor Rosenthal, the skipper said the following, as reported by B.J. Rains: "We're getting close," Matheny said of needing to make a decision. "Yeah, we're getting close." This was...
The battle for the Cardinals 5th starter spot just became a little clearer. According to Jennifer Langosch, Trevor Rosenthal did not attend the Cardinals starting pitchers meeting on Tuesday morning and, according to Derrick Goold, Mike Matheny confirmed that Rosenthal will move to the bullpen. That leaves Joe Kelly and Shelby Miller as the remaining competitors for the job. ...
Courtesy: Cardinals Media Relations JUPITER, Fla. The St. Louis Cardinals announced today that Cardinals great Willie McGee is joining the team as a Special Assistant to the General Manager and will focus his attention on the minor leagues. McGee, 54, spent time in Cardinals Spring Training camp last month, serving as a Special Instructor. "We are pleased to announce Willies...
The 2013 World Baseball Classic is in full swing, and that means you may not see all of your favorite St. Louis Cardinals' players down in Jupiter this spring training. Obviously though, Cardinal fans are some of the most dedicated fans in the world, and they will want to know what every single player is doing, not just the team. Fear not! This complete breakdown will let you...
In the This Is My Nightmare series, we'll take a look at what the absolute worst case scenario for each team would be in 2013. Think of it as the negative complement to our You May Say I'm A Dreamer series that we'll be running during our preview series. The Cardinals have had the kind of recent success that makes thinking up of a nightmare scenario actually fairly...
What else can baseball fans do in January but dream of October? In You May Say I'm a Dreamer, the Outside Corner staff will imagine the route to a World Series in 2013 title for all 30 teams. No National League team has won more World Series than St. Louis, and in 2013 the Cardinals made it an even dozen world titles. It's truly a golden era for baseball in St. Louis -...
With Rafael Furcal's status for the 2013 season in doubt due to a lingering elbow injury, the St. Louis Cardinals find themselves in quite a conundrum. General manager John Mozeliak and manager Mike Matheny gambled on Furcal being healthy. The veteran figured to be an important member of this year's team. Instead, the Cardinals are left to rely on a cast of players that...
Hot News for SS Rafael Furcal
Jake Westbrook showed no ill effects of the bruised knee that forced him to leave his first spring start after one inning, limiting the Miami Marlins to a run and four hits over three innings of the St. Louis Cardinals' 7-2 win Wednesday. Matt Holliday had a two-run homer, one of five long balls for the Cardinals. Top prospect Oscar Taveras put St. Louis on top in the second...
JUPITER, Fla. (AP) --Knee fine, Jake Westbrook got down to business. And he enjoyed it. Westbrook showed no ill effects of the bruised knee that forced him to leave his first spring start after one inning, limiting the Miami Marlins to a run and four hits over three innings of the St. Louis Cardinals' 7-2 win Wednesday. "Getting my work in and getting the allotted innings...
Four-time All-Star and 1985 Most Valuable Player Willie McGee to become a St. Louis Cardinals special assistant.
JUPITER, Fla. (AP) -- Lance Lynn allowed four hits in a three-run first inning and Jason Motte gave up a two-run homer in his second straight outing as the St. Louis Cardinals lost to the Minnesota Twins 7-0 Monday. Working on his slider instead of throwing fastballs and trying to induce fly balls into the wind, Lynn gave up three runs -- two earned -- and five hits in 2 1-3 innings...
Cardinals News

Delivered to your inbox

You'll also receive Yardbarker's daily Top 10, featuring the best sports stories from around the web. Customize your newsletter to get articles on your favorite sports and teams. And the best part? It's free!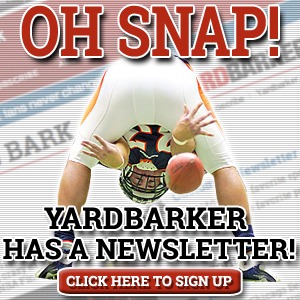 Latest Rumors
The Backyard

Today's Best Stuff

For Bloggers

Join the Yardbarker Network for more promotion, traffic, and money.

Company Info

Help

What is Yardbarker?

Yardbarker is the largest network of sports blogs and pro athlete blogs on the web. This site is the hub of the Yardbarker Network, where our editors and algorithms curate the best sports content from our network and beyond.