Found December 13, 2012 on Fox Sports West:
PLAYERS:
Josh Hamilton
,
Zack Greinke
,
Arte Moreno
,
Albert Pujols
,
CJ Wilson
,
Joe Blanton
,
Tommy Hanson
,
Kobe Bryant
,
Dwight Howard
,
Chris Paul
,
Clayton Kershaw
,
Matt Kemp
,
Mike Trout
,
Jered Weaver
,
Hanley Ramirez
,
Adrian Gonzalez
,
Carl Crawford
,
Josh Beckett
,
Torii Hunter
,
Don Mattingly
,
Mike Scioscia
TEAMS:
Texas Rangers
,
Los Angeles Dodgers
,
Los Angeles Angels
,
Los Angeles Lakers
,
Los Angeles Clippers
,
Boston Red Sox
,
Milwaukee Brewers
,
Detroit Tigers
,
San Francisco Giants
Whether it was the need to one-up the Dodgers or a decision to add a bat to an already potent lineup, the Angels went deep Thursday when they snapped up free-agent outfielder Josh Hamilton with a five-year, 125-million contract. Its your move, Dodgers. In a span of three mind-numbing days, the two Southern California teams separated by 35 miles of freeways and congestion signed two high-profile players to deals that will pay them 272 million. But with all that money come big expectations. The need to win has never been stronger than it is now for the Dodgers and Angels. When teams fall short of the playoffs, then spend big money as they have this week, the results need to reflect the financial commitments. It doesnt always work that way, but thats what owners expect. In this case, Guggenheim Baseball Management, which purchased the Dodgers last spring, has taken on more than 600 million in salaries since it assumed control of the franchise, including the 147 million that will go to pitcher Zack Greinke over the next six years. The teams payroll for 2013 will be the highest in baseball history at more than 220 million. Angels owner Arte Moreno spent 240 million last offseason on a 10-year deal with Albert Pujols, then added pitcher C.J. Wilson for 77.5 million over five years. The Angels dropped out of the bidding for Greinke fairly early, preferring to create more affordable depth in their pitching staff, so the Hamilton signing had the impact of a blindside hit. Did the Angels sign Hamilton as a reaction to the Dodgers signing of Greinke? Its not an illogical guess. Remember, this is Los Angeles; you dont make headlines by signing players like Joe Blanton and Tommy Hanson, two new starters in the Angels rotation you go big. LA is Kobe Bryant and Dwight Howard, Blake Griffin and Chris Paul. The Dodgers have Greinke, Clayton Kershaw and Matt Kemp. The Angels counter with Pujols, Mike Trout, Jered Weaver and now Hamilton. Could a Freeway World Series be next? It better be. The Dodgers and Angels havent been to the postseason since 2009. The Dodgers last World Series title was 1988 thats last century, for goodness sake. The Angels are more than 10 years removed from their only title. Moreno signed Pujols because he believed it would put his team over the top to win another title. The Angels not only didnt win their division, they didnt even finish second. The answer? Spend more lavishly. Last season, in an effort to chase down the San Francisco Giants in the National League West, the Dodgers traded for Hanley Ramirez in July, then acquired Adrian Gonzalez, Carl Crawford and Josh Beckett from the Boston Red Sox in the largest trade in franchise history. The Angels got Greinke from the Milwaukee Brewers Brewers before the trade deadline last July, but they still were unable to win the American League West, finishing behind the Oakland As and Rangers after being preseason favorites to win the World Series. Now theyve taken two players who once played for Texas Wilson and the left-handed-hitting Hamilton, who hit 43 home runs last season but now must adjust to a pitcher-friendly ballpark in Angel Stadium. Hell provide protection hitting behind Pujols, who got off to a horrid start last season before finishing with 30 homers (the lowest total in his career) and 105 RBI. But offense wasnt the Angels problem last season. Pitching was. Money certainly isnt an issue for either team. Although the Angels finally balked at bidding for Greinke, they proved they can write checks as big as the Dodgers'. Until Thursday, they were frustratingly frugal, opting to let popular outfielder Torii Hunter sign with the Detroit Tigers even though he was willing to take less than the 26 million for two years the Detroit Tigers gave him. After the Hamilton deal went down, Hunter tweeted, I was told money was tight but I guess the Arte had money hidden under a Mattress. Business is business but dont lie. Later, Hunter added this: Great signing for the Angels. One of the best players in baseball. No argument there, but Hamilton is coming west because the Angels need to win now, and they need to make sure they create the same kind of anticipation the Dodgers have created with Greinke. Dodgers manager Don Mattingly and Angels manager Mike Scioscia will both face significant pressure starting on Opening Day. They both have the talent, but unless they deliver, its going to be a long, hot summer in sunny LA.
Original Story:
http://www.foxsportswest.com/12/13/12...
THE BACKYARD
BEST OF MAXIM
RELATED ARTICLES
  Yes, the Dodgers had conversations with Josh Hamilton's agents, Michael Moye and Scott Sanderson. But the impetus for the discussions came from the agents, not club officials, and the talks failed to progress, major-league sources say.   It's understandable that Moye and Sanderson would want to engage the Dodgers, who under their new ownership have become the biggest spenders...
The Los Angeles Angels have reportedly agreed to sign Josh Hamilton to a deal worth around $125 Million over five years.  The Angels had a disapointing season last year, and are not gun shy about spreading some cash around.  This all comes from a source with direct knowledge of the deal told ESPN Dallas talk show host Ben Rogers.  The Angels have a power filled line-up to say...
Because I know how ignorant people can be, especially on Twitter, I figured today's news of Josh Hamilton's big signing with the Angels would prompt some very personal attacks on the social network. After a quick search, it was pretty clear I was right. Compiled below are some of the worst of the worst. Keep in mind that these are some of the same people who just yesterday were...
FORT WORTH, Texas The normally pleasant Texas Rangers media luncheon took a turn late Thursday afternoon. That's when Texas general manager Jon Daniels ducked out of the banquet room at the Omni Fort Worth Hotel and took a call from Mike Moye, Josh Hamilton's agent. Moye informed the club that Hamilton had agreed to a deal with the Los Angeles Angels. He's leaving...
The Angels shocked everyone on Thursday by signing Josh Hamilton. Adding to the surprise factor was the magnitude of the deal. Hamilton inked a five-year pact with Los Angeles, which apparently was too lengthy for Boston's blood, even though the Red Sox reportedly did consider the five-time All-Star. According to WEEI.com's Rob Bradford, the Sox were interested in possibly signing...
The Los Angeles Angels have plucked another player from their division rival Texas Rangers. Today the Angels and Josh Hamilton agreed to a 5 year contract worth $125 million. The 2010 MVP had been shopping his services and will land with former teammate C.J. Wilson. Hamilton hit .285 with 43 homers and 128 RBIs in 2012 and is a lifetime .304 hitter with 161 home runs. The 31 year...
Last year it was Albert Pujols who signed a major contract deal with the Los Angeles Angels. This year the Angels have made a deal with Josh Hamilton. It looks as though Josh will get a five-year contract worth $125 million. It looks like the Angels are taking some pages out of the New York Yankees and Boston Red Sox free agent signing book. Last year the Angels spent $240 million...
by: Parker Perry @ParkerPerry_ Staff Writer  The Cincinnati Reds first opponent of the 2013 season has completed the biggest signing of the 2012-2013 off-season. The Los Angeles Angels of Anaheim inked their rival's, the Texas Rangers, outfielder Josh Hamilton to a five year, $125 million contract. Yes, that is $25 million a year. Hamilton was traded by the Reds...
I'm not sure what the L stands for, but Josh Hamilton obviously felt LAA was a good fit for him. What I'd like to know is how is California a bankrupt state? The Dodgers and Angels' salaries combined are equal to the GDP of every country, except China and Switzerland. Mozambique couldn't afford just Pujols and Hamilton. Forget Greinke, Hanley, Vernon Wells, Matt...
The 2012 Winter Meetings came and went without too much of a fuss anywhere in the league. Sure some deals were made during the league's time in Nashville but the big pieces did not fall until later.  Josh Hamilton is still out […]
Imagine being stuck with the contracts of Ryan Howard and Josh Hamilton in 2016. Howard will be 36 and Hamilton would be 35. Roy Halladay and Chase Utley in 2016? Forget it. How about trying to win it all in 2013 and then revamp the team? The big TV money is not there yet and the luxury tax threshold begins next season. Right now the outfield is Daren Ruff in left, Ben Revere in...
Incidents in Connecticut this morning remind us of what a frightening world this can be. My thoughts and condolences to anyone affected by the tragedy. Josh Hamilton signed with the Angels, and Torii Hunter was not happy about it. This is some serious dedication. Brandon McCarthy has a serious Twitter problem. SCOREBOARD Nothing last night
MLB News

Delivered to your inbox

You'll also receive Yardbarker's daily Top 10, featuring the best sports stories from around the web. Customize your newsletter to get articles on your favorite sports and teams. And the best part? It's free!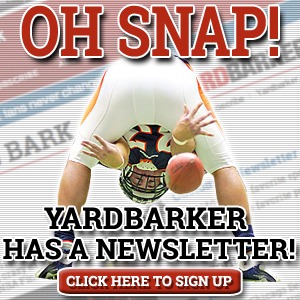 Latest Rumors
The Backyard

Today's Best Stuff

For Bloggers

Join the Yardbarker Network for more promotion, traffic, and money.

Company Info

Help

What is Yardbarker?

Yardbarker is the largest network of sports blogs and pro athlete blogs on the web. This site is the hub of the Yardbarker Network, where our editors and algorithms curate the best sports content from our network and beyond.