Found December 06, 2012 on Fox Sports:
PLAYERS:
Josh Hamilton
,
Ken Rosenthal
,
Felix Hernandez
,
Ian Kinsler
,
Elvis Andrus
,
Adrian Beltre
,
Jack Zduriencik
,
Jason Bay
,
Jason Kubel
,
Mike Morse
,
Nick Swisher
,
Jesus Montero
,
John Jaso
,
Justin Smoak
,
David DeJesus
,
Asdrubal Cabrera
,
Shin-Soo Choo
TEAMS:
Texas Rangers
,
Seattle Mariners
,
New York Mets
,
Arizona Diamondbacks
,
Washington Nationals
,
New York Yankees
,
Chicago Cubs
,
Cleveland Indians
Josh Hamilton would help the Seattle Mariners. That is obvious. They need his presence, his star power, his fluid left-handed swing. But if they think he alone is the answer to their offensive woes, they might be headed toward a costly calamity. The Mariners remained firmly in the Hamilton sweepstakes as the baseball winter meetings adjourned Thursday, discussing three-year deals with the free-agent outfielder in the range of $20 million to $25 million per season, according to my colleague Ken Rosenthal. It's hard to imagine Hamilton signing with the Mariners -- the American League's worst team during the past three seasons -- for less than four years and $100 million. On a club that opened the 2012 season with a payroll near $85 million, Hamilton would account for roughly one-quarter of the budget and probably surpass Felix Hernandez as the franchise's highest-paid player. The only way to justify spending that money would be ... to spend more money. Unless Mariners ownership is prepared to take its payroll to around $110 million -- as it has before -- it should pass on the top free-agent hitter and shop elsewhere. It makes no sense for the Mariners to sign Hamilton unless they are committed to surrounding him with a championship-caliber lineup. Rather than the culmination of the Mariners' offseason spending, he needs to be the beginning. For a moment, set aside concerns over Hamilton's past drug abuse and durability. Perhaps the greatest flaw among his baseball credentials is a tendency to swing early in the count at pitches outside the strike zone. In fact, Hamilton offered at the highest percentage of non-strikes -- 45.4, according to FanGraphs.com -- of any hitter in the major leagues last season. Put another way: Hamilton was the least disciplined hitter in baseball, despite a number of factors that should have increased the number of hittable pitches he saw: Base-stealing threats Ian Kinsler and Elvis Andrus were frequently aboard when Hamilton came to bat, and consistent run producers like Adrian Beltre and Nelson Cruz followed him in the order. The Mariners lineup, as presently constituted, would offer Hamilton no such support. Seattle finished last in the American League in runs scored this year ... and last year ... and the year before that ... and the year before that. The Mariners want Hamilton, in part because their No. 3 hitters combined for the worst OPS at that station for any AL team last season. But if they fail to improve in the No. 4 spot -- where they also had the league's lowest production -- how often would Hamilton be pitched around in important situations? At the very least, general manager Jack Zduriencik would need to acquire a legitimate middle-of-the-order hitter to slot behind Hamilton. (No, the newly signed Jason Bay doesn't count.) The Mariners are known to have interest in trade candidates Jason Kubel (Arizona) and Mike Morse (Washington), as well as free agent Nick Swisher. Any would be a significant upgrade over this year's cleanup rotation: Jesus Montero, John Jaso and Justin Smoak. Even if Zduriencik signs Hamilton and acquires a new cleanup man, he can't consider his offseason shopping complete. The Mariners' first and second hitters combined for the AL's worst on-base percentage between the top two spots this year. It would be foolish for the Mariners to make a nine-figure investment in one of the preeminent RBI men in baseball and have no one on base to be driven home. Chicago Cubs outfielder David DeJesus, who had a .350 on-base percentage this year while spending most of his time as a leadoff man, is one potential fit via trade. He's signed to an affordable contract -- $4.25 million salary in 2013, $6.5 million club option in 2014 -- and the Mariners, with their bounty of young pitching, can supply the Cubs with a long-term asset for their rebuilding project. It might cost upwards of $30 million to $35 million in 2013 alone to acquire Hamilton, Morse and DeJesus. That would require a payroll increase. If team ownership doesn't have the appetite for that -- amid declining attendance at Safeco Field -- it should forget about Hamilton and save money for another offseason. There would be no shame in that, particularly for an organization that has developed a penchant for making the wrong moves at the wrong times. In 2006, the Mariners' Triple-A affiliate included Morse, Adam Jones, Asdrubal Cabrera, Shin-Soo Choo and Eric O'Flaherty. All were traded -- or waived, in the case of O'Flaherty -- for players who made negligible contributions to the team. If the Mariners merely had kept the players they had, Morse, Jones and Choo might constitute the best offensive outfield in the game. Cabrera made the All-Star team in each of the past two seasons, and O'Flaherty is one of the majors' top left-handed relievers. Instead, the Mariners are at 11 years and counting without a playoff berth, while their fans have gone from restless to apathetic. Hamilton can change both of those things. Just not by himself.
Original Story:
http://msn.foxsports.com/mlb/story/se...
THE BACKYARD
BEST OF MAXIM
RELATED ARTICLES
THE RIME OF THE NEW MARINER?
The Mariners reportedly have established themselves as a player in the Josh Hamilton Sweepstakes and are rumored to be offering him a three-year, big money deal.
The Seattle Mariners are making a strong push to sign free agent slugger Josh Hamilton and they are actually "very close" to getting a deal done, reports Geoff Baker of The Seattle Times. But I'm now told the talks between the two sides have been a lot more serious than anyone has let on and that they are actually "very close" to getting a deal done. ...
  The following guest contribution was written by Richard Pallarino (@rpallarino).  Richard is a student at CUNY-College of Staten Island and a Constituent Aide at the New York State Senate. Josh Hamilton was selected first overall in the 1999 Amateur Draft by the Tampa Bay Devil Rays, touted by scouts as one of the most pure talents [...] [[ This is a content summary only....
The latest hot stove rumor circulating is that the New York Yankees have inquired about slugging outfielder Josh Hamilton. USA Today Bob Nightengale reported the news via twitter but who knows if this was purely to generate attention as the source, an American League general manager, of course was anonymous. The #Yankees, but not GM Brian Cashman, quietly running background check...
The Boston Red Sox already added free agent outfielders Shane Victorino and Jonny Gomes in the offseason, but that isn't stopping them from talking to the highest-profile outfielder remaining on the free agent market. Josh Hamilton spoke with Red Sox manager John Farrell and general manager Ben Cherington on Wednesday, according to multiple media reports out of the winter meetings...
This offseason has been rather un-Yankee-like. That doesn't mean the Bronx Bombers should be ruled out of anything, though While the Yankees have been relatively quiet thus far, even losing out on guys like Jeff Keppinger, New York is apparently still doing its due diligence on perhaps the biggest fish in free agency. According to USA Today's Bob Nightengale, the Yankees are...
Not Cashman? Are the Yankees brass pulling another Rafael Soriano type move here? There was also an article by Joel Sherman in today's New York Post where he says that George Steinbrenner and the old Yankees brass would never pass up on the chance of getting Josh Hamilton in Pinstripes, which is very true. It will be interesting to see how this whole thing plays out.
Seattle Mariners president Chuck Armstrong keeps saying that the team hasn't exchanged numbers with outfielder Josh Hamilton. Ken Rosenthal reports differently though, he tweeted today that the team has exchanged dollars and years with the Texas Rangers slugger. https://twitter.com/Ken_Rosenthal/status/276800690196738049 The dollars should be enough to get a deal done but I highly...
A word of advice for certain baseball general managers:   When dealing with Zack Greinke and Josh Hamilton: caveat emptor – let the buyer beware.   I'm speaking to you, Ned Colletti, Jon Daniels, Jerry Dipoto, Jack Zduriencik.   Daniels, the Rangers GM, knows of which I speak.  Hamilton has been his headache for the [...]
Josh Hamilton, Zack Greinke, and Justin Upton are three pieces of three monster deals that could be on verge of either getting done at any moment, or fall apart at the last minute.  That's all fine and dandy, but there are plenty of other players, serviceable players that are available that no one talks about.  Look at Randy Choate for example. According to Jon Morosi's...
This year at the Winter Meetings, one team seems interested in every hitter on the market: the Seattle Mariners. They've apparently talked about (and this is not an inclusive list) Josh Hamilton, Michael Bourn, Billy Butler, Jason Bay, Raul Ibanez...you get the picture. Every and any hitter with a pulse has been mentioned in the same breath as the offensively challenged Mariners...
The goals of Texas and Arizona are driving talk of three- and four-team blockbusters at the winter meetings ? and also might shed light on what is happening with the two biggest free agents, right-hander Zack Greinke and outfielder Josh Hamilton.
MLB News

Delivered to your inbox

You'll also receive Yardbarker's daily Top 10, featuring the best sports stories from around the web. Customize your newsletter to get articles on your favorite sports and teams. And the best part? It's free!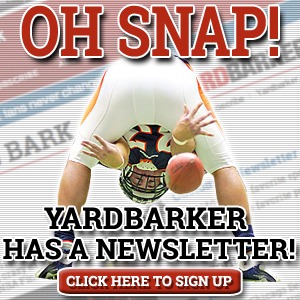 Latest Rumors
The Backyard

Today's Best Stuff

For Bloggers

Join the Yardbarker Network for more promotion, traffic, and money.

Company Info

Help

What is Yardbarker?

Yardbarker is the largest network of sports blogs and pro athlete blogs on the web. This site is the hub of the Yardbarker Network, where our editors and algorithms curate the best sports content from our network and beyond.