Found January 09, 2013 on Fox Sports South:
Taylor Murphy was sitting in a classroom scrolling through numbers and percentages on his phone when he received a text message from his father, Dale Murphy, who had just then missed out on being voted into the Baseball Hall of Fame for the 15th and final time. The former Braves great and two-time MVP winner received just 18.4 of the 75 percent of votes needed to be enshrined in the sport's hallowed museum of its top players, but as Taylor or any one of Murphy's other seven kids can attest, there was zero bitterness in his written words. "He thanked us for everything," said Taylor, the fifth-oldest child in the Murphy clan. "He looked at the positives." Murphy, of course, was thanking his children for the well-documented campaign they ran for their father's Hall of Fame candidacy in the build-up to the ballot process. And for the most part, it paid off: Murphy's numbers increased at a higher percentage than any other player left over from last year's ballot, jumping up 4.1 points. Some will call that a sympathy vote, others a tribute to a standout career and even others a rise in overall awareness. Murphy calls it a blessing. "What my kids did for me helped me with that jump. For it to go up like that really shows how much of a difference they made," Murphy said in a phone interview. "We've been talking all day today since it came out, and they're obviously disappointed. They just said, 'What? We can't believe it.' But I told them how much it meant to me." One of the most dominant players of the 1980s, Murphy concluded his career with a .265 batting average, 398 home runs and seven All-Star appearances. For some 106 voters, to be specific that peak was enough. The majority, however, point to his severe drop-off in the 90s (.240 average and 44 home runs in 351 games) and overall lacking in sabermetric evaluations. His final year of eligibility on the ballot was a hallmark year by any measure, as controversial stars of the "Steroid Era" notably Barry Bonds and Roger Clemens experienced their first years of eligibility. With such a mixing of eras and cultures and voting criterias, Murphy's accomplishments, as well as others considered his contemporaries did, either fell on deaf ears or by the wayside. For what it's worth, no player was inducted in this year's class for the first time since 1996. It is just the eighth time in history not a single standout baseball player will be enshrined in Cooperstown. Murphy understands. He said so numerous times in numerous interviews on Wednesday. His kids, on the other hand, are still going to battle for their father (and others). "Overall, disappointed that the Hall of Fame is just kind of a mess right now. Just as a baseball fan I'm disappointed," Taylor said. "I don't understand how Biggio didn't get elected. I don't understand how nobody was elected. I don't know how the baseball writers we've given them too much control and it's become a circus. I feel robbed as a fan and definitely disappointed that my dad got such a low percentage. "I think it's ridiculous when writers say, for example with Craig Biggio, 'Oh, maybe next year he'll get in. Maybe the year after.' They won't vote for him simply on the principle that it's his first year on the ballot. But the guy has 3,000 hits. And he's clean and he's one of the best players of all-time and he's gonna be in, so what gives them the right to decide that this year is not the year but maybe next year? What can explain the percentage differences throughout the years with my dad? Nothing except this all-knowing concept the writers give themselves. It needs to be changed." The one consolation the Murphy kids can take away from their rather successful campaign is that it built momentum into the next phase of their father's Hall of Fame candidacy. Murphy is still eligible to be inducted via the Veteran's Committee, which he will become eligible for in a few years. Hope is not lost. For now, it's just postponed. "It's been a great experience," Murphy said of his 15 years on the ballot. "You know, that doesn't happen too often, either. "I'm just thankful."
Original Story:
http://www.foxsportssouth.com/01/09/1...
THE BACKYARD
BEST OF MAXIM
RELATED ARTICLES
(Written on 1/9/2012) Baseball's Hall of Fame ballot is filled with players who have a chance to get baseball's highest honor. Unfortunately, the bar has been set so high that many very good players who had tremendous career will not make the Hall of Fame. Players who were the best in the game for years at a time will never get the call. Dale Murphy was one of the best National...
The Baseball Writers Association of America (BBWAA) got it right in 2013. The Baseball Hall of Fame (HOF) is not the Hall of Good Guys.  (Dale Murphy) The Baseball Hall of Fame is not the Hall of Milestone Numbers and you are automatically included regardless if you cheated, regardless if you are a bully, regardless if you forget English.  (You know the list) Nor is the Baseball...
For the second consecutive year, the Hall Of Fame ballot will be looked at, player by player, right here on i70baseball. There are 37 names on this year's Hall Of Fame ballot, with 24 of those players appearing for the first time.  Dale Murphy, one of the thirteen hold overs from last year's ballot, appears for his 15th and final time. Below you will find the links to a brief...
the best Brave ever   Today is Dale Murphy's last chance to enter Baseball's Hall of Fame. If you follow Murph on Twitter, you've seen the overflow of support he's received from fans. You may have even signed the petition started by his son Taylor asking the BBWAA to invoke the character clause in a positive way. While I understand the arguments against his numbers...
MLB News

Delivered to your inbox

You'll also receive Yardbarker's daily Top 10, featuring the best sports stories from around the web. Customize your newsletter to get articles on your favorite sports and teams. And the best part? It's free!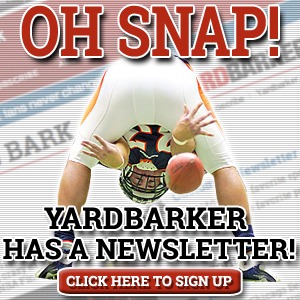 Latest Rumors
The Backyard

Today's Best Stuff

For Bloggers

Join the Yardbarker Network for more promotion, traffic, and money.

Company Info

Help

What is Yardbarker?

Yardbarker is the largest network of sports blogs and pro athlete blogs on the web. This site is the hub of the Yardbarker Network, where our editors and algorithms curate the best sports content from our network and beyond.