Found March 02, 2012 on The Nats Blog:
Major League Baseball is expected to expand the playoffs for the 2012 season, according to sources including Ken Rosenthal and Jon Heyman.  The sides are working out the final agreement, which includes the new playoff schedule.  The format will add an additional Wild Card team from each league, and the two Wild Card teams from each league will play each other in a one-game playoff.
This news is exciting for Washington Nationals fans, as it improves their chances of making the playoffs starting this season.  As Mark Zuckerman calculated yesterday, the average fifth-seed in the National League over the last 10 years wins just under 89 games each season.  Last year, the Atlanta Braves narrowly missed the postseason in that fifth spot with... 89 wins.
Perhaps the part that's most exciting for Nationals fans is the thought of 89 wins isn't totally ludicrous this season.  In each of the last two seasons, the Nats have increased their win totals by more than 10 wins from the previous season: from 59 in 2009 to 69 in 2010 to 80 in 2011.  Between those years, the team certainly improved, but the 2012 Nationals have even more going for them than those teams.  The perfect example is the status of John Lannan.  Just two seasons ago, the Nationals couldn't imagine not having Lannan at the top of their rotation.  Entering 2012, Lannan may still find him self in the minor leagues as a victim of remaining contract options and burgeoning organizational pitching talent.
There was a chance the Nats could stay relevant in the playoff picture well into September this season even without the expanded playoffs, but with them, the excitement seems to flourish in NatsTown a bit more.  Any way you shake it, the Nationals will likely have to finish second in the NL East to have a chance.  The NL East is the strongest its been in years, which is saying something, and there will be a lot of beating up on each other during the year.  The Atlanta Braves have a stellar pitching staff, and the Miami Marlins experiment could earn them 92 wins, 72 wins, or anything in between.
If the Nationals want to have a shot at the playoffs this year, for the first time in the team's DC history, they have to start strong and capitalize on a relatively easy April.  With 13 games against the Cubs, Mets, Reds, Astros, and Padres, they have a legitimate shot to get out to a fast start.  If you look at their competition, the Phillies will be without Ryan Howard due to his Achilles injury and with an aging lineup, and the Braves will be without their ace Tim Hudson through April due to back issues and with a seemingly fragile rotation, a fast start could be invaluable when the dog days of summer hit in late-July and August.
One thing is sure, the Nationals are going to be much more fun to watch for the casual fan with the new playoff format, and it could ultimately help ticket sales with September success.  The excitement during Spring Training hasn't been this palatable since the Inaugural Season in 2005.  It's hard not to get caught up in it.
Original Story:
http://www.thenatsblog.com/2012-artic...
THE BACKYARD
BEST OF MAXIM
RELATED ARTICLES
When we last checked in on Michael Morse in this post-Bryce-Harper-Twitter world, Morse revealed to the world that Davey Johnson knows more about electronics than he does. In an interview with CSN Washington's Kelli Johnson (see below) on Wednesday, Morse talked about his long road to success, his reaction to the arrival of Jayson Werth, and most importantly, how his pre-AB...
ALL ON THE LINE
Washington Nationals manager Davey Johnson said that if he cannot lead the team to the postseason this year, he shouldn't be retained as the skipper, saying that if the team comes up short, "They can fire me."
Bryce Harper went 0 for 2 with a walk as the Washington Nationals defeated Georgetown 3-0 Friday in an exhibition game at Space Coast Stadium. The 19-year-old Harper is being given a chance to win the starting job in right field this spring. He will make his first start against major league-level competition Saturday when Washington plays the Houston Astros in Kissimmee. After...
Former Major League Baseball slugger Matt Stairs will be inducted into the New Brunswick Sports Hall of Fame. Stairs, who holds the league mark for pinch-hit homers (23), retired after a 19-year career with a record 13 clubs. The 44-year-old native of Saint John belted 265 career homers and added 899 RBIs. Stairs was a member of the 2008 World Series champion Philadelphia Phillies.
Bryce Harper may have quit Twitter earlier this week (forced by veteran teammates *cough* *cough* Jayson Werth? *cough*?), but Bryce Harper's mustache (@BHarpersStache) appears to still be alive and well on Twitter, as evidenced by the Friday night Tweets above. Even if, you know, he's more of a beard now. Love the hashtags, buddy. Meanwhile, exiting the dark underbelly...
Chien-Ming Wang suffered a torn anterior capsule in his throwing shoulder back in 2009.  The injury is identical to the on that has sidelined New York Mets ace Johan Santana since September of 2010.  As Brian Costa of the Wall Street Journal recently wrote last night, Wang is now fully recovered, attempting to earn a spot in a suddenly deep Washington Nationals rotation, and has...
MLB will have 10 teams in postseason in 2012 Like the idea or not, Major League Baseball will implement an expanded wild card playoff format this season, according to Ken Rosenthal of FOX Sports. This should place more emphasis on the importance of winning the division in baseball, because nobody will want their playoff hopes come down to one final game in a winner-take-all...
It's Wednesday, which means more stupid ramblings from me. Again, let's start with a "Charlie in the Movies" photo.Ryan ZimmermanShort take on the Ryan Zimmerman contract – it's good for Washington. Sure, Zimmerman is now the second highest paid third sacker in history, but he's making less per year than Jayson Werth, who is now the standard bearer for **...
According to Ken Rosenthal on Twitter, Major League Baseball and the Player's Association have come to some sort of agreement that will allow for the possibility of expanded playoffs beginning this season, and an announcement to that effect will come tomorrow. At the beginning of the month, Jayson Stark highlighted some of the issues with expanding the playoffs for 2012 after...
Making the playoffs just got a little bit easier for Major League Baseball. Commissioner Bud Selig and MLB are expected to announce on Thursday that each league will get an extra wild card team in 2012, according to FOX Sports' Ken Rosenthal. The announcement, which has long been rumored, could be coming as soon as Thursday according to Rosenthal, who says a there are only a...
MLB News

Delivered to your inbox

You'll also receive Yardbarker's daily Top 10, featuring the best sports stories from around the web. Customize your newsletter to get articles on your favorite sports and teams. And the best part? It's free!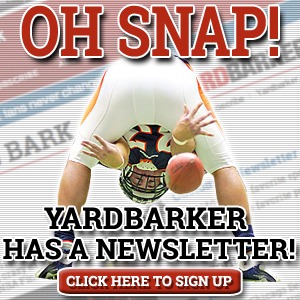 Latest Rumors
The Backyard

Today's Best Stuff

For Bloggers

Join the Yardbarker Network for more promotion, traffic, and money.

Company Info

Help

What is Yardbarker?

Yardbarker is the largest network of sports blogs and pro athlete blogs on the web. This site is the hub of the Yardbarker Network, where our editors and algorithms curate the best sports content from our network and beyond.