Found July 17, 2012 on The Nats Blog:
PLAYERS:
Chien-Ming Wang
,
RA Dickey
,
Jon Niese
,
Johan Santana
,
Chris Young
,
Dillon Gee
,
Miguel Batista
,
Matt Harvey
,
Ross Detwiler
,
Jason Bay
,
Lucas Duda
,
Terry Collins
,
Daniel Murphy
,
Ruben Tejada
,
David Wright
,
Jordan Zimmermann
,
Gio Gonzalez
TEAMS:
Miami Marlins
,
Washington Nationals
,
New York Mets
,
Atlanta Braves
,
Chicago Cubs
Returning home after a somewhat disappointing four-game series split against the Miami Marlins, the Washington Nationals (51-36) are set to face the New York Mets (46-43), who have had an even more disappointing stretch of luck lately.
The Mets are riding a four-game losing streak and haven't won a game since the All-Star break after being swept by the Atlanta Braves. The series loss gave the Braves a boost that left them nipping at the heels of the Nationals, while it pushed the Mets from a close third place standing (just 3.5 games behind the Nats) to a much more distant 6.5 games behind.
When they last played each other in June, the Nats had to fight to keep the Mets from unseating them off their first place throne - the Mets were just a half a game away from overtaking them. Now though, wins against the Mets in this series will serve more as a cushion against the looming Braves, who are on a seven-game winning streak and are shaping up to be the Nats most concerning rival.
The Nats have won four of six games against the Mets this season, and only one of those losses has happened at Nationals Park (and for the record, Chien-Ming Wang was on the mound).
Slipping Pitching
June was a much better month for the Mets than what July is shaping up to be. After going 15-13 in June, the Mets had the lowest starting ERA (2.48) of all major league teams for that month. R.A. Dickey (0.93 June ERA), Jon Niese (1.89) and Johan Santana (2.77) were all lights out through the month, and both Chris Young (3.30) and Dillon Gee (3.90) put together solid performances.
But with the change in the calendar there was a definite change in the success of the Mets' pitching. So far in July the team is just 3-7, and although it is a very small sample size, this month they already have the highest starting ERA in the National League (6.23).
The three starters that the Nationals are slated to see this week are Niese, Young, and Dickey, and all three of them have been experiencing a recent slide.
In his last outing, Niese allowed a rough seven earned runs to the Chicago Cubs, ultimately resulting in a 0-7 loss. Niese was averaging 6.8 strikeouts per start in June, but in two starts in July he has struck out just three apiece.
Through two July starts, Young has already allowed eight earned runs and three homers. In June, he allowed 11 earned runs the whole month and gave up just one home run.
Through both May and June, R.A. Dickey allowed more than two earned runs in a game just twice. Starting on May 27, he didn't allow a single run to score for five outings. His last two appearances on the mound though, he allowed five earned runs each time.
Like I said, all of this information comes from a very small sample size and shouldn't be cause for panic from Mets fans. All teams go through slumps, and this is definitely a pretty big slump. A trend is emerging though, and unfortunately for the Mets, the Nationals are going to do their best to see that the trend continues.
Worth Noting
- Although the Nationals will miss what would have been his spot in the pitching rotation, Dillon Gee is out for the season after undergoing surgery to replace a section of damaged artery in his right shoulder. Manager Collins is still unsure who will replace him, but is considering either long man, and former Nats reliever, Miguel Batista or Matt Harvey who is currently pitching for their Triple-A affiliate.
- Ross Detwiler already has two wins this season against the Mets, although one came in relief when he pitched the last two innings of a 12-inning game in June.
- Left fielder Jason Bay is hoping to return to the lineup today after being on the out with a concussion since June 15. Before his injury, Bay was hitting .187 with four home runs and 23 strikeouts in 22 games.
- Lucas Duda's left hamstring has been bothering him, and according to MLB.com, on Saturday manager Terry Collins said he wanted to keep Duda out of the lineup for a few days so he can rest without going on the DL.
Who's hot?
Daniel Murphy (2B) .351 AVG, .368 OBP, .486 SLG, 5 RBI (last 10 games)
Ruben Tejada (SS) .390 AVG, .444 OBP, .439 SLG, 4 RBI (last 10 games)
David Wright (3B) .275 AVG, .356 OBP, .475 SLG, 9 RBI, 2 HR (last 10 games)
Who's not?
Lucas Duda (RF) .152 AVG, .282 OBP, .242 SLG, 11 SO (last 10 games)
R.A. Dickey (SP) 7.50 ERA, .365 AVG, 11 SO, 12 IP (last two starts)
Probable Starters
Ross Detwiler (4-3, 3.43 ERA) vs. Jon Niese (7-4, 3.73 ERA)
Jordan Zimmermann (6-6, 2.48 ERA) vs. Chris Young (2-3, 4.28 ERA)
Gio Gonzalez (12-4, 2.93 ERA) vs. R.A. Dickey (12-1, 2.66 ERA)
Original Story:
http://www.thenatsblog.com/2012-artic...
THE BACKYARD
BEST OF MAXIM
RELATED ARTICLES
If you asked most people what they disliked most about modern bullpen usage, the most common answer would be managing the game with the idea of maximizing saves for one pitcher. There is no doubt that is a sub-optimal way to do things. But to me there is something even more revolting and that is the idea that it is okay to carry pitchers who regularly have outings where they face...
I've heard the question posed on every sports media outlet for two weeks now: "if you could give out first-half awards, what would they be?"  I've heard Andrew McCutcheon's name countless times for NL MVP of the 1st half, and also our own beloved R.A. Dickey for 1st half NL Cy Young considerations. However, if there were an actual award for most improved player…for...
New York Mets manager Terry Collins called a players-only meeting prior to Wednesday night's game versus the Washington Nationals and his team responded by dropping their sixth straight game and nine out of their last ten, remaining winless in the second half. With the 4-3 loss to the Nats, NY dropped to 46-45 and 5 games behind the NL Wild Card leaders: It seems so long ago that...
Holy hell, what a game. Summary This one tailed into extra innings and had a real playoff atmosphere to it. The biggest flaw of the Mets was exposed AGAIN as the bullpen could not hold down leads in the ninth or tenth inning. This is not a recap I will enjoy writing, but there were positives to take away from this game. It was Jon Niese vs Ross Detwiler in a hell of a pitching duel...
Anybody else notice how awful Johan Santana has pitched whenever Terry Collins makes a big issue of giving his ace some extra days of rest? First there was the debacle against the Yankees in the Bronx, then of course we had last night against the Braves. What was odd to me was how emphatic Santana was each time in saying he felt great and didn't need the extra rest, but why listen...
It's funny how this stuff works out. Before each season, SNY and the Mets decide which Buffalo Bisons game to air on SNY. If you didn't know, the Bisons are the Mets' Triple-A affiliate. So the Bisons play Toledo at home right now. Jason Bay is starting in left field and batting second. But that's not the big news of the game. I'm sure that most of you have heard of Matt...
The Mets look to get back on the Wright track (aha!) today as they take on the Nationals in DC. This past weekend was rather disappointing in Atlanta as the Mets got swept, Gee needs to be replaced, Duda got injured, and the bullpen being itself. However, as we all know, winning makes all of that go away, so let's try winning! Tonight Jon Niese takes on Ross Detwiler. Jon Niese...
The Mets needed a big-time performance from Jon Niese tonight. They got that but found themselves on the wrong end of a pitchers duel for eight innings. Down 2-0 in the top of the ninth, Jordany Valdespin sent a Tyler Clippard pitch into the right-centerfield seats for a three-run homer to give the Mets a 3-2 lead. Then the Met bullpen showed their true colors...
Tonight, the Met offense provided the bullpen with two opportunities to close out the Nationals, and the bullpen could not do the job in either circumstance and fell to the Nationals 5-4. After Jordany Valdespin hit yet another big homer for the team in the ninth inning to take the lead, Bobby Parnell couldn't hold the lead.  And then in the 10th after a big two-out hit off of...
When you think about it really, the whole day wasn't one of the Mets' finer days.First, we found out that even though Matt Harvey was solid against the Toledo Mud Hens, that we would still have to be subjected to one more Miguel Batista start on Saturday.Then, we got to endure eight innings of Jason Bay and his uselessness and his double plays and his attempted sacrifice...
Pedro Beato threw a wild pitch with the bases loaded in the 10th inning that allowed the winning run to score, and the Washington Nationals rallied for a 5-4 victory after blowing a late lead Tuesday night. The Nationals fell behind twice after leading 2-0 going into the ninth. Mets pinch-hitter Jordany Valdespin hit a three-run homer off closer Tyler Clippard. But Danny Espinosa...
I was at the game yesterday and before we start ripping apart the team, at least the team has fight. The offense was playing miserable the entire night, and after the Mets let up the first run in relief in 8th, the game, I'll admit, felt out of reach. Especially when you take the Nationals bullpen into consideration. They had just enough opportunity to feel demoralized. Their amazing...
MLB News

Delivered to your inbox

You'll also receive Yardbarker's daily Top 10, featuring the best sports stories from around the web. Customize your newsletter to get articles on your favorite sports and teams. And the best part? It's free!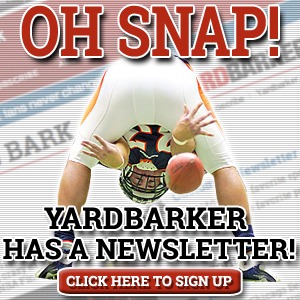 Latest Rumors
Best of Yardbarker

Today's Best Stuff

For Bloggers

Join the Yardbarker Network for more promotion, traffic, and money.

Company Info

Help

What is Yardbarker?

Yardbarker is the largest network of sports blogs and pro athlete blogs on the web. This site is the hub of the Yardbarker Network, where our editors and algorithms curate the best sports content from our network and beyond.