Found June 25, 2012 on The Nats Blog:
PLAYERS:
Jim Tracy
,
Jeremy Guthrie
,
Carlos Gonzalez
,
Matt Belisle
,
Todd Helton
,
Michael Cuddyer
,
Alex White
,
Stephen Strasburg
,
Jeff Francis
,
Gio Gonzalez
,
Jordan Zimmermann
,
Josh Outman
,
Edwin Jackson
,
Christian Friedrich
,
Bryce Harper
TEAMS:
Washington Nationals
,
Colorado Rockies
You would be hard pressed to find two more opposite teams this season than the Washington Nationals (41-29) and the Colorado Rockies (27-44). As the Nationals travel to Denver, they bring with them the second-best record in the National League, an unexceptional offense and a superstar pitching staff. The Rockies prepare to receive them with the third-worst record in the major leagues, a power hitting offense and a seriously floundering pitching staff. The Nationals offense is likely to get a boost against the Rockies' rotation at the famously hitter-friendly Coors Field. As long as the Nationals' pitchers can keep performing, and the outfielders can adapt to the extra large outfield, the odds are in favor of the Nationals for this four game series.
The Nationals have gone 12-8 in June. Winning this series will be key to their finishing the month with a winning record. They are 16-33 against the Rockies since 2005, and 9-16 at Coors Field.
Misleading stats
Out of all major league teams, the Rockies have the fourth-highest batting average (.266), the third-highest slugging percentage (.451), the fifth-most home runs (89), and the most triples (25). None of the Nationals' offensive numbers even come close to those; however, before you panic that the Rockies are going to crush them (no pun intended), take a look at their home and away splits. When batting in their home field, the Rockies have the highest team batting average and slugging percentage in the league (.289, .507), but when home field advantage is taken away, they are hitting just .243 (18th) and slugging .390 (16th). Even though the Nats will be pitching in the Rockies' home field, those stats show that they aren't exactly a team of Silver Sluggers, - they just have a home ballpark that likes to help them out. So, the Nats' pitchers shouldn't be worried that they are going to get dominated.
In the same vein, the Nationals pitch better when they are away (first-place 2.78 ERA) and the Rockies pitching is no good no matter what field they are standing on when they throw the ball. Their away ERA is a 23rd place 4.69, and at home it's even worse at 5.91 in last place. Overall, they have the highest opponent batting average (.297), WHIP (1.60) and ERA (5.33) in all of the major leagues.
Pitching Woes and a Four-man Rotation
Last week, Rockies' manager Jim Tracy made the unorthodox decision to downgrade their pitching rotation from five starters to four. In a damage-control effort, their Opening Day starter, Jeremy Guthrie, who posted a 7.02 ERA and a 1.83 WHIP through 11 starts, was moved to the bullpen. The weight of the game will now sit on the shoulders of the middle relievers, who have a collective 4.06 ERA to the starters' 6.31.
According to the Denver Post, Tracy felt that he had to do something "non-conventional" to try and help the team succeed. After four of their five season-opening starters were either reassigned, released or placed on the disabled list, Tracy and pitching coach Bob Apodaca were essentially out of options for moves they could make with the starting rotation.
Apodaca said, "We're dealing with a very youthful…rotation, very little experience. We haven't been getting the…production, especially at home. Coors Field is playing different this year than in past years. It's wreaked havoc on all pitching staffs, not just ours, and we haven't been getting the production, as far as length, out of our starters."
As a result of the move, the Nationals will see all four of the starters the Rockies have to offer this week in Denver.
With Guthrie now in the bullpen, none of the new starting four began the season in the pitching rotation. 
Predictions
Don't hate me for jinxing, but the Nationals should win this series, easily. All four of the starters the Rockies are going to see from the Nats have ERAs below three, for a combined 2.70 ERA. The Rockies starters on the other hand have a combined 7.22 ERA, and two of those four pitchers have ERAs in the eight range. In a hitters ballpark, even the Nationals' offense should be able to come alive enough to add some curly W's to their win column for what has so far been an unsuccessful road trip. 
Who's hot?
Carlos Gonzalez (LF) .330 AVG, .997 OPS, 17 HR, 51 RBI, 10 SB
Will Nieves (C ) .357 AVG, .879 OPS, 1 HR, 4 RBI (28 at bats)
Matt Belisle (RP) 2.08 ERA, 31 SO, 1.18 WHIP (hasn't allowed a run in his last six outings)
Who's not?
Todd Helton (1B) .245 AVG, .344 OBP, 29 SO (2-for-10 in last four games)
Michael Cuddyer (RF) .260, .314 OBP, 55 SO (2-for-25 in last six games)
Alex White (SP) 6.45 ERA, .302 AVG, 34 SO (5 H, 5 ER, 1 HR, 3.2 IP last start) 
Probable Starters
Stephen Strasburg (9-1, 2.46 ERA) vs. Jeff Francis (0-1, 8.56 ERA)
Gio Gonzalez (9-3, 2.55 ERA) vs. Alex White (2-5, 6.06 ERA)
Jordan Zimmermann (3-6, 2.89 ERA) vs. Josh Outman (0-3, 8.64 ERA)
Edwin Jackson (4-4, 2.91 ERA) vs. Christian Friedrich (4-4, 5.65 ERA)
That's A Clown Question, Bro
Also, we can't forget that the Rockies have made the first ever beer in honor of Bryce Harper, which will be served at Coors Field during this series.
Original Story:
http://www.thenatsblog.com/2012-artic...
THE BACKYARD
BEST OF MAXIM
RELATED ARTICLES
"We need to score more. That's not in question." (Ryan Zimmerman, via NatsInsider, 6/24/2012) Peter Angelos's team beats Ted Lerner's team in 2012 Battle of the Beltways. MASN-Nationals battle still undecided. Smart money is on Lerner for that one. Orioles 2, Nationals 1 (Sunday): Seems only fitting that the only run the Nats could muster was...
Maybe the Nationals won't be losing Ryan Zimmerman again after all. Earlier in the weekend, manager Davey Johnson said the Nationals might have to give the third baseman another cortisone shot for his inflamed right shoulder and possibly a spot on the disabled list once more. But Sunday, Zimmerman said that might not take place. The third baseman got a cortisone shot before...
With the incredible Washington Nationals starting pitching staff this season, many have completely forgotten about John Lannan toiling down in Triple-A Syracuse. A few doubleheaders are coming up in the next couple months for the Nats, so it's probably about time to remember that he's there. Lannan struggled through most of the season in Syracuse, posting a 4.66 ERA and a 1...
The Colorado Rockies are reassigning pitching coach Bob Apodaca to special assistant to general manager Dan O'Dowd at Apodaca's request. Apodaca approached O'Dowd on Tuesday and asked for the change, Rockies manager Jim Tracy said. Bullpen coach Jim Wright and Triple-A pitching coach Bo McLaughlin will serve as co-pitching coaches for the remainder of the season. McLaughlin...
Edwar Cabrera was in the Colorado Rockies' clubhouse Tuesday, and while no official announcement was made, the 24-year-old left-hander is expected to make his major league debut with a start Wednesday against the Washington Nationals. Manager Jim Tracy did say that Josh Outman would start Thursday rather than Wednesday. Thursday had been the turn for Alex White, but he was...
Edwin Jackson's major league career has been irregular to say the least.  Since his debut in 2003 at the young age of 19, he has played for seven teams in his first ten seasons.  In addition, he has spent his past two seasons with three different teams.  Last year he even helped lead the St. Louis Cardinals to the their eleventh World Championship before being released back...
Colorado Rockies pitching coach Bob Apodaca asked to be re-assigned on Tuesday, and he will now do special assignment work for the Rockies. The Rockies rank last in the Major Leagues in earned run average, runs allowed and opposing team's batting average, but the Rockies insisted that the move was initiated by Apodaca. Rockies general manager Dan O'Dowd told the Denver...
Colorado's Marco Scutaro has walked off the field under his own power after being hit in the helmet by a fastball from Washington's Stephen Strasburg in the sixth inning Monday night. The Colorado second baseman was hit by a 95 mph pitch from Strasburg, the ball loudly ringing off his helmet, one pitch after Dexter Fowler hit a triple. Scutaro got up quickly and stood while...
Every time since May 20 that Stephen Strasburg has taken the ball, he's won a game for the NL East-leading Washington Nationals. Colorado Rockies manager Jim Tracy hasn't had any starter win a game in three weeks. Making his first appearance against the Rockies, Strasburg will try to become the first Nationals pitcher to win seven consecutive starts Monday night at Coors...
This turned out to be the Washington Nationals pitching podcast for the most part. We spent quite a lot of time talking about Ross Detwiler and Chien-Ming Wang, but even more time talking about the bullpen, including Tyler Clippard, Drew Storen, Sean Burnett, and Cole Kimball. We also hit the trade deadline a few weeks early.
Denver, CO – Jeff Francis threw only 66 pitches through 5 innings to out duel the Washington Nationals ace Stephen Strasburg. Francis did not get the win but stepped up to limit the Nationals to 2 runs and only 5 hits. Francis baffled Washington's phenom Bryce Harper, striking him out twice on a wicked tailing … Continue reading »
MLB News

Delivered to your inbox

You'll also receive Yardbarker's daily Top 10, featuring the best sports stories from around the web. Customize your newsletter to get articles on your favorite sports and teams. And the best part? It's free!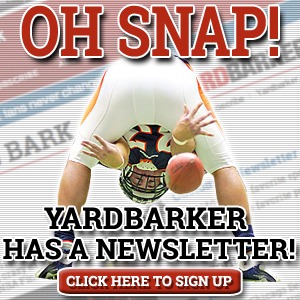 Latest Rumors
Best of Yardbarker

Today's Best Stuff

For Bloggers

Join the Yardbarker Network for more promotion, traffic, and money.

Company Info

Help

What is Yardbarker?

Yardbarker is the largest network of sports blogs and pro athlete blogs on the web. This site is the hub of the Yardbarker Network, where our editors and algorithms curate the best sports content from our network and beyond.