Found January 27, 2013 on The Nats Blog:
When I found out I was going to have the opportunity to go to NatsFest, I wasn't sure what to expect, as I had never attended an event like it before. But as an extremely enthusiastic Washington Nationals fan, something that seemed like a big party celebrating the Nats obviously had me interested. From a fan's perspective, it was a really cool experience, because besides the throngs of people gathered around pointing pens and bright white baseballs in the players' faces, the Nationals walking around the Washington Convention Center could have been regular people. I watched Jordan Zimmermann and Tyler Moore giving people high-fives and saying, "Hey man," as if their fans were their college buddies, not adoring strangers.  The proximity to the players, who I normally only see from way up in the stands at Nationals Park, was my favorite aspect of NatsFest. In what other setting do average fans have the opportunity to interact with the people they spend eight-plus months of the year idolizing? It allowed me to make my aunt's day (or her whole winter, as she put it) when I got Gio Gonzalez to autograph the NatsFest poster for her. She actually shrieked with joy when I gave it to her that evening, and she saw the signature from "her boy." I got to say, "What's up?" to F.P. Santangelo like we were old friends, and I introduced my disbelieving dad to Charlie Slowes – he didn't recognize the face of the voice of the Washington Nationals, but once he heard him speak he was convinced. We had a solid ten-minute conversation with Charlie after the event was over, and something he said really characterized the day for me: he explained how NatsFest's purpose was to get the fans excited about their team again going into Spring Training – to re-ignite their Natitude, if you will. He said it gave people an occasion to unpack their Nats gear and to let the excitement of the promising season ahead allow them to fully heal from heartbreak of Game Five. For Charlie, the event made it feel like summer wasn't so far away, even though it was about 20 degrees outside on the windy streets of D.C. The effect Charlie described was absolutely true for me. Listening to the voice that brings to mind so many great memories of home run calls and thrilling games, made me feel a connection with my favorite sport that has been missing since October. Realizing that it wouldn't be long until I could listen to Charlie on the radio again was a truly exciting prospect. My dad and I were among the last to leave, and as we were walking out, a gray-haired Nationals employee smiled at us and said, "See you in November." I smiled back and said goodbye, knowing exactly what he was inferring. This year, Nats fans can believe in the real possibility of their home team playing in November, though that's still not a concept that's easy for me to wrap my head around. My dad and I walked out the lobby doors, and promise of spring made the bite of the cold a little less harsh. My Natitude had officially been reignited. 
Original Story:
http://www.thenatsblog.com/2013-artic...
THE BACKYARD
BEST OF MAXIM
RELATED ARTICLES
Cutter Dykstra and girlfriend Jamie-Lynn Sigler are now engaged. Both Dykstra and Sigler tweeted on Monday afternoon to share the good news. "So this just happened" Sigler wrote, including a few hearts in her tweet. "She said yes!!" Cutter wrote. The two have been dating since at least last March and met through mutual friends Nick Swisher, and his wife, actress Joanna...
Via Nats Insider, Drew Storen found out about the signing of Rafael Soriano on Twitter. Apparently Storen immediately called Tyler Clippardf: "I just saw it on Twitter and I called him and I said, 'have you seen this?' We were like, 'what?'" (Drew Storen, via Nats Insider, 1/26/2013) Both Storen and Clippard said all the right things yesterday at NatsFest...
So what if it was below freezing all day in DC on Saturday? Up above, a photo of Bryce Harper standing in the cold on the corner of 7th and Mt. Vernon outside the Washington Convention Center after NatsFest. Jacket? No jacket. And yes, that's Jayson Werth and Danny Espinosa all snug and warm in their beards and winter coats in front of the kid to the left and right. This...
Seems only fitting that on the same weekend Bryce Harper's "That's a Clown Question, Bro" showed up as a category on Jeopardy,  NatsFest would feature Ross Detwiler, Drew Storen, and Jayson Werth playing Nats Jeopardy with MASN's F.P. Santangelo playing the role of Alex Trebek. Video above via lfahome. Werth stole the show... Here's a shot of Werth (jokingly...
Jordan Zimmermann, who just completed his first full, non-innings-limit-shortened, season with the Washington Nationals since undergoing Tommy John surgery is looking to get a long-term extension in place.  First, though, he wants to resolve his upcoming arbitration without the hearing preferably. Amanda Comak of the Washington Times says negotiations between the team and Zimmermann...
NEW ADDITION
The Nationals have decided to make Williams Taft, the 27th president of the United States, the fifth member of their mascot race team.
The cortisone injections into his shoulder definitely helped.  This much is clear when you realize Danny Espinosa played with a torn rotator cuff for the final few weeks of the 2012 season.  Espinosa revealed the news during the Washington Nationals' Fan Fest yesterday. According to Eric Detweiler of the Washington Post, Espinosa would not have played through the pain if...
The Washington Nationals' newest racing president may have to drop a few pounds to be competitive. The team said Saturday that William Howard Taft will join George Washington, Thomas Jefferson, Abraham Lincoln and Theodore Roosevelt this season for the fourth-inning race by 12-foot mascots. Taft was the portliest president at more than 300 pounds. He became the first president...
Throughout the offseason, The Nats Blog will look back at every player's 2012 season to summarize and analyze his performance, and we'll look ahead to his possible role in 2013. We'll go from #1 Steve Lombardozzi all the way to #63 Henry Rodriguez until Spring Training. Enjoy. (photo courtesy: Cheryl Nichols, DistrictSportsPage) It doesn't feel like it now, but Zach...
Only a few people in history have been able to give a quote a life of its own. Bryce Harper is one of those people. In addition to being the rookie of the year, Harper has now tackled a new milestone. Friday night Harper's famous quote "That's a clown question, bro" appeared on Jeopardy as a category. CATEGORY: THAT'S A CLOWN QUESTION, BRO. CLUE: Tim Curry described this...
The 27th President of the United States of America, and the only President to also be a Supreme Court Justice, is on his way back to Washington, DC. The Washington Nationals have selected Taft to become the 5th president of the organization's mascot race. Unlike during his election in 1909, Taft was a long shot to grab the spot. The odds were 35-1 that he would be chosen to taken...
Nationals News

Delivered to your inbox

You'll also receive Yardbarker's daily Top 10, featuring the best sports stories from around the web. Customize your newsletter to get articles on your favorite sports and teams. And the best part? It's free!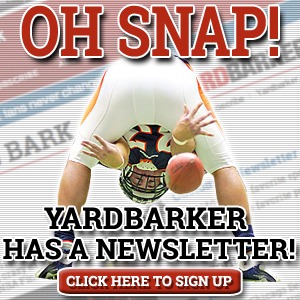 Latest Rumors
Best of Yardbarker

Today's Best Stuff

For Bloggers

Join the Yardbarker Network for more promotion, traffic, and money.

Company Info

Help

What is Yardbarker?

Yardbarker is the largest network of sports blogs and pro athlete blogs on the web. This site is the hub of the Yardbarker Network, where our editors and algorithms curate the best sports content from our network and beyond.