Found August 08, 2012 on The Nats Blog:
PLAYERS:
Roger Bernadina
,
Tyler Clippard
,
Brett Wallace
,
Ross Detwiler
,
Jordan Lyles
,
Danny Espinosa
,
Cesar Izturis
,
Jordan Zimmermann
TEAMS:
Washington Nationals
,
Houston Astros
,
Atlanta Braves
,
Philadelphia Phillies
It was just another game between the Washington Nationals and the Houston Astros on Tuesday. Game one on Monday night ended in ridiculous fashion, and game two didn't want to be left behind. With two outs in the ninth inning and Tyler Clippard on the mound going for his 23rd save, Roger Bernadina really did look like a shark. Brett Wallace hit a ball to deep left center field, which is really deep at Minute Maid Park because that wall just goes straight out toward center. Bernadina covered a lot of ground, leapt, and made the game-saving catch. You have to see it to appreciate it. The moment caused Nats fans and baseball fans across the country to take notice, as Bernadina quickly started trending worldwide on Twitter and earned number one on SportsCenter's Top Plays. The Nats again found a way to squeak out a win against the Astros to move 24 games above the .500 mark and four games ahead of the Atlanta Braves after they lost to the Philadelphia Phillies earlier in the day. Not to be forgotten, Ross Detwiler had another remarkable outing on Tuesday. He made it through seven innings for the fourth time in his last five starts. He gave up just two runs on three hits, and threw just 85 pitches. He could have stayed in the game, but Davey Johnson elected to pinch hit for him as the Nats struggled to get to Astros starter Jordan Lyles. Detwiler now has a 2.99 ERA as part of baseball's best pitching staff. For the Nats offense, despite struggling against a pitcher in Lyles with an ERA closer to 6.00 than 5.00, they managed just enough to get a win. Danny Espinosa destroyed a baseball in the second deck in the second inning for a two-run shot. Then, Michael Morse hit a baseball about 430 feet to center field for a double, which would have been a home run in every other ball park in the country. Cesar Izturis pinch ran for Morse, and Danny Espinosa drove him home for the eventual game winning run. The game was a frustrating one at times, as it was easy to expect that the Nats would beat up on a starting pitcher with one of the highest ERAs in the National League, but even the struggling Astros have a good game from time to time. They have played up to the occasion against the Nats half way through this series, and Gio Gonalez and Jordan Zimmermann hope to continue performing well to keep the team's now four-game winning streak rolling.
Original Story:
http://www.thenatsblog.com/2012-artic...
THE BACKYARD
BEST OF MAXIM
RELATED ARTICLES
Your browser does not support iframes. [Insert your own shark reference here] Up above, the video of Roger Bernadina's ridiculous, game-saving catch, via MLB.com. Chomp! Michael Morse reacts with Sharkitude after The Catch. (Screen cap via MASN/TV) Befriend Nats Enquirer on Facebook. Follow on Twitter.
RESCUE EFFORT
Your browser does not support iframes. Let me set the stage for this amazing play in Tuesday's Nationals-Astros game. Bottom of the 12th inning. Nationals clinging to a 3-2 lead. Runners on first and second with two outs for Brett Wallace, who drives a ball deep to left center field at Minute Maid Park. Washington center fielder Roger Bernadina makes a tremendous leaping catch...
Tuesday night's Washington Nationals / Houston Astros game. Bottom 12. Nats up 3-2, 2 outs. Nationals CF Roger Bernadina did this. Your browser does not support iframes. Why not click the Google +1... Full story at Bob's Blitz ~ http://www.bobsblitz.com
What you're about to see is everything you ever needed to see about this year's Houston Astros. On what should've been a routine out on a bunt, Roger Bernadina scored all the way from first when the Astros did what the Astros do. And in case you're wondering, Bernadina was the go ahead run in the Astros 5-4 loss to the Nationals. [MLB]
Washington Nationals center fielder Roger Bernadina made a spectacular game-saving catch last night against the Houston Astros at Minute Maid Park.The Nats were up 3-2 in the bottom of the 12th inning, when the Astros' Brett Wallace came to the plate with runners on first and second. Wallace gave a Tyler Clippard offering a ride to deep left-center field, and Bernadina made a...
Relive the magic of the 11th inning of Monday's Nats-Astros game, when Kurt Suzuki bunted, two Astros collided, another Astro dove over the pile, someone threw the ball away into right field, Roger Bernadina ran through Bo Porter's stop sign, another Astro airmailed the throw to the plate, Bernadina scored (the game winning run), and Suzuki ended up on third base. On a...
Well technically it was a sacrifice bunt turned two base error, with the Nats Roger Bernadina scoring all the way from first on Kurt Suzuki's sacrifice,  as the Astros ran into each other, dove all over the field, then threw the ball away twice—turning a simple fairly simple play into a Three Stooges routine—basically handing Washington the extra inning victory. The only thing...
(Above: Craig Stammen was excited about Roger Bernadina's catch, too.) The opposite of Monday's ridiculous sh*tstorm by the Astros in the 11th inning, Roger Bernadina registered maybe the catch of the year on Tuesday night to save a win for the Nats in the 12th inning. MLB.com video here. Screencaps of the flying shark catch (via MASN/TV) follow: Befriend...
Roger Bernadina scored when Houston made two errors on the same play in the 11th inning and the Washington Nationals picked up their third straight win, 5-4 over the Astros on Monday night. Ryan Zimmerman had two hits and two RBIs, and Michael Morse added two hits for Washington. Wilton Lopez (3-1) pitched a perfect 10th inning but Bernadina led off the 11th with a single. On Kurt...
WHOLE LOTTA DERPS
Your browser does not support iframes. Many people considered the Astros to be the worst team in baseball entering the season, and they're finally living down to expectations. Houston has the worst record in MLB — 36-74 — and they've gone 4-31 over their last 35 games. If you're wondering how a team can fare so poorly, look no further than the play seen above. The Astros...
CEREAL KILLER
This catch might not receive as much publicity as Roger Bernadina's fabulous one from earlier in the evening yesterday, but it was still just as good. In the ninth inning of a 10-2 game, Kendrys Morales of the Angels crushed a ball deep to center field. A's outfielder Coco Crisp immediately began tracking the ball, and at the last possible moment, made an effortless-looking...
The Tuesday Takeaway Sometimes, one play is all it takes to describe an entire season. But two such microcosms in two days, and in the same series, to boot? You couldn't make this stuff up. If this was "the most Astros play of 2012," then this may well be the most Nationals play we will see this year. On Monday, Roger Bernadina scored the game-winning run thanks a defensive...
MLB News

Delivered to your inbox

You'll also receive Yardbarker's daily Top 10, featuring the best sports stories from around the web. Customize your newsletter to get articles on your favorite sports and teams. And the best part? It's free!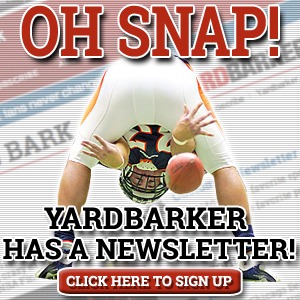 Latest Rumors
Best of Yardbarker

Today's Best Stuff

For Bloggers

Join the Yardbarker Network for more promotion, traffic, and money.

Company Info

Help

What is Yardbarker?

Yardbarker is the largest network of sports blogs and pro athlete blogs on the web. This site is the hub of the Yardbarker Network, where our editors and algorithms curate the best sports content from our network and beyond.