Found August 21, 2012 on MetsZilla:
Let's face it, New York Mets baseball is becoming less and less of a priority for fans as the team falls from relevancy.  They can't hit, the bullpen is infuriating, and all we continue to hear from the front office is that spending will be limited moving forward.  Maybe ownership is handcuffed by two of the worst contracts in all of baseball for 2013 (Jason Bay – $16 million + $3 million 2014 buyout, Johan Santana due $25.5 million + $5.5 million 2014 buyout), but regardless, their hard stance against spending in recent years does little to instill faith in an already jaded fan base that has staunchly supported a mediocre team (to put it kindly). Photo by Michael G. Baron So as the struggles continue for the Mets (losers of 5 out of the last 8 and 11 of the last 16) most fans are left with little reason to clear time in their schedule and watch a game or take money out of their wallets and go to the ballpark.  That's understandable, it doesn't make a fan less of a 'die-hard' and it's not like the Mets brass is jumping ship and starting to pull for the Braves.  Baseball provides us with entertainment and when the team we root for is no longer entertaining, well then it's reasonable to expect us to shift our attention elsewhere. If ownership wants to lay out a plan that points to a 'consistent' quality product come 2014, well then guess what, I'll see ya at the ballpark when those games kick off.  In the meantime, I'll pick and choose my spots because I'm simply not a glutton for punishment.  Taking time to relax and watch a game or go the ballpark is an indulgence, much like going out to eat a nice restaurant.  When the food is good and the owners continually do their best to bring in high quality items, nobody minds paying up for a good meal.  But when you see the quality of your food go down and owners who are doing little to fix the problem, you go eat elsewhere or find another way to enjoy your night out. Photo by Michael G. Baron For me, I'm sorry to say it but R.A. Dickey, Jonathon Niese, and Matt Harvey are the specials on an otherwise less than appetizing menu.  When those three pitchers take the mound I'm making my reservation to watch a game.  Beyond that, I find it hard to come up with a good reason to watch an offense that has scored the third fewest runs in all of baseball since the All-Star break (ahead of only Cleveland and Houston) anchored by a pitching staff that boasts the third worst ERA in the NL during that time span.  David Wright is great and while Ruben Tejada, Daniel Murphy, and Ike Davis have had their moments and proven to be 'nice' players, the offense as a whole doesn't exactly make for 'must see television'. Photo by Michael G. Baron The New York Mets will always be my favorite baseball team, win or lose, but with poor performance in a big market comes low attendance, social media tirades, and general apathy.  Fans don't seem to be making Mets baseball a priority, myself included, and it's up to the front office to change that.  I hope the first step in doing just that is to sign R.A. Dickey and David Wright to extensions this offseason, but at this point, I'm just not confident ownership is willing to commit to a high quality menu.
Original Story:
http://www.metszilla.com/2012/08/21/n...
THE BACKYARD
BEST OF MAXIM
RELATED ARTICLES
I received this interesting question yesterday from one of our readers, USMF. I have an idea on what to do with Santana next year and thought it could be a good debate question for the MMO staff. Seeing Johan's recent struggles, I was wondering about moving Santana into the Closers Role next year similar to what the Braves did with John Smoltz. We know the pen has tons of problems...
The Mets are shutting down starting pitcher Johan Santana, effective immediately. Santana has been awful since throwing the first no-hitter in Mets history on June 1st against the Cardinals. Perhaps oddly, the issue isn't with Santana's surgically repaired shoulder, but instead his back. The former two-time AL Cy Young winner didn't pitch in the majors at all last...
Sandy Alderson today announced at a press conference yesterday that Johan Santana has been placed on the 15-day Disabled List with inflammation in his lower back retroactive to August 18. Alderson also said that he does not expect Santana to pitch again this season, but said he would be ready for Spring Training. You never want to see this happen to your ace, or any of your starting...
A long season has saddled Johan Santana with back pain, ankle discomfort and other maladies that he considers normal wear-and-tear for a starting pitcher. But examine them in the context of Santana's road back from left shoulder surgery, not to mention his importance to the team, and it becomes obvious why the New York Mets are considering shutting him down for the season. ...
He threw the first no-hitter in New York Mets history back on June 1st against the St. Louis Cardinals.  The Mets announced today that their history making pitcher, Johan Santana has been placed on the 15 day DL, a trip that could keep him out of the rotation for the remainder of 2012. According to a report by Mike Mazzeo of ESPN New York, Santana's MRI from Tuesday exposed ...
As the New York Mets continue their slow march to the end of the regular season, one troubling trend that can't be ignored is the sudden decline of Mets starter Johan Santana. Santana, who delivered what looks to be the apex of the 2012 season with his no hitter on June 1st, has fallen into a tailspin since that game. Santana's ERA since his no hitter is well over 15 and...
The New York Mets will listen to any offers from teams who are interesting in acquiring Johan Santana over the next week and a half, as well as during the upcoming offseason. Santana, who earlier this season became the first Mets pitcher in franchise history to throw a no-hitter for the team, is signed through next season. And while the Mets could easily be talked into...
Mets News

Delivered to your inbox

You'll also receive Yardbarker's daily Top 10, featuring the best sports stories from around the web. Customize your newsletter to get articles on your favorite sports and teams. And the best part? It's free!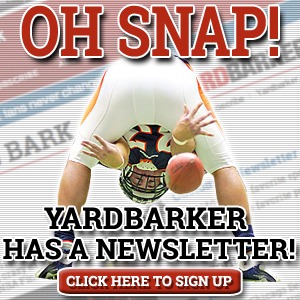 Latest Rumors
Best of Yardbarker

Today's Best Stuff

For Bloggers

Join the Yardbarker Network for more promotion, traffic, and money.

Company Info

Help

What is Yardbarker?

Yardbarker is the largest network of sports blogs and pro athlete blogs on the web. This site is the hub of the Yardbarker Network, where our editors and algorithms curate the best sports content from our network and beyond.