Found May 03, 2012 on 60ft6in:
graphic by mlb.com Los Angeles Angels right-hander, Jered Weaver, dealt a no-hitter against the punchless Minnesota Twins last night. Only two Twins reached base in the game…. Chris Parmelee scrambled to first after a strike out / passed ball in the second inning, and Josh Willingham drew a walk in the seventh. Weaver, W(4-0) 9IP / 0 H / 0 R / 1 BB / 9K Weaver used 121 pitches to complete the game, 77 of which were strikes: 76 Fastballs: 83-93 mph, 88 avg mph (46 4-seamers: 83-93 mph, 88.4 avg mph) (30 2-seamers: 85-90 mph, 87.7 avg mph) 18 Curveballs: 70-76 mph, 73 avg mph 14 Changeups: 75-81 mph, 79 avg mph 13 Sliders: 80-86 mph, 82 avg mph Jered controlled both sides of home plate, using a combination of cutting 4-seamers and tailing 2-seamers to dot the corners. The 2-seamer was regularly called a "no-seam fastball" during the game by Angels announcer, Mark Gubicza. Presumably, Weaver does not rest his fingertips on any seams when he grips this pitch. He struck out three batter...
Original Story:
http://60ft6in.com/2012/05/03/no-hitt...
THE BACKYARD
BEST OF MAXIM
RELATED ARTICLES
ANAHEIM, Calif. On one grand and glorious evening, the Angels washed away the misery that was April. Rather, Jered Weaver washed it away. He did it with a no-hit pitching performance Wednesday night that was commanding and inspiring, and perhaps it will be the turning point in what has been a mostly moribund season at Angel Stadium. After he threw the last pitch of the game...
For the fifth time in team history, the Minnesota Twins finished a game without a hit. There was simply nothing the Twins could do Wednesday against Angels starter Jered Weaver, who tossed the first no-hitter of his career and the ninth in team history. Weaver got ahead in counts, changed speeds and simply made the Twins' batters look uncomfortable. In the end, it was a 9...
Jered Weaver tossed the tenth no-hitter in Angels' history on Wednesday night, holding the Minnesota Twins to just two baserunners all night on a strikeout-passed ball and a walk. He struck out nine and even laughed in the face of superstition by relieving himself taking a piss right before taking the mound for the ninth inning. The Minnesota Twins are a horrible, horrible...
Last night Jered Weaver threw a no-hitter, blanking the Minnesota Twins 9-0. He walked one and struck out nine. The most amazing part of it as I watched it unfold was that one of my best buddies and resident Angels fan MJ Lloyd (of Halo Hangout and Off-Base Percentage) called it earlier in the day. Above are the text messages to prove it. Read more about it at the OC Register Angels...
For The Associated Press The Los Angeles Angels' commitment to Jered Weaver is paying off. Signed to a five-year, $85 million contract extension last August, the 29-year-old left-hander pitched his first no-hitter Wednesday night, dominating lowly Minnesota in a 9-0 cakewalk. All the Twins could muster against the two-time All-Star was one walk - and one other baserunner when...
Last night, Jered Weaver threw the 274th no-hitter in baseball history — or so the stories say. There have been two no-hitters so far this year, and ten so far in this young decade. Half of them came in 2010, the year whose no-hit frequency led some to dub it "The Year of the Pitcher." And, indeed, the five regular-season no-hitters thrown in 2010 (along with a sixth, by Roy...
Jered Weaver of the Los Angeles Angels has thrown a no-hitter against the Minnesota Twins. His final was 9 innings, 121 pitches 9 strikeouts and one walk to Josh Willingham in the 7th (Chris Parmalee reached on an error). What makes the no-hitter even sweeter for Weaver is that he was able to do it at home. Last season, Weaver signed a five-year $85mm extension that many around the...
ANAHEIM, Calif. Jered Weaver didnt stop celebrating until 3:30 in the morning. But several hours later, as he sat in the dugout reliving Wednesday nights no-hitter, he still wasnt ready for a good nights sleep. Im still a little bit pumped up, he said. I wish I could go back out there again tonight, but my arm wouldnt let me. Weaver and arm deserve a few nights off. His 121-pitch...
A view from the cockpit.It's Saturday morning, and I'm flying from New York to Chicago, with aspirations to see the Dodgers at Wrigley this afternoon.Thinking back on recent days around baseball, developments have been a mix of good and bad.Wednesday night was delightful, as Jered Weaver threw a no-hitter at home and in front of his family. Cameras caught him sharing emotional...
The eyes of the baseball world were on Anaheim tonight watching Jered Weaver throw a no-hitter against the Minnesota Twins. It was an incredible performance and truly amazing to watch. But it wasn't the only rarity for the Angels in the game. No, something almost as incredible to behold was going on right underneath everyone's noses, but it didn't get nearly the same...
MLB News

Delivered to your inbox

You'll also receive Yardbarker's daily Top 10, featuring the best sports stories from around the web. Customize your newsletter to get articles on your favorite sports and teams. And the best part? It's free!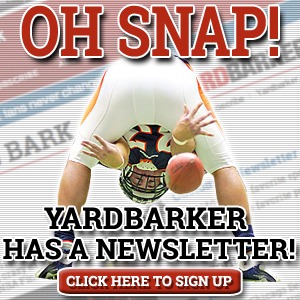 Latest Rumors
Best of Yardbarker

Today's Best Stuff

For Bloggers

Join the Yardbarker Network for more promotion, traffic, and money.

Company Info

Help

What is Yardbarker?

Yardbarker is the largest network of sports blogs and pro athlete blogs on the web. This site is the hub of the Yardbarker Network, where our editors and algorithms curate the best sports content from our network and beyond.