Found December 12, 2012 on Down with Goldy:
PLAYERS:
Charlie Manuel
,
Liam Hendriks
,
Nick Blackburn
,
Brian Duensing
,
Scott Diamond
,
Vance Worley
,
Kevin Correia
,
Kyle Gibson
,
Cole Devries
,
Shaun Marcum
,
Ryan Dempster
,
Jair Jurrjens
,
Brett Myers
TEAMS:
Philadelphia Phillies
,
Minnesota Twins
,
Milwaukee Brewers
,
Texas Rangers
,
Boston Red Sox
,
Atlanta Braves
,
Chicago White Sox
The MLB Winter Meetings have ended.  There were a lot of moves made and our Twins were in thick of it by making trades and offers to free agent pitchers for them to turn down.  Then, the totally thinkable happened: an average to below average starting pitcher that literally never misses bats (well, 5.7% of the time he does) signed a two year deal.  Welcome to the North, Correia! DWG already covered Corriea briefly in his live blog of last night's Gophers/Bison tilt, but it probably should be mentioned again that this wasn't what we were looking for as a first splash in free agency.  Jon Marthaler of Twinkietown is apoplectic about the signing and rightfully so.  The worst part about this is that it's $5MM per year that can't be given to someone else.  As the Twins repeat their mantra of being small budget and having limited money to spend over and over, you'd think they'd be a little more wise and a lot more patient with it.  If someone scoops you at this point in the off-season on Correia, you wish the poor bastards luck and trot out Sammy Deduno instead.  Another thing about Correia is he's not exactly some big-time workhorse.  He's never logged 200 innings, coming closest in 2009 at 198.  He's averaged 157 innings pitched over the past 3 seasons.  Correia throws a 4-seamer 25% of the time at 90 mph, a 2 seamer 21% at 90.6 mph, a slider 24% at 87 mph, a curve 12% at 77 mph and a change 13% at 86mph. You can see that his mix doesn't vary speeds much, so he has to rely on location and movement to be effective.  According to Fangraphs.com his only pitch that was plus from an average runs allowed perspective was the changeup. Pass the tobacky. The best part about watching the winter meetings is watching the interviews.  Seeing Charlie Manuel in a suit trying to act like a regular human that doesn't wear leggings and a windbreaker to work was great.  The interview I saw was a day or two before the Revere trade and you could tell he knew it was happening.  They asked him about their hole in center field and he said they were focusing on getting a defensive presence out there.  Manuel was curmudgeonly and loveable.  You know he threw some Red Man in after the interview to take the edge off. The Terry Ryan interview on MLB network that occurred just after the two trades was also great.  Terry Ryan looks like a turtle.  An angry, angry turtle.  I should have recorded it because I can't find it online.  Essentially, he said what we've all been thinking and saying for the last year or two.  The Twins have some depth in the outfield and are sorely in need of pitching.  He went on to mention that they've had a number of offers out to pitchers but they couldn't give away the money. Sadly, now we know he did give some cash away to Correia.  After seeing this interview it makes me lean even more towards thinking this was a panic move. Also of note was that he listed Hicks, Benson and Mastroianni in that order when asked how they'll fill centerfield.  Spring training will be interesting from this standpoint as a stand out performance could land any of the three the job.  I suspect we'll see Mastroianni there to start and as DWG pointed out, he was at least somewhat useful in under 200 ABs last season.  Hicks, 23, had a lot of success last season in AA.  He's a good defender in centerfield with a big arm.  He has power and speed on the basepaths.  His strikeouts are a tad high, but he also walks at a good rate, so he projects to a top of the order type.  Benson was injured much of last year with the dreaded hamate bone injury (that's the tiny bone at the base of the ring finger in the palm of your hand where hitters often hold the knob of the bat).  He also had a knee cleanup in August.  He hit like crap, but I'm willing to give him a pass due to injury issues.  He's 25 in March, so it's possible he makes the team as a reserve outfielder with Mastroianni starting and Hicks in AAA at the beginning at least.  Then when they suck and Hicks is tearing up AAA, they can make a move. Hamate   Ryan also indicated that they are probably done subtracting for the time being and would prefer to add via free agency rather than trade.  He indicated that he thought the team could compete as-is and when asked about starting pitching he mentioned Worley, Diamond and Liam Hendriks.  He also said they have guys like Nick Blackburn and Brian Duensing as depth.  At which point I yelled "Oh, come on!" at the tv. This was of course before we got the Correian Barbeque.  Your Twins rotation right now looks something like this: THE PAIN #4a Scott Diamond #4b Vance Worley #5a Liam Hendriks #5b Kevin Correia And then the clusterflap for the last spot: Kyle Gibson, Cole DeVries, Nick freaking Blackburn and Sammy Deduno. If Gibson starts in AAA there's a legit chance that with Gibson, Meyer and May the Rochester Redwings will have a better staff than the Twins.  The hope is of course that there's one more signing coming in for the Twins.  They still have some money under their self-imposed cap, so they just need to get some sucker to agree to sign on the dotted line. Starters that are still out there: Shaun Marcum is still kicking around.  He doesn't throw hard and is kind of old (31 in two days), so maybe the Twins have interest.  He's a better pitcher than Correia, but that likely means he'd cost more too.  He's the chick at the bar that used to be pretty hot, and is probably still worth a roll. Ryan Dempster is also out there and rumors indicate the Twins made an offer.  He's already declined a two year/$25 million offer from the Red Sox because his old ass wants a three year deal.  He's 36 in March and definitely on the decline, so if he's asking that much it's a definite no-go.  Similar to Marcum, he's an older chick at the dive bar that really isn't all that hot but has big boobs at least. Edwin Jackson is still out there!  He still wants a multi-year deal and I'd still give it to him.  (just like last year)  He had probably his best year yet last season for the Nats when they gave him a one year, $12MM deal.  He is reported to want a 4 or 5 year deal, probably in the 50-60MM range.  Big bucks and we hate that.  The dream scenario here is that Edwin hangs around until the zero hour and is forced to make bad decisions like he's at the bar until close and all of the cool franchises have already left with their pitchers and the Twins have been bellied up to the bar all night making kissy faces at him and he just goes for it.  Jair Jurrjens is available and has a fun name.  The Twins reportedly are after him as well.  He's just 26, but is coming off a brutal, Blackburnesque season.  He is a former all-star though and could be a cheap, short term signing.  He's the newly single chick at the bar that kind of let herself go because she was depressed and stuff, but now she's got a gym member ship and stuff and who knows what could happen? Brett Myers is crazy and seems to just be drawing interest from the Orioles and Twins for the most part.  He's the crazy chick that bites and scratches but mostly in a fun way. Joe Saunders...made an offer already, meh.  Lefty and still better than Corriea.  He's the chick with the lazy eye. Frankie Liriano also already offered.  WTF?  I think any other team in the league would be a better fit.  I mean, how many chances does he need to prove he can't turn it aroun in Minnesota?  He's the on again, off again girlfriend that cheats on you all of the time. LOL Brett Myers
Original Story:
http://feedproxy.google.com/~r/DownWi...
THE BACKYARD
BEST OF MAXIM
RELATED ARTICLES
MINNEAPOLIS The Minnesota Twins have added another arm to their 2013 starting rotation. The Twins signed free agent right-hander Kevin Correia to a two-year deal worth 10 million, the team announced Thursday. Correia is due to make 4.5 million in 2013 and 5.5 million in 2014. The 32-year-old Correia has spent 10 seasons in the majors, most recently with the Pittsburgh Pirates...
The Minnesota Twins have finalized a $10 million, two-year contract with right-hander Kevin Correia to fill a rotation spot after their starters posted the second-worst ERA in the majors last season. The 32-year-old, an All-Star in 2011, went 12-11 with a 4.21 ERA for Pittsburgh this year. He will make $4.5 million next year and $5.5 million in 2014 under Thursday's deal. This...
When I think of impact moves for the 2013 season and beyond, the Twins giving Kevin Correia $10 million over two years is near the bottom of my list of all of the transactions that have happened this winter. I can't even sit here and pretend that signing Correia makes the Twins a better team, because quite frankly, it really doesn't. The 32-year old Correia is coming...
Bringing in help for a rotation that struggled in 2012, the Minnesota Twins agreed to terms with free agent right-hander Kevin Correia late Monday, according to multiple media reports. Correia, 32, reportedly landed a two-year, $10 million deal. In each of the past two seasons, Correia went 12-11 for the Pittsburgh Pirates, making the National League All-Star team in 2011. This...
Kevin Correia joins Minnesota, the Yankees get Kevin Youkilis, Jason Grilli re-ups and other moves.
The Minnesota Twins have signed pitcher Kevin Correia to a two-year deal worth nearly $10mm, ESPN's Jerry Crasnick reports. Correia just completed a two-year deal with the Pirates where he went 24-22 with a 4.49 ERA Image take by Keith Allison and used under the Creative Common License Agreement.
MINNEAPOLIS There's no easy cure for back-to-back 90-loss seasons. Terry Ryan knows that. But that hasn't kept the Minnesota Twins general manager from doing what he can to slowly right the ship. In the past few weeks, Ryan has traded away his team's two center fielders -- and top two hitters in the batting order, to boot -- in order to address the organization'...
Kevin Correia is officially a Twin. Also, the Dodgers are looking to move Nick Punto. Good times are here again. Tommy Tuberville sounds like a class act. 2012 in college football GIF form. Ouch. The Weather Channel is now shaming athletes. SCOREBOARD NHL Minnesota, St Louis – People seem to think the season will actually start soon. You know, before it's all cancelled again in 5 years.
At 930 this evening (roughly), the Twins came to terms with right hander Kevin Correia to a 2 year, 10 million dollar deal. Let's let the Twins put the most positive spin on this signing that could possibly be made. Correia posted a 4.21 ERA with 89 strikeouts and 46 walks in 171 innings with the Pirates last season. The 32-year-old, who had a 51.2 percent ground-ball rate, which...
Hey. Let's all just try to be nice to Kevin Correia, all right? Novak Djokovic bought the donkey cheese. All of the donkey cheese. The Royals made a big move the other day that gutted their farm system in exchange for a couple of pretty good pitchers. What will the changing face of college football do to college basketball? SCOREBOARD Nada
MLB News

Delivered to your inbox

You'll also receive Yardbarker's daily Top 10, featuring the best sports stories from around the web. Customize your newsletter to get articles on your favorite sports and teams. And the best part? It's free!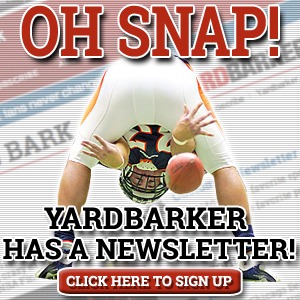 Latest Rumors
Best of Yardbarker

Today's Best Stuff

For Bloggers

Join the Yardbarker Network for more promotion, traffic, and money.

Company Info

Help

What is Yardbarker?

Yardbarker is the largest network of sports blogs and pro athlete blogs on the web. This site is the hub of the Yardbarker Network, where our editors and algorithms curate the best sports content from our network and beyond.