Found November 05, 2011 on MetsOnline:
PLAYERS:
Justin Turner
,
Ruben Tejada
,
Josh Thole
,
Lucas Duda
,
Pedro Beato
,
Jon Niese
,
Dillon Gee
,
Ike Davis
,
RA Dickey
,
Jason Isringhausen
,
Tim Byrdak
,
DJ Carrasco
,
Jason Bay
,
Johan Santana
TEAMS:
New York Mets
,
Boston Red Sox
,
Tampa Bay Rays
According to ESPN's statistics, the 2011 New York Mets were the fifth oldest team in all of Major League Baseball. The oldest team was the Phillies (29.9), then the Rangers (29.8), then the Brewers and the Yankees (both 29.5). The Mets, Red Sox, and Giants (all 29.3) were tied for the fifth oldest team in Major League Baseball. I had no idea that the Mets' players were much older than the league average. Looking back at the 2011 team, many of the main contributors were pretty young. At the start of the 2011 season, the average age of Justin Turner, Ruben Tejada, Josh Thole, Lucas Duda, Pedro Beato, Jon Niese, Dillon Gee, and (for the sake of the argument) Ike Davis was approximately 24. But, at the same time, the average age of R.A. Dickey, Jason Isringhausen, Tim Byrdak, D.J. Carrasco, Jason Bay, and Johan Santana was around 35. Despite these statistics and the Mets' record, age definitely does not directly correlate with losing. In fact, all of the teams in the playoffs this year had an average age in the top 60% of the league. Also, five of the eight oldest teams in all of baseball made it into the playoffs in 2011. Two of those teams, the Rangers and the Cardinals, ultimately made it to the World Series. And… Checkout this stat: The four oldest teams in had the top four records in all of Major League Baseball. So, this leads to an important question: If the Mets are the fifth oldest team, and the oldest teams have the best records, why don't the Mets have one of the best records?
There are exceptions to everything: For example, the Tampa Bay Rays were the 18th oldest team and they had the seventh best record.
Bad Contracts: The majority of the older players on the Mets are here on long term deals and did not perform as expected. Johan Santana factored in to the age stat, as did Jason Bay, D.J. Carrasco, and others. The older players on the other good teams are with their teams on better deals and are performing well because their team's GM handed out good contracts.
Luck: To win you need to have good luck. Call me dumb, but if the Mets were luckier this season, they COULD have made it to the playoffs.
A prediction to conclude: The Mets' average age will probably decrease each of the next few seasons. However, during that time their record will probably increase.
      Tweet
Original Story:
http://metsonline.com/noteanalysis-th...
THE BACKYARD
BEST OF MAXIM
RELATED ARTICLES
There's been a lot of talk lately about Jose Reyes not re-signing with the Mets. I still believe that he will, and if he doesn't, I'll be heartbroken. But if they don't re-sign Reyes that frees up a lot of money for this organization. That would leave them with about $40M to fill out the roster with. So who are my top 5 free agent choices after Reyes, you ask? Well even if...
Yesterday, I read over Matt Cerrone's post entitled, "What is a New York payroll?". Great question, right? And one that is certainly worthy of debate, and I can't wait to dig my teeth into this one. Cerrone's piece was spurred on by a series of tweets by Adam Rubin who said the following: If Mets decision on Jose Reyes is based purely on another team making astronomical...
Michael Baron: I say this over and over again, but I would like to know what the plan is then if the Mets choose to not retain Jose Reyes, and if they feel they can't build around him, and/or David Wright. I am not remotely convinced Ruben Tejada is an everyday answer, and there is no evidence to show he can come close to  replacing Reyes' presence and production. That's not...
According to Dan Martin of the New York Post, The Mets have laid off 15 of about 180 non-player team employees. Martin also said that the Mets released this following statement: "Several weeks ago, we made workforce reductions in both the baseball and business operations departments, which amounted to less than 10 percent of our full-time staff." Photo: Hopefully they don'...
Tonight at 6:00 PM ET, MetsBlog's Vinny Cartiglia will be co-hosting "The Happy Recap" radio show on Blog Talk Radio, as they talk about the Mets, the situations with David Wright and Jose Reyes, and their off-season ahead. To listen live and online, click the play button below, and to call in and speak with Vinny, dial 347-884-8742: Listen to internet radio with TheHappyRecap...
Yesterday afternoon on Twitter, I asked my followers what they thought the Mets should do with Angel Pagan. Here is what some had to say: I realize Pagan didn't have a great year, in fact, I spent most of the season hearing from fans about his defensive miscues, lack of offense, and bone headed base running mistakes.  With that said, in looking over the free-agent outfielders...
I found it interesting how Bob Klapish of the Record portrayed the Mets front office situation.  Klapish reports that those who know Alderson believe his position with the Mets is short term and it looks like Paul Depodesta could be in-line to take over.  Some feel that Alderson will be the next Commissioner and therefore, this position hinges upon when Bud Selig decides to retire...
The New York Mets say they have cut some of their business staff. The team issued a statement Friday that read: "Several weeks ago, we made workforce reductions in both the baseball and business operations departments, which amounted to less than 10 percent of our full-time staff." New York just finished its third straight losing season and has reduced ticket prices for the third...
The Mets laid off about 10 percent of their front-office staff, which is not a good omen in the Jose Reyes sweepstakes.
I haven't had time to post either yesterday or today so before I head out the door for a full day of football and the evening at MSG for Rangers-Jets, let me just make a quick comment on Joel Sherman's story on the Mets talking about dealing David Wright to the Angels for Peter Bourjos and one or two pitching prospects. If Sandy Alderson can pull that deal off it's a steal...
The Mets laid off 10% of their non-playing employees. As the article points out, they didn't fire any of the their higher executives. I would guess there are a couple of departments they could consolidate, but choose not to.
As Adam Rubin mentioned yesterday to Joe D of Mets Merized Online, Angel Pagan has been looked down apon in the Mets organization.  Taken from what Rubin said, its now likely that Pagan will be non-tendered, and will be looking for a new team. With that being said, then we are going to have some fun talking about who could replace Angel Pagan in CF.  Clearly from the 2012 MLB Free...
MLB News

Delivered to your inbox

You'll also receive Yardbarker's daily Top 10, featuring the best sports stories from around the web. Customize your newsletter to get articles on your favorite sports and teams. And the best part? It's free!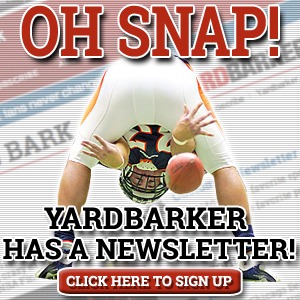 Latest Rumors
Best of Yardbarker

Today's Best Stuff

For Bloggers

Join the Yardbarker Network for more promotion, traffic, and money.

Company Info

Help

What is Yardbarker?

Yardbarker is the largest network of sports blogs and pro athlete blogs on the web. This site is the hub of the Yardbarker Network, where our editors and algorithms curate the best sports content from our network and beyond.