Found December 11, 2012 on Fox Sports Kansas City:
KANSAS CITY, Mo. For a stretch, Jake Odorizzi kept the snapshot in his mind: One day, if the stars were aligned, he'd become the Royals' main man, the stopper, the crown jewel of the giant crown along I-70. Instead, he'll go down in Kansas City history as the man traded for one ace, then traded two years later for another. History's funny like that. "(It's my) second trade, obviously, so both times, it's been (for) good pitchers," Odorizzi told FOXSportsKansasCity.com Monday, less than 18 hours after he was shipped from the Royals to Tampa Bay. "I think it's kind of humbling, I guess." Of course, flattery sometimes makes for strange bedfellows. In December 2010, the 22-year-old was the pitching centerpiece of the haul the Milwaukee Brewers sent back in exchange for Zack Grienke. On Sunday night, he played the part of sexy bait again, this time in a package from the Royals to the Rays, bringing veteran arms James Shields and Wade Davis in return. Shields 15-10 with a 3.52 ERA this past summer is projected to hold down the No. 1 slot in the new-look Kansas City rotation. "They definitely put themselves in a position to compete in the American League Central," Odorizzi said of his now-former team, for whom he made two starts in September after posting an 11-3 record at Triple-A Omaha. "Anytime there's a trade like that, there's always mixed emotions. It's the same way when I was traded the first time there were mixed feelings on both sides. That's the nature of trades; some people are happy about it, some people aren't." And don't get him wrong; Odorizzi is plenty happy at what went down just a little, well, shocked. "(I had) no indication," said the Highland, Ill., native, who posted a 25-12 record in the minors since coming over from the Brewers' system. "I hadn't heard myself talked about in trades. Obviously, everybody talked about Wil (Myers, the key hitter in the deal), and about moving him, but yeah, I was caught off-guard a little bit." The news came at roughly 9:50 p.m. Sunday, when the phone rang at Odorizzi's home. Jake's wife, Carissa the couple had tied the knot in early November wondered who could be calling at that hour, and surmised that something might be shaking on the Royals front. "She was (like), Well, here we go,'" Odorizzi recalled. "We already knew what was going on. Sure enough, that's what happened." Her instincts were spot-on: It was Scott Sharp, the Royals' director of player development, who told the young pitcher that there was "about a 99 percent chance" that he was going to be traded. Jake called his parents at 10:15 p.m. or so about the same time as the news broke to the media to tell them he'd been shipped to Tampa, and that he'd let them know more details Monday. "Then when I looked in the paper and saw who all had been traded, I was like, Wow,'" Jake's father Mike said of the swap, in which the Rays acquired four Kansas City prospects, including Myers, Baseball America's Minor League Player of the Year. "It was a pretty big deal." Already in his third organization in five years, Odorizzi is one of the rare arms who can say he's been traded for both quantity and quality. In the case of Grienke and Shields, that's two All-Stars with a career record of 178-151 combined, a couple of anchors who've averaged 13 wins per season over the past half-decade. "I look back on it, it was great. The two years I was there were fantastic," Odorizzi said of his stint in Kansas City blue. "All the guys I got to meet all the coaches, the teammates I had, the front office, everybody was friendly, a class-act organization. They handled everything well, and I enjoyed my time thoroughly from Day 1." That said, he's also ready to turn the page. Odorizzi's stoked to be going south with Myers, his roommate for most of this past summer in Omaha. And stoked to join a Rays club that's averaged 91.6 wins over the past five seasons, stoked to join a staff that includes American League Cy Young winner David Price. "I guess I've been included in two pretty all-right deals when it comes to trades," Odorizzi noted, "So it's flattering, definitely." Then he paused. "But I want to work that much harder, to maybe be that person one day who is that big starter, or whatever the case may be. Not the (other) player that gets traded." You can follow Sean Keeler on Twitter @seankeeler or email him at seanmkeeler@gmail.com
Original Story:
http://www.foxsportskansascity.com/12...
THE BACKYARD
BEST OF MAXIM
RELATED ARTICLES
Nothing like trading sunny Florida for the cold, blustery Midwest in mid-December for James Shields and Wade Davis. The two pitchers arrived in Kansas City on Wednesday to undergo physicals and check out Kauffman Stadium from the home clubhouse for the first time. Shields and Davis became members of the Royals on Sunday in a blockbuster trade that sent top prospect Wil Myers and...
KANSAS CITY, Mo. If the Royals' blockbuster trade with the Tampa Bay Rays on Sunday accomplishes anything, at least in the Royals' minds, it will inspire a major mood makeover within the organization. And that mood makeover already has started with Moore and manager Ned Yost. Moore and Yost were all smiles at Wednesday morning's press conference introducing newly acquired...
Depending who you listen to, the Kansas City Royals have either: a) made the necessary move to push themselves closer to contention, or b) Tampa Bay Rays GM Andrew Friedman has once again outsmarted the baseball world. Late Sunday evening, it was announced by Ken Rosenthal that the Tampa Bay Rays had dealt former All-Star James Shields and fellow right-hander Wade Davis to the Kansas...
The Kansas City Royals and Tampa Bay Rays completed a huge swap of talent late on Sunday night, with the Rays sending starting pitcher James Shields, reliever (or potential starter) Wade Davis, and a player to be named later to the Royals for four prospects: Wil Myers, Jake Odorizzi, Mike Montgomery, and Patrick Leonard. The motive for the trade seems obvious for the Royals:...
The Royals' blockbuster trade with Tampa Bay for James Shields and Wade Davis shows that they're ready to start mortgaging their future to win in the present, something that hasn't happened around Kansas City for years. To do it, the Royals gave up outfielder Wil Myers, widely regarded as the top prospect in the minor leagues, and right-hander Jake Odorizzi, considered...
The Kansas City Royals acquired former All-Star James Shields and fellow right-hander Wade Davis from the Tampa Bay Rays on Sunday night for outfielder Wil Myers and a package of minor league prospects. Kansas City has been working all offseason to shore up a starting rotation that has been abysmal for years, re-signing Jeremy Guthrie and acquiring Ervin Santana from the Los Angeles...
KANSAS CITY, MO (December 9, 2012) – The Kansas City Royals tonight acquired right-handed starting pitchers James Shields and Wade Davis and a player to be named or cash considerations from the Tampa Bay Rays in exchange for minor league outfielder Wil Myers, right-handed pitcher Jake Odorizzi, left-handed pitcher Mike Montgomery and third baseman Patrick Leonard. Shields, who...
Table of Contents Here's the table of contents for today's edition of Daily Notes. 1. Very Assorted Headlines 2. Largely Unhelpful Video: Cubs Prospect Nelson Perez, Homering 3. SCOUT Leaderboards: Dominican Winter League Very Assorted Headlines Detroit Signs Catcher Brayan Pena The American League champion Detroit Tigers signed catcher Brayan Pena on Monday to a one-year deal...
It's no secret that I don't think the Kansas City Royals made a very good trade last night. In my view, the price was just too high, and the Royals weren't in a position where their team needed to give up that kind of future value to improve their chances of winning in 2013. Reasonable folks can disagree, of course. There's a case to be made that the Royals are closer...
The Rays began life after James Shields in earnest with their first transaction since the big move Wednesday. The club is reportedly close to inking pitcher Roberto Hernandez — formerly and better known as Fausto Carmona — to a contract. Terms have yet to be revealed, but given his struggles the last two seasons — a 5.41 ERA and 1.8 K/BB in 202 innings — and his suspension...
The Kansas City Royals and the Tampa Bay Rays made a big trade tonight, with Kansas City acquiring James Shields and Wade Davis in exchange for top prospects Wil Myers, Jake Odorizzi, Mike Montgomery, and Patrick Leonard. That's a pretty big return in prospects, with Myers being one of the top prospects in the game. A lot of the reactions I saw said the Rays clearly won this deal...
It's a deal that could change the focus of both franchises. The Royals and Rays shook up their franchises with a deal that involved 6 players and one to be named later. As talk of a possible trade that included Wil Myers being traded from the Royals to Tampa Bay gained momentum, I never thought it would be a one player for one player deal. In today's market, starting...
MLB News

Delivered to your inbox

You'll also receive Yardbarker's daily Top 10, featuring the best sports stories from around the web. Customize your newsletter to get articles on your favorite sports and teams. And the best part? It's free!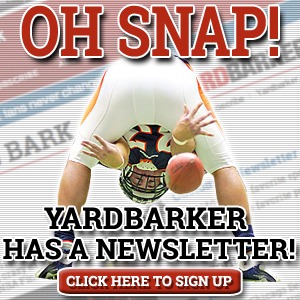 Latest Rumors
The Backyard

Today's Best Stuff

For Bloggers

Join the Yardbarker Network for more promotion, traffic, and money.

Company Info

Help

What is Yardbarker?

Yardbarker is the largest network of sports blogs and pro athlete blogs on the web. This site is the hub of the Yardbarker Network, where our editors and algorithms curate the best sports content from our network and beyond.