Found September 19, 2012 on Sportress of Blogitude:
Baltimore Orioles relief pitcher Tommy Hunter was on the receiving end of a not-so-nice of a gift from high above, courtesy of some members of the winged animal kingdom during Tuesday's game against the Seattle Mariners at Safeco Field.
While warming up in the 16th inning of a marathon of a game (one the O's eventually won 4-2 in an 18-inning, nearly six-hour affair), Hunter felt something strike the bill of his cap. Assuming it was simply one of his teammates messing around with him, Hunter paid no mind, but realized before long that it was not the shenanigans of one of his fellow relief pitchers. Instead, the impact upon his cap was being caused by seagull droppings.
Said Hunter following the game (via the Baltimore Sun):
"I was minding my own business, not doing anything. I thought it was [reliever Luis] Ayala throwing stuff at me. You know, he usually does. So I didn't know what it was," Hunter said. "I just thought someone threw a piece of gum and hit me. It wasn't a piece of gum, man. Everybody just started dying laughing. Then everybody said it was good luck. Then we won.

"I was getting ready to go warm up and it went [plop] and I looked at it and everyone started laughing. I had bird [droppings] on my head."
A most unsettling of experiences, especially given that Hunter was about to take the mound in a tense, extra-inning tilt.
Mentioning that it was his favorite hat, Hunter lamented his sullied cap, bemoaning, "It sucks. It's terrible." Unfortunately, due to his a "huge dome" — "a large landing zone, I guess," he joked — Hunter was forced to pitch with his defecated-upon cap.
But as Hunter mentioned, the bird droppings may have imparted some good luck upon the pitcher, as he earned the win in the hard-fought game, pitching two innings, surrendering only one hit and striking out one.
Between this story and the pigeon-pooping issue presently taking place at Sports Authority Field at Mile High, the home of the Denver Broncos, it seems that the birds are having the last laugh this fall.
Also from Sportress of Blogitude:
Photo: Rob Gronkowski's former porn star friend uploads old pic of the two together
Video: Behind-the-scenes peek at Caroline Wozniacki's underwear shoot
Photo: Shirt inspired by Dolphins GM's profane fan interaction: 'We Need You To Fire Yourself'
Original Story:
http://www.sportressofblogitude.com/2...
THE BACKYARD
BEST OF MAXIM
RELATED ARTICLES
The Baltimore Orioles are throwing 19-year-old pitching prospect Dylan Bundy into the middle of a pennant race. Baltimore recalled Bundy from Double-A Bowie on Wednesday. The right-hander will provide depth in the bullpen for the Orioles, who played an 18-inning game against the Mariners on Tuesday night and have an upcoming doubleheader against Toronto on Monday. Bundy has not...
A Winning Season It's been a long time for Orioles fans, but the O's finally have a winning season It has been 15 years, but the drought is mathematically over. The Baltimore Orioles will end this regular season with a winning record. The Orioles got their 82nd win on Sunday and look to continue to fight for the AL East division lead, but I wanted to focus on the winning...
Few things get baseball fans more excited than the opportunity to begin taking an extraordinary young talent for granted, so baseball circles are abuzz right now with talk of the Orioles' promotion of top prospect Dylan Bundy. It didn't at any point appear as if Bundy would see the majors in 2012, so this news comes as a surprise, but few were also counting on the Orioles to...
Well, the Baltimore Orioles seemingly are now a team of destiny. They've pulled out amazing win after another, and some of them seem utterly incomprehensible. One night after their amazing 18-inning win over the Mariners, they did at again this morning. Once again, the Orioles played an extra inning game – this time, only 11 innings – and they defeated the Mariners again...
O's win in 18 at Seattle to secure their 14th-straight extra-innings win and move back into a tie for first with NY. [Camden Chat] Nineteen-year-old super-prospect Dylan Bundy gets promoted to spell relief. [Camden Chat] Jim Thome and Troy Patton are coming back. [O's Insider] Braves lose. Nats' magic number is now 10. [Nats Enquirer] It sounds like Danny Espinosa's gonna...
Adam Jones was done. After playing 29 innings of baseball in 24-plus hours, the former Mariners prospect had enough. He launched a 385-foot homer in the 11th inning Wednesday that gave the Baltimore Orioles a 3-1 win and a series sweep at Seattle. The victory marked the 15th consecutive extra-inning win for Baltimore, and it kept the Orioles within a half-game of first place...
The Baltimore Orioles initially had said that they would not promote their top pitching prospect, right-hander Dylan Bundy. A pennant race and an 18-inning game have a way of changing a team's best-laid plans.
The Baltimore Orioles and Seattle Mariners are giving fans plenty of free baseball. A night after playing a 5 hour, 44 minute, 18-inning marathon, the Orioles and Mariners went to extra innings again on Wednesday night. The teams were tied at 1-1 after nine innings. The Orioles and Mariners both used eight pitchers in Tuesday night's game, won 4-2 by the Orioles. On Wednesday...
Taylor Teagarden stroked a pinch-hit RBI single to right in the 18th inning to help give the Baltimore Orioles a 4-2 comeback victory over the Seattle Mariners on Tuesday night. The win allowed the Orioles (84-64) to pull within a percentage point of the Yankees (83-63) for the lead in the AL East. The Yankees were rained out Tuesday and will play a split double-header with Toronto...
The Orioles pulled the trigger on a potentially impactful post-season move by calling up the 19-year-old phenom Dylan Bundy. Electric stuff who projects to be a #1 rotation guy will provide a new weapon for Buck Showalter down the stretch and potentially in the playoffs (although not on the roster by the playoff deadline to be added, there are legal exemptions that can get him on...
The Orioles played two very 2012-Oriole-esque games to earn a sweep of the Seattle Mariners at Safeco Field. After taking game one in very non-Oriole fashion, 10-4, the next two games were much more their style. In game two, the Birds trailed 2-0 for pretty much the entire game before scoring twice in the top of the ninth inning to tie it up. Neither team would score again until...
MLB News

Delivered to your inbox

You'll also receive Yardbarker's daily Top 10, featuring the best sports stories from around the web. Customize your newsletter to get articles on your favorite sports and teams. And the best part? It's free!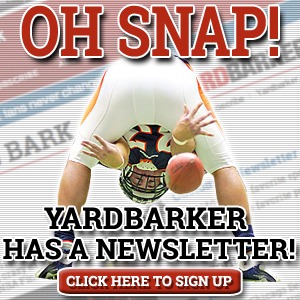 Latest Rumors
Best of Yardbarker

Today's Best Stuff

For Bloggers

Join the Yardbarker Network for more promotion, traffic, and money.

Company Info

Help

What is Yardbarker?

Yardbarker is the largest network of sports blogs and pro athlete blogs on the web. This site is the hub of the Yardbarker Network, where our editors and algorithms curate the best sports content from our network and beyond.