Found December 05, 2012 on B-More Birds Nest:
After the O's wild postseason ride ended, one of the first questions fans were asking is "What will the O's do with Nate McLouth?" McLouth, after all, had been the team's best hitter during the postseason, when it seemed that the state was too big for most everybody on the team except him. Right here at the Nest, Phil Backert said the O's SHOULD bring back McLouth, just not with a lucrative, multi-year contract. If McLouth stayed on his pace with the O's he would have shattered his career high in stolen bases and come close in the other categories.  Since the 2008 season, McLouth hit 20 homeruns one time, never batted .260 or higher until his stint in Baltimore, and never collected 20 stolen bases.  The big kicker is he hasn't played in more than 130 games since that All-Star season.  The hope is McLouth lost his way for 2 ½ seasons and he is back to being the player he was in his mid-20's. The Orioles don't have the luxury at this point to go on hope.  I can see McLouth asking for 3 years at around 5 million a year.  He will probably settle for two years, but he will want the guarantee to start.  The O's will be comfortable having him compete for a spot and at worst they have a great 4thoutfielder.  They run the risk, however, of another team thinking he is the player he was at 26 and paying him handsomely. Well Phil, you got your wish. According to Dan Connolly of the Baltimore Sun, multiple sources are reporting that the O's have indeed re-signed McLouth, and that the deal is for just one year. According to multiple sources, the Orioles and the 31-year-old left fielder have agreed to a one-year deal. There is no option involved. The Orioles haven't announced the deal, but it is reportedly worth $2 million with $500,000 in performance bonuses. I have no problems whatsoever with this signing – if you ask me, it's very Ravens-esque: Right Player, Right Price. McLouth will be great to have as a fourth outfielder, and is a solid insurance policy should Nolan Reimold's injury-prone ways continue in 2013. Especially if Nate can continue the career resurrection that he saw during the last month-plus of the season, an outfield of Nick Markakis/Adam Jones/Nolan Reimold/Nate McLouth is one that should be just fine.  
Original Story:
http://feedproxy.google.com/~r/bmoreb...
THE BACKYARD
BEST OF MAXIM
RELATED ARTICLES
It was pretty widely acknowledged by the team that they wanted to bring Nate McLouth back for the 2013 season, and today they've accomplished that goal; McLouth will get $2 M, with the potential for another $500 K in incentives. We've discussed the Orioles signing McLouth quite a bit since the season ended; my opinion was that a $2-3 M contract could be an OK value (apparently...
A person familiar with the deal tells The Associated Press that free agent outfielder Nate McLouth has rejoined the Baltimore Orioles with a one-year contract worth $2 million. The person spoke on condition of anonymity Wednesday because there was no official announcement. The 31-year-old McLouth revived his career with the Orioles last season. An NL All-Star in 2008, McLouth was...
Free-agent outfielder Nate McLouth has reached agreement with the Baltimore Orioles on a one-yaer deal. Fox Sports reported the contract would be worth $2 million plus $500,000 in incentives. McLouth, 31, came to the Orioles in June after being waived by Pittsburgh. The former All-Star spent two months in the minor leagues before returning to the majors and hitting .268 with...
Well, the Orioles made another move at the Winter Meetings, as they signed outfielder Nate McLouth back on a one-year deal. From ESPN.com: NASHVILLE, Tenn. -- A person familiar with the deal tells The Associated Press that free agent outfielder Nate McLouth has rejoined the Baltimore Orioles with a one-year contract worth $2 million. The person spoke on condition of anonymity...
In part ten of my (hopefully) 52 part series, Better Know a 2012 Oriole, I take a look at Wilson Betemit... the fightin' ineffective switch-hitter! "'When the Orioles signed Wilson Betemit to a two-year contract, it was initially a little confusing. Multiple years for a part-time player? But the price was low enough ($3.25 M total), and Betemit's adequate production...
Nate McLouth played well down the stretch for the Baltimore Orioles last season as the team made its first playoff appearance in over a decade. The Orioles have decided to bring back the veteran outfielder on a one year deal worth $2 million. McLouth hit .268/.342/.435 in 55 games for the Orioles last season. He also hit seven home runs, stole 12 bases and drove in 18. "I think...
The Baltimore Orioles have re-signed outfielder Nate McLouth to a one-year $2mm deal, Brittany Ghiroll of MLB.com reports. The deal also includes $500k in incentives. McLouth signed a minor league deal last season with the Orioles after being released in June by the Pirates. In 57 at bats with the Pirates, he hit .140/.210/.175 with 2 RBI's and a 9 OPS+. The 30-year old McLouth...
Orioles Manager Buck Showalter disclosed to reporters Tuesday that future star Manny Machado had contracted meningitis about a month and a half ago.  Meningitis is an inflammation of the membranes that cover the brain and spinal cord, and potentially life threatening.  Happily, O's Executive VP Dan Duquette said Machado "was in good hands, and he dealt with it swiftly...
Should we as fans be upset at what the Orioles did at the Winter Meetings? Not really. The biggest signing that they had was bringing back Nate McLouth for a one-year pact. They also got a pitcher in the Rule 5 Draft, T.J. McFarland, and Dan Duquette did a lot of talking, mainly noting that the franchise has a good to core to work with. In Nashville, many fans had wanted...
Adam LaRoche may not have far to travel if he does not re-sign with the Washington Nationals this season.  The Baltimore Orioles appear to be real players in the pursuit of the veteran first baseman.  Staying in the Maryland/D.C. area may not exactly be the selling point that LaRoche is looking for, but it couldn't hurt. Jayson Stark of ESPN says the Orioles are one of...
Dan Duquette certainly does not have the reputation as being a seamhead (like many of the newer GMs in baseball) but he certainly didn't get to where he is by being a fool. The Oakland Athletics and Baltimore Orioles ascended beyond what anyone expected. Certainly both organizations understand that there was some good fortune involved. In the Orioles case, they had an ungodly record...
Behold the all-time single season strikeout list.Does anybody out there seriously think we might sign Mark Reynolds to play 3B? God save us.  GOD SAVE US.
MLB News

Delivered to your inbox

You'll also receive Yardbarker's daily Top 10, featuring the best sports stories from around the web. Customize your newsletter to get articles on your favorite sports and teams. And the best part? It's free!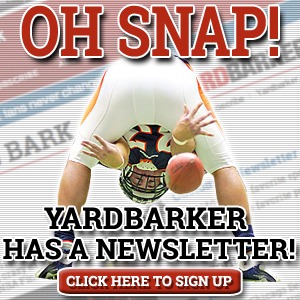 Latest Rumors
Best of Yardbarker

Today's Best Stuff

For Bloggers

Join the Yardbarker Network for more promotion, traffic, and money.

Company Info

Help

What is Yardbarker?

Yardbarker is the largest network of sports blogs and pro athlete blogs on the web. This site is the hub of the Yardbarker Network, where our editors and algorithms curate the best sports content from our network and beyond.