Found March 20, 2012 on Obstructed View OLD:
PLAYERS:
Starlin Castro
,
David DeJesus
,
Ian Stewart
,
Darwin Barney
,
Marlon Byrd
,
Alfonso Soriano
,
Geovany Soto
,
Bryan LaHair
,
Jeff Baker
,
Brett Jackson
,
Anthony Rizzo
,
Blake DeWitt
,
Joe Mather
,
Tony Campana
,
Steve Clevenger
,
Dave Sappelt
,
Matt Garza
,
Ryan Dempster
,
Paul Maholm
,
Chris Volstad
,
Randy Wells
,
Jeff Samardzija
,
Travis Wood
,
Carlos Marmol
,
Kerry Wood
,
James Russell
,
Casey Coleman
,
Trey McNutt
,
Marcos Mateo
,
Rafael Dolis
,
Scott Maine
,
Mariano Rivera
TEAMS:
Chicago Cubs
,
Miami Marlins
,
New York Yankees
On Saturday I published this year's playing time survey and more than 50 of you took the time to fill it out. Thanks for taking the time. I'm going to go ahead and publish the results here. I didn't make any adjustments to the batters because you guys pretty much nailed it as far as position and team totals go. I did make some small adjustments to the pitchers as our total was more than a couple hundred innings shy of what a team will pitch each year. There was no reason to increase it to 1450 innings as most of the remaining innings you didn't project would be taken up by replacement level players anyway. But I did do a little adjusting by bumping each starter's projected total up a bit by a different perentage increase than I used for relievers. Overall, I added just 100 innings spread among all the players so it's not a big deal.
Player
Projected PA
Starlin Castro
609
David DeJesus
504
Ian Stewart
453
Darwin Barney
448
Marlon Byrd
438
Alfonso Soriano
436
Geovany Soto
436
Bryan LaHair
388
Jeff Baker
221
Brett Jackson
200
Anthony Rizzo
190
Blake DeWitt
158
Welington Castillo
140
Joe Mather
126
Tony Campana
124
Steve Clevenger
120
Dave Sappelt
84
There's really only one player that stands out to me: Marlon Byrd. I'm guessing some of the reason he's as low as it is (438) is because you guys are expecting him to be traded. That's probably a pretty good guess. Since we've been publishing these surveys (since 2008), I don't think I had ever projected someone to get more than 600 plate appearances until this year (Castro).
This was also the first year I projected so many plate appearances to be spread among several different players. It appears we're thinking the same thing in that Jackson and Rizzo will get some playing time at some point, but not all that much. They won't get an insiginficant amount of playing time, but they're not going to be the primary player at their position until much later in the season. One thing I thought was interesting though, was that LaHair is projected to have 388 PA and Rizzo 190. It's the one position that doesn't add up, but then I realized that I have been assuming Jeff Baker is going to play at 1st base against most of the lefties. Maybe that doesn't happen early on in the season, but at some point I'm thinking Baker takes over for LaHair vs lefties.
Soto's projected PA are right in line with what I was thinking, but it's also interesting that nobody could settle on a back-up catcher. Castillo is projected to get the bulk of the back-up work, but only 20 more PA than Clevenger.
Joe Mather 126 PA? It does appear he has locked up the spot on the team, but other than Byrd that number surprised me the most.
Personally, I think the overall total for DeJesus is a bit off. He has 900 PA over the last couple years though he did bat more than 550 times each of the three previous seasons. I had hiim at somewhere between 401-450, but closer to the 401 total. DeJesus can't hit lefties (.308 career wOBA, 83 wRC+). I'll admit that I don't really know who is going to take those PA vs lefties, but at some point I think someone will. I also think he's an injury waiting to happen. That's just me. It's clear I had different expectations than the rest of you so I wouldn't bet on my expectations being correct. If I was betting, I'd bet on these.
Player
Projected IP
Matt Garza
193
Ryan Dempster
188
Paul Maholm
165
Chris Volstad
155
Randy Wells
138
Jeff Samardzija
122
Travis Wood
80
Carlos Marmol
65
Kerry Wood
51
James Russell
51
Casey Coleman
40
Trey McNutt
38
Marcos Mateo
35
Rafael Dolis
33
Scott Maine
29
No surprise to see Garza atop the list in projected innings. The projections were also set up in a way that we'd not end up with projections over 200 innings. If you think so and so is going to pitch 200 innings I'm certainly not going to argue with you, but I feel a 200 inning projetion is about like projecting a batter to get 725 PA. It happens. Sometimes it happens regularly, but there are just too many things that get in the way. Especially for pitchers.
For example, in Garza's best season in his career (last year), he threw only 194 IP. Pitching 200 innings just isn't something you can expect in my opinion.
There's also little surprise seeing the drop off after Garza and Dempster. Maholm is coming off an injury, Volstad isn't all that good, Wells is about to be given the Cubs Special Bullpen Test and most of you think there's little chance Samardzija remains in the rotation for that long. Speaking of Samardzija, I set up a separate survey for him when it became clear he was going to get some starts to begin the season. I took the numbers from that survey for Samardzija's total here.
I am a little surprised to see Marmol with just 65 innings, but not surprised to see Wood pitching just 51. Sean Marshall had been a reliever the last couple years I felt comfortable projecting 75 innings out of. I did project between 71-80 for Marmol, but certainly expected closer to 71.
It says something about our expectations of James Russell as a pitcher to see him getting 51 projected innings. Or it says something about the Cubs lack of pitching, particularly from the left side in the bullpen. I'm going with the latter because for the most part, that list of relievers is about as unimpressive a list as I've seen in a Cubs uniform in a long time. That said, I'd much rather pay league minimum for a guy like Mateo or Dolis than big money for someone who isn't Mariano Rivera.
Not that it matters, but in the next few days I'm going to look back at our past playing time projections and see how we did. I know for a fact we failed miserably in 2009, but that team missed expectations by about 10 to 15 wins. We can't predict an injury. We know who is more likely to get injured, but injuries happen to all the players. All we can really do is project how the manager is going to use the players and with a new manager that's more difficult than before.
Original Story:
http://www.obstructedview.net/project...
THE BACKYARD
BEST OF MAXIM
RELATED ARTICLES
The Cubs signed DeJesus on November 30th to a 2-year guaranteed contract with a 3rd year option. He's guaranteed $10.5 million over the contract. I think a couple of the reasons the Cubs chose DeJesus is quite simple and I mentioned them in that article. DeJesus played RF for 116 games last season and played 8 games in CF. He's a damn good fielder so it's not surprising...
Bryan LaHair singled, doubled, and tripled, scored two runs, and knocked-in two more, and Nate Samson had two hits, drove-in three runs and scored another, but it wasn't anywhere near enough, as the Arkansas Travelers (Los Angeles Angels AA affiliate) took advantage of six errors to defeat the Tennessee Smokies 7-3 on Field #2, and the Salt Lake Bees (Angels AAA affiliate) outlasted...
Weekend practice game roundup Geovany Soto homered, doubled, and walked in Saturday's game, so it looks like he's feeling better from his groin injury. Steve Clevenger, Adrian Cardenas, and Joe Mather also homered this weekend. Tony Campana broke his hitless streak with a hit or two but is probably out of a spot on the roster at this point. On the pitching side, both Jeff...
Ronald Torreyes had four hits and Ryan Cuneo drove-in five runs with a three-run home run and a two-run single, leading the Daytona Cubs to a 10-3 victory over the San Jose Giants (San Francisco Giants Hi-A affiliate) on Field #3, and Cubs 2011 1st round draft pick Javier Baez smacked an opposite-field solo HR over the RF fence and onto 8th Street in the 3rd and ripped a line-drive...
Projected lineup RF - David DeJesus SS - Starlin Castro CF - Marlon Byrd 1B - Bryan LaHair LF - Alfonso Soriano C - Geovany Soto 3B - Ian Stewart 2B - Darwin Barney SP - Matt Garza SP - Ryan Dempster SP - Paul Maholm SP - Jeff Samardzija SP - Chris Volstad/Randy Wells CL - Carlos Marmol Five things to think about: - Castro is 32nd overall in my rankings, which is...
Travis Wood sucks.  He started the day with a 20.50 ERA.  He was spotted a 7-0 lead before he took the mound.  He left after allowing the game to be tied by the 3rd inning. His ERA now stands at 25.07. Don't talk to me about small sample sizes.  He blows.
Ryan Dempster allowed two runs on four hits and two walks in six innings of work (72 pitches - 50 strikes, 5/8 GO/FO, 3 K), but the Texas Rangers rallied for two in the 8th off Lendy Castillo and two more in the 9th off Alberto Cabrera (two-run HR by 23-year old Cuban defector Leonys Martin) to defeat a Cubs split squad 6-2 in Spring Training Cactus League action this afternoon at...
2011 wasn't a great year for the Cubs by any stretch of the imagination, and as large market teams tend to do when they get into that situation, the Cubs retooled. A new manager in Dale Sveum, a new president in Theo Epstein, and a new general manager in Jed Hoyer are in the process of completely blowing up the Cubs and rebuilding them. It might take awhile, but the results will...
It looks like Chris Volstad has the last rotation spot locked up. If you looked up "serviceable" in a dictionary there would probably be a picture of Volstad next to it. He's been in the bigs for most of four seasons, and made 87 starts in his last three years with the Marlins. Perhaps one of the reasons that Thoyer targeted him in the Z dump was that his peripherals...
Practice Game(s) Recap Dempster went six innings against the Rangers, allowing 2 runs on four hits and 2 walks and striking out three. Marmol had a scoreless 2/3 of the inning before leaving the game with some sort of hand injury. It was chalked up to cramps but he's getting an MRI anyway. The Cubs scored two runs on either side of a Blake DeWitt triple but were otherwise unable...
Jonny Gomes homered to start a three-run rally in the ninth, and the Oakland Athletics tied a Chicago Cubs' split squad 5-5 in 10 innings Tuesday. Kila Ka'ahilue homered and doubled for the A's, playing their final spring training home game before heading to Japan for a season-opening, two-game series against Seattle in Tokyo next week. Tony Campana doubled and scored...
MLB News

Delivered to your inbox

You'll also receive Yardbarker's daily Top 10, featuring the best sports stories from around the web. Customize your newsletter to get articles on your favorite sports and teams. And the best part? It's free!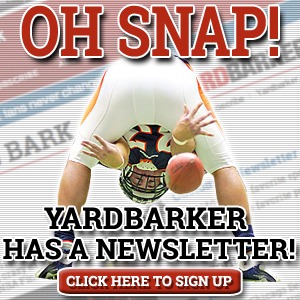 Latest Rumors
The Backyard

Today's Best Stuff

For Bloggers

Join the Yardbarker Network for more promotion, traffic, and money.

Company Info

Help

What is Yardbarker?

Yardbarker is the largest network of sports blogs and pro athlete blogs on the web. This site is the hub of the Yardbarker Network, where our editors and algorithms curate the best sports content from our network and beyond.