Found April 10, 2012 on PRO Rumors:
For all of you who couldn't understand Ozzie Guillen's press conference earlier today here's what he said (video here): "I'm here because I hurt a community, I didn't want to do it, but I did it. Not only all the Cuban people around the world or living in Cuba, but the entire Latin American community. People from Venezuela, Nicaragua, Guatemala, and if I forget about someone please forgive me, but I feel like I betrayed the entire Latino community." "I'm here to ask for your forgiveness from the bottom of my heart. To ask for the forgiveness of everybody who I hurt, directly or indirectly, and to tell you that everything I say here I say it from the bottom of my heart, and that it's the truth. I'm not here to get away from the problem, but to make everything clear." "This is my third press conference and I think that for me and the entire Latin American community, especially the Cuban, it was important they saw my face and my eyes, and to know that everything I said in Cincinnati and Philadelphia was the truth." "I have a lot of Cuban friends, and I've lived in Miami for a long time. I feel ashamed that they feel that I betrayed their friendship. This last couple of days have been really difficult for me, only God and my family know how hard it has been. Again, my apologies, I'm regret for what we're going through, and for putting a lot of people in a position where they don't need to be. And to the entire Cuban family, again, my apologies, my love, and I hope that when I walk out of here, people will understand a little better and know a little better who this (Guillen) person is. And how I honestly feel for them, the Cuban regime, the Venezuelan regime, and the Nicaraguan, Ecuadorian and whatever you want, I'm here showing my face." "I know this is a hard time, but I hope you understand me and I'm here to answer your questions. Again I ask for your forgiveness from the bottom of my heart, on my knees to all the Latinos and specially the Cuban community. I've had little support, people that hve met me know who I am. And I hope that this, not that this will heal the wounds, but at least that it can mitigate it, and people know that I'm talking from the bottom of my heart, the truth, the reality how I've always done." Image by Keith Allison under the Creative Commons License.
Original Story:
http://www.prorumors.com/2012/04/rumo...
THE BACKYARD
BEST OF MAXIM
RELATED ARTICLES
SWIFT PUNISHMENT
Prior to the skipper's news conference, the team announced that Ozzie Guillen has been suspended five games for his comments about Fidel Castro.
Marlins manager Ozzie Guillen's comments professing admiration for Fidel Castro caused a bigger uproar than if the Miami baseball team had spent the entire season in last place. In the U.S. city with the biggest Cuban-American population, Cuban exiles and politicians decried his remarks. Soon afterward, the Venezuelan manager issued a tearful, public apology. He has been suspended...
Florida Marlins manager Ozzie Guillen is probably regretting recent statements he made to Time magazine as he's been suspended for five games by the MLB club for singing the praises of former Cuban dictator Fidel Castro. Quotes attributed to Guillen were published on the popular magazine's website on Apr 6 in which he praised Castro for his longevity. The comments...
The Miami Marlins suspended manager Ozzie Guillen on Tuesday for five games for comments he made about Cuban leader Fidel Castro that appeared in a Time magazine article."I respect Fidel Castro," Guillen said in the article. "You know why? A lot of people have wanted to kill Fidel Castro for the last 60 years, but that [expletive] is still here."The Venezuelan...
Ozzie Guillen tried to clear the air and do a little damage control on Tuesday morning in wake of his controversial comments about Cuban dictator Fidel Castro. The Miami Marlins manager delivered what appeared to be a heartfelt, hour-long apology at Marlins Park in Miami on Tuesday morning. He apologized over and over again and pledged to work alongside the Cuban community going...
As Ozzie Guillen tried to explain his way out of another mess he created with his mouth, Chicago's new manager felt compassion for his predecessor. Robin Ventura watched and wished the best for Guillen. ''It's a tough day for him,'' Ventura said Tuesday, hours after Guillen apologized in South Florida for comments lauding Cuban dictator Fidel Castro, remarks...
Ballertainment The official fallout from Ozzie Guillen's expression of love for former Cuban President Fidel Castro has begun. The Miami Marlins have suspended Guillen for five games, without pay. That may not be good enough, though. Fans and members of the Latino community in Miami are calling for him to be fired. Here is the controversial excerpt from the TIME Magazine interview...
In light of his comments about Fidel Castro (of which opinions have varied about how disgusting they were, but all falling on that side of the spectrum), the Miami Marlins have suspended manager Ozzie Guillen for five games, effective starting with tomorrow's game against the Phillies. Guillen will miss the remaining two games against the Phillies, along with the first full series...
Miami Marlins manager Ozzie Guillen hopped a flight from Philadelphia to Miami today to address the media concerning his comments to Time regarding Cuban dictator Fidel Castro. "I love Fidel Castro," Guillen said in an interview with Sean Gregory of TIME. He also added that he has a passion for bullfighting ("You're giving the animal an opportunity to kill you...
White Sox News

Delivered to your inbox

You'll also receive Yardbarker's daily Top 10, featuring the best sports stories from around the web. Customize your newsletter to get articles on your favorite sports and teams. And the best part? It's free!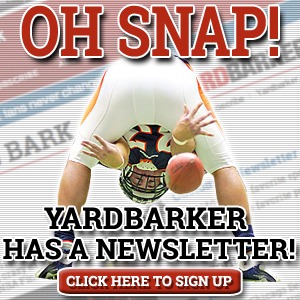 Latest Rumors
Best of Yardbarker

Today's Best Stuff

For Bloggers

Join the Yardbarker Network for more promotion, traffic, and money.

Company Info

Help

What is Yardbarker?

Yardbarker is the largest network of sports blogs and pro athlete blogs on the web. This site is the hub of the Yardbarker Network, where our editors and algorithms curate the best sports content from our network and beyond.