Found February 01, 2013 on Pro Sports Daily:
A bombshell investigative report from a Miami newspaper has accused New York Yankees third baseman Alex Rodriguez of using performance-enhancing drugs as recently as last season, leading to questions about his immediate future and his lasting legacy. "The news report about a purported relationship between Alex Rodriguez and Anthony Bosch are not true," Rodriguez's spokesman said in a released statement. "Alex Rodriguez was not Mr. Bosch's patient, he was never treated by him and he was never advised by him. The purported documents referenced in the story -- at least as they relate to Alex Rodriguez -- are not legitimate." According to a lengthy article by the Miami New Times, Rodriguez was one of several athletes who were clients of Bosch, the head of a Miami anti-aging clinic that the newspaper alleges to have been a front for the trafficking of performance-enhancing drugs including HGH. Patient files and handwritten notes obtained by the newspaper...
Original Story:
http://www.prosportsdaily.com/article...
THE BACKYARD
BEST OF MAXIM
RELATED ARTICLES
When New York Yankee slugger Alex Rodriguez used to make the headlines years ago it was typically for some amazing feat he pulled off on the ball diamond. However, times have certainly changed and most of his headline stories these days portray him in a negative light. The latest news regarding A-Rod certainly isn't good for him since he's been accused of being involved in a...
According to a report by Bill Madden, Christian Red and Teri Thompson of the New York Daily News, Alex Rodriguez's Yankees career could be over. Alex Rodriguez is unlikely to ever wear the pinstripes again, sources familiar with the Yankees' situation with their troubled third baseman told the Daily News, no matter what happens regarding new allegations that he is again involved...
There has been speculation that the New York Yankees will attempt to void third baseman Alex Rodriguez's remaining contract due to use of performance-enhancing drugs and his hip injury. However, the team knows there is little chance of voiding Rodriguez's contract, an act termed "unrealistic" by David Waldstein of The New York Times. The Yankees can dream of getting...
From the NY Daily News:Alex Rodriguez is unlikely to ever wear the pinstripes again, sources familiar with the Yankees' situation with their troubled third baseman told the Daily News, no matter what happens regarding new allegations that he is again involved with performance-enhancing drugs. According to numerous baseball sources, the hip surgery Rodriguez is now recovering...
Yankees fans — and high-ranking members of the organization — were no doubt thrilled with the unfolding of events in recent days, as the perfect storm appeared to coalesce around Alex Rodriguez and create a way for the Yankees to ditch his contract. But not so fast. For the Yankees to cut Rodriguez loose, they need his recent hip surgery to turn into a very long recovery (or...
DAMN YANKEE
Despite all the drama surrounding him, most importantly the recent accusations that he is linked to a PED supplier, A-Rod plans to return to the field "as soon as possible."
Alex Rodriguez is denying allegations that he received performance-enhancing drugs from Anthony Bosch's Biogenesis company, but the evidence against him is mounting. On Tuesday, the Miami New Times reported that A-Rod was one of many MLB players who ordered performance-enhancing drugs (in many cases testosterone) from the now-defunct Biogenesis company. Their report was based on...
The man Major League Baseball and Drug Enforcement Administration agents have accused of peddling performance-enhancing drugs — and have linked to New York Yankees star Alex Rodriguez — is a native New Yorker and lifelong Mets fan. Anthony Bosch — who is suspected of supplying the PEDs to A-Rod and as many as 20 professional athletes — grew up in Queens before he moved to...
Alex Rodriguez could very well be the most hated player in baseball. And now that he's implicated in another steroid/PED scandal, I really don't think there is any coming back from the wrath he'll receive from the fans. Innocent until proven guilty right?  What do we know right now?  First, he could miss either half of the season due to hip surgery or almost the entire...
Alex Rodriguez is tied once again to performance enhancing drugs. Is anyone surprised?  A-Rod has been linked to records at a Miami based anti-aging clinic called Biogenesis according to an article from the Miami New Times. The report also states the clinic sold PEDs to athletes in various sports. Others mentioned along with Rodriguez include Melky Cabrera, Nelson Cruz, and Gio...
A Miami anti-aging clinic's list is linked to several MLB players and is accusing 3-time MVP Alex Rodriguez, Gio Gonzalez, 2012 All Star Game MVP Melky Cabrera, Nelson Cruz, Bartolo Colon and Yasmani Grandal of purchasing performance enhancing drugs in 2011 and 2012. The Miami New Times has released the list after a three month investigation. The list was given to them by an...
As Dave Cameron wrote two days ago, multiple reports have emerged about numerous baseball players connected to a clinic in South Florida that dispensed performance-enhancing drugs and has been nicknamed "BALCO East." Of course, as Cameron notes, "Rodriguez is going to get the most attention, because he's Alex Rodriguez." The Yankees are reportedly exploring all avenues...
MLB News

Delivered to your inbox

You'll also receive Yardbarker's daily Top 10, featuring the best sports stories from around the web. Customize your newsletter to get articles on your favorite sports and teams. And the best part? It's free!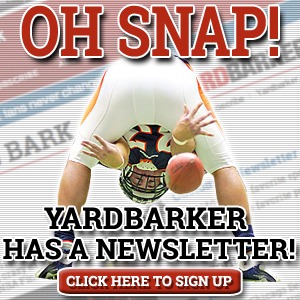 Latest Rumors
Best of Yardbarker

Today's Best Stuff

For Bloggers

Join the Yardbarker Network for more promotion, traffic, and money.

Company Info

Help

What is Yardbarker?

Yardbarker is the largest network of sports blogs and pro athlete blogs on the web. This site is the hub of the Yardbarker Network, where our editors and algorithms curate the best sports content from our network and beyond.