Found January 30, 2012 on Mike Silva's New York Baseball Digest:
Last night, I was joined by Marco Maturo, a member of the BBWAA who spent 40 years covering sports for Gannett, which included 7 years on the Mets beat in the late seventies/early eighties.
When submitting his Hall of Fame ballot this year, Maturo wrote-in Pete Rose.  Jack O'Connell, Secretary-Treasurer of the BBWAA, told Maturo that Rose received 2 write-in votes this past election. In 1992, what would have been Rose's first year of eligibility, he received 41 votes. "He's been getting about 20 write-ins over the period," Maturo said.
Back in November, I discussed how reinstating Rose would be a great way for Commissioner Bud Selig to end his tenure. When you walk into the Hall of Fame there is message on how the plaques are dedicated to the "heroes upon whose shoulders the game was built?" Hasn't Pete Rose lived up to the credo?  Isn't Rose's style of play one that you would want all ballplayers to emulate? Shouldn't he be given credit for finally taking responsibility for his wrongful actions?  Many also forget the foundation of the Reds 1990 title was built during Rose's tenure as a manager. If baseball is truly "America's Pastime" wouldn't it be the American way to give him a second chance and build a comeback story?
Maturo agrees. "If you cut to the chase, Old Petey boy, let me tell you he should be in the Hall. Especially to the extent that the Hall is meant to reflect baseball excellence. And it's also meant to reflect moral excellence- the American variety. You remember Charlie Hustle? His work ethic, his dedication, he made the most of less-than-world-class athletic ability. This guy was a definite Hall of Famer. He gave so much to the game, to the fans. It's a shame that he's not in there."
So what did Maturo think about individuals who cite Rose's issues off the field?
"A lot of people, I think, want the Hall to be a place for 'dashboard Jesus' types." Maturo added that he thinks "baseball needs him (Rose) maybe more than he needs personal rehabilitation. Who better to promote the game of baseball than a Pete Rose for what he did for it?"
Maturo also voted for Barry Larkin and Jeff Bagwell on this last ballot. I couldn't let him go without getting his perspective on next year's controversial election that includes steroid era candidates such as Barry Bonds, Roger Clemens, Sammy Sosa, and Mike Piazza.
"That's a tough one. If Rose is not in there I couldn't vote for them either. I think they deserve some time in purgatory as well as Pete did, right?"
***
You can download the entire show here. The Pete Rose dialogue starts at the 50-minute mark.
Original Story:
http://nybaseballdigest.com/2012/01/3...
THE BACKYARD
BEST OF MAXIM
RELATED ARTICLES
 Not only were Pete Rose, Johnny Bench and Ken Griffey Jr. Hall of Fame players during their time in the major leagues, but they were also just as potent in front of a camera. For your viewing pleasure here is a small& collection of some of those vintage commercials they starred in. Enjoy. Pete Rose for Aqua Velva (1976) Pete Rose for Wheaties (1985) Johnny Bench for Batter...
Not only was The Big Red Machine a force to be reckoned with on the field, but they displayed superior acting skills off of it as well. Here is a look back at some of those vintage TV ads in which Reds players starred in (you have to love these): Johnny Bench for Krylon Paint (1982)Pete Rose for Aqua Velva (1977) Pete Rose for Wheaties (1985) Johnny Bench for Batter-Up (1978...
TMZ.com is reporting that Tyson will be going into the WWE Hall of Fame, including the following comments from Tyson… "I am honored to be inducted into the WWE Hall of Fame. I was the youngest heavyweight champion of all time, but the most fun I ever had in the ring was with WWE." Other non-wrestlers in the WWE Hall of Fame include Drew Carey, Pete Rose and William "The Refrigerator"...
I'm not a big fan of the Enquirer, but being as that it is the only newspaper in town, we do have a Wednesday through Sunday subscription and check it out daily online. So, I have to ask if I'm the only one who is finding it beyond stupid and also very irritating that the front page of cincinnati.com is almost always filled with a story about someone who is already deceased...
MLB News

Delivered to your inbox

You'll also receive Yardbarker's daily Top 10, featuring the best sports stories from around the web. Customize your newsletter to get articles on your favorite sports and teams. And the best part? It's free!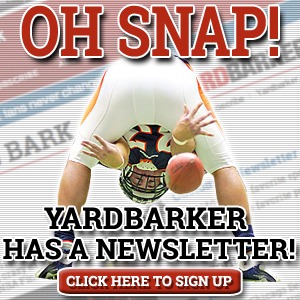 Latest Rumors
Best of Yardbarker

Today's Best Stuff

For Bloggers

Join the Yardbarker Network for more promotion, traffic, and money.

Company Info

Help

What is Yardbarker?

Yardbarker is the largest network of sports blogs and pro athlete blogs on the web. This site is the hub of the Yardbarker Network, where our editors and algorithms curate the best sports content from our network and beyond.