Found November 06, 2012 on Monkey with a Halo:
PLAYERS:
Peter Bourjos
,
Jerry Dipoto
,
Torii Hunter
,
Mike Trout
,
Vernon Wells
,
Mike Scioscia
,
Kole Calhoun
,
Kaleb Cowart
,
BJ Upton
,
Nick Swisher
,
Michael Bourn
,
Cody Ross
TEAMS:
Los Angeles Angels
,
Tampa Bay Rays
,
New York Yankees
,
Atlanta Braves
,
Boston Red Sox
The die has been cast.  Jerry Dipoto made his decision and ushered fan-favorite Torii Hunter out the door and into the wilderness of free agency,  In so doing he has also ushered in the Peter Bourjos era... again. A fan-favorite to a much lesser degree, Bourjos appears to have been given back his starting outfield job.  He didn't earn it back, mind you, he was simply gifted it.  As you surely know, Bourjos followed up on his breakout 2011 campaign that endeared him to the fanbase by devolving into the sort of bust that some worried he'd be before 2011.  Confusing enough, right? He breaks out when he is supposed to fall on his face and then falls on his face when he is supposed cement his status as a top-tier center fielder.  So, sure, go ahead and give him the starting gig since nobody really know what to expect anyway, right? Essentially, Jerry Dipoto is gambling that Peter, who should finally be healthy in 2013 after being plagued by hip and wrist injuries in 2012, will more closely resemble his 2011 self.  It also doesn't hurt that he costs peanuts.  $150 million payroll or no, the Halos need to mix in some cheap labor to keep their costs under control.  There is also little doubt that no matter what he does with his bat, his glove will always be there to provide a ton of value.  After all, we are talking about maybe the one guy in baseball who is a clear defensive upgrade over Mike Trout. This is a strategy I really shouldn't complain about.  After all, I think I threatened to burn down various structures in the greater Anaheim area if the Halos traded Bourjos in any of the various rumors he was involved in the off-season prior to the 2012 season.  That's what makes this next part so awkward, because now, I kind of think that maybe forcing Bourjos back in center isn't such a great idea. Look, I get the reasons to like the move.  He and Trout would be such a great defensive pairing that the Angels could install a fire hydrant in the other corner outfield spot and it wouldn't really matter.  An added bonus would be that while Trout's defensive skills would not be maximized in left, his long-term health would be better served in left field where he would be recklessly hurtling his body into the outfield wall at a far less frequent rate.  As for Speedy Petey's bat, it could be rejuvenated now that he is healthy and his athleticism would be a welcome addition to a team that has become less reliant on small ball and aggressive baserunning, you know, if you are the sort that thinks that is a bad trend.  And finally, with Bourjos making near the league minimum, it frees up cash for the Angels to use on rebuilding the pitching staff. I want to believe in everything in that last paragraph, I really do, but I can't.  Three things keep nagging at me when I consider a starting outfield of Trout-Bourjos-Trumbo.  First and foremost, with Trout in left field he will never ever provide the Angels with his full possible value.  Trout's bat might receive a slight boost from the reduced mileage on his legs, but being the best defensive left fielder in baseball just isn't nearly as valuable as being the best defensive center fielder.  Call me crazy, but intentionally assuring that you will only get 90% of the full value from one of the greatest talents of a generation just rubs me the wrong way. There is also the small matter of Bourjos' ability itself.  Given how the Angel roster is currently constructed, do you realize what happens if Bourjos tanks at the plate again?  Yes, that's right, suddenly Vernon Wells becomes a big part of our everyday life again.  Mike Scioscia had no qualms about burying Bourjos on the bench when he struggled last season, I'm sure he won't hesitate to do so once again if he comes out of the gates slow in 2013.  Perhaps Dipoto will anticipate this and dump Wells before the season, but that just means Kole Calhoun would be next in line.  He's far less loathsome than Wells but there is no guarantee whatsoever that he'd be more productive. Finally, by committing to Bourjos, the Angels are passing on using one of the best trade assets.  Considering that the Angels have two rotation spots and multiple bullpen jobs to fill, the trade market will almost certainly be something they explore in this wafer-thin free agent market.  But how will they acquire any kind of impact player without Bourjos?  Their farm system is woefully shallow right now.  Their two best prospects are Kaleb Cowart, who they likely won't want to trade since they need a third baseman of the future, and C.J. Cron, who might be strictly a DH and thus not attractive to half the teams in baseball.  No, any major deal is almost certainly going to require Bourjos as the centerpiece. What I would propose is that instead of going with Bourjos as the third starting outfielder, the Angels trade him for good, young starting pitching since there is so few quality free agent options.  They could then use the money they would still be saving by signing more proven overall commodities like B.J. Upton, Nick Swisher, Michael Bourn, Cody Ross or, well, Torii Hunter.  There is a chance that the player they sign is not appreciably better or possibly even worse, but, for the most part, there is more certainty in their expected performance than there is from Bourjos.  Plus, in most scenarios, it leaves Trout in center where his full utility can be maximized. I'm not entirely sold that this is a superior option to Dipoto's current plan, but it certainly seems to be similarly viable.  In fact, when I started writing this, I was in favor of trading Bourjos, but having laid it all out now, I think I am leaning towards riding it out with him now.  But I'm sure if you give me five minutes I'll change my mind again.  I guess it ultimately has less to do with Bourjos himself and more to do with how confident Jerry is in being able to manage all the moving parts involved in the trade scenario.  I mean, if he was sure he could swap Bourjos for Hellickson and sign Swisher, then I think that is an easy move to make.  However, if he isn't sure about Swisher and winds up with Cody Ross instead then maybe not so much with this idea. Ugh, I just don't know now.  I am a house divided against myself, but I think it is in a good way because this does seem like kind of a win-win scenario in that the Angels either make us happy by keeping Bourjos or make us happy by trading him for young pitching and signing a big(ger) bat. [follow]
Original Story:
http://www.monkeywithahalo.com/2012-a...
THE BACKYARD
BEST OF MAXIM
RELATED ARTICLES
By Brian Waller - AngelsWin.com Columnist All good things must come to an end, and it appears as though fan favorite Torii Hunter's days in a Halo's uniform have come to an end; with the door only slightly cracked for the mayor of "Toriitown" to return. After signing a 5 year $90-million deal with the Angels on November 22, 2007 Hunter seemed like the perfect fit for...
The November 5th, 2012 edition of daily news for the Los Angeles Angels of Anaheim including Dipoto talks about the Haren non-trade, Hunter not given a qualifying offer, Bourjos will start in the outfield and much more... The Story: Jerry Dipoto talks about the wild events of Friday night that led the Angels to decline Dan Haren's option. The Monkey Says: He doesn'...
Mike Trout isn't afraid of his parents embarrassing him in public. That means social media. The Angels outfielder welcomed both of his parents to Twitter and urged his followers to follow them. Welcome my parents to twitter land !!! @debbietrout27 @jeffreytrout !! #FOLLOW — Mike Trout (@Trouty20) November 5, 2012 Fortunately for Trout –– who is likely to be the Rookie of...
  Interview Conducted by Chuck Richter - AngelsWin.com Executive Editor As most of you who have followed us over the years know, we had a really strong connection with now former scouting director of the Angels, Eddie Bane. Eddie has since moved on to the Tigers as a pro scout & recently took a job with the Boston Red Sox as an assistant to GM Ben Cherington. This past...
It's certainly no secret that the Jays need starting pitching (2 of them, in fact, as per my earlier post), and it is also no secret that the only "bona fide ace" out there on the open market this winter will be Zack Greinke. Putting two and two together, there are many fans out there who would love to see the Jays make a hard push after Greinke. While I certainly agree...
The November 6th, 2012 edition of daily news for the Los Angeles Angels of Anaheim including Trout wins Players Choice AL Rookie of the Year, considering Haren's health, estimating how much money will Greinke get and much more... The Story: Mike Trout named Players Choice AL Rookie of the Year... but nothing else. The Monkey Says: Good gravy, I don't recall there...
Last week, the Angels shopped Dan Haren around the league, as it was common knowledge that they weren't going to pick up his $15.5 million option for 2013, and were willing to trade him to a team that wanted to take a one year flier on a pitcher was among the game's best as recently as 2011. Because they owed him a $3.5 million buyout, the marginal cost of acquiring Haren was...
Vernon Wells is a problem for the Angels.  That isn't up for debate.  He is one of the highest paid players in baseball but performs just above replacement level, and that might be a generous description.  No, the question is just how big of a problem Wells is for the Angels, in practical terms. What we've already heard several times from reporters, columnists and...
As Angels fans, we've given a lot of thought to the idea of re-signing Zack Greinke.  We've also given a lot of thought to Josh Hamilton, but I imagine most of those thoughts are not fit for a family site like this.  Now though, I specifically want us all to give thought to Greinke, Hamilton and their oft-dicussed personality/make-up issues. The stereotype of Greinke...
Torii Hunter may be pushing 40, but the outfielder proved in 2012 that he can still play. Hunter, who turns 38 in July, is drawing interest from the Red Sox, according to Rob Bradford of WEEI.com. Hunter hit .313 with an .817 OPS while making $18 million this past season — the final year of a 5-year, $90 million contract with the Halos. As Bradford points out, the 16-year veteran...
The November 7th, 2012 edition of daily news for the Los Angeles Angels of Anaheim including Red Sox to pursue Hunter, Angels have scounted Japanese closer Fujikawa, more concerns about Haren's back and much more... The Story: The Boston Red Sox are expected to pursue Torii Hunter. The Monkey Says: I have a hard time seeing him land there just because I think he wants...
Just yesterday news broke that the Jeremy Hellickson of the Tampa Bay Rays was drawing trade interest from multiple teams. I have to imagine that Jerry Dipoto has at least kicked the tires on Hellickson, this type of move falls all too well into Dipoto's method of operation. Aside from the massive Pujols contract Dipoto is very conservative when it comes to giving out big contracts...
MLB News

Delivered to your inbox

You'll also receive Yardbarker's daily Top 10, featuring the best sports stories from around the web. Customize your newsletter to get articles on your favorite sports and teams. And the best part? It's free!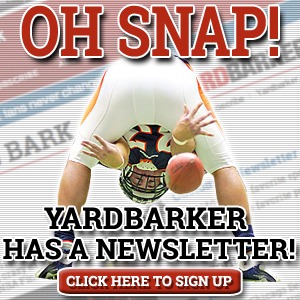 Latest Rumors
Best of Yardbarker

Today's Best Stuff

For Bloggers

Join the Yardbarker Network for more promotion, traffic, and money.

Company Info

Help

What is Yardbarker?

Yardbarker is the largest network of sports blogs and pro athlete blogs on the web. This site is the hub of the Yardbarker Network, where our editors and algorithms curate the best sports content from our network and beyond.