Found April 14, 2013 on isportsweb.com:
PLAYERS:
John Lannan
,
Clayton Kershaw
,
CC Sabathia
,
Cliff Lee
,
Barry Zito
,
RA Dickey
,
Hyun-jin Ryu
,
Andy Pettitte
,
Madison Bumgarner
,
Zack Greinke
,
Matt Cain
TEAMS:
Philadelphia Phillies
,
Los Angeles Dodgers
,
New York Yankees
,
San Francisco Giants
,
Toronto Blue Jays
Most staffs typically have a significant drop-off after their 1 and 2, but the Philadelphia Phillies with John Lannan have a solid 5. How do the top west coast teams fare on the bottom rung of their rotations? TAL'S HANDY STATS WELCOME, NEWCOMERS: I will publish the 2013 ERA for both the NL East and the MLB 5 periodically. The number of games played by the Phillies is in the headline at the end. If you're interested in checking out something different, my storyline articles–by design–represent a baseball man's thinking, the view from the dugout and the GM's box. Please go to my author archives or the Phillies page for my most recent coverage. Scroll down to Tal's Handy Links at the bottom. Thank you. Check out:  Philadelphia Phillies storyline: One year after The new summer schedule will allow me to publish the best 3 storylines each week, but there will be an updated calendar included with each feature:  These posts involve commentary, polls and stats for the upcoming 7 days. Post time is 5 to 9 pm for the days listed below. April 14 to April 20 Any schedule changes and holdups will be posted at Tal's Handy Caps on Facebook. BASEBALL FIX SCHEDULEFORMATTIMEFRAMEPUBLISHING StorylineNitecap InsightApril 14 Wed. & Fri.3 Times a Week Story-pollAgree or Disagree Thur.Once a Week NL East at Game 12 MLB 5 at Game 17Tal's Handy Stats (ERA)Mon. Sat.Twice a Week   Kershaw Dials up a 4-seam Fastball during the 1st at Home on April 6 against the Pirates.   Top Performance: Clayton Kershaw     Reasoning for the Stats: These numbers are a glimpse over the pitching coach's shoulder, because they warn of difficulty ahead. The rule of thumb is that the bullpen load should be no more than 33.3%, which is a 6-complete average per start. That is why going a distance into the game is 6.1 frames or more, which is 70.4%. The added detail of 1 out per contest is 54 innings over the long summer's course. This also shows the studs that give the relievers a well deserved night off, but there is a rust factor due to lack of back-end chances. Note:  All old ERA tables are automatically updated. Complimentary piece:  Philadelphia Phillies story-poll: On the radar   Top Performances: This table includes the stats through 4/13 with daily updates. Missing days had no top performers. APR - DAYHURLER#CLUBINN.HR - ERSO 06 - Sat.Clayton Kershaw 1LAD7.020 - 09 07 - Sun.C.C. Sabathia 1NYY7.040 - 04 09 - Tues.Cliff Lee 2PHL8.283 - 26 10 - Wed.Barry Zito 5SF7.070 - 04 12 - Fri.C.C. Sabathia1NYY8.082 - 19 13 - Sat.R.A. Dickey1TOR6.151 - 14   Keys: ABRVS.DEFINITION ABRVS.DEFINITION Conv.Converted Start of 6.1 Innings or moreLastLast Conversion ArmsNumber Achieving 6.1 Innings or more#1 to 5 Slot on their Team   Starting & Relief Pitching: This table includes the stats through 4/13. CLUBSP INNSP ERSP ERASP PERRP PERRP INNRP ERRP ERA Phillies65.1395.3767.1%32.9%32.0174.78 Dodgers70.1182.3072.3%27.7%26.2093.04 Blue Jays54.0416.8354.6%45.4%45.0173.40 Giants66.2283.7868.3%31.7%31.0123.48 Yankees53.1244.0560.6%39.4%34.2205.19   Total Pitching & Starts of 6.1 Innings or more: This table includes the stats through 4/13. CLUBINNERERAARMSCONVGMSPER Phillies97.1565.182031127.3% Dodgers97.0272.513061154.6% Blue Jays99.0585.271011109.1% Giants97.2403.693051145.5% Yankees88.0444.502041040.0%   The Horsemen: This table includes the stats through 4/13 with daily updates. ACEW - LERAINN+CONVCG - SOBADINNERBB - IBBSO Total2 - 406.20 6.12 of 70 - 0440.22814 - 038 Hamels0 - 207.566.10 of 30 - 0216.21408 - 012 Lee2 - 001.088.02 of 20 - 0016.20200 - 014 Halladay0 - 214.736.10 of 20 - 0207.11206 - 012   Starters with Outings of 6.1 Innings or more: Top listing for a same-day tie is best last performance. This table includes the stats through 4/13 with daily updates. NO.CLUB & #HURLERCONV.LASTUPDATE 01LAD - 1Clayton Kershaw03 of 034/12 02LAD - 3Hyun-Jin Ryu02 of 034/07 02PHL - 2Cliff Lee02 of 024/09 02NYY - 3Andy Pettitte02 of 024/09 02SFG - 5Barry Zito02 of 024/10 02NYY - 1C.C.Sabathia02 of 034/12 02SFG - 2Madison Bumgarner02 of 034/13 08LAD - 2Zack Greinke01 of 024/05DL'ed 4/12 08PHL - 5John Lannan01 of 024/06 08SFG - 1Matt Cain01 of 034/12 08TOR - 1R.A. Dickey01 of 034/13   Phillies e-mail notification: Email Notifications   LINK-UP BELOW: A link for Phillies e-mail notification is provided above and below. Any holdups that may occur will be posted at Tal's Handy Caps on Facebook. Check out  my last storyline (Then and Now) and my last poll (The Lumber Appraisal) on the Phillies page or my author archives, where there is an excerpt photo. Thank you, to all who bookmarked my page. TAL'S HANDY LINKS Email Notifications TAL'S HANDY CAPS on Facebook  Philadelphia Phillies storyline: One year after (Then and Now) Philadelphia Phillies story-poll: This side of the ball (The Lumber Appraisal) Philadelphia Phillies: 2013 ERA for the NL East at game 6 Phillies Tal Venada (Author Archives)
Original Story:
http://feedproxy.google.com/~r/isport...
THE BACKYARD
BEST OF MAXIM
RELATED ARTICLES
Philadelphia Phillies (4-5) at Miami Marlins (1-8) John Lannan (0-0, 3.86) vs. Ricky Nolasco (0-1, 3.97) Time: 7:05 PM, Marlins Park TV: TCN, Home of Phillies Nation TV Weather: High 70′s, cloudy Media: Twitter and Facebook The Phillies are in Florida tonight, as they begin a three game set with the Marlins. They are coming off a series win against the Mets–their...
After only eleven games, the Philadelphia Phillies find themselves one game under five hundred and still trying to identyify themselves as a team.  Not to worry as a fan of the Phils' however, as there are still a few positives to take away from this short season thus far.1- Chase Utley, You Are Still the Man!After missing a huge chunk of the 2012 season, Phillies' fans...
The Phillies won last night's series opener in late innings thanks to a Chase Utley triple. Clutch. It looks like the Phillies may have found their groove with the way the Phillies have been playing lately. Although it's three games, it's way better than the way they began the season....
The Phillies were on the short end of the stick last night. It was a tough-luck loss, but at least it wasn't a blowout loss. Cole Hamels allowed an earned run on three hits through six innings, four of which were no-hit innings. He didn't take the win, but he...
After a slow start, the Philadelphia Phillies appear to hitting their stride as they open a three-game road series against the slumping Cincinnati Reds. The Phillies will try for their fifth win in six games on Monday night when Cliff Lee takes the mound hoping to hand the Reds a sixth straight loss. Roy Halladay tossed eight strong innings to earn his 200th career victory and...
Phillies (6-6) at Cincinnati Reds (5-7)Matchups: Monday - 7:00 - Cliff Lee v. Bronson ArroyoTuesday - 7:10 - Oh No, It's KK v. Homer BaileyWednesday - 7:00 - John Lannan v. Mike LeakePitching:The Phils will miss the Reds' two top starters, Mat Latos (3.26 ERA) and Johnny Cueto (2.60 ERA). Instead, they'll see the three mediocre arms listed above. All three have ERA'...
MLB News

Delivered to your inbox

You'll also receive Yardbarker's daily Top 10, featuring the best sports stories from around the web. Customize your newsletter to get articles on your favorite sports and teams. And the best part? It's free!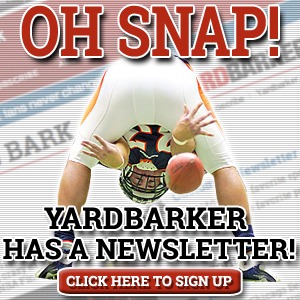 Latest Rumors
The Backyard

Today's Best Stuff

For Bloggers

Join the Yardbarker Network for more promotion, traffic, and money.

Company Info

Help

What is Yardbarker?

Yardbarker is the largest network of sports blogs and pro athlete blogs on the web. This site is the hub of the Yardbarker Network, where our editors and algorithms curate the best sports content from our network and beyond.