Found December 02, 2012 on isportsweb.com:
Roy Halladay was the first gem to be sought by the Philadelphia Phillies after the 2008 championship.  Will Rube Amaro again reel in valuable catches? TAL'S HANDY CAPS   WELCOME, NEWCOMERS: My articles are designed to represent a baseball-man's thinking, the view from the dugout and the GM's box.  Most fans do not consider the budget, prospects on the radar, the stick-glove-or-power requirements, the track record, the competition and the intangibles. I published after every battle that was not washed out.  I had many summer-long highlights of puzzle pieces, which were especially important after drubbings and defeats.  Please go to my author archives or Phillies page for my most recent coverage.  Scroll down to Tal's Handy Links at the bottom.  Thank you.   Check out:  Philadelphia Phillies storyline: Ruf's path, a revelation   Baseball-Fix Monday Schedule: Events will dictate the number from 1 to 4 each for December. January to mid-February will be every other week, and it will be weekly after that until the year begins. Only on a trial basis due to a strong response, the scheduled articles will be supplemented with special fill-ins between main postings.  Continuation is based on reasonable traffic, which appears to be extremely possible.   TIMEFRAMEMAIN ARTICLESSUPPLEMENTS December1 Monday During The MonthThe Other Mondays January To Mid-FebruaryAlternating Mondays From 1/7The Other Mondays Mid-February To AprilWeekly-----     Angel Pagan Tracks Down A Long Poke For The 2nd Out In The 9th Of WS Game 4 On October 28 In Detroit   1ST DECEMBER BASEBALL-FIX MONDAY     A History Of Success:   The pattern is unmistakable.  Amaro sets his sights on an acquisition, and he finds the path that leads to that star.  Halladay appeared on his radar near the trading deadline of 2009, but the Jays were not willing partners.  The GM pivoted with the same offer to the Tribe, and Cliff Lee made everybody temporarily forget about the Doctor.  The General produced a 7-4 mark with a 3.39 ERA, but was a stunning 4-0 during his 1.56 ERA postseason performance.  The following spring, the new brass in Toronto were willing to accept 1 top minor-league chip instead of two: Kyle Drabek without Dom Brown.  Doc went 21-10 with a 2.44 ERA, and followed that by going 19-6 during his 2nd season, lowering his ERA to 2.35.  However, the higher-ups prioritized one $20M ace and not two, which was more about the allocation than the dollars. Ryan Ludwick Enjoys His 6th-Inning Solo Bomb In NLDS Game 5 At Home On October 11 Against The Giants One July after Lee, Rube eyed another stud in the purgatory of Houston:  Roy Oswalt. The right-hander delivered a line of 7-1 with a 1.74 ERA. Again in 2011, the 'Stros were deal associates with Hunter Pence, who hit .324, 11 bombs and 35 RBI for 2 months. Jonathan Papelbon joined the squad last summer, saving 38 of 42 opportunities with a 2.44 ERA. Amaro's deadline swaps for his first 3 tours netted Lee, Oswalt and Pence. He started his first off-season by signing Raul Ibanez, who averaged .272 and clubbed 34 dingers with 93 RBI for 2009. He brought on board Ibanez, Halladay, Lee and Papelbon for his first 4 campaigns at the helm before spring training.   Outfielders Of Interest: PLAYER & AGE2012 $2011 $AVG.HRRBIBB - IBBSB - CS CF Angel Pagan, 31$4.85M$3.50M.288085648 - 529 - 7 OF Cody Ross, 31$3.00M$6.30M.267228142 - 302 - 3 LF Ryan Ludwick, 34$2.00M$6.78M.275268042 - 300 - 1 CF Shane Victorino, 32$9.50M$7.50M.255115553 - 139 - 6   Cody Ross Smacks An RBI Single During The 1st On October 3 In The Bronx   The general manager has a strong resume of bartering and inking stars. However, 2013′s roster is rumored to be his toughest challenge yet. A transaction for Wilton Lopez came to an abrupt halt after his physical on Wednesday, which elbowed his reasoned availability. On the other front, the offer to B.J. Upton was for only $11M per over 5 years, but the Braves paid $15M+ a pop or $75.25M total. Those facts indicated that Amaro was not willing to overcompensate Upton, and wants a twofer. The team's preference is 2 outfielders for $14-16M instead of one at $15M. This is where you can rule out Josh Hamilton, Michael Bourne and Nick Swisher. The players to watch are Angel Pagan, Cody Ross and Ryan Ludwick. Meanwhile, Rube is on the hunt for 1 back-end arm as well.   $178M Maximum Before The Luxury Tax: NOTE:  Click entries button to open more than the visible 10. (As Of 12/2) DOLLARSALLOCATIONPLAYERS $75.00MCore FourRollins, Utley, Howard & Hamels $56.50M2 Aces & The CloserHalladay, Lee & Papelbon $04.25M2 StartersWorley & Kendrick $06.00M3 PositionsRuiz, RF Brown & 3B Galvis $04.15MBenchMayberry, Nix, Kratz & Frandsen $02.60M4 Bullpen SeatsBastardo, Aumont, Lindblom & Horst $00.50M1 Bullpen SlotRosenberg Or De Fratus (Plus Schwimer Or Stutes, If Healthy) $08.00MSet Aside$5M (Trading Deadline) & $3M (Achieved Incentives & Injury Replacements) $02.00MBuyoutsPolanco, Contreras & Wigginton $00.50M25th ManRuf, Martinez Or Orr $158.5MTOTAL22 Roster Spots $019.5M3 Free AgentsA Center Fielder, A Corner Outfielder & A 8th-Inning Set-Up Man   Koji Uehara Dials Up A 4-Seam Fastball During The 8th At Home On October 5, Where He K'ed The 3 Orioles He Faced In The Wild-Card Game   This is GM chess and the initials don't stand for grandmaster, like Bobby Fischer. If you noticed, Atlanta spent an additional $4M+ per for Upton, because they expected Philly to bid $75M over five 162's. The Braves had $25M for expenditures with Bourne and Chipper Jones off the books. In other words, 60% of their working capital is exhausted, and that doesn't include the lengthy time that money is tied up. Amaro has $19.5M to acquire 3 pieces, which can be split into $8M, $6.5M and $5M. So far, the combination appears to be Pagan ($8M), Koji Uehara ($5M) and Ross or Ludwick ($6.5M). The key comment from Rube is that there is not a slam dunk on the market, which explains his recent, current and upcoming decisions.   LINK-UP BELOW: Tal's Handy Caps on Facebook is for notification of posts and any holdups that may occur. It might be worth your while because there are delays of 2 hours on most feeds. This is the 5th storyline for 2013.  Check out my recent publication (Retooling In Progress) and the 121 storylines for 2012 on the Phillies page or my author archives, where there is an excerpt photo.  Also, my new feature is Suds Or Studs. Tal's Handy Stats is daily coverage. I alternated the 2012 ERA For The NL East and the 2012 ERA For The MLB 5. Thank you, to all who bookmarked my page. TAL'S HANDY LINKS   TAL'S HANDY CAPS on Facebook  Philadelphia Phillies storyline: Amaro's new course Philadelphia Phillies news: Suds or studs, top-tier aces Phillies Tal Venada (Author Archives) Philadelphia Phillies: 2012 ERA for the NL East at final game 162 Philadelphia Phillies: 2012 ERA for the MLB 5 at final game 162  
Original Story:
http://feedproxy.google.com/~r/isport...
THE BACKYARD
BEST OF MAXIM
RELATED ARTICLES
Just a late Saturday night thought and one of the last minutes of peace and quiet before the Winter Meetings is full of rumors, thanks to baseball columnists noticing two GMs in the elevator together and writing that they are discussing a blockbouster deal. Any rate, Chris Starr on Twitter...
I began following the Phillies in 1948. My best pal, my Uncle Joe introduced me to them and I was hooked. If Uncle Joe liked them they must be good…turns out they weren't. But I didn't care. I was 6 and had never seen a game, just heard Joe's stories. He saw the Babe and Lou play, yet this Johnstown-born man wasn't a Yankee fan, nor a Pirate follower. He moved to Harrisburg...
How many times can you talk or read about it? If the Philadelphia Phillies reported to Spring Training today, they would have no third baseman, a hole in the bullpen, and not one player that has shown that they can play any of the three outfield positions for a full season and give the team the offensive production they need. To date, Ruben Amaro Jr has done nothing to address these...
Ichiro is reaching out to other teams and Jon Heyman thinks the Phillies are one of them. Ichiro Prefers New York But is Tired of Waiting CBS Sports' Jon Heyman reported today that Ichiro has begun to reach out to teams other than the Yankees and stated in a Tweet that the Phillies "could be one". The incredibly durable outfielder was pretty bad defensively in a small stretch...
This mailbag, among other things, contains references to Sid Vicious, 32nd-place MVP finishes, when Charles Rocket really wanted to know who shot him, and the time A lot of Phillies news and rumors this week as we head into the Winter Meetings in Nashville. This week, the Phillies nearly acquired Astros' closer Wilton Lopez for starter Tyler Cloyd and top position prospect Sebastian...
We're back with another edition of the weekly off-season league rundown.  Check it out, as we take a tour around the globe for a look at Phillies talents participating in various autumn and winter league action. Venezuelan League- With La Guaira, righty-handed hurler J.C. Ramirez (pictured, left) has posted a 2-1 record with a 10.80 ERA through 10 outings while walking...
Many on Twitter and on our Facebook page pointed out that the release of Nate Schierholtz left the Phillies with few outfield options: John Mayberry, Domonic Brown, Darin Ruf, and Laynce Nix. I think it is clear that the Phillies will add one or two outfielders. The Phillies are linked...
Lot of news coming from the Winter Meetings in Nashville. Here are the topics that are catching our eye: Center Field: Looking to Trade? Jim Salisbury of CSN Philly is reporting that the Phillies have maintained their interest in Dexter Fowler and Peter Bourjos as trade targets. With the departure of Torii Hunter, Bourjos is now projected to be a starting outfielder for the Angels...
I recently said I didn't want us to continue to pursue Angel Pagan at the price he was commanding. I really don't want us to. Pagan's above average, but above average is a bad four year bet. Rosenthal is reporting Pagan and the Giants are close to a deal. I...
Phillies News

Delivered to your inbox

You'll also receive Yardbarker's daily Top 10, featuring the best sports stories from around the web. Customize your newsletter to get articles on your favorite sports and teams. And the best part? It's free!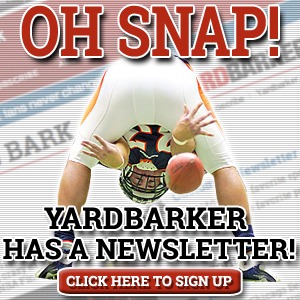 Latest Rumors
Best of Yardbarker

Today's Best Stuff

For Bloggers

Join the Yardbarker Network for more promotion, traffic, and money.

Company Info

Help

What is Yardbarker?

Yardbarker is the largest network of sports blogs and pro athlete blogs on the web. This site is the hub of the Yardbarker Network, where our editors and algorithms curate the best sports content from our network and beyond.