Found March 11, 2012 on isportsweb.com:
PLAYERS:
Ryan Howard
,
Chase Utley
,
Hunter Pence
,
Adrian Gonzalez
,
Albert Pujols
,
Prince Fielder
,
Mark Teixeira
,
Joey Votto
,
Jimmy Rollins
,
Shane Victorino
,
John Mayberry
,
Laynce Nix
,
Ty Wigginton
,
Tim Hudson
,
Joe Blanton
,
Vance Worley
,
Jamie Moyer
,
Jayson Werth
TEAMS:
Philadelphia Phillies
,
Boston Red Sox
,
Los Angeles Angels
,
Detroit Tigers
,
New York Yankees
,
Cincinnati Reds
,
Atlanta Braves
,
Washington Nationals
April will arrive without Ryan Howard for the Philadelphia Phillies on the 5th in Pittsburgh. Can they survive, like they did last year without Chase Utley? Will Hunter Pence partially plug the hole in the middle of the order? TAL'S HANDY CAPS   WELCOME, NEWCOMERS: I am doing a weekly Baseball-Fix Monday until the end of March. Also, I'll publish after every game that is not washed out during the summer. The updated format is in 4 sections. Cap-Size Hindsight features highlighted elements, good and bad, from the last battle through a variety of mostly house-themed devices. They are: Penthouse Occupancy with the Crystal Champagne Toast, Cholley's Doghouse, the Glass House, Miniature Mansion, the Kangaroo Court House, Fun House Of Mirrors, Rally Tal & Cap, Full House Warming, the Big House Key for The Rising Son, Animal House, and the Frat House. Nitecap Insight, Precap Pitch, and The Apocalyptic Horsemen are the 3 other parts. The Running J-Roll Advances To 2nd On The 1st-Inning Fielder's Choice In Clearwater On March 5   BASEBALL-FIX MONDAY:       The Empty Corner:   The 2011 NLDS came to an abrupt termination with the wounded warrior felled by his ruptured left Achilles tendon. There are many miles to his next official at-bat in May or later. That said, this may turn out to be a disguised blessing, because the offense has been waiting for the long ball, which is no longer there in the cleanup department. The top of the lineup will be looking to rely on their legs and strategy instead. The Phils are a 5-run-per squad that can plate 4 until the Rynosaur gets comfortable at the dish. Hunter's 1st Blast In The 1st Inning At Clearwater On March 3 Even with limited time, Howard may have the best chance he's had in quite awhile to make the All-Star team. Adrian Gonzalez, on the other hand, had only 1 campaign away from the first-base bottleneck in the NL. It has followed him to the junior circuit with 2 big-name signings. Albert Pujols will wear the halo after leaving the heavenly confines, while Prince Fielder will drive the Motor City wild with his oversized engine. Add Mark Teixeira from the Yankees and you have 4 competitors for 2 spots. Boston and New York will stuff the ballot box, while St. Louis joins Los Angeles behind Pujols. Prince may end up 4th with Detroit and Milwaukee on his behalf. Meanwhile, Joey Votto and Ryan will be the top talent and vote getters in the senior league. The list shows some career-season possibilities, and there could be a breakout from some lightly polished youngsters or rookies. That is probably not going to affect the fan's or the manager's selection. Plus, Ryno is likely to be well-rested and there is a possibility he could go on a tear that leads into July. PLAYERTEAMPLAYERTEAMPLAYERTEAM Ryan HowardPhilliesLance BerkmanCardinalsAubrey HuffGiants Freddie FreemanBravesMat GamelBrewersPaul GoldschmidtDiamondbacks Adam LaRocheNationalsJoey VottoRedsTodd HeltonRockies Gaby SanchezMarlinsGarrett JonesPiratesJames LoneyDodgers Ike DavisMetsBryan LaHairCubsYonder AlonsoPadres Carlos LeeAstros   BATSORDER VS. RHPBATSORDER VS. LHP 1 - SSS Jimmy Rollins1 - SSS Jimmy Rollins 2 - R3B Polly Polanco2 - R3B Polly Polanco 3 - L2B Chase Utley3 - L2B Chase Utley 4 - RRF Hunter Pence4 - RRF Hunter Pence 5 - SCF Shane Victorino5 - SCF Shane Victorino 6 - R1B John Mayberry Jr.6 - RLF John Mayberry Jr. 7 - LLF Laynce Nix7 - R1B Ty Wigginton 8 - RC Chooch Ruiz8 - RC Chooch Ruiz     J-Roll Legs Out A 5th-Inning Infield Single On March 5 In Clearwater   Jimmy Rollins has started revving up his wheels on the base paths, realizing that without the big bopper, they can no longer stand around. He is also endeavoring to rack up 3-4 more knocks per month, and a few additional free passes before swiping a bag or two. I expect Polly Polanco to average .300 or more in April and May. He has established hot Aprils in Philly: .398 ('11) and .299 ('10). Even after being plunked by Tim Hudson in early 2010, he hit .299 (April), .313 (May), .346 (June) and .299 (July). Shane Victorino may also bat 2nd on occasion, but the table setters will be a strength again. Power from Utley is the unanswered question, which will make the difference between the 2 or 3 slot for him. The brain trust is using all due caution with his pampered knee to maximize his production, and he is expected to regain the leg strength for 20-25 homeruns. The temporary four hitter is Pence who can achieve a .300 mark with 30 bombs and 100 RBI. He should be able to provide enough punch for the 4-8 week interval without the Big Piece. Vic will finish the meat of the offense in the early days because he can go yard with a .290 performance.   Hunter Is Congratulated After His 2nd Homer In The 2nd At Tampa On March 4 LF/1B John Mayberry Jr. should be able to come close to his 2nd half stats (.301), but he will drop off a little after pitchers make necessary adjustments. The 7 slot will be split between 1B Ty Wigginton and LF Laynce Nix, depending on the opposition's starter. Combining both, they would produce these numbers: .250, 20 HR and 60 RBI. Chooch Ruiz will again thrive in the clutch and turning over the lineup. And don't forget there is some lumber swinging ninth.   Polly Slams An RBI Single In The 3rd On March 5 At Bright House Field The 3 aces will mostly limit the other club to 3 runs or less, which should equal a lot of triumphs. Joe Blanton and Vance Worley will receive more run support due to facing the bottom of other rotations. That's why Jamie Moyer notched 16 wins in 2008. The improved bench will provide additional pop and speed as well. Last summer the red pinstripes survived without Utley and Jayson Werth, but this time it's Howard's big stick. They went deeper in October when they weren't as invincible, but they have played .649 ball since late July of 2010.   Tal's Handy Caps is now on Facebook.  Join and you'll be notified immediately when each article goes up. I usually load it on Sunday evening or night. It might be worth your while because I have seen delays of 2 hours on feeds. My contribution to the MLB-30 series (3 Up and 3 Down) is for isportsweb & Fox Sports (launch in late March). The other links are to my previous publication (Yesterday's Tomorrow), and the 15 storylines–so far–for 2012 on the Phillies page or my author archives, where there is an excerpt photo. Tal's Handy Stats is daily coverage. The 2012 MLB 5 may feature the Halos or Cardinals, while the Sox and Dodgers may be replaced. I alternated the 2011 ERA For The NL East and the 2011 ERA For The MLB 5. A site format change slightly distorted the original ERA postings (#161 is less so), but the new table–like the ones featured above–will be used for the ERA publications. Thank you, to all who bookmarked the Phillies page, because feeds are erratic at times.   TAL'S HANDY LINKS   TAL'S HANDY CAPS Philadelphia Phillies: 3 Up and 3 Down Philadelphia Phillies Storyline: After The Breakout Philadelphia Phillies Tal Venada Philadelphia Phillies: 2011 ERA For The NL East At Game 162 And Final Philadelphia Phillies: Final 2011 ERA For The MLB 5 At Game 162 Philadelphia Phillies: 2011 ERA For The MLB 5 At Game 161
Original Story:
http://isportsweb.com/2012/03/11/phil...
THE BACKYARD
BEST OF MAXIM
RELATED ARTICLES
Joe Blanton's trade stock: rising.Let's talk Joe Blanton.Coming off a 40-inning 2011 season filled with elbow problems, the 31-year-old righty had little trade value from November-to-February. His $8.5 million salary for 2012 appeared too pricey for a pitching-hungry team to bite on, given the health risk and his impending free agency. Why trade anything of value for someone...
Righty hitting catcher Sebastian Valle has emerged as one of Philadelphia's top offensive prospects. Using his quick bat and strong catching abilities the 21-year-old has built a reputation as a dangerous hitter and a leader for his pitching staff.Since signing as a free agent with the Phillies at the age of 16, Valle has improved steadily in every aspect of his game. A smart...
When the Philadelphia Phillies gave starting pitcher Joe Blanton a three year contract extension worth $24 million, they thought they were getting a solid pitcher that could eat innings. Blanton began 2010 on the disabled list with an oblique strain then only pitched in 41 innings in 2011 due to an elbow issue. What can a healthy Joe Blanton mean to the 2012 Phillies? Blanton has...
A Philadelphia fan site of Facebook asked "Did We Expect Too Much out of John Mayberry?" Come on. Give the guy a break. He is not Juan Pierre, Scott Podsednik or even Domonic Brown. Yeah, I said it, Domonic Brown. Brown, with a chance to make the big league squad with a good spring, only has 10 at bats and is hitting .200. Mayberry is hitting only .217, but has 23 at bats. Mayberry...
High energy, gawky, fun...Hunter Pence. The Phillies most productive bat in 2012 is going to be him. He'll have plenty of opportunities for RBI and because of that I'm predicting for him to crack triple digits for the first time in his career. I don't think 30 homeruns are out of the question either, but I stayed modest with a prediction of 26. Pence brought life to the...
Pittsburgh Pirates vs. Philadelphia Phillies Time: 1:05 pm, McKechnie Field – Bradenton, FL Weather: 10% Chance of Showers, 77 TV: Sorry folks, this one's not on TV today. Follow Phillies Nation on TwitterAfter a loss and a tie yesterday, the Phils reconvene in Bradenton, FL to match up with the Bucs. Juan Pierre looks to bounce back after an ugly day (0-5, 6 LOB) while Scott...
The Flyin' Hawaiian is entering his final season of his contract extension and is set to entertain free agent offers should the Phillies pass on re-upping him. Shane is a sparkplug. He makes things happen with tremendous speed, defense, and deceptive power. Among National League outfielders last season, Victorino was second to only Matt Kemp in WAR (5.9).Championship clubs...
Yesterday, Phillies beat writer David Murphy declared that is was "CMGPOATOD…Charlie Manuel Gets Pissed Off At The Offense Day." Apparently, the 4-4 game against the Tigers is what set off the usually good-natured Chuck. Over the years, it has become painfully obvious that this team is not performing up to par on offense. But it is still Spring Training, so why all the fuss...
We are well into the Grapefruit League this Spring Training and the Phillies are progressing towards what could be another memorable season.  It seems the pitching staff led by Roy Halladay and Cliff Lee are looking very strong and young Vance Worley will be trying to build upon his good rookie year.It is, however, frustrating to have not seen any of Chase Utley yet this Spring...
Writing prospect updates for the Phils isn't quite as exciting as it was in these days, but there will always be young guys in the system to follow. Instead of doing a write-up for each, I'm going to recap how the experts (read: folks who know more about scouting prospects than myself) rank the top guys in the Phillies system and then give a cumulative top-20 with my comments...
Toronto Blue Jays general manager Alex Anthopolous was apparently at the Phillies-Orioles game yesterday. and left the game once Phillies starter Joe Blanton left the game. Naturally, this has fans going crazy that the Phillies and Blue Jays could be talking about Philadelphia's fifth starter. But does a trade for Blanton make sense for the Blue Jays? Toronto's rotation...
Ryan Raburn hit a two-run homer off Phillies ace Cliff Lee in the first inning and the Detroit Tigers and Philadelphia tied at 4 in a split-squad game Sunday. The game was called after the 10th. Lee gave up three consecutive hits to begin the game, including Raburn's homer. After Miguel Cabrera singled, Lee set down three straight batters, striking out two of them. Lee, slowed...
MLB News

Delivered to your inbox

You'll also receive Yardbarker's daily Top 10, featuring the best sports stories from around the web. Customize your newsletter to get articles on your favorite sports and teams. And the best part? It's free!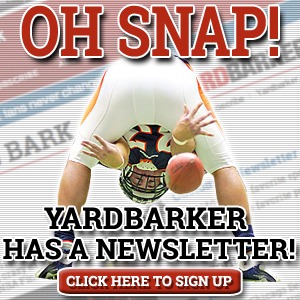 Latest Rumors
Best of Yardbarker

Today's Best Stuff

For Bloggers

Join the Yardbarker Network for more promotion, traffic, and money.

Company Info

Help

What is Yardbarker?

Yardbarker is the largest network of sports blogs and pro athlete blogs on the web. This site is the hub of the Yardbarker Network, where our editors and algorithms curate the best sports content from our network and beyond.