Found July 25, 2012 on isportsweb.com:
The unexpected element is a plus for Jimmy Rollins and the Philadelphia Phillies.  Have you noticed the recent transactions in the NL East? TAL'S HANDY CAPS WELCOME, NEWCOMERS: I will publish after every battle that is not washed out.  I will have many season-long highlights of puzzle pieces, especially important after drubbings and defeats. If you were directed here by a feed and this review does not mention yesterday's contest, please go to the Phillies page for my most recent coverage. (Early morning readers may arrive before the latest post.) Scroll down to Tal's Handy Links at the bottom. Thank you. Check out:  Philadelphia Phillies storyline: Plan B CAP-SIZE HINDSIGHT:    7-6 Triumph TYPEPLAYERREASON The Crystal Champagne ToastChooch RuizFour-Star Performance
The Penthouse
Ryan Howard
Cliff Lee
Erik Kratz
Chooch Ruiz
Hunter Pence
Jonathan PapelbonSingled To Tie It Up In The 1st
Worked Out Of A Bags-Full, 1-Out Jam In The 5th
2-Run HR To Ignite The 8th
3-Steak Double To Knot The Score At 6 In The 8th
Singled To Take A 7-6 Lead In The 8th
Closed It Out 1-2-3 With A Punch-Out Ender The WhitehouseCliff Lee
Michael SchwimerPicked-Off The Runner At 3rd In The 5th
1st MLB Victory The Kangaroo CourthouseCliff LeeAllowed A HR To His Mound Opposition In The 7th The Fun HouseCliff LeeTelegraphed The Pick-Off Play Twice In The 5th Greenhouse Cholley's Bags2 RegularsDouble Steal By Vic & Chase In The 8th Rally Tal & Cap7 Players, 6 RunsSingle (Ty), HR (Kratz), 3 BB (Vic, Ut & Ryno), 3-RBI Double
(Chooch) & An RBI Hit (Hunter) In The 8th House CleaningJonathan PapelbonA Clean Save Chooch Clears The Juiced-Bags In 8th NITECAP INSIGHT Uncharted Territory: After a franchise-record 102 victories, the view north in the standings has been unpleasant for 4 months. However, that has changed this week. Because the red pinstripes don't fit into the 2 neatly arranged categories of the majors. If you're not a buyer, you are a seller. If your players are available, you have no hope for the postseason. This thinking is based on the rule and ignores the exception, even when the most recent example was in 2011. This Is What Cinco Ocho Told Chooch He Had In Mind At The All-Star Game The Fish traded a starter, a super-utility man, a solid reliever and Hanley Ramirez. The Mets will alter their rotation with a hot prospect now instead of in September. The rarity is that the two organizations in front of the locals are dropping out, which means that the Phils are perceived that way also. The reasoning is that they are a last-place team, but not why they are in that position. New York came up short against contending clubs when the stakes increased. Miami had underperforming personnel, while the hometown 9 had health issues. Only Jose Contreras did not return, leaving the 8th-frame set-up role open. That said, another variable is that the 3 warriors re-entered the active roster fresh and dangerous. And they have been waiting since February to play. That's what you see from Ryan Howard and Chase Utley. You can expect the same from Doc Halladay when he becomes reacclimated, like the others. This squad has the 1 hole that Contreras was going to plug. Even wildcard competitors have more weaknesses. Chase Beats The Backend Throw On The 8th-Inning Double Steal The offense picked up Cliff Lee and the Doctor in this series, which means they will not want that to happen again.  When you add Utley and Howard to Chooch Ruiz with Hunter Pence behind him, you get a threat that can be seen from the mound.  However, it doesn't show up in the manager's scouting reports, which say that the Phillies don't comeback late or batter the opposing relief corps.  Their stud was congratulated after firing only 87 bullets, because the previous night was obviously an aberration.  Stats cannot tell you everything, like–for example–recent hits to the opposite field after approach changes that don't stand out in the percentages.  These unexpected advantages are where you should look to make sense of their resurgence.  You can anticipate third place shortly, 2 months of winning baseball, and better performances from star cogs. The Vanimal Delivers At The Bank On July 20 Against The Giants PRECAP PITCH Vance Worley: He has worked 6.2 innings plus in 5 of 16 outings with 4 debacles.  That said, he is 2-3 with a 4.69 ERA at the Bank, which is 1.73 lower on the road. STARTERRECORDTMSTARTERRECORDDAY & TIME 3RHP Vance Worley5-6, 3.82 ERABrewersRHP Marco Estrada0-4, 4.10 ERAWednesday, Day 1LHP Cole Hamels11-4, 3.23 ERA@ BravesRHP Ben Sheets2-0, 0.00 ERAFriday, Night 2RHP Joe Blanton8-8, 4.70 ERA@ BravesRHP Jair Jurrjens3-4, 7.04 ERASaturday, Night 3RHP Doc Halladay4-5, 4.32 ERA@ BravesLHP Mike Minor5-7, 5.49 ERASunday, Day Marco Estrada Rocks Back On July 20 In Cincinnati Marco Estrada: He has been the Kyle Kendrick of the Brew Crew, and is expected to rejoin the 'pen when Shaun Marcum is reactivated.  Estrada has lasted 7 frames in 2 of 10 attempts with 1 clunker. DELIVERY = PITCHER'S 2012DEFINITION OF SEASON Over The TopExcellent 3-Quarters SidearmGood SidearmAbove Average Short Arm Approximately Average SubmarineBelow Average Quality number of the pitcher:  1 – 5 Slot on his club:  1 – 5 Ranking is 1 to 5 & 15 for the less adventurous. HURLERVance WorleyMarco Estrada NUMBERA FourA Five CLUB SLOTFourFive FOR 2012SidearmSidearm '12 RANKING3rd of 5 Categories3rd of 5 Categories LAST STARTKnuckleball*Curveball LAST HIGH OR LOW11th of 15 Categories5th of 15 Categories DISPLAY NOTE:  Non-listed results can go up or down by * 1 notch & ** 2 clicks (This note will only appear when it's relevant.) * 1 Tick DOWN PITCHINNER - R- HPITCHINNER 1Gyroball9 (CG)0 - 0 - 310Screwball64 2Fastball9 (CG)0 - 011Knuckleball53 3Cutter9 (CG)312Forkball0 - 4.2Monstrosity 4Split Finger7213Eephus Pitch0 - 2.2Disaster 5Curveball7314*Palm BallEjected 6Sinker6.1315*Spit Ball**Ejected+ 7Slider62*Breaking BallInjured 8Changeup63*FoshRain Interrupted 9Slurve52** = Suspended* = A 2nd Pitch Also STATS
APOCALYPTIC
HORSEMEN
CLIFF LEE
CLIFF'S LINE: 7 INN, 12 H, 6 R, 6 ER, 1 BB, 6 K & 96 DARTS
ACEW - LERAINN+CONVCG SOBADINNHRERBBIBBSO Total16 - 153.766.233 of 49007335.1318144140692308 Halladay04 - 054.327.008 of 13004083.1082040040150065 Lee01 - 063.967.011 of 17002118.1119053052230112 Hamels11 - 043.236.214 of 19001133.2117051048312131 LINK-UP BELOW: Tal's Handy Caps on Facebook is for notification of posts and any holdups that may occur. It might be worth your while because there are delays of 2 hours on most feeds. Check out my previous publication (One More Series) and the 81 storylines–so far–for 2012 on the Phillies page, where there is an excerpt photo. Tal's Handy Stats is daily coverage. I am alternating the 2012 ERA For The NL East and the 2012 ERA For The MLB 5. Thank you, to all who bookmarked my page. TAL'S HANDY LINKS TAL'S HANDY CAPS on Facebook  Philadelphia Phillies storyline: 11th-hour remedies Phillies Tal Venada (Author Archives) Philadelphia Phillies: 2012 ERA for the NL East at game 96 Philadelphia Phillies: 2012 ERA for the MLB 5 at game 96
Original Story:
http://feedproxy.google.com/~r/isport...
THE BACKYARD
BEST OF MAXIM
RELATED ARTICLES
Though the Phillies have shown signs of improvement recently — especially in terms of coming back from deficits — they are still very unlikely to make the playoffs this season. While I'm not trying to Debbie Downer the situation after the last couple of wins, that type of sobering outlook is merited when the trade deadline is merely a week away. Ruben Amaro and company are...
On this day eight years ago, Phillies Nation was born. I was jealous of my roommate's obsession with Sons of Sam Horn and wanted a similar home for Phillies fans. Mostly I wanted one place where I could find all my Phillies information. But at least part of me was inspired by Eric Milton's excellence.  Here is Phillies Nation's first post: Milton Perfect though 8 1/3 What...
Cole Hamels will remain with the Philadelphia Phillies. The left-hander is close to completing a six-year contract extension for more than $137.5 million, according to major-league sources. The deal will be the second largest ever awarded to a starting pitcher, trailing only the seven-year, $161 free-agent contract that left-hander CC Sabathia signed with the New York Yankees on...
Six years, $144 million. That's $24 million per year for Cole Hamels, the Phillies' third $20-plus million pitcher and their fourth player making an eight-figure salary. Conventional wisdom is that this move cripples the Phillies financially. They're right up against the luxury tax this season and, with Hamels' contract, have just under $140 million committed to nine players...
In the Reading Phillies' home game against Bowie (Baltimore affiliate) on Saturday, June 14th, outfielder Jiwan James put forth an effort that resulted in one of the plays of the year. In the 3rd inning, James approached the outfield wall and leaped to rob the Baysox' Jonathan Schoop of a home run. In the process, James' mitt landed behind the wall, while the ball was...
Cole Hamels toes the rubber tomorrow night for the Philadelphia Phillies, which will be the first of many memories.  Does Atlanta have pitching problems and a streaky offense? TAL'S HANDY CAPS   WELCOME, NEWCOMERS: I will publish after every battle that is not washed out.  I will have many season-long highlights of puzzle pieces, especially important after drubbings and defeats...
Genevieve Haney, Philadelphia Phillies ball girl for the past few years, made a heckuva grab last night. Your browser does not support iframes. Why not click the Google +1 & the retweet buttons? ... Full story at Bob's Blitz ~ http://www.bobsblitz.com
Earlier this week, we learned that the Philadelphia Phillies and left hander Cole Hamels were working towards a long-term deal. And today, Joel Sherman of the New York Post said that Hamels hasn't accepted their offer yet increasing the likelihood of him being traded. An executive outside the Phillies organization told Sherman that the Phillies' offer to Hamels could be at...
It is officially a streak – the Phillies have won 4 games in a row and all 4 came during their final at-bat. In the 3-game sweep of the Brewers, every game also ended in the exact same score, 7-6. Tuesday's improbable win included a 6-run rally in the 8th inning which was started by a 2-run homer from 2nd back-up catcher, Erik Kratz. To that point, Kratz had exactly 3 major league...
The bad Cliff Lee showed up tonight for the Phils, but it wouldn't matter. (AP) For the second straight night, the Phillies managed to pull off a remarkable, come-from-behind victory over the Brewers, once again defeating them 7-6 after taking the lead late. Erik Kratz and Carlos Ruiz fueled an exciting four-run eighth inning to put the Phillies in front. It looked bleak for...
Photo: Philliedelphia/Lindsey Crew In the midst of trade rumors about himself, Hunter Pence still has the heart for the Philly fans.  In an interview with 94 WIP's Michael Barkann and Ike Reese, Pence expressed his feelings about Philadelphia and its fans as well as making his preferance clear that he'd rather lose here than be traded. "I just heard [the report]....
Final: Brewers 6, Phillies 7. WP: Michael Schwimer (1-1, 4.01 ERA) LP: Kameron Loe (4-4, 4.04 ERA) SV: Jonathan Papelbon (22) They don't call them the Fightin' Phils for nothing. Despite being ten-plus games under the .500 mark in late-July, the Phillies are refusing to give up on the 2012 season. Down by five runs in the eighth inning, the Phillies rallied to score six...
Phillies News

Delivered to your inbox

You'll also receive Yardbarker's daily Top 10, featuring the best sports stories from around the web. Customize your newsletter to get articles on your favorite sports and teams. And the best part? It's free!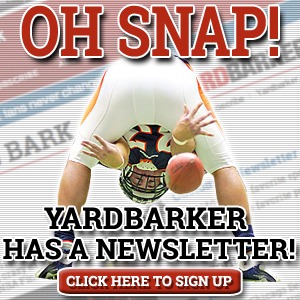 Latest Rumors
Best of Yardbarker

Today's Best Stuff

For Bloggers

Join the Yardbarker Network for more promotion, traffic, and money.

Company Info

Help

What is Yardbarker?

Yardbarker is the largest network of sports blogs and pro athlete blogs on the web. This site is the hub of the Yardbarker Network, where our editors and algorithms curate the best sports content from our network and beyond.