Found March 06, 2013 on isportsweb.com:
The games will count soon for the Philadelphia Phillies, and Domonic Brown may finally have arrived. However, there are still many interesting aspects ahead before April. What unexpected magic will appear at the Bank? TAL'S HANDY CAPS WELCOME, NEWCOMERS:  My articles are designed to represent a baseball man's thinking, the view from the dugout and the GM's box. Most fans do not consider the budget, prospects on the radar, the club's weaknesses, the track record, the competition and the other intangibles. Please go to my author archives or Phillies page for my most recent coverage. Scroll down to Tal's Handy Links at the bottom. Thank you. Check out:  Philadelphia Phillies storyline: Amaro's new stockpile Baseball-Fix Schedule I will continue the process of the previous Monday's approach, if appropriate.  For early birds Sunday evening is post time. Due to a strong response and a complicated offseason, my reviews will be weekly until spring training ends. The new summer schedule will allow me to publish the best 3 storylines each week, but there will be an updated calendar included with each feature:  Posts involving commentary, polls and stats will be listed for the upcoming 7 days. TIMEFRAMEFORMATPUBLISHING December to AprilBaseball-Fix MondayWeekly December to AprilSuds or Studs2-4 Times a Month April to Season's EndNitecap Insight3 Times a Week April to Season's EndSuds or Studs2 Times per 10 Days April to Season's EndTal's Handy Stats2 Times per 10 Days   Revere Swipes 2nd during the 4th in Bradenton on March 4 against the Pirates.     MARCH BASEBALL FIX       Questions, Answers and Madness: March's numbers count for the open-job candidates, especially if they still have options. Doc Halladay, Ryan Howard and Chase Utley are not in that category, because they will move at their own pace. Like the other veterans, their statistics will not matter at all. In fact, you should mostly watch Brown and Darin Ruf among the position players until almost May. With Delmon Young recovering from ankle surgery, both will probably make the squad until the new right-fielder returns. Mayberry Leaps for a Windblown Double during the 5th in Clearwater on March 6 against the Nationals. The process of eliminating the non-shockers continues with the 5-man staff, the endgame studs, Chad Durbin and Antonio Bastardo. That leaves 3 seats in the bullpen and 12 arms for those roles. Phillippe Aumont, Jeremy Horst, Raul Valdes, Justin De Fratus and Mike Stutes have shown something already to the brain trust. B.J. Rosenberg, Jake Diekman, Joe Savery, Tyler Cloyd, Rodrigo Lopez, Aaron Cook and Kyle Simon have a shot as well. Performances worth observing are future fan favorites, who will be sent down for more experience to Triple-A Lehigh Valley. They include rookie talent for 2014 and their 2013 to keep an eye on. 3B Cody Asche will probably be a September call-up, Jonathan Pettibone is a rotation hopeful, and C Tommy Joseph is the expected replacement for Carlos Ruiz. Meanwhile, Kevin Frandsen has earned a utility spot unless he ruins it, while Steven Lerud and Humberto Quintero will battle for the reserve backstop role. It is doubtful that the unexpected standout will come from Frandsen, his 3 challengers for a bench seat, or the 2nd catching job. Freddy Galvis was mentioned by Charlie Manuel as his first choice, while Yuniesky Betancourt, Pete Orr and Michael Martinez are in the hunt to be the 2nd reserve. Also, Lerud, who appeared briefly last year, or Quinterro will fill a roster position for the first 25 contests. Quinterro has hit .234, .240 and .232 respectively during his playing time over the last three 162's. Unless Brown continues to light it up in Clearwater for a starting opportunity, he and Ruf could make the club until Young is activated. However, in that case their stats for March and April will be factored into the final decision on them. John Mayberry Jr. is out of options, is the best outfield glove for late-inning defense, and became the right-handed stick off the pine when Ty Wigginton wasn't re-signed. Laynce Nix is the left-side pinch hitter, who might be moved if Ruf remains after Young returns. Halladay Dials up a 2-seam Fastball during the 2nd in Clearwater on March 6 against the Nationals. The young guns near the back of the pack are the most likely candidates to surprise. That stated, Aumont and Horst are at the front of the line. Aumont has the best pure stuff and strong closer potential; however, his control stands in his way. Horst is first for the 2nd southpaw in the mix, can provide 6-8 outs during an appearance, and has that job to lose.The final opening on the relief corps will be the hardest decision for the general manager, the manager and the pitching coach. De Fratus put together a solid September, while the Phils mounted a late-season comeback to challenge for the 2nd wild-card berth. Stutes missed most of 2012, which means he is amped up to be back on the hill, and I would not bet against him. Also, Valdes did a fantastic job last summer and a 3rd lefty is preferred. Halladay Loads up a 4-seam Fastball in the Bullpen at Bright House Field before the Game on March 6 against the Nationals. Cloyd or Lopez would stun the experts if they secured that last slot for long relief; however, Rosenberg is the main multiple-frames candidate. Diekman is a lefty specialist with command difficulties, and he needs to harness his adrenalin on the bump. Simon was traded here for Jim Thome, the higher-ups converted him into a reliever, and he was lights-out in Double-A Reading after doing the same at Single-A Clearwater. Aaron Cook and Joe Savery are on the outer edge of the bubble. Baring dismal spring performances, the favorites are Aumont and Horst, while Valdes is a solid fallback plan for that last slot. The long shots are Diekman, Simon, Cloyd, Cook, Savery and Lopez, requiring earth-shaking results for them to make the cut. On the other hand, Rosenberg would need some jaw-dropping outcomes to do so. Considering the competition, the surprise should be De Fratus or Stutes. OUTFIELD COMPETITION: HITTERABAVG.HRRBIBB Dom Brown26.385346 Darin Ruf23.130032 Official spring stats include games as of 3/6.   Lannan Fires a Bullet in Bradenton on March 4 against the Pirates. Until solid efforts from Stutes, De Fratus and Diekman on March 6, the puzzling  jolt has mostly been the lack of excellence for the jobs among the 'pen candidates.  Aumont has distinguished himself with only 2 opportunities, and Horst has been shaky.  Valdes and Rosenberg have also struggled, while today's 3 youngsters might now make some noise. Hopefully, 2 of these 6 will claim a spot along with Aumont.   RELIEF HOPEFULS: RELIEVERERAIPGMSGOODOKAYBAD RH Phillippe Aumont00.002.02200 LH Jeremy Horst17.183.23012 RH Mike Stutes09.003.03102 RH Justin De Fratus09.005.04202 RH B.J. Rosenberg15.003.02002 LH Jake Diekman03.605.04202 RH Kyle Simon05.401.23201 LH Raul Valdes06.006.03102 LH Joe Savery00.002.22110 RH Tyler Cloyd13.504.02101 RH Rodrigo Lopez00.005.02200 RH Aaron Cook04.506.02101 Official spring stats include games as of 3/6. Games are split into good, okay & bad outings.   So far, only Brown has provided the anticipation of a budding star–during his third camp. Ruf, like the green studs in the bullpen, has shrunk under the pressure of his first grapefruit-league contests. Unfortunately, Brown is another left-handed stick, which means that 3B Young (5th) will bat between Howard (4th) and Brown (6th). Until Delmon returns, Rollins frequently may have to be penciled into the 2 hole. The question, the answer and the madness are where the shock value is the highest, which could be Revere in the leadoff role.   Phillies email notification: Email Notifications   LINK-UP BELOW: A link for Phillies email notification is provided below. Any holdups that may occur will be posted at Tal's Handy Caps on Facebook. There are 18th storylines for 2013. Check out my recent publication (The Next Chapter) on the Phillies page or my author archives, where there is an excerpt photo. Also, my new feature is Suds or Studs.  The last one was Select One of Each. I will periodically publish the 2013 ERA for the NL East and the 2013 ERA for the MLB 5. Thank you, to all who bookmarked my page. TAL'S HANDY LINKS Email Notifications TAL'S HANDY CAPS on Facebook  Philadelphia Phillies storyline: Compelling chemistry Philadelphia Phillies: New suds or studs, trades Phillies Tal Venada (Author Archives) Philadelphia Phillies: 2012 ERA for the NL East at final game 162 Philadelphia Phillies: 2012 ERA for the MLB 5 at final game 162
Original Story:
http://feedproxy.google.com/~r/isport...
THE BACKYARD
BEST OF MAXIM
RELATED ARTICLES
Darin Ruf is hitting .130 this spring and seemingly every time he comes to the plate, he faces an 0-2 or 1-2 count. The man we had such high expectations for has fallen out of favor because of his inability to hit through 10 games, but more so because of his poor defense in left field. Ruben Amaro admitted Wednesday that Ruf will need to improve to make the team. I joined Rhea Hughes...
Phillies' #9 Prospect Tyson Gillies, Photo- Jay Floyd Phillies outfield prospect Tyson Gillies is a very skilled player that has had some well documented ups and downs in recent years.  Being traded, bouncing back from several injuries and a return from a suspension have induced plenty of emotion from the lefty batter, but an opportunity to play for his home country of Canada...
Roy Halladay scattered two hits over four innings, striking out two in four innings of work as the Phillies beat the Nats 6-3. During the game, Todd Zolecki reported that Delmon Young is aiming for a mid-April return. Zolecki insinuated that Dom Brown is likely to start the year as the team's right fielder and then move to left once Young is ready to return. The Good Obviously...
The Philadelphia Phillies newly acquired left handed pitcher John Lannan had his second impressive start yesterday in Bradenton against the Pirates. Lannan was signed by the Phillies in December to be the team's number 5 starter. There is reason to believe that he will thrive in that role and could be better than expected. Since Rich Dubee became the Phillies pitching coach, he...
Acquired from the Dodgers in the trade that sent Shane Victorino to LA last summer, Ethan Martin quickly showed why he was regarded as a fast rising pitching prospect, as he helped the Double-A Reading Phillies reach the postseason and posted great numbers in a short period of time. Originally selected by Los Angeles in the 1st round (15th overall) in the 2008 amateur draft out of...
Well, there's plenty to discuss today. Darin Ruf had an awful day yesterday, and I think his roster spot is in real jeopardy. This is probably the biggest worry I have right now about this team, as I'm genuinely worried about Mayberry and Nix even in a platoon. I'm also...
The Phillies pulled above .500 for the spring with yesterday's 6-3 win over the Washington Nationals. Roy Halladay dealed over four innings, despite a little controversy surrounding his throw behind OF Tyler Moore. Halladay said after his outing that the pitch slipped, but many are wondering about this claim. Earlier...
Billy the Philly Fan and Steve from My Two Cents rant about today's Grapefruit League game between the Philadelphia Phillies and Washington Nationals. They said that Roy Halladay was a contender while Stephen Strasburg was a pretender and much more!
You can follow Eric Scarcella for all of the latest Reading Fightin's news @FightinsPR. Last Saturday, I attended the Fightin Phils Ticket Hootenanny, a Reading tradition where fans can pick up their season tickets, purchase single-game tickets, take walking tours of First Energy Stadium, and even try out to sing the National Anthem before a Reading Fightin Phils game. This year...
Here are five things to glean from the National League East teams during spring training, even though the sample sizes of production are small and largely irrelevant. After all, only precocious talents and veterans in dire need of redemption lament the success or failure of isolated at-bats during Grapefruit League action. And that's how it should be ... particularly when...
Phillies News

Delivered to your inbox

You'll also receive Yardbarker's daily Top 10, featuring the best sports stories from around the web. Customize your newsletter to get articles on your favorite sports and teams. And the best part? It's free!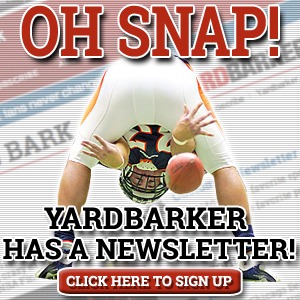 Latest Rumors
Best of Yardbarker

Today's Best Stuff

For Bloggers

Join the Yardbarker Network for more promotion, traffic, and money.

Company Info

Help

What is Yardbarker?

Yardbarker is the largest network of sports blogs and pro athlete blogs on the web. This site is the hub of the Yardbarker Network, where our editors and algorithms curate the best sports content from our network and beyond.