Found January 27, 2013 on isportsweb.com:
The ifs are being addressed by the Philadelphia Phillies, and they begin with Roy Halladay.  However, while Phils fans finger their worry beads, the warts on the Braves and the Nationals are quite visible.   TAL'S HANDY CAPS WELCOME, NEWCOMERS:  My articles are designed to represent a baseball man's thinking, the view from the dugout and the GM's box. Most fans do not consider the budget, prospects on the radar, the club's weaknesses, the track record, the competition and the other intangibles. Please go to my author archives or Phillies page for my most recent coverage. Scroll down to Tal's Handy Links at the bottom. Thank you.   Check out:  Philadelphia Phillies storyline: Roster roulette   Baseball-Fix Schedule When the stove is hot, I will continue the process of the previous Monday's approach, if appropriate.  For early birds Sunday evening is post time. Due to a strong response and a complicated off-season, my reviews will be weekly until spring training ends. The new summer schedule will allow me to publish the best 3 storylines each week, but there will be an updated calendar included with each feature:  Posts involving commentary, polls and stats will be listed for the upcoming 7 days. TIMEFRAMEFORMATPUBLISHING December to AprilBaseball-Fix MondayWeekly December to AprilSuds or Studs2-4 Times a Month April to Season's EndNitecap Insight3 Times a Week April to Season's EndSuds or Studs2 Times per 10 Days April to Season's EndTal's Handy Stats2 Times per 10 Days     Utley Scores in the 3rd Inning of Game 1 at the Bank on September 9 against the Rockies.     4TH JANUARY  BASEBALL-FIX MONDAY         Red October:   Atlanta and Washington have drawbacks on their roster that will create a 3-team race for the divisional flag throughout the entire 162. The Braves might finish third for 2013 because of questions about their plate discipline. Six of their eight current regulars exceeded 100 strikeouts last year, while the other two are concerns as well. Brian McCann hit .230–which compares to Dan Uggla's .220–and they will count on SS Andrelton Simmons (.289) in the leadoff role after only 166 at-bats. He replaces Michael Bourne, who eclipsed the century mark in punch outs, and is superceded by 3 acquisitions who did that last season.   100 Strikeout Club: * 2011 Stats TEAMPLAYERABSOTEAMPLAYERABSO Phillies1B Ryan Howard557 *172 *BravesCF B.J. Upton573169 PhilliesRF Delmon Young574112Braves2B Dan Uggla523168 NationalsSS Danny Espinosa594189BravesRF Jason Heyward587152 Nationals1B Adam LaRoche571138Braves3B Chris Johnson488132 NationalsLF Bryce Harper533120Braves1B Freddie Freeman540129 Nationals3B Ryan Zimmerman578116BravesLF Justin Upton554121 NationalsSS Ian Desmond513113   Halladay Receives Applause during The 7th against the Fish at the Bank on September 11.   Atlanta has a lockdown 'pen but their rotation is weaker this campaign. Julio Teheran will hold down the 5 spot until Brandon Beachy is reaclimated for the 2nd half. He'll return in mid-June but it will take time before he is at full strength. Teheran has been limited to 7 appearances (3 relief) during the last 2 tours with an over 5.00 ERA for both. Their 5-man staff is comprised of 3 hurlers that have short resumes. Kris Medlen had 13 starts during 2012, while Beachy and Mike Minor have basically 1 full summer under their belt. They are betting on 60% of their front 5 with minimal success. They will have to tax their bullpen more also. According to the numbers: Tim Hudson is a two:  16-7, 3.62 ERA. Paul Maholm is a four:  4-5, 3.45 ERA (Braves) and 13-11, 3.67 ERA (total). Minor is a five:  11-10, 4.12 ERA. Medlen is a three until he duplicates 2012:  10-1, 1.57 ERA. Teheran will slot in at five:  0-0, 5.68 ERA.   Howard Singles in 2 during the 5th Inning of Game 2 at the Bank on September 9 against the Rockies. The Nats have a strong 1 to 3 with Stephen Strasburg, Gio Gonzalez and Jordan Zimmermann, but Ross Detwiler relies on a variety of fastballs only, which has worked for him so far. Dan Haren was only signed for 1 year due to the elbow problems he had last season, and that was a deal breaker with the Cubs. Meanwhile, their offense will benefit from a healthier Jayson Werth in the 5 hole, and Denard Span to ignite their attack. However, 5 of them fan frequently. The Nationals lost 3 southpaws from their relief corps:  Sean Burnett (Angels), Mike Gonzalez (Brewers) and Tom Gorzelanny (Brewers). They added Bill Bray, who was released outright by the Reds. They say their right-handers can retire left-side sticks, but that may not be a wise decision with Ryan Howard and Chase Utley on an adversary's squad. Their relievers will be expected to carry a heavy load again.   2012 Pitching Ratios: INN+/1 = SP Minimum Targeted Workload CLUBINN +/-SP INNSP ERSP ERASP PERRP PERRP INNRP ERRP ERA Phillies968.01,033.04393.8271.2%28.8%418.11833.94 Braves964.00,959.04003.7566.4%33.6%486.11492.76 Nats979.10,953.03603.4064.9%35.1%515.11853.23   Young Rockets a Solo Missile at Home during the 6th of the Fall Classic's Game 4 on October 28 against the Giants. The locals have in recent campaigns been known to swing and miss, but recent statistics suggest otherwise. When you face tougher pitching during the postseason, not putting the ball in play is a series killer. The red pinstripes enter the new 162 with 3 aces, the best setup arm and a top-tier closer. In other words, that's 38 games (23.5%), which highlights strikeout hurlers, against your 2 immediate rivals for playoff berths. Delmon Young's motivations: $100,000 per the first 3 monthly weigh-ins at 230 pounds and the last 3 for 235 pounds. $250,000 for 1 day on the active roster. $100,000 apiece for 40, 80, 120 and 160 days on the active roster. $150,000 each for 250, 300, 350 and 400 plate appearances. $200,000 apiece for 450 and 500 plate appearances. $250,000 each for 550 and 600 plate appearances.   February 12 Utley knows that he must be active year-round to prevent more spring issues, while Howard's recuperation should be complete. Young has $2.75 million in incentives for $3.5 million total, and he could double that after a solid summer. It is not going out on a limb to think Halladay will almost be the stud he was in 2011, or maybe the same number one he's been at the Bank. Utley has the pop back in his stroke, Howard is sound, and the Doctor is prepping for surgery.   Doubled 2012 stats: Howard at .219, 28 bombs and 112 RBI for 520 at-bats. Utley at .256, 22 taters and 90 RBI for 602 at-bats.   Like the Yankees in 2009, this aging band of warriors can win the NL East by beating Washington and Atlanta during those 38 battles.   LINK-UP BELOW: A link for specific email notification is provided below. Any holdups that may occur will be posted at Tal's Handy Caps on Facebook. This is the 13th storyline for 2013. Check out my recent publication (Creative Doctoring) on the Phillies page or my author archives, where there is an excerpt photo. Also, my new feature is Suds or Studs.  The last one was The End Result. I will periodically publish the 2013 ERA for the NL East and the 2013 ERA for the MLB 5. Thank you, to all who bookmarked my page. TAL'S HANDY LINKS   Email Notifications TAL'S HANDY CAPS on Facebook  Philadelphia Phillies news: Suds or studs, value toss-up Philadelphia Phillies storyline: Roster roulette Phillies Tal Venada (Author Archives) Philadelphia Phillies: 2012 ERA for the NL East at final game 162 Philadelphia Phillies: 2012 ERA for the MLB 5 at final game 162  
Original Story:
http://feedproxy.google.com/~r/isport...
THE BACKYARD
BEST OF MAXIM
RELATED ARTICLES
Each day MTRphilly.com will be breaking down the players on the Philadelphia Phillies roster and their non roster invitees. Today we will discuss relief pitcher Antonio Bastardo. Summary:  Antonio Bastardo established himself as a major league relief pitcher in 2011 when in 64 games he posted a 6-1 record with a 2.64 ERA. Bastardo struggled at times in 2012 as the Phillies used...
Kelly Dugan was the Phillies' top draft pick (2nd round, 75th overall) back in 2009.  Since then, it's been a bit of a slow progression in the pro ranks, but after a solid season with Class A Lakewood in 2012, the California native has shown that he is ready to make an impact in the organization. Much hype surrounded Kelly upon being drafted to the Phillies, as an image of...
Widely recognized as the Phillies' top prospect, lefty hurler Jesse Biddle can't wait to get his 2013 season going. In attendance for the Phillies winter charity banquet at Lakewood's Woodlake Country Club last week, Biddle looked forward to the event for weeks, as he feels rubbing elbows with Phils brass like assistant general manager Benny Looper, director of player development...
Join the Philadelphia Sports Writers Association on January 28 as they hand out awards to local athletes and teams during their 109th annual banquet. The public is welcome at the dinner. Tickets are $95 apiece, and are available by clicking here. Cole Hamels, Jimmy Rollins, Charlie Manuel, Larry Bowa, Mike Trout, and many more athletes will be in attendance at this amazing event...
Last Fall, word came out that Cole Hamels had battled offseason shoulder problem.  This, of course, caused panic in Phillies nation, but the 29-year old lefty assured everyone yesterday that he was fine.  He is not concerned about the shoulder at all and downplayed the severity of the issue. Hamels said yesterday that he wasn't sure anything actually happened to his shoulder...
I swear I've posted almost all of my instructs reports. From Phillies camp, I've got two of the top three picks from the most recent draft, both multi-sport athletes as the Phillies are notorious for drafting. Mitch Gueller was the 54th overall pick (sandwich round) in June from a Washington state high school that signed for slot, nearly $950,000. Gueller was a high school quarterback...
According to Jerry Crasnick of ESPN, the Phillies and Chad Durbin have agreed to a $1.1 million contract.  The deal could include a possible $350,000 in incentives. Durbin, a 35-year old reliever, went 4-1 with a 3.14 earned run average and a save in 76 appearances with the Braves last season. Durbin reunites with the Phillies three years later. From 2008-2010, Durbin had an 11...
The Phillies announced they have signed Yuniesky Betancourt to a minor league deal today. Betancourt, 31, is coming off a 2012 with the Royals where he hit .228/.256/.400 for the Royals in 228 PA. Analysis: Betancourt was famously traded for something of value in 2009 despite being in the middle of one of the worst modern seasons of all-time (-2.1 fWAR) – he is the rare "no...
The Phillies are welcoming back a member of their 2008 World Championship team. Chad Durbin signed a one-year deal with the Phillies, giving them another arm for the bullpen.
The Philadelphia Phillies agreed to a one-year, $1.1 million deal with free agent right-handed reliever Chad Durbin, according to ESPN.com. Durbin can also earn up to $350,000 in incentives. The 35-year-old had a 3.10 ERA over 61 innings for the Atlanta Braves last season.
Phillies News

Delivered to your inbox

You'll also receive Yardbarker's daily Top 10, featuring the best sports stories from around the web. Customize your newsletter to get articles on your favorite sports and teams. And the best part? It's free!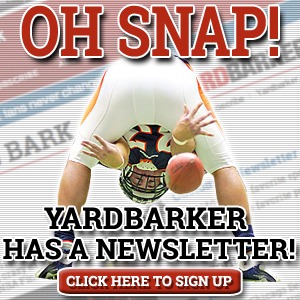 Latest Rumors
Best of Yardbarker

Today's Best Stuff

For Bloggers

Join the Yardbarker Network for more promotion, traffic, and money.

Company Info

Help

What is Yardbarker?

Yardbarker is the largest network of sports blogs and pro athlete blogs on the web. This site is the hub of the Yardbarker Network, where our editors and algorithms curate the best sports content from our network and beyond.