Posted April 15, 2012 on AP on Fox
PLAYERS:
Cole Hamels
,
Ty Wigginton
,
Ramon Ramirez
,
Jimmy Rollins
,
Lucas Duda
,
Hunter Pence
,
Ruben Tejada
,
Laynce Nix
,
Scott Hairston
,
Manny Acosta
,
Miguel Batista
,
John Mayberry
,
Ike Davis
,
David Wright
,
Mike Pelfrey
,
Juan Pierre
,
Jason Bay
,
Jackie Robinson
TEAMS:
Philadelphia Phillies
,
New York Mets
Cole Hamels pitched seven strong innings and Ty Wigginton drove in four runs, leading the Philadelphia Phillies to an 8-2 win over the New York Mets on Sunday. Hamels (1-1) struck out 10 to help the Phillies avoid a three-game sweep at home against the Mets for the first time since June 13-15, 2006. It was the 19th career double-digit strikeout game for Hamels. As they have all season, and especially in this series when they scored two runs total in a pair of losses entering Sunday, Philadelphia struggled to cross the plate until scoring twice in the seventh inning against Mets reliever Ramon Ramirez (1-1). The Phillies blew the game open with five unearned runs in the eighth off two Mets relievers. The Phillies tied it at 2 in the seventh on Wigginton's sacrifice fly to right that scored Jimmy Rollins. Rollins could've been the second out of the inning, but right fielder Lucas Duda misjudged Rollins' lazy flyball to short right field allowing Rollins a single. Rollins moved to second on Hunter Pence's single to left, then both advanced on Ramirez's wild pitch. Pence, incidentally, likely would have been the third out: his grounder into left field got through the hole between short and third because shortstop Ruben Tejada was cheating up the middle for a potential steal by Rollins. Laynce Nix, who had been hitless in seven at-bats this season, doubled home Pence to put the Phillies up 3-2. Nix's hit nearly was caught by left fielder Scott Hairston, who charged into the corner and jumped for the liner but had it glance off his glove and ricochet into foul territory. The Phillies, helped by Tejada's throwing error, tacked on five unearned runs run in the eighth. Reliever Manny Acosta walked Pence with the bases loaded before Wigginton hit a bases-clearing double to left off Miguel Batista for the five-run lead. Wigginton then scored from second on John Mayberry's dribbler up the first base line that Batista had hoped would go foul. Ike Davis' two-out, two-run homer in the first staked the Mets to a 2-0 lead. David Wright got on with a bloop single to right, giving him 11 hits in 18 at-bats this season. Wright finished 2 for 4 to raise his average to .632. Davis and Duda each had two hits for the Mets, who got six solid innings from starter Mike Pelfrey. The right-hander allowed one run on eight hits while striking out two and walking two. The Phillies got a run back in the bottom half when Rollins singled home Juan Pierre, who went 3 for 4 with three singles. Rollins and Pence each had a pair of hits for Philadelphia, which finished with 14 hits to tie its season high. NOTES: Mets OF Jason Bay, after originally being in the starting lineup, was a late scratch. He injured his right ring finger sliding into a base Saturday night. . Each member of the Phillies and Mets honored the 65th anniversary of Jackie Robinson breaking the color barrier in baseball by wearing No. 42 during the game. During a pregame ceremony, members of the Tuskegee Airmen and two players from the Philadelphia Stars, Harold Gould and Mahlon Duckett, of the Negro League were recognized. . The crowd of 45,829 was the sixth-largest in Citizens Bank Park history and the 210th regular-season sellout.
Original Story:
http://msn.foxsports.com/mlb/story/Ph...
THE BACKYARD
BEST OF MAXIM
RELATED ARTICLES
Clearly, one deep-in-the-game arm is Cole Hamels of the Philadelphia Phillies.  How does Miami compare after their ace has worked?  The Apocalyptic Horsemen Stats are in my daily coverage. TAL'S HANDY STATS   WELCOME, NEWCOMERS: I am alternating a game-day 2012 ERA For The NL East and a 2012 ERA For The MLB 5. See link section below. In each publication, the number after the...
Jose Contreras may be available from the bullpen starting tomorrow. Photo: APJose Contreras completed back-to-back appearances for Class A Clearwater Thursday and Friday and could be activated soon, says Paul Hagen of MLB.com. Contreras, 40, threw in five games posting an 8.31 ERA striking out 7. Those numbers, no doubt, are a bit misleading. In his Thursday outing outing, Contreras...
The Phillies will see the new $35 million man Bumgarner in Game two. (US PRESSWIRE)At 4-5, this is hardly a deal-breaking series for the Phillies. Nine games won't tell you much about how the season will go from start to finish. But I don't think you can doubt that there is a good amount of importance resting on the west coast.The Phillies embark on a 10-game road trip through...
In the early going this season, outfielder Gauntlett Eldemire has proven to be a catalyst for the Class A Lakewood BlueClaws. Sporting a remarkable .324/.439/.500 line along with a league leading 8 stolen bases and 11 runs scored through his first 9 professional games, the 23-year-old has helped the team get off to a 3-1 start to their first homestand.A 6th round draft choice in...
7 games, 20 runs..285 On Base %.13 extra base hits.Jim Thome, Laynce Nix, and Brian Schneider 1-18 with 6 K.Placido Polanco .415 OPS.At least they're not the Pirates, who have scored a MLB low 11 runs. Of course, the Buccos did take 2 of 3 from the Phils in the Opening Series...________________________________________________________Welcome Aboard Fontenot:Mike Fontenot is a...
The Phillies bats are simply struggling. It's no secret to them, the fans, or any opposing pitcher for that matter. Last night's 5-0 loss to the Mets during the afternoon game in front of their home crowd was a tell tale sign of that. The Phillies have scored 3 or fewer runs in 6 of their first 8 games this season. And a 3-5 record is the result of that. Vance Worley didn...
Halladay continued his early success. (AP)OFFENSE STRIKES EARLY-Big innings are the new black for the Phillies. On Sunday, they dropped five in the eighth inning on the Mets. On Monday night in San Francisco, they put up four in the opening inning, en route to a 5-2 win to open up the three-game series. It was a positive sign to see them jump on Tim Lincecum early and not let him...
I've lived in Philly for about 15 years and I've definitely learned to never doubt the love Philadelphia fans have towards their sports teams. Thanks to Buzz Feed I came across another article about a fan showing how crazy he is about the Philadelphia Phillies. This fan made himself a jersey from 3,000 drink tabs and it's pretty impressive. In my opinion, it looks more...
Philadelphia Phillies (3-5) vs. New York Mets (6-2)Cole Hamels (0-1, 5.06) vs. Mike Pelfrey (0-0, 4.76)Time: 1:35 PM, Citizens Bank Park TV: WPHL Weather: Sunny, 70′s Media: Twitter and FacebookThe Phillies will look to avoid getting swept by their rivals the Mets this afternoon, as they take the field at 1:35 on a sunny day in Philadelphia. Cole Hamels will take the mound...
Before I say anything, I'll reiterate what I said in my series preview: I'm not worried about Tim Lincecum and today did nothing to change that. He's not walking guys, he's still getting swing-throughs, and today he was victimized by some God-awful defense behind him. So with that out of the way, let's talk about the game. I refuse to worry until May, and I stand by that...
  Philadelphia Phillies pound out 11 hits and lose?  Yes that's exactly what happened Friday night as the Phillies(3-4) dropped a 5-2 decision to the New York Mets (5-2). Coming into Friday night's game Cliff Lee (o-1) had not given up more than two runs over in a game over his last 11 starts going back to last season.    [...]
Ike Davis got the Mets off to a quick start with this two run shot in the first inning off Cole Hamels to put the Mets up 2-0 over the Phillies this afternoon at CBP. But that would be all the scoring in the game for the Mets as they fell to Phillies 8-2 Mike Pelfrey started and tossed six innings while working himself in and out of trouble. Luckily, he allowed just one run after...
MLB News

Delivered to your inbox

You'll also receive Yardbarker's daily Top 10, featuring the best sports stories from around the web. Customize your newsletter to get articles on your favorite sports and teams. And the best part? It's free!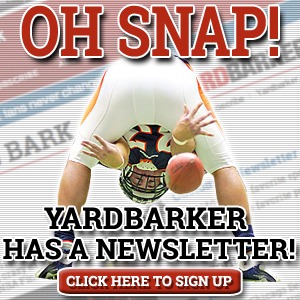 Latest Rumors
The Backyard

Today's Best Stuff

For Bloggers

Join the Yardbarker Network for more promotion, traffic, and money.

Company Info

Help

What is Yardbarker?

Yardbarker is the largest network of sports blogs and pro athlete blogs on the web. This site is the hub of the Yardbarker Network, where our editors and algorithms curate the best sports content from our network and beyond.