Posted May 10, 2013 on AP on Fox
PLAYERS:
Garrett Jones
,
Wandy Rodriguez
,
Starling Marte
,
Anthony Recker
,
Vin Mazzaro
,
Jason Grilli
,
Ruben Tejada
,
Shaun Marcum
,
Marlon Byrd
,
Clint Hurdle
,
Joe Torre
,
Jose Contreras
,
Jordany Valdespin
,
Andrew Brown
,
Pedro Alvarez
,
Justin Turner
,
Jose Tabata
,
Francisco Liriano
,
Jon Niese
,
Terry Collins
,
Charlie Morton
,
Neil Walker
,
Jeurys Familia
,
Frank Francisco
TEAMS:
Pittsburgh Pirates
,
New York Mets
Garrett Jones hit a three-run homer - a call that was correctly overturned by baseball's beleaguered umpires - and Wandy Rodriguez pitched the Pittsburgh Pirates to a 7-3 victory over the New York Mets on Friday night. Jones doubled twice and leadoff man Starling Marte also had three hits for the Pirates, who improved to 4-13 at Citi Field. Pittsburgh had lost four of five overall, including the opener of this four-game series Thursday. Handed an early lead, Rodriguez (3-2) allowed six hits over six innings to win for the first time in four starts. He gave up Anthony Recker's first homer for the Mets but worked around a leadoff double in the fourth and held New York to 0 for 9 with runners in scoring position. The Mets entered 20 for 101 (.198) in those situations and were batting .198 overall in the last 15 games. Rodriguez improved to 4-0 in his last five starts against New York and 6-2 overall. Vin Mazzaro tossed two scoreless innings and Jason Grilli retired Ruben Tejada with two on, making him perfect in 14 save chances this season. With runners at the corners in the fifth, Jones hit a drive to right off Shaun Marcum (0-3) that barely cleared a leaping Marlon Byrd. The ball caromed back onto the field off the bottom of a black retaining wall just above the fence and was initially ruled in play. Jones ended up on third and Pirates manager Clint Hurdle came out for a quick discussion with umpire Joe West. Whatever was said at first made West crack a smile, and the umps went inside to look at the replay. After a 1 1/2-minute delay they came back on the field and correctly signaled home run, extending Pittsburgh's lead to 6-0. It's been a rough week for umpires, who botched a home run review Wednesday in Cleveland and goofed on a pitching-change rule the next night in Houston. Major League Baseball executive vice president Joe Torre said Angel Hernandez's crew made an ''improper call'' in Cleveland, and MLB suspended umpire Fieldin Culbreth for two games Friday because he was in charge of the crew in Houston. Culbreth and the rest of his crew - Brian O'Nora, Bill Welke and Adrian Johnson - were also fined an undisclosed amount. Pirates reliever Jose Contreras gave up a solo homer to Jordany Valdespin and an RBI single to Andrew Brown in the ninth. Marcum looked uncomfortable on the mound and worked deliberately all night. He has failed to get through the fifth inning in any of his three starts for the Mets since beginning the season on the disabled list. The right-hander had three 1-2-3 innings Friday but still gave up six runs and nine hits. He also hit two batters with pitches. Jones opened a three-run second with a double to left-center, the first of four straight hits off Marcum. Pedro Alvarez had an RBI single and Rodriguez drove in a run with a bases-loaded smash up the middle that knocked Marcum's glove off his left hand. The play turned into a 1-4-6 forceout after the ball deflected to second baseman Justin Turner. Marcum was checked twice by a trainer but remained in the game. Pittsburgh made it 3-0 when Tejada struggled to get the ball out of his glove and double-clutched a throw on Marte's run-scoring single to shortstop. The Pirates, who batted around in the inning, could easily have scored more if Jose Tabata hadn't been cut down at third for the first out on Alvarez's single to right. The clutch hitting was a welcome change for the Pirates, who went 0 for 7 with runners in scoring position while losing the series opener Thursday night. They entered 4 for 45 (.089) in those situations over the previous six games. Pittsburgh has homered in 11 of its last 12 games. NOTES: LHP Francisco Liriano is set to come off the disabled list and make his Pirates debut Saturday against Mets LHP Jonathon Niese (2-3, 4.66 ERA). Liriano has been sidelined all season while recovering from a broken right arm. Niese's back was feeling much better than a week ago, manager Terry Collins said. ... Pirates RHP Charlie Morton said he felt good after throwing more than 30 fastballs in a bullpen session. He hopes to throw breaking balls in another side session Sunday and then get back into games. Morton, recovering from Tommy John surgery last June, had shoulder stiffness last week in a Triple-A rehab outing. ... Pittsburgh 2B Neil Walker (right hand laceration) was slated to play nine innings in his second rehab game with Double-A Altoona. He can come off the disabled list Sunday. ... New York rookie Jeurys Familia (biceps tendinitis) was unavailable out of the bullpen. He is day to day for now but his status could affect how the Mets map out the rest of reliever Frank Francisco's rehab assignment, Collins said. ... The Mets and the Baseball Tomorrow Fund will donate up to $1 million to assist youth baseball and softball organizations affected by Superstorm Sandy.
Original Story:
http://msn.foxsports.com/mlb/story/Pi...
THE BACKYARD
BEST OF MAXIM
RELATED ARTICLES
Francisco Liriano could be a difference maker for the Pirates. Francisco Liriano will be making his Pittsburgh Pirates debut today, going up against the New York Mets. The Pirates agreed to sign Liriano over the off-season to a two-year, $12.75 M deal. Shortly after the agreement, Liriano broke his right (non-throwing) arm. That delayed the signing, and eventually resulted in a re...
The Pirates should extend Starling Marte. Photo credit: David Hague I was discussing Starling Marte on Twitter this afternoon with Travis Sawchik of the Trib and Charlie of Bucs Dugout, and we got on the topic of extensions. Marte currently has less than a year of service time, and at the end of this season he will have a little over one full year. We all agreed today that Marte...
Matt Curry had hamate surgery. Photo Credit: David Hague Altoona Curve first baseman Matt Curry had surgery to fix the fractured hamate bone in his right wrist yesterday.  Curry was our #34 prospect in the Pirates system entering 2013, and losing the middle-of-the-line up threat will likely hurt the already struggling Curve offense. Before hitting the DL earlier this week, the left...
TOP OF THE SYSTEM A look at how the current top 20 prospects did today.  Note that this list doesn't include players currently in the majors. If a player is in the majors, he will be removed, everyone below him will be shifted up a spot, and a new player will be added to the bottom of the list. Rankings are from the pre-season rankings, and links to each prospect writeup can be...
The Bucs dropped their second-straight one-run decision on Thursday night, as the Mets squeaked out a walk-off win in the ninth inning. And they did it against Jason Grilli, who was actually pitching in the ninth inning of a tie game!!! Mark Melancon also pitched the eighth in a tie game! I have no idea what got in to Clint Hurdle's head–he insisted just this past weekend...
Francisco Liriano struck out nine and pitched into the sixth inning to win his debut with Pittsburgh and help the Pirates beat the New York Mets 11-2 on Saturday. Jordy Mercer homered twice and Jose Tabata had four hits, including a two-run shot the Pirates, who teed off on left-hander Jonathon Niese, finally chasing him during a big fifth inning. The Mets have struggled to score...
The Francisco Liriano Saga has been a long and strange one without Liriano ever even throwing a pitch for the Pirates. Today, he'll finally make his first start for the Bucs. Even if Liriano hadn't missed the season's first six weeks recovering from a broken humerus in his right (non-throwing) arm suffered under weird circumstances over Christmas, I'd tell you that...
The weather played havoc with the minor league schedule yesterday, forcing both Altoona and West Virginia to postpone their games. Both teams will make the games up today as part of a doubleheader. For a look at the possible starters over the next few weeks, please check out our Probable Pitchers Chart. We have added a Recent Transactions section to the bottom of this page, for all...
Pirates (18-15) at Mets (13-17) 7:10 PM–Citi Field, New York MLB.com Gameday TV: MLB.TV (Free today, but blacked out in Pittsburgh) The Bucs are in the Big Apple for the weekend as they get set to take on the Mets in a four game series. The Mets aren't all that interesting of a team and it looks like they're going to be stuck battling Philly for 3rd in the NL East behind the...
Let's start here:  In the early moments of Little Big League, young Billy Heywood is considering naming himself manager of the Twins and he gets grilled by the team's pitching coach about what to do in various baseball situations. At one point, the pitching coach asks Billy what to do late in a close game with a runner on first base for a hitter in the middle of...
The Pirates basically have to win this game.  I say this for two reasons. 1.  They lost the first game of the series.  Generally that has meant they would eventually win the series. 2.  It just seems so right that the day after the Pens won their series with a team from Long Island the…
Gee pitched five shutout innings yesterday and hopefully Marcum will do him one more tonight, starting at 7:10.  MetsBlog says that Jeurys Familia is unavailable tonight, so hopefully Marcum doesn't have an early exit. To get started just enter your email address and desired username: Name E-mail Related Posts:Game Chatter: Shaun Marcum vs. Jonathan Pettibone (4/27/13)Game...
MLB News

Delivered to your inbox

You'll also receive Yardbarker's daily Top 10, featuring the best sports stories from around the web. Customize your newsletter to get articles on your favorite sports and teams. And the best part? It's free!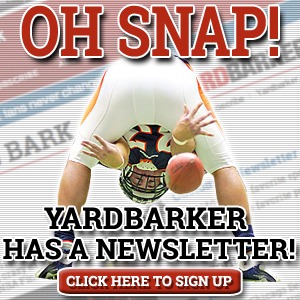 Latest Rumors
The Backyard

Today's Best Stuff

For Bloggers

Join the Yardbarker Network for more promotion, traffic, and money.

Company Info

Help

What is Yardbarker?

Yardbarker is the largest network of sports blogs and pro athlete blogs on the web. This site is the hub of the Yardbarker Network, where our editors and algorithms curate the best sports content from our network and beyond.