Found November 15, 2012 on Pirates Prospects:
Jeff Locke is the Pirates Prospects 2012 Minor League Pitcher of the Year. In previous years it wasn't difficult to pick the Pitcher of the Year in the Pittsburgh Pirates' minor league system. Kyle McPherson was clearly the winner last year, posting a 2.96 ERA and a 142:27 K/BB ratio in 161 innings. Rudy Owens ran away with it in 2010, posting a 2.46 ERA in 150 innings at the Double-A level, with a 132:23 K/BB ratio. This year there was a little more competition, which led to a tougher decision. The group this year was led by three starting pitchers who all posted good strikeout numbers, and ERAs under 3.00. Those three starters were Gerrit Cole, Phil Irwin, and Jeff Locke. Vic Black also gained some consideration for his work out of the bullpen in Altoona, although the starters had more of an advantage since they posted their numbers while having more than twice the innings Black had. Luis Heredia, Clay Holmes, and Tyler Glasnow all had great numbers in the lower levels, but the fact that they were pitching in the lower levels, plus their lack of innings, eliminated them from consideration. It came down to Cole, Irwin, and Locke, and the winner of the Pirates Prospects 2012 Minor League Pitcher of the Year award goes to Jeff Locke. Locke made 24 starts in Triple-A, putting up a 2.48 ERA in 141.2 innings. He had an 8.3 K/9, a 2.7 BB/9, and a 0.6 HR/9 ratio in those innings. Locke gained points over Cole and Irwin since all of his innings came in the upper levels of the minors. Cole spent some time in high-A, and Irwin spent most of his time in Double-A. The numbers from Locke were more than deserving on their own. His 2.48 ERA was the best mark of all pitchers in the minor league system with 80 or more innings. He finished with the third most strikeouts in the system, behind Justin Wilson and Cole. He moved on to the majors, where he put up a 5.50 ERA in 34.1 innings, although his time in the majors didn't factor into this award. His FIP of 3.24 in Triple-A was higher than his ERA, which is what brought him closer to Cole and Irwin. However, Irwin also had a higher FIP in Double-A, and Cole spending half the season in high-A hurt the value of his ERA and FIP. Cole showed why he was the top prospect in the system this year, putting up a combined 2.80 ERA in 132 innings between the top three levels. He had a 136:45 K/BB ratio, with his strikeouts rating second in the system. The right-hander had a 2.69 ERA in 67 innings in high-A, then moved up to Double-A where he posted a 2.90 ERA in 59 innings. Cole made one regular season start in Triple-A, giving up three runs in six innings. Prospect-wise, there's nothing wrong with Cole's path this year. For the purposes of this award, he loses points simply because he was pitching at a lower level, and there was a guy in the upper levels with better numbers. For the second year in a row, Phil Irwin was a darkhorse candidate. Irwin is rarely talked about among the top prospects in the system, but his numbers have ranked at the top for the last two years. Last year he was the only pitcher with comparable numbers to McPherson, but McPherson had better numbers in Double-A to give him an edge. This year he had comparable numbers to Cole, posting a 2.83 ERA in 130.1 innings, along with a 117:24 K/BB ratio. Irwin's 1.7 BB/9 ratio was the second lowest among starters in the system, falling behind Kyle McPherson's 1.2 BB/9. The right-hander spent most of his time in Double-A, where he had a 2.93 ERA in 104.1 innings. Irwin moved up to Triple-A for a few starts, posting a 2.57 ERA in 21 innings, along with an impressive 28:7 K/BB ratio. He fell behind Locke due to pitching most of the year in Double-A, and because of his 3.40 FIP at the lower level. His FIP in Triple-A was 2.30, which was lower than his ERA. Had he spent more time in Triple-A with those numbers, he could have won the award.
Original Story:
http://feedproxy.google.com/~r/Pirate...
THE BACKYARD
BEST OF MAXIM
RELATED ARTICLES
Gregory Polanco is the Pirates Prospects 2012 Minor League Player of the Year. Last year there was a pretty close race between two players in the system for our 2011 Minor League Player of the Year. Starling Marte and Robbie Grossman both had similar results, and the edge went to Marte as he played at a higher level. This year there was another close race, only the two players played...
The Pittsburgh Pirates sent seven players to the Arizona Fall League this year — three position players and four pitchers. Kyle Kaminska emerged as the star of the group among pitchers, while Adalberto Santos was the best among the hitters. There were no top prospects among the group this year, after the Pirates sent Gerrit Cole and Robbie Grossman to the AFL last year. Among the...
In Dominican League action yesterday, Gregory Polanco got the start in center field, batting seventh for Leones del Escogido. He went 1-for-4 with a double and a strikeout, while also being thrown out at second on a stolen base attempt. He has a .222/.222/.296 line in 27 AB's, with no walks and eight strikeouts. Polanco got just his second start in the last nine days, replacing...
In Winter League action yesterday, Starling Marte returned to the lineup after leaving Tuesday's game early. He went 1-for-5, with a single and three strikeouts. Marte has a .306/.393/.510 line, with seven walks and 14 strikeouts in 49 AB's. It was a slow day for Pirates players in Winter Ball, just one game was played in the Dominican and the Australian Baseball League is still...
Earlier today, Brandon McCarthy had the following tweet to Pirates closer Joel Hanrahan. @hanrahan52 in Pitt and just mentioned to a cop that I knew you and now the mayor's here giving me the key to the city?!? — Brandon McCarthy (@BMcCarthy32) November 14, 2012 McCarthy mentioning that he was in Pittsburgh sparked the instant speculation that he might be on the Pirates'...
In Winter League action yesterday, Starling Marte went 0-for-2 before leaving the game for a defensive replacement during the top of the sixth inning. The score at the time was 1-1 and Marte had previously struck out in the fourth inning, then played CF in the fifth without a play in the field. In other action in the Dominican, Anderson Hernandez went 1-for-5, while Oscar Tejada...
In Arizona Fall League action today, Scottsdale lost 3-2 against Peoria. The only Pirates player in the starting lineup today was Gift Ngoepe. He batted ninth and played shortstop. Ngoepe went 1-for-3 with a double, walk, stolen base and a strikeout. He came to the plate in the top of the ninth inning with his team down by one, a man on first and one out. Ngoepe battled through a...
In Arizona Fall League action tonight, Scottsdale won 8-2 over Mesa. Despite the win, Scottsdale was already eliminated from the playoff race earlier in the day when first place Salt River won their game. Adalberto Santos was the only Pirates player in the starting lineup tonight. He batted sixth and played second base. Santos went 1-for-3 with a double, walk and two runs scored...
Pittsburgh Pirates prospect Matt Curry checks in with Inna Lazarev of FOX Sports at the Arizona Fall League.
I have a little mental tic where every time any big trade goes down involving any baseball team, I ask myself what it would take for the Pirates to complete the trade themselves. This was born, I think, during the Dave Littlefield era when the Pirates would only rarely target players I thought they should be interested in. I'd see players that I wanted the Pirates to acquire...
Pittsburgh Pirates prospect Victor Black checks in with Field Reporter Inna Lazarev at the Arizona Fall League.
MLB News

Delivered to your inbox

You'll also receive Yardbarker's daily Top 10, featuring the best sports stories from around the web. Customize your newsletter to get articles on your favorite sports and teams. And the best part? It's free!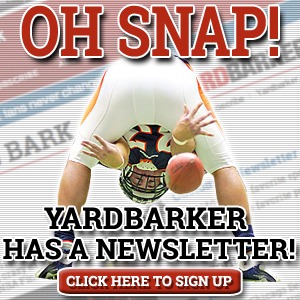 Latest Rumors
Best of Yardbarker

Today's Best Stuff

For Bloggers

Join the Yardbarker Network for more promotion, traffic, and money.

Company Info

Help

What is Yardbarker?

Yardbarker is the largest network of sports blogs and pro athlete blogs on the web. This site is the hub of the Yardbarker Network, where our editors and algorithms curate the best sports content from our network and beyond.