Found October 06, 2012 on Pirates Prospects:
PLAYERS:
Neal Huntington
,
Ashley Ponce
,
Benjamin Gonzalez
,
Carlos Paulino
,
Elevys Gonzalez
,
Evan Chambers
,
Francisco Aponte
,
Gift Ngoepe
,
Jarek Cunningham
,
Junior Sosa
,
Ramon Cabrera
,
Ryan Beckman
,
Tony Sanchez
,
Aaron Poreda
,
Anderson Hernandez
,
Andrew Lambo
,
Andy Vasquez
,
Brandon Boggs
,
Charles Cutler
,
Christian Marrero
,
Dallas McPherson
,
Doug Slaten
,
Drew Sutton
,
Eric Avila
,
Erik Turgeon
,
Evan Meek
,
Hector Luna
,
Jeff Larish
,
Jeremy Farrell
,
Jo-Jo Reyes
,
Jose Diaz
,
Jose Morales
,
Kenn Kasparek
,
Kris Johnson
,
Logan Kensing
,
Miguel Perez
,
Nick Evans
,
Oscar Tejeda
,
Quincy Latimore
,
Stefan Welch
,
Tim Alderson
,
Tim Wood
,
Robbie Grossman
,
Gorkys Hernandez
,
Gaby Sanchez
TEAMS:
Pittsburgh Pirates
,
Miami Marlins
While the Rule 5 draft doesn't take place until December, when Winter Meetings are being held in Nashville, Tennessee during the 3rd through the 6th, General Manager Neal Huntington and his front office staff have already begun their process of evaluating the talent.
That process, Huntington said, starts back in Spring Training and continues throughout the season. Those first time eligible and re-eligible's are evaluated throughout the season. And now that the regular season for Pittsburgh has ended, Huntington said they will be holding meetings this month on which players they will look to protect, and who they could possibly remove from the roster to open spots.
"We identify internally the guys that are Rule 5 eligible, the guys that are potential minor league free agents, the guys that we believe can help us not only short-term this year at the Major League level and what they need to be able to do to do that help guys take steps forward so that they are roster protected decisions for us," Huntington said. "We're in that process right now. We're evaluating everything we do. We're pouring through mountains of data. Whether it's everything we get from MLBAM on the play-by-play tracking, every minor league game, the sport vision data that we do that supplements the MLBAM data that's salvable for every game. It's all the data that we collect up here from the various statistically agencies. We're pooling through that data. We're pooling through our scouting reports."
"Identifying targets, identify our own Rule 5 protect guys. Combing the objective information and our elevation of it with the subjective information and our evaluation of it. October is meeting mania. We spend a lot of time with our scouts. Spend a lot of time with the front office. Spend a lot of time talking to other clubs and evaluating, putting our off-season plan in place…Some guys are obvious protects, even back in March. But then there are other gust that we want to make sure that we are identifying potential Rule 5, or potential minor league free agents. Guys that we think can come in and play a role for us."
First time Eligibles
Ashley Ponce, SS
Benjamin Gonzalez, SS
Carlos Paulino, C
Elevys Gonzalez, 3B
Elias Diaz, C
Evan Chambers, CF
Francisco Aponte, 1B
Gavi Nivar, P
Gift Ngoepe, SS
Jarek Cunningham, 2B
Jeffrey Inman, P
Joan Montero, P
Jodaneli Carvajal, 2B
Jorge Bishop, 2B
Junior Sosa, OF
Nathan Baker, P
Phillip Irwin, P
Porfirio Lopez, P
Quinton Miller, P
Ramon Cabrera, C
Rinku Singh, P
Ryan Beckman, P
Samuel Gonzalez, C
Tony Sanchez, C
Victor Black, P
Yhonathan Barrios, SS
Zachary Fuesser, P
Zack Dodson, P
Previously Eligible
BOLD = Eligible for minor league free agency
Aaron Poreda, P
Aaron Pribanic, P
Anderson Hernandez, 2B
Andrew Lambo, RF
Andy Vasquez, LF
Brandon Boggs, RF
Charles Cutler, C
Christian Marrero, OF
Dallas McPherson, 3B
Doug Salinas, P
Doug Slaten, P
Drew Sutton, OF
Eliecer Navarro, P
Emmanuel De Leon, P
Eric Avila, 3B
Erik Turgeon, P
Evan Meek, P
Francisco Diaz,  C
Hector Luna, 2B
Hunter Strickland, P
Jeff Larish, OF
Jeremy Farrell, 3B
Jhonatan Ramos, P
Jo-Jo Reyes, P
Jose Diaz, P
Jose Morales, C
Kenn Kasparek, P
Kris Johnson, P
Kyle Kaminska, P
Logan Kensing, P
Michael Colla, P
Michael Crotta, P
Miguel Perez, C
Nick Evans, 1B
Oscar Tejeda, OF
Quincy Latimore, LF
Stefan Welch, 3B
Tim Alderson, P
Tim Wood, P
Zachary Foster, P
Rule 5 Analysis
by Tim Williams
This is a slow year for the Pirates and the Rule 5 eligibles. The players who are eligible this year are the high school players from the 2008 draft and the college players from the 2009 draft. The Pirates went heavy on college players in the top rounds of the 2008 draft, with the notable high school picks in the top 20 being Robbie Grossman, Quinton Miller, Jarek Cunningham, and Wes Freeman. In 2009 the Pirates went heavy on high school talent in the middle rounds. First rounder Tony Sanchez will be eligible, as will first round compensation pick Victor Black. But the combination of a college heavy draft in 2008 and a high school heavy draft in 2009 leaves the list a little short this year.
The players I would consider protecting are as follows:
Gift Ngoepe - He's the best defensive infielder in the system, and might be the fastest in the system. It's been surprising how well he has developed, and that development should continue. He's shown some ability with the bat, although not in a consistent manner. He wouldn't be the first speedy, plus defense shortstop with a weak bat to be added to the 40-man roster.
Phil Irwin - Irwin really stepped up this year, putting up strong numbers in Double-A and Triple-A. He could be ready for the majors next year. He's more a depth option, with his upside being a back of the rotation starter. The Pirates would be better going with him than signing a free agent for the same role.
Ramon Cabrera - His hitting picked up in the second half, and he looked good defensively behind the plate this year. His upside is probably a backup catcher. The Pirates are thin at the position in the upper levels, and shouldn't risk losing a guy like Cabrera.
Tony Sanchez - His defense is strong, but his bat has limited his potential upside. He did see a power increase in Triple-A, which is encouraging, although it was a small sample size and came without hitting for average. He'll definitely be protected.
Victor Black - He's got the stuff to be a late inning reliever, touching 99 MPH with his fastball and complimenting that with a hard slider, which gets a lot of strikeouts.
Kyle Kaminska - The Pirates added him in the Gorkys Hernandez/Gaby Sanchez trade, and he showed some promise in his limited time in the rotation between high-A and Double-A.
Borderline Players:
Jarek Cunningham - A lot of pop for a middle infielder, but poor defense and poor plate patience could limit his upside. It would also make it less likely that he gets picked, since he doesn't play a premium defensive position.
Jeff Inman - He's got a great arm, touching 98 MPH in instructs last year. He didn't have success this year in Double-A from a numbers standpoint.
Nathan Baker - As a starter he struggled with control. As a reliever he looked dominant. A left-handed reliever might not have the upside to be selected in the Rule 5 draft.
Zack Dodson - He was suspended for 50 games for failing two substance of abuse tests. He also didn't have a good season in his second trip at low-A. There's still potential there, but Dodson is probably too low in the minors to be a risk to be selected. He's the only 2009 prep pitcher on this list, and he's here because he was a year older than everyone else.
Original Story:
http://feedproxy.google.com/~r/Pirate...
THE BACKYARD
BEST OF MAXIM
RELATED ARTICLES
Both Evan Meek and Drew Sutton have chosen to become minor league free agents this offseason according to the International League. Meek, who is now 29 years old, is just two seasons removed from an All-Star appearance. However, arm injuries have weakened his effectiveness and velocity. He pitched just 12 innings in the Majors this season and posted an 8:6 K:BB ratio along with...
The Pirates are going to have an interesting arbitration class this offseason. Several players — Garrett Jones, James McDonald, Neil Walker — could all stand to get pretty heavy pay raises, while pitchers Joel Hanrahan and Jeff Karstens, both third time eligible, could serve as off-season trade chips. The Pirates also have an option on veteran catcher Rod Barajas, who which could...
Last year the Pittsburgh Pirates signed Andrew McCutchen and Jose Tabata to extensions. At the time there was talk that Neil Walker could also be a candidate to be extended, as the club was talking with him about the possibility. The two sides are still talking, and will enter this off-season with Walker qualifying for arbitration as a Super Two player. Most players who sign extensions...
Reliever Evan Meek and Utility man Drew Sutton declared free agency on Thursday according to the International League transactions page. Meek was designated for assignment by Pittsburgh on September 10th to make room for right-hander Rick vandenHurk on the 40-man roster. Meek posted a 2.74 ERA in relief at Triple-A this season, but has struggled at the Major League level since...
Going to make this a bi-weekly thing throughout the off season to cover the things that probably don't warrant their own post. Monday marks Opening Day for the 2012 Arizona Fall League. Victor Black, Brandon Cumpton, Kyle Kaminska, Tyler Waldron, Matt Curry, Gift Ngoepe, and Adalberto Santos will play for the Scottsdale Scorpions. My full preview is here. Pirates' pitching prospect...
Tomorrow will mark Opening Day of the 20th season of the Arizona Fall League, which has the reputation of having a very wide collection of talent. This year, 24 of of MLB's top 100 prospects will participate. The Pirates will be sending seven prospects of their own to play for the Scottsdale Scorpions. Victor Black Black was selected by the Pirates in the supplemental first round...
One of the side effects of the Pirates losing for 20 years in a row is that baseball carries on without them once the regular season is over. For that reason, I usually try to find a post-season team to pull for, as I'm sure any other baseball fan does. I usually go with the underdogs or the small market teams. That seems to be another common trend. This year, that's the Oakland...
MLB News

Delivered to your inbox

You'll also receive Yardbarker's daily Top 10, featuring the best sports stories from around the web. Customize your newsletter to get articles on your favorite sports and teams. And the best part? It's free!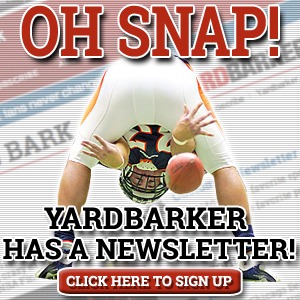 Latest Rumors
The Backyard

Today's Best Stuff

For Bloggers

Join the Yardbarker Network for more promotion, traffic, and money.

Company Info

Help

What is Yardbarker?

Yardbarker is the largest network of sports blogs and pro athlete blogs on the web. This site is the hub of the Yardbarker Network, where our editors and algorithms curate the best sports content from our network and beyond.