Found November 12, 2012 on isportsweb.com:
Over the past few years, fans paying close attention to the Pittsburgh Pirates' timing of their announcements have detected a pattern:  When the Pirates have negative or controversial news to break, they tend to wait until huge national news stories surface, so that they can slide their news in under the radars of a rightfully disenchanted fan base. Originally, the Pirates' strategy was outright coverup, shown by their one-time "secret" contract extensions of then-manager John Russell and GM Neal Huntington, deals which were never mentioned to fans until the media exposed them months later.  An irate backlash ensued, fueled by President Frank Coonelly's comments that such inner workings should not be of the fans' concern, despite the questionable achievements of both Russell (who was fired in 2010) and Huntington. Trust us, Neal: We were surprised too. Shifting strategy, the Pirates now release critical stories coinciding with national-level events.  Fans first saw this when the Pirates gave GM Huntington- who still has a worse cumulative W/L record than terrible former GM Dave Littlefield- to another (3 year) contract extension…which they chose to announce on the 10th anniversary of the September 11 terrorist attacks.Yup.  September 11, 2011.  Let's extend our questionable general manager, despite there being no need to do so until the actual season concludes weeks from now!   So the timing of the Pirates' latest "announcement" came as no suprise to fans.  On the contrary, many were already poking fun at when owner Robert Nutting wound announce the results of his "investigation" into what became dubbed the "Hoka Hey!" drills. For those that haven't been following, the Pirates' organization suffered a series of national embarrassments when it was revealed that top prospects were being injured in brutal Navy Seals-style trainings, which the Pirates decided to hold after the minor league seasons concluded, when most of these young men were exhausted, and just wanted to get home.  The story reached epic proportions when individuals within the Pirates' organization intentionally leaked a ridiculous e-mail sent to them by assistant GM Kyle Stark, in which he made a series of questionable- some say delusional- player analogies ranging from Hippies to Hell's Angels. Fans assumed Stark- whose own record as Director of Player Development has been fraught with disappointment- was clearly fired, and wondered if this would finally be the last straws to Huntington's and Coonelly's careers as well.   Nutting; Image credit cbspittsburgh But it was not to be.  For an organization that routinely preaches "accountability", Nutting chose to retain his entire front office staff.And this announcement was made????  On Election Day, of course!  Mr. Nutting, in the rare chance that you come across this article in cyberspace, please consider the following:  If you know an announcement is so bad that you have to slip it through during a national event….maybe it isn't an announcement worth making. Thanks for reading.  More accountability-based Pirates stories to come.
Original Story:
http://feedproxy.google.com/~r/isport...
THE BACKYARD
BEST OF MAXIM
RELATED ARTICLES
According to Rob Biertempfel, the Pittsburgh Pirates have lost top scout Mike Leuzinger, the man who signed Josh Bell in 2011. Leuzinger turned down a contract offer and left the organization. He noted that it stung when the Pirates refused the Yankees permission to interview him, and that the losing was wearing on him. I'm currently working on the 2013 Prospect Guide, which includes...
In Arizona Fall League action today, Scottsdale won 13-6, with Adalberto Santos leading the way among Pirates players with three RBI's. Two Pirates players were in the starting lineup. Matt Curry batted cleanup and played first base. He went 3-for-5 with three singles, two runs scored and a stolen base. Santos started in left field and hit sixth. He hit an RBI single in the first...
In Arizona Fall League action today, Scottsdale lost 4-3 to Surprise. Gift Ngoepe hit a two-run homer in the seventh inning to tie the score at three. Three Pirates players were in the starting lineup. Matt Curry batted cleanup and played first base. He went 1-for-4 with two strikeouts. He is currently hitting .230 with one homer in 74 AB's. Adalberto Santos batted sixth and started...
The DSL Pirates clubs were ranked sixth and 19th in the 35 team league in OPS. As a group, they have a decent amount of six figure bonus players. Some lived up to those numbers, while others did not. Some players, that were signed rather quietly (aka low bonus) ended up having big years. The Pirates chose to move players like Edwin Espinal and Dilson Herrera to the GCL with minimal...
In Winter League action yesterday, Gregory Polanco played for the first time in five days. He batted seventh and played center field, going 1-for-4 at the plate. He is now hitting .217 in 23 AB's, with one double, one stolen base, no walks and seven strikeouts. His teammate on Leones del Escogido, Starling Marte, did not play yesterday. In other Dominican League action, Anderson...
Unlike the other teams in the system, it is much harder to put together a top ten prospect list for the Dominican Summer League. There is very little to go on besides the season stats, signing information and scouting reports that are few and far between. You base a lot on performance, where the players actually played on the field, and the player's age, both at the present time...
As a group, there was a lot of good pitching from the Pirates' two DSL teams this season. Part of it was due to high inning totals from older pitchers. It isn't a strong group on the prospect front, with some of the higher price bonus guys getting up there in age for the league, but it isn't totally barren of pitchers to watch. The strong pitching continued on to the postseason...
I was ecstatic when I acquired my first Gerrit Cole auto earlier this year via trade, and I was intending to one day pick up another auto or two. I didn't intend for that day to be with this card.I say that not because I dislike the above on-card auto from Leaf Draft. I just didn't think the bid I placed would actually take down the auction. But it did, so I paid up and then...
In the final installment of this series, we'll take a look at some of the relievers that may be available for the Pirates this offseason.   This piece of the series is the hardest to forecast, as the sheer number of relievers on the various fronts of the market coupled with the inherently volatile nature of relievers, makes it difficult to pair a player with a team. The Pirates...
The biggest question the Pirates have coming into the offseason is who will be playing catcher for the 2013 Pittsburgh Pirates? Rod Barajas will not be brought back, and the free agent market is thin at best. It really does not seem like the Pirates would get value for the money they would have to spend on a free agent backstop, which is unfortunate considering how little they got...
In Winter League action yesterday, Benji Gonzalez made his first start for Leones de Ponce, batting ninth and playing shortstop. He went 1-for-4, with a stolen base, a run scored and he turned two double plays. In Dominican League action, Oscar Tejada went 0-for-1 with a strikeout, while Anderson Hernandez went 0-for-3 with a walk and two strikeouts. Neither Starling Marte, nor Gregory...
When the Pirates declined to bring Rod Barajas they admitted another free agent failure.  It's become something of  given.  Water is wet.  Sun is hot.  Pirates don't get it done in Free Agency. By not getting it done though they left a huge hole to be filled.  What is there to do behind the dish? [...]
Pirates News

Delivered to your inbox

You'll also receive Yardbarker's daily Top 10, featuring the best sports stories from around the web. Customize your newsletter to get articles on your favorite sports and teams. And the best part? It's free!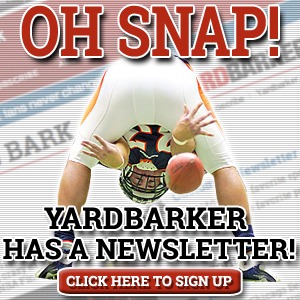 Latest Rumors
Best of Yardbarker

Today's Best Stuff

For Bloggers

Join the Yardbarker Network for more promotion, traffic, and money.

Company Info

Help

What is Yardbarker?

Yardbarker is the largest network of sports blogs and pro athlete blogs on the web. This site is the hub of the Yardbarker Network, where our editors and algorithms curate the best sports content from our network and beyond.