Found November 17, 2011 on isportsweb.com:
The Pirates' curious decision to forego 2 reasonably-priced option years for catcher Ryan Doumit was compounded last week Image credit gearupforsports when the club signed backstop Rod Barajas to a 1-year $4,000,000 contract, with a 2013 club option for $3,500,000.  Barajas is inferior to Doumit in almost every aspect.  Consider the following: 1.  Age- Doumit will be 31 in the 2012 season, Barajas 36.  Despite the "depth" GM Neal Huntington has supposedly built in this organization, it's disconcerting that he's still relying on Dave Littlefield-esque veterans in their mid-30′s a full 4 years into his "successful" tenure. 2.  Production- Doumit had an excellent 128 OPS+ last season, which has largely gone overlooked by both fans and the Pirates alike.  Barajas had a 97 OPS+, or slightly below average for the catching position.  But what Barajas has in power is completely nulified by his abysmal on base skills.  Barajas hasn't had a .300+ OBP since George W. Bush was in office.  His OBP's over the past 4 seasons are… 2011  .287   2010  .284   2009  .258   2008  .294 In fact, the only time in his career Barajas finished well over a .300 OBP was in a small sampling of 48 games for the Philadelphia Phillies in 2007.  In fact, Barajas has finished below .300 in 9 of his 11 MLB seasons (not counting 5-game stints in 1999 and 2000…when he also finished under .300). We're dealing with a player whose career .284 OBP is the catching equivalent of Ronny Cedeno- who the Pirates just released due to his lack of production. 3.  Defensive Ability- The major knock against Doumit is his declining play behind the plate.  Those concerns are well-warranted, although I don't think it would be difficult to move his bat to 1B, where he has played off and on throughout his career.  But Barajas isn't any better.  Defensive catching metrics have Barajas as the better career defender, but slightly worse in 2011.  And being 5 years older, he isn't likely to improve. 4. Durability- Another slight on Doumit is his tendency for fluke injuries season after season.  But both Barajas and Doumit have only eclipsed 400 at bats twice in their careers (and Doumit's is 4 years shorter).  In fairness, much of Barajas's low at bat totals are due to his status as a backup for some of his career.  But is a 36-year old backup catcher really the solution?   So in summary, Barajas is older, less productive at the plate, an OBP black hole, and defensively, is just as questionable as Doumit.  So why the move?  In my mind, here's the one number that mattered: Doumit  $15,000,000 over 2 seasons Barajas  $4,000,000 over 1, with a max of $7,500,000 over 2 Simply put, this was a matter of saving money on an already league-low payroll.  And we as fans are going to pay the price for that come 2012. Thanks for reading.  
Original Story:
http://isportsweb.com/2011/11/17/pitt...
THE BACKYARD
BEST OF MAXIM
RELATED ARTICLES
We've heard for the last week that former Pittsburgh Pirates catcher Ryan Doumit was expected to sign a deal before the end of November.  Jerry Crasnick has an update today that Doumit is down to two American League teams, and is expected to make a decision today.  What this means for the Pirates is that they'd get a compensation pick between the first and second rounds of...
MINNEAPOLIS -- The Minnesota Twins have agreed to a one-year contract with free-agent catcher Ryan Doumit. The signing was confirmed Friday afternoon on the Twitter account of Sosnick Cobbe Sports, the agency that represents Doumit. Adding Doumit, who has played all seven of his major league seasons with the Pirates, gives the Twins insurance in case starter Joe Mauer has trouble...
Jerry Crasnick reports this afternoon that Ryan Doumit has signed a one-year/$3 million deal with the Twins. I guess Doumit makes sense as a competent back-up for the oft-injured Joe Mauer, plus a DH or a guy that can spell the oft-inured Justin Morneau from time to time, but it seems to me that this indicates that the market for Doumit wasn't nearly as hot as we were lead to...
There had been talk yesterday that the Mariners were one of the teams trying to land catcher Ryan Doumit. Instead, he wound up on a one-year, $3 million deal with the Twins. Not a huge loss for the Mariners. And don't let the numbers fool you. As good as some of Doumit's stats looked last year, he has essentially become a part-time player and that's pretty much what he...
Catcher Ryan Doumit, a 1999 graduate of Moses Lake High School, agreed to a one-year, $3 million contract Friday with the Minnesota Twins, according to one of his agents.
This afternoon, Ryan Doumit – part of my Off-season Plan B – signed a one year, $3 million deal with the Twins. First off, I wouldn't suggest losing much sleep over this, as Doumit was more of an example of a low cost, average-to-just-above average hitter who could bat from the left side and share some time at 1B/LF/DH with Smoak, Carp, and Wells. It's not that Doumit is...
Free agent catcher Ryan Doumit has reached agreement on a one-year, $3 million contract with the Twins.
Free agent catcher Ryan Doumit is expected to make a decision about his next team today, and he's down to two AL clubs according to ESPN's Jerry Crasnick (on Twitter).
MINNEAPOLIS (AP) -- The Minnesota Twins and versatile catcher Ryan Doumit agreed Friday a one-year, $3 million contract.
This is a signing I like from the Twins. They get a legit backup catcher to play behind Mauer who I wont have a problem seeing play a good amount of time if Mauer cant handle the beating behind the plate. He is a solid hitter in the last 4 years he seems to either hit in the .250's or he is in the low .300's. He isnt a big power hitter but has hit double digits 3 of the last...
The Twins agreed to terms on a one-year contract with free agent Ryan Doumit on Friday, according to a Twitter post from the veteran catcher's agents at Sosnick-Cobbe Sports. The deal is worth $3 million, pending a physical.
The Pirates provided fans around baseball with some midseason excitement before fading in August and September and finishing with a 72-90 mark. GM Neal Huntington knows the next step is sustaining success into September and beyond, but getting there is a definite challenge. Here are some updates on Huntington's Pirates from the Milwaukee GM Meetings... The Pirates moved quickly...
MLB News

Delivered to your inbox

You'll also receive Yardbarker's daily Top 10, featuring the best sports stories from around the web. Customize your newsletter to get articles on your favorite sports and teams. And the best part? It's free!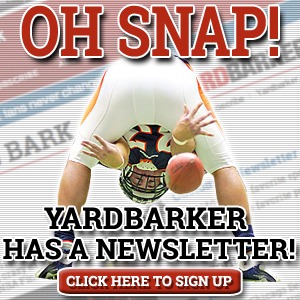 Latest Rumors
Best of Yardbarker

Today's Best Stuff

For Bloggers

Join the Yardbarker Network for more promotion, traffic, and money.

Company Info

Help

What is Yardbarker?

Yardbarker is the largest network of sports blogs and pro athlete blogs on the web. This site is the hub of the Yardbarker Network, where our editors and algorithms curate the best sports content from our network and beyond.