Found June 05, 2012 on isportsweb.com:
Follow me on Twitter @jim_krug      (opening image credit, Baltimore Sun) A quick, numbered rundown of the opening day of MLB's June Amateur Draft… 1.  The Pittsburgh Pirates had to be absolutely elated when the projected #1 overall pick on most draft boards- Stanford RHP Mark Appel- dropped the whole way to the Bucco's spot at #8, a fall potentially rooted in Major League Baseball's new draft slotting system, which severely penalizes teams for exceeding their $$$ draft allocation.  Appel has top-of-rotation potential, with a plus fastball that hits 95mph regularly, a complementary hard slider, and serviceable changeup.  At 6'4″, 195lb, the Houston native has a great frame, repeatable, smooth delivery, and strong mound presence. 2 of those on the back wall are probably Frank Coonelly's; Image credit usatoday 2.  Despite the positives, it doesn't help that Appel is represented by superdou….agent Scott Boras, with whom the Pirates had a hair-raising go around during the 3B Pedro Alvarez signing a few years ago.  Feeling slighted by the Pirates' handling of the negotiations, Boras drew the team out past the signing deadline without reaching a deal.  MLB saved the Pirates from themselves, offering a special deadline extension for the team to reach terms with Boras and Alvarez, avoiding a significant PR disaster. 3.  While the slotting system affords Boras and Appel far less leverage this time around, Boras has never hesitated to sacrifice a client for the purpose of proving a point to Major League Baseball.  If he feels the new slotting system is seriously flawed (and considering the effect it will have on his wallet, how could he not?), the agent could push these negotiations to the July 13th deadline as well. 4.  Still, it would be quite a risk on Appel's part to return for his senior year at Stanford.  The drop in signing bonus from the top 5, to Appel's current spot at 8th overall, only looks to be about $2,000,000.  While it is substantial, that's nothing compared to the dropoffs after previous years' top selections.  When you factor in the higher injury risk of pitchers in general, returning to the Cardinal would be a gamble, even if he's able to raise his draft stock a few spots. 5.  However, Appel certainly didn't put any of the Pittsburgh sports media at ease, as he quickly refused a conference call.  Hopefully, it's just the first of many postures from the Boras camp.  And frankly, you can't blame the young man for being upset after not being taken #1 overall by his native Astros, then falling to #8, and dropping to a team that hasn't had a winning season since he was 1 year old. 6.  It will be interesting to see how the Pirates' signability concerns for Appel affect their remaining choices through the first 10 rounds of the draft.  If the Pirates exceed their allotted $12,368,200 by even 10%, they must forfeit their following year's 1st rounder- a brutal consequence that does retain at least some leverage for Boras. Barnes; Image credit 1340thefan 7.  However, Pittsburgh showed no sign of aiming for signability picks early on, when they targeted Texas Tech OF Barrett Barnes in the A Compensatory Round.  Unlike 2011 selection OF Josh Bell- who dropped to the Pirates for signability reasons- Barnes was projected to be taken in this area, although he's certainly not a cash-saving signability pick like Pirates' former 1st rounder C Tony Sanchez.  The speedy Red Raider centerfielder has a compact, powerful swing, but is considered more of a raw athlete at this point, which the Pirates' much-maligned farm system must mold into a future MLB contributor. 8.  Overall, Pirates' GM Neal Huntington deserves credit for not being scared off by MLB's new slotting system like the 7 GMs before him, and selecting Appel.  If he can add Appel to the touted arms arsenal of SP Jameson Taillon and Gerrit Cole, the Pirates could boast one of the top trios of pitching prospects in all of baseball.  But Huntington has to do so while negotiating with an aggressive agent, and avoiding penalizing his organization by exceeding his draft allocation- and still has to draft some quality players in rounds 2-10 to boot. 9.  Signing Appel could potentially reverse what's quickly becoming a very spotty draft record for the GM, especially in light of former SP Stetson Allie's recent position change to 3B.  But on the flip side, failing to sign Appel adds to a growing list of draft mishaps, including the aforementioned Alvarez debacle, and fumbling both the RP Tanner Scheppers and INF Miguel Sano signings. It should be an interesting month-and-a-half of intrigue, but for now, Pirates' fans should rest easy.  Pittsburgh had the rarest of apples remain on the draft tree longer than expected, and this time, they had the guts to climb a high ladder to nab it.  Thanks for reading.
Original Story:
http://isportsweb.com/2012/06/05/pitt...
THE BACKYARD
BEST OF MAXIM
RELATED ARTICLES
Team source w/ Pirates confirms Alex Presley expected to join club in Cincy for tomorrow. Unsure of corresponding move, but Presley on way. — Colin Dunlap (@colin_dunlap) June 5, 2012   Alex Presley definitely deserves this. He's been crushing the ball in Indianapolis. Going into tonight's game, he was hitting .290/.392/.661 with five HR in 62 at bats. You would have to think...
2009 1st round pick (4th overall) Tony Sanchez has been promoted to AAA-Indianapolis from AA-Altoona. Sanchez, who was repeating AA after struggling last season, was hitting .277/.370/.390 over 40 games for the Curve. He's really been swinging a hot bat lately and his defense has reportedly been very good. Last season, Sanchez hit just .241/.340/.318 for Altoona as his top prospect...
The Pirates have been Major League Baseball's biggest spender in the draft the last half-decade, but not much of that has paid off. The Pittsburgh Tribune-Review reported Monday that Stetson Allie, the flame-throwing right-hander the team paid $2.2 million as a 2010 second-rounder, is being converted from pitcher to hitter. The news stunned the baseball industry, not only because...
The Pittsburgh Pirates are accustomed to picking first or thereabouts in Major League Baseball's draft, so they've already succeeded in 2012 in at least one regard: They're picking eighth. "That's a good sign just because it means we're improving at the major league level," general manager Neal Huntington said. "We've said all along we'...
Pittsburgh Pirates Live Game Chat ©2012 Raise the Jolly Roger. All Rights Reserved..
Andrew McCutchen and Garrett Jones hit consecutive homers and James McDonald struck out eight and won for the third time in four starts when the Pittsburgh Pirates beat the Milwaukee Brewers 6-5 Sunday. McDonald (5-2) held the Brewers to four hits and a walk, and only one of the three runs he allowed was earned. He pitched out of a jam in the sixth inning, then departed after throwing...
The Pirates came out on top in a home-run fest at Miller Park this afternoon, giving the Bucs their first series win at Milwaukee since early 2010 and bringing them back above .500 and within 3 games of the Reds. Just like on Friday, the game started out ominously for the Pirates. Neil Walker doubled over Nyjer Morgan's head in center with one out in the first and Andrew McCutchen...
CINCINNATI (AP) -- Clint Barmes had three hits and drove in three runs, and the Pittsburgh Pirates extended their home-run tear by hitting three more for an 8-4 victory over the Cincinnati Reds on Tuesday night. Neil Walker hit a two-run homer, and Casey McGehee and Alex Presley had solo shots, giving the Pirates seven homers in their last two games. A.J. Burnett (5-2) won his...
Going in to the draft tonight, many of us were hoping someone would slide down the board a bit and fall in to the Pirates' lap at #8. It turned out that while a few of their potential targets were snapped up right away, the guy that many were projecting to go number one fell all the way down to the Pirates. All the way up until Bud Selig took the podium to announce the pick, most...
Did anyone really see homers from Neil Walker, Casey McGehee, and Alex Presley coming?  I sure didn't. That said for how bad the offense has been they haven't been completely inept at hitting the long ball.  I mean tied for 20th is no great shakes but it's much better than the 28th their SLG ranks. [...]
Pirates News

Delivered to your inbox

You'll also receive Yardbarker's daily Top 10, featuring the best sports stories from around the web. Customize your newsletter to get articles on your favorite sports and teams. And the best part? It's free!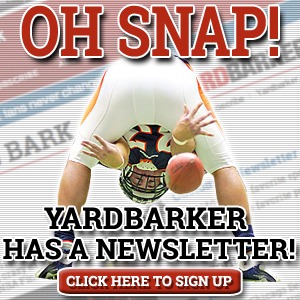 Latest Rumors
Best of Yardbarker

Today's Best Stuff

For Bloggers

Join the Yardbarker Network for more promotion, traffic, and money.

Company Info

Help

What is Yardbarker?

Yardbarker is the largest network of sports blogs and pro athlete blogs on the web. This site is the hub of the Yardbarker Network, where our editors and algorithms curate the best sports content from our network and beyond.