Found December 02, 2012 on isportsweb.com:
Read Part 1 of the series right here. Last time, we examined the good and bad of Pittsburgh Pirates' owner Bob Nutting, President Frank Coonelly, and General Manager Neal Huntington.  Here, we'll take a look at the positives and negatives of some of the Pirates' other decision makers. Clint Hurdle, Manager Hurdle; Image credit carpetbaggery The Good:  Hurdle was a well-respected man around baseball when joining the Pirates in 2011, and the fans and media took to him immediately.  This author still recalls watching all of PNC Park give Hurdle's jumbotron "thank you" to the fans a standing ovation at the conclusion of 2011- when the Pirates finished 72-90, and suffered the worst late-season collapse in MLB history.  The Pittsburgh media are just as Hurdle-philic, rarely questioning any of the manager's in-game decisions.  Unlike previous skipper Jim Tracy, Hurdle keeps clubhouse conflicts out of the media spotlight, and rarely if ever calls his players out publicly.  The Pirates seem to enjoy playing for him.The Bad:  While this author generally considers the importance of an MLB manager to be significantly overblown, there is unfortunately still a lot here.  Hurdle has now managed 10 seasons in the Majors (8 full), and only has a .461 winning % to show for it.  This includes only 1 trip to the playoffs (managing the Colorado Rockies in 2007), and only 1 above .500 finish (also 2007).  Hurdle seems to have just as much trouble breaking .500 over the past 10 years, as the Pirates have had over the past 20. Hurdle's in-game managerial skills are unfortunately archaic.  His "by the book" beliefs include bunting frequently- even with the heart of his order- despite a wealth of more recent statistical evaluation which shows that extensive bunting hurts a team's offensive production.  He's run the Pirates out of many innings with overly-aggressive, poorly-timed steal attempts.  Most significantly, his late-game bullpen management drew the ire of many fans this past August and September.  Hurdle refused to call upon the team's best relievers- Joel Hanrahan and Jason Grilli- if not a textbook hold situation for Grilli, or save opportunity for Hanrahan.  This led to a wealth of situations in which poor relievers were asked to succeed in game-defining appearances.  Hanrahan and Grilli watched the Pirates blow too many leads while parked on the bench, waiting for their "ideal" situations that never came. Included in Hurdle's "old school" mentality is a loyalty to underperforming veterans like C Rod Barajas and SS Clint Barmes, who, despite being 2 of the worst regulars in all of Major League Baseball, still received the majority of starting nods from Hurdle without question. Lastly, at some point fans need to question Hurdle's role in overseeing the two biggest collapses in MLB history, and in consecutive seasons no less!  Here in 2012, the Pirates became the first team to ever be 16 games over .500, and still finish below .500.  Despite only being 2 games or less out of the Wild Card spot throughout much of September, the team generally appeared listless and unmotivated.  Some of that has to fall on Hurdle.   Kyle Stark and Greg Smith, Assistant GMs Stark; Image credit dailymail The Good:  The hirings of both men in 2007 were generally well-received.  Greg Smith (41 at the time) was initially hired as the Pirates' Scouting Director.  He had 16 years of experience, spending the previous 11 helping build a very strong farm system for the Detroit Tigers, the benefits of which Tigers' fans still see today.Despite far less MLB experience, Stark (then only 29) was hired away from Huntington's former employer, the Cleveland Indians.  Assisting in scouting, player development, and big-league operations, Huntington considered Stark a rising star with "very high upside", hiring him as the Pirates' Player Development Director.The Bad:  Even if we overlook the incredibly embarrassing Stark-led Navy seal training and subsequently leaked "Hoka Hey!" Hell's Angel/Hippie e-mail of this past fall, there is still concern.  Simply put: The Pirates have drafted poorly over the past 5 years (Smith's realm). And of their few well-regarded selections, the majority have struggled, regressed, or simply not lived up to their potential.  Some have even been seriously injured in non-baseball-related team activities (Stark's realm). Unlike a General Manager, whose decisions are directly attributable to him, it's difficult to lay all of the blame on Stark and Smith, as both represent the efforts of hundreds of coaches, scouts, trainers, and other personnel.  Still, they represent the system, and the system has produced little over the past 5 seasons.   Pittsburgh Pirates' Players The "Z" died off as they went; Image credit piratesgab The Good:  Despite the record-setting collapse, one could argue that the 2012 club still exceeded beginning-of-year expectations.  The majority of players reached or surpassed their production estimates.  CF Andrew McCutchen enjoyed a career year that garnered him MVP consideration.  2B Neil Walker proved to be an above-average MLB regular, while 3B Pedro Alvarez rebounded from a disastrous 2011 to show flashes of the potent power bat he could be for years to come.  For a time, SP James McDonald and A.J. Burnett were the best 1-2 punch in the National League, and the aforementioned Hanrahan and Grilli preserved the majority of late-inning leads.The Bad:  Even with nearly every player on the roster playing to their abilities, there simply isn't enough talent on this club to be a serious playoff contender.  The "collapse" of August-September was arguably more a regression to the mean than a bona fide failure of an elite team.  While the players enjoyed many successes, there were exceptions.  While no one can fault Clint Barmes and Rod Barajas for accepting the ridiculous contracts given to them by GM Neal Huntington in the offseason, both players were far worse than they'd ever been before.  SP Erik Bedard should've been a solid free agent get on Huntington's part, but he had by far his worst season since his rookie debut in 2002. Finally, watching this collection of players limp through September was infuriating for many fans.  Had you told the team in March that they would only be 2 games out of the Wild Card spot in mid-September, the players probably would've been ecstatic.  But when it finally happened, it looked as if the team lacked any confidence or motivation, as if they knew they were destined to miss the playoffs, so they were just going through the motions until it was over.   Thanks for reading.  In Part 3, we'll rank where the blame for the Pirates' struggles should be assigned.  All of our choices are: Owner Bob Nutting (part 1) President Frank Coonelly (part 1) General Manager Neal Huntington (part 1) Manager Clint Hurdle Greg Smith and Kyle Stark, Assistant GMs Pirates' Players  
Original Story:
http://feedproxy.google.com/~r/isport...
THE BACKYARD
BEST OF MAXIM
RELATED ARTICLES
A few notes as day one of the winter meetings is coming to a close. **If you're expecting a big follow up move to the Russell Martin signing, it doesn't seem like it will happen this week, or possibly at all. Rob Biertempfel has the following from Neal Huntington. #Pirates GM Huntington re:chance for big move at winter meetings:"For us, biggest move we were going to make this...
Earlier today, Rob Biertempfel had a note about two American League teams who said no thanks to trading for Joel Hanrahan. Biertempfel follows that up with a good rundown of Hanrahan's trade market. He notes that the Pirates have been shopping Hanrahan for several weeks now. He also mentions that one scout was "shocked" at how low the initial asking price was for the closer...
In Winter League action today in Australia, Adelaide lost 4-2 to Canberra. Three Pittsburgh Pirates players were in the starting lineup, Stefan Welch, Justin Howard and Dylan Child. Welch went 0-for-3, with a run scored and two strikeouts. His average dropped down to .205 after a 1-for-13 weekend. Howard went 2-for-4, with a double and run scored. Child had a rough time behind the...
The Australian Baseball League announced their participants for the December 16th All-Star game. Stefan Welch made it for the Australian team, while Zac Fuesser will pitcher for the World team. Welch has struggled recently, going 1-for-13 this past weekend, leaving him with a .205/.311/.385 line through 11 games played. Fuesser has been impressive since his first start, in which...
The Pittsburgh Pirates are shopping Garrett Jones. The Baltimore Orioles are looking for a power bat. There are a lot of articles coming out about the Orioles possibly being interested in Jones. It's hard to tell if these are based on any actual discussions, or if it's a case of people connecting the dots. The Orioles want a power bat and could trade pitching to get that. The...
In Winter League action last night, Starling Marte had a rough game, going 0-for-4 with three strikeouts. In his previous three games combined, Marte has a total of seven hits and eight RBI's. Alen Hanson had his second straight pinch-running appearance. He was immediately erased on a caught stealing. Hanson was playing in his seventh game of the DWL season. Anderson Hernandez...
The Pittsburgh Pirates have signed left-handed pitcher Mike Zagurski to a minor league deal with an invitation to Spring Training, per a team press release. Zagurski has a 6.13 ERA in 69 innings in the majors, with a 9.1 K/9 and a 5.0 BB/9 ratio. Last year he pitched 37.1 innings in the majors with Arizona, posting a 5.54 ERA, an 8.2 K/9 and a 4.6 BB/9. According to a 2007 Baseball...
The Pittsburgh Pirates are looking for pitching this off-season, and several pitchers just hit the open market as non-tenders. Rob Biertempfel and Tom Singer both reported today that the Pirates have shown interest in several of the non-tendered pitchers, specifically looking at left-handers John Lannan, Tom Gorzelanny, Manny Parra, and right-handers Jair Jurrjens and Mike Pelfrey...
The Pittsburgh Pirates announced they have signed right-handed pitcher Mike Zagurski to a minor league contract that includes an invitation to Major League spring training.
  Seattle is interested in Garrett Jones. – Photo by Mark Olson Geoff Baker of the Seattle Times reports that the Seattle Mariners have shown interest in Pittsburgh Pirates first baseman Garrett Jones (via MLBTR). Baker says that the Mariners and Pirates have had talks in the weeks leading up to these meetings about Jones. He adds the disclaimer that Seattle is talking with many...
Today is the first official day of baseball's annual Winter Meetings, which means that for the first four days or so of this week we'll be innundated with tons of rumors and who knows how much actual payoff for those rumors by the time Thursday rolls around. The Pirates have claimed that they're going to be pretty quiet this week, but I'm not sure that's entirely...
Pirates News

Delivered to your inbox

You'll also receive Yardbarker's daily Top 10, featuring the best sports stories from around the web. Customize your newsletter to get articles on your favorite sports and teams. And the best part? It's free!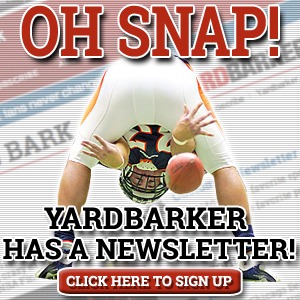 Latest Rumors
Best of Yardbarker

Today's Best Stuff

For Bloggers

Join the Yardbarker Network for more promotion, traffic, and money.

Company Info

Help

What is Yardbarker?

Yardbarker is the largest network of sports blogs and pro athlete blogs on the web. This site is the hub of the Yardbarker Network, where our editors and algorithms curate the best sports content from our network and beyond.