Found January 28, 2013 on NorthWest Sports Beat:
PLAYERS:
Jack Zduriencik
,
Jason Bay
,
Raul Ibanez
,
Michael Morse
,
Michael Saunders
,
Eric Thames
,
Casper Wells
,
Ichiro Suzuki
,
Josh Hamilton
,
Eric Wedge
,
Franklin Gutierrez
TEAMS:
Seattle Mariners
,
New York Yankees
,
Los Angeles Angels
,
SMU Mustangs
In The Outfield Headline: With FanFest wrapped up, it's time to dive into the season ahead and the outfield spots… This season may not be as predictable as originally anticipated. Some have called Jack Zduriencik desperate and worried about his job by adding veterans like Jason Bay and Raul Ibanez, or one-year contracts like Kendrys Morales or Michael Morse. If this multitude of outfielders fighting for only three spots does nothing else, it has created some serious competition during Spring Training. The Mariners lineup could range from a young lineup with Michael Saunders, Eric Thames and Casper Wells, or have incredibly mediocre defense and good hitting with Bay, Morse, and Ibanez. Here are some potential positives and negatives for the Mariners outfield in 2013. 3 Positives Improvement Last season, the outfield group that played together the most was Wells, Saunders, and Ichiro Suzuki. (I would have lost a lot of money in disbelief that Wells played 93 games in left field a year ago). This season will bring better production from the plate. That seems like a bold statement for an OF that will play 81 games at SafeCo Field, but optimism abounds two months before the season starts. Morse, in RF or at 1B will be a good bat and platoon players like Bay, or Ibanez, will bring added power to a powerless lineup. The bat of Jason Bay could be a plus, but the D will lack for sure (Photo: Komo News) Power The 2012 M's outfield hit less than 50 home runs (anemic, pathetic, embarrassing), if everything goes to plan Josh Hamilton alone could push that number, an improved Saunders and the rest of the Seattle OF will pass that number by the All-Star Break. Late-Inning Flexibility This seems like a small advantage, but whenever I am watching October baseball (not the Mariners, but other, good teams) there are always players that can come in late and either get a hit or play superior late-inning defense. This advantage also leads to some negatives, like the first one below. 3 Negatives Inconsistency Even if Manager Eric Wedge eventually picks an ideal outfield that is producing at their highest level, the likelihood of that group staying healthy with players like Bay, Morse, Franklin Gutierrez, Ibanez (etc) for over a week seems slim. Unless there are some trades (or perhaps releases), it will be hard to play a struggling player if they are in a slump. Say, heaven forbid, Saunders is in an 0-22 slump and Jason Bay is healthy and on the bench. Everyone will be calling for a change. The averages won't allow themselves to even out if change is apparent every day. For this reason, I suspect a trade will be made before opening day (Gutierrez, Wells). Another player brought back in, Morse could be the pop the M's need (Photo: nasorb.com) Defense It will be upsetting for Seattle fans and myself if the Condor (Saunders) does not play all season in centerfield. Not only is his offense continuing to improve, but also his defense is quickly becoming the best on the team. No offense to Gutierrez, but Saunders length and continued experience is propelling him forward. The addition of quality bats to the lineup will indeed impede the Mariners' defense. Bay and Raul Ibanez are bad defenders and have been for a few years. Here's to hoping only one of them plays at a time. Speed Listen, I will trade power for speed everyday in Seattle, the infield can take care of the speed. Aside from Saunders 20/20 potential, the rest of the players aren't going anywhere quickly. Last Note Word out of Mariners' camp so far is that Wells and Bay are competing for playing time in LF. This is terrible news to me, Wells is an average player that can't keep his back foot planted when he swings-making strikeouts easier than singles while giving him some extra pop. A year ago, Saunders was prominently viewed by Wedge and was in front of the cameras more often than most fans anticipated. His breakout season then followed. If I had to guess, Jack Z is working the 'Casper Wells may start' angle to increase his trade value. Let's hope it works. CLICK HERE TO CHECK OUT THE MARINERS BLOG IN OUR CLUBHOUSE TODAY AT NWSB!
Original Story:
http://www.nwsportsbeat.com/mariners/...
THE BACKYARD
BEST OF MAXIM
RELATED ARTICLES
Smell The Spring The Seattle Mariners opened up Safeco field over the weekend to 18,000 loyal fans. An ever-shifting club like the Mariners desperately needs fans to re-engage if they want to kick-start the season. Walking into Safeco this past weekend helped to show everything the franchise is doing to accomplish just that. Even through the 2013 season doesn't feel all that promising...
A Mariners Legend Earlier this week, the Seattle Mariners released the news that Ken Griffey Jr. would be added to the Mariners Hall of Fame.  Griffey will be the seventh member of the most elite members of the Seattle franchise. The Mariners Hall of fame was formed in celebration of the club's 20th anniversary in 1997.  Since that time, other members have slowly been added...
Not long ago, the rumors began to swirl about a possible four-year contract extension for Seattle Mariners ace Felix Hernandez.  After his dominating performances over the last few seasons, it would make sense for the Mariners to try to lock him up for as long as possible.  However, Hernandez may not be interested in such an extension. Jon Heyman of CBS Sports says Hernandez...
One of the Seattle Mariners top prospects and one of the most highly thought of young left-handed pitching prospects in baseball, James Paxton talked with SeattleClubhouse's Rick Randall about his favorite team, favorite pitchers, his draft story and his minor league career.
Contract talks between the Seattle Mariners and their star pitcher, Felix Hernandez, have stalled, according to CBS Sports. Hernandez still has two years left on his current contract but both sides want to extend the deal. Seattle is reportedly looking to give Hernandez four additional years while Hernandez is seeking a six-year extension. A six-year deal would likely make Hernandez...
(Eds: APNewsNow. Will be updated.) By TIM BOOTH AP Sports Writer Jesus Montero is ready for the challenge of being an everyday catcher for the Seattle Mariners. That would be quite a job for a veteran catcher to take on, let alone a 23-year-old about to enter his second full season in the majors. As it stands now, Montero is the only sure thing the Mariners have behind the plate...
Wanted to watch Oliver Perez again? Of course you do. Oliver Perez will be playing for Mexico in this year's World Baseball Classic. Mexico is keeping the same color pallet from last year and the same hat however the uniform update didn't go so well: The hat still looks good. The uniform is suffering from the same characteristic as a lot of other teams, the small jersey font...
The Seattle Mariners and their ace pitcher, Felix Hernandez, have been dancing around the idea of extending the 26-year-old's contract another four years for $100 million. That would make King Felix the highest paid pitcher in baseball (CC Sabathia's contract also calls for a yearly pay of $25 million, but that doesn't kick in until [...]
Michael Bourn has transformed as a hitter over the past few seasons. He has become a line drive hitter, gravitating away from the ground ball. The Seattle Mariners could use his new found aggression at the top of the lineup.
MLB News

Delivered to your inbox

You'll also receive Yardbarker's daily Top 10, featuring the best sports stories from around the web. Customize your newsletter to get articles on your favorite sports and teams. And the best part? It's free!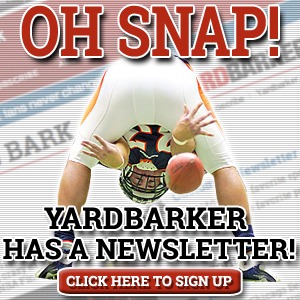 Latest Rumors
Best of Yardbarker

Today's Best Stuff

For Bloggers

Join the Yardbarker Network for more promotion, traffic, and money.

Company Info

Help

What is Yardbarker?

Yardbarker is the largest network of sports blogs and pro athlete blogs on the web. This site is the hub of the Yardbarker Network, where our editors and algorithms curate the best sports content from our network and beyond.