Found May 21, 2012 on Bronx Pinstripes:
  <a href="http://NYYUniverse.com/wp-content/plugins/wordpress-feed-statistics/feed-statistics.php?url=aHR0cDovL05ZWVVuaXZlcnNlLmNvbS9ueXkvcG93ZXJsZXNzLWFyb2RzLXN0cm9rZS1taXNzaW5nL2F0dGFjaG1lbnQvYWxleC1yb2RyaWd1ZXov" rel=\"attachment wp-att-6603\">Arods power numbers have been on the steady decline. Oh how things have changed. When Alex Rodriguez connected on a fastball from the Reds' Logan Ondrusek, you saw Arod stand there for a second, looking up at the sky. You saw him flip his bat to the side and look into the dugout at his teammates, as if to say "I got you." It seemed as if the Yankees had finally gotten the monkey of their back – a big hit in the latter innings of a close game. If you were watching on TV, you knew John Sterling was about to unleash the  "an A-Bomb….From Arod!" call on the radio. The camera followed the flight of the ball, high and majestic. Visions of his immortal 2007 MVP season came flooding back – even the 2009 postseason run. The ball was caught. That was the closest the Yankees would come to rally to beat the Reds on Sunday, as they once again lost 5-2. More troubling is the fact that it seems as if Alex Rodriguez has become the best singles hitter in the game. Of his 40 hits on the season so far, Arod has amassed 31 singles. His only extra base hits include five homers and four doubles. Already this year, Arod has sent several balls high, far, deep, but they land on the warning track as fly ball outs. Arod is clearly healthy, hip, knee and all. He already has four stolen bases in 39 games. He had eight combined over the past two seasons in 236 games. Where is the power? His slugging percentage has been on a steady decline over the past five-six years. Slg % measures power (Total Bases/At Bats): 2012: .410 2011: .461 2010: .506 2009: .532 2008: .573 2007: .645 Clearly Arod is not the player he once was. His streak of 13 straight seasons of at least 30 homers and 100 RBI came to an end in 2010 when he connected for 16 long balls and drove in 62 in 99 games. After getting surgery in Germany in the offseason on his knee and shoulder, Arod declared a full bill of health. And so far, he's been healthy. But he's been a shell of his former self when it comes to the power numbers. His home run totals have declined since the 2007 season, when he hit 54. What the Yankees currently have on their hands is becoming a problem. Arod is only 36, still young enough to produce. However, he hasn't been doing so. Alex due to make $29 million this year – $20 mil at age 41. They can't be paying him this much money for him to produce like he has. Albert Pujols, who has a similar contract and who has struggled so mightily this year, even has more RBI than Arod does. This contract could become a huge albatross to the Yankees franchise. It will become a financial burden and will be very hard to justify the money when you consider the production.  In a season that has been filled with mediocrity, Arod has been the poster child, as he is with most things that don't go right. With the price tag comes expectations – to be great and to have the ability to carry the team when they need it. Well, when they needed it on Sunday, Arod couldn't muster up enough to send the ball over the fence. The days of 40 homers and 130 RBI are over for sure. Are 30 and 90-100 a tall order? We'll see as the season plays out. But it is becoming more clear that the numbers will get uglier as the years progress. As the Yankees look to find their stride this year, their aging third basemen will no doubt be faced with the question: where has the power gone?
Original Story:
http://NYYUniverse.com/nyy/powerless-...
THE BACKYARD
BEST OF MAXIM
RELATED ARTICLES
Donnie Collins of the Scranton Times-Tribune tweeted a few minutes ago that the Scranton/Wilkes-Barre Yankees have placed both Manny Banuelos and Eduardo Nunez on the disabled list. For Banuelos, the move is retroactive to Saturday, while Nunez's move is retroactive to Sunday. Nunez has been dealing with a thumb issue. The reason for Banuelos hitting the DL is unknown, though it...
  <a href="http://NYYUniverse.com/wp-content/plugins/wordpress-feed-statistics/feed-statistics.php?url=aHR0cDovL05ZWVVuaXZlcnNlLmNvbS9taW5vci1sZWFndWVzL3doYXQtdG8tZG8td2l0aC1kZWxsaW4tYmV0YW5jZXMvYXR0YWNobWVudC9kZWxsaW4tYmV0YW5jZXMtNTQweDM2MC8=" rel=\"attachment wp-att-6645\">Dellin Betances' command problems may have him ticketed for the bullpen someday...
<a href="http://NYYUniverse.com/wp-content/plugins/wordpress-feed-statistics/feed-statistics.php?url=aHR0cDovL05ZWVVuaXZlcnNlLmNvbS9taW5vci1sZWFndWVzL21pbm9ycy13cmFwLXVwLXNlZ2VkaW4tZXh0ZW5kcy1oaXQtc3RyZWFrLXRvLW5pbmUtaW4tdGFtcGEtdmljdG9yeS9hdHRhY2htZW50L3NlZ2VkaW4tYmF0dGluZy8=" rel=\"attachment wp-att-6592\">Rob Segedin was able to extend his hitting streak...
<a href="http://NYYUniverse.com/wp-content/plugins/wordpress-feed-statistics/feed-statistics.php?url=aHR0cDovL05ZWVVuaXZlcnNlLmNvbS9nYW1lLWRheS9nYW1lLTQwLXRoZS1nb29kLWJhZC1vZi1ub3ZhL2F0dGFjaG1lbnQvZ200MGZlYXQv" rel=\"attachment wp-att-6569\"> Cincinnati Reds 6 — New York Yankees 5   Yankees fans witnessed the good and the bad of Ivan Nova in today's...
Dropped as low as seventh in the batting order for the first time in eight years, Mark Teixeira didn't think it would make much a difference on what pitches he'll see. ''I'm still Mark Teixeira,'' the New York Yankees first baseman said. ''I still put up some pretty good numbers in my career, so I don't think they're going to just start...
OH YEAH, BROTHER!
A Hulk Hogan look-a-like attended Sunday's New York Yankees game against the Cincinnati Reds, enjoying himself by posing for pictures with the fans. Your browser does not support iframes. The fan did bear a resemblance to Hogan with the blond hair and mustache and wearing a similar yellow bandana, wristbands and tank top. However, he wasn't in quite as good shape as the...
CC Sabathia was just denied his first 6-0 start. There's no denying how dominating the left-hander has been in the Bronx during interleague play since first putting on the New York Yankee pinstripes. Sabathia and Cincinnati Reds right-hander Johnny Cueto will each try to bounce back from their first losses of the season Sunday when this series concludes in New York. After...
<a href="http://NYYUniverse.com/wp-content/plugins/wordpress-feed-statistics/feed-statistics.php?url=aHR0cDovL05ZWVVuaXZlcnNlLmNvbS9nYW1lLWRheS9nYW1lLTQxLXNhYmF0aGlhLXNsaXBzLWluLXRoZS03dGgvYXR0YWNobWVudC9nbTQxZmVhdC8=" rel=\"attachment wp-att-6586\"> Cincinnati Reds 5 — New York Yankees 2   One bad inning spoiled CC's start in today's 5-2 loss to...
New York Yankees first baseman Mark Teixeira is out of the lineup for the second straight game and may miss Sunday as well, according to MLB.com. Teixeira, who has struggled with a .228 batting average, has been recently battling a bronchial condition. Teixeira missed Friday's 4-0 shutout of the Cincinnati Reds. He told MLB.com he probably would not be available to pinch...
NEW YORK – Ivan Nova recorded a career-high 12 strikeouts, but one bat he didn't miss was Joey Votto's, and it cost him – and the Yankees – the game. Votto hit his fifth homer in seven days, a three-run shot in the fifth inning, and the Reds held on to defeat the Yankees, 6-5, before 45,302 Saturday at Yankee Stadium. The interleague loss marked another frustrating day...
Felipe Paulino blanked New York for the second time in a month, and Mike Moustakas and Jeff Francoeur hit two-run homers to lead the Kansas City Royals over the reeling Yankees 6-0 on Monday night. New York's bats fizzled once again, going 0 for 13 with runners in scoring position with five strikeouts and a foulout. Booed repeatedly by their increasingly impatient fans, the...
MLB News

Delivered to your inbox

You'll also receive Yardbarker's daily Top 10, featuring the best sports stories from around the web. Customize your newsletter to get articles on your favorite sports and teams. And the best part? It's free!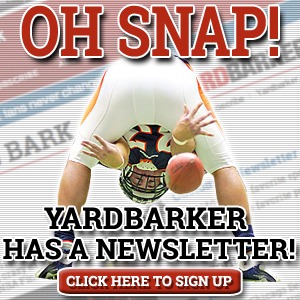 Latest Rumors
Best of Yardbarker

Today's Best Stuff

For Bloggers

Join the Yardbarker Network for more promotion, traffic, and money.

Company Info

Help

What is Yardbarker?

Yardbarker is the largest network of sports blogs and pro athlete blogs on the web. This site is the hub of the Yardbarker Network, where our editors and algorithms curate the best sports content from our network and beyond.