Found August 23, 2012 on hardballchat.com:
PLAYERS:
Sandy Alderson
,
Matt Harvey
,
Zack Wheeler
,
Reese Havens
,
Wilmer Flores
,
Brandon Nimmo
,
Cesar Puello
,
Juan Lagares
,
Josh Thole
,
Ike Davis
,
Daniel Murphy
,
David Wright
,
Ruben Tejada
,
Jason Bay
,
Andres Torres
,
Carlos Beltran
,
Johan Santana
TEAMS:
New York Mets
,
St. Louis Cardinals
Bernie Madoff took the Mets mojo and it might be years before they get it back. Sandy Alderson is certainly a good executive, but it will be tough for even him to get this thing turned around. He certainly kept them in the hunt this season for a few months, but the lack of talent kept them from remaining in the hunt. He has hinted that changes were coming next season, but it would be better if they could get some help from within.
The Mets have some interesting prospects on the mound. Matt Harvey is already up and the scouts frequently argue between Harvey and Zack Wheeler for the top spot in the system. Since Harvey won't be rookie eligible next season, that question is moot for our purposes. If both of them make it then the Mets will be in business.
Age
LV
How
BP
BA
MLB
POS
C Juan Centano
22
AA
D
NR
NR
NR
NR
1B Josh Satin
27
AAA
D
NR
NR
NR
NR
2B Reese Havens
25
AA
D
NR
9
7
10
3B Wilmer Flores
21
AA
I
16
10
6
9
SS Danny Muno
23
A+
D
NR
NR
15
NR
OF Brandon Nimmo
19
A-
D
4
3
4
NR
OF Cesar Puello
21
A+
I
9
5
5
NR
OF Juan Lagares
23
AA
I
5
NR
11
NR
P Zack Wheeler
22
AAA
T
2
1
1
10
Juan Centano– Catcher
The scouts all agree. Centano is not a big time prospect. It's no big deal because Josh Thole actually is one of the bright spots from the Mets season so far. Still, no team should go into any season with only one legitimate catcher in the system. Centano is still certainly young enough to develop.
Josh Satin– First Base
Ike Davis has been a mixed bag over the last three seasons, but he has shown enough to move forward as the Mets first baseman of the present and future. Satin is more of a journeyman type that could stick as a utility player. He's a nice guy to have in a system, but no one is going to confuse him for a real prospect at this point.
Reese Havens– Second Base
Havens is an enigma. He still ranks as a good second base prospect despite being 25 and still in AA. Daniel Murphy has been very good as a second baseman this season, so it is still questionable as to whether Havens is the second baseman of the future or just a backup plan for Murphy. He has good skills, but he has never been able to sustain it for an extended period of time.
Wilmer Flores– Third Base
What is David Wright's future in New York? He has one more year on a his contract and appeared to be on a path for the MVP award this season, but over the past month he has come back to the path. So, is he a 100 million dollar contract kind of guy or is he more of a middle of the road kind of player? Flores is a top ten third base prospect, so he gives the Mets some options.
Danny Muno– Shortstop
Ruben Tejada has been another positive for the Mets this season when he has been healthy. Muno is not seen as much of a prospect by the likes of Kevin Goldstein and the folks at Baseball America. Still, he has some ability and may provide them with some options. Yet, this might be a place where the Mets can use some further development.
Brandon Nimmo– Outfield
The Mets' season and future unraveled in the outfield. Jason Bay was a huge mistake and Andres Torres has been injury prone. Right field has been a revolving door as well. Nimmo is highly thought of across the board, but he is still very young and raw, so the Mets must be patient while the pretenders flounder around in the outfield.
Cesar Puello– Outfield
Puello is a slightly bigger name among prospect circles, but with bigger names comes bigger disagreements and more focus. He hasn't done much this season because of injuries, but he has shown enough to demonstrate why some people think very highly of him. Like with Nimmo, Mets fans must be patient with him.
Juan Lagares– Outfield
Lagares had a very strong campaign last season, but he returned to AA and came back to the pack a little. He has some decent skills, but nothing flies off the table. Scouts are very divided on his future. Kevin Goldstein is pretty high on him, but he didn't even register in the Baseball America prospect rankings for the Mets. So, we shall see who ends up being right.
Zack Wheeler– Pitcher
Matt Harvey has made his splash, so now it is Wheeler's turn. Wheeler was the prize of the Carlos Beltran deal and should be a number two or number three pitcher at the big league level. Since Matt Harvey looks like the same the Mets can now only hope that Johan Santana returns to his former glory and then the Mets will have one of the better rotations in the National League.
Original Story:
http://www.hardballchat.com/2012/08/p...
THE BACKYARD
BEST OF MAXIM
RELATED ARTICLES
Matt Harvey had another great outing, but the offense and bullpen couldn't hold it together in the 5-2 loss to the Rockies — Matt Harvey put on six strong innings, allowing three hits and one run, walking two and striking out nine. Harvey has been a revelation in terms of durability and ability mto strike out hitters, minus one outing and has proven a valuable commodity to the...
Hello everyone and welcome to another sad day of Mets baseball. I've tried to keep up the optimism as much as anyone in the Mets blogosphere, but times have been extra bleak lately. The Mets have dropped the last two at home to the lowly Rockies, and now they've only one loss ahead of the cellar dwelling Marlins. Today we got the news that Johan Santana will not pitch in the...
Matt Harvey starts for the Mets tonight – maybe they can win! It may take the software a minute to load when you first click on the page. Please be patient. If you're having trouble getting in, try using Firefox instead of Internet Explorer. Enter your comments in the text box above where it says "Powered by Quick Chat" and the various emoticons. Right above that text...
Sandy Alderson spoke to a gathering of reporters at Citi Field before tonight's game between the Mets and the Rockies. The purpose of which was to explain the team's plan regarding Johan Santana moving forward. "The New York Mets are going to shutdown Johan Santana for the remainder of 2012 season." Santana had an MRI yesterday which showed and inflammation in his lower...
How could anybody be anything but enthused about the Mets for 2013? With GA Sandy Alderson telling us the budget hasn't been set but don't expect it to be much higher than it is now. Then he said trades might be the way to go. But, if the Mets aren't willing to part with Matt Harvey or Zach Wheeler, will they purge the rest of their farm system? History says it isn't likely...
For six innings on Wednesday night, Matt Harvey reminded Mets fans that this franchise has what can be a bright future. But when Terry Collins brought in Ramon Ramirez to start the seventh inning, it was as if he wanted to send a message that the present still sucks. Within two pitches of Harvey's exit the Mets were behind. Ramirez gave up a solo home run to Rockies catcher Willin...
Baseball America released their annual Best Tools Survey for 2012. It's one of my favorite features and I always look forward to it. Basically they survey minor league scouts and league managers for all the affiliates, put all that info together, and then decide which prospects have the best tools over two dozen different categories. We have a few Mets prospects that made the...
Sandy Alderson today announced at a press conference yesterday that Johan Santana has been placed on the 15-day Disabled List with inflammation in his lower back retroactive to August 18. Alderson also said that he does not expect Santana to pitch again this season, but said he would be ready for Spring Training. You never want to see this happen to your ace, or any of your starting...
The Mets have lost 14 of their last 16 games at  home, and are 12 and 30 in their last 42 games. They are now officially worse than the 2009 team. Do you still think we are moving in the right direction? Joe Spector – It's amazing what a difference a month makes in this game. Do we allow this to effect our overall view of where the team is going or not? Is the organization...
In a season that is quickly slipping into oblivion, the Mets are looking to their future for some bright spots. Last night Matt Harvey once again was outstanding and the bullpen and offense were abysmal. Harvey looks to be a bright spot for the 2013 season and years to come. With Johan being shelved for the  remainder of the year with back spasms, the Mets will turn to Collin McHugh making his
Last night was just another example of the ineptitude of the 2012 New York Mets.  Rookie phenom Matt Harvey went out there and mowed the Rockies down over 6 innings with 9 strikeouts.  He left the game tied at one and within two pitches after the 7th inning started, the lead was gone.  Ramon Ramirez coughed a gopher ball and that was that.  Another wasted effort.  The story...
The Game Picks were awesome on Wednesday. With sixteen big games on the schedule, thirteen of those picks came in correct. Woot! Among the three that were wrong, only the Red Sox pick was stupid. The Mets were a good pick until the Mets took Matt Harvey out. Then it all went haywire as the bullpen imploded. The Pirates pick was done in by really a freak first inning where a big...
MLB News

Delivered to your inbox

You'll also receive Yardbarker's daily Top 10, featuring the best sports stories from around the web. Customize your newsletter to get articles on your favorite sports and teams. And the best part? It's free!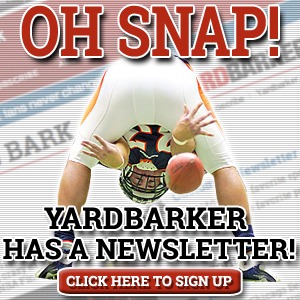 Latest Rumors
Best of Yardbarker

Today's Best Stuff

For Bloggers

Join the Yardbarker Network for more promotion, traffic, and money.

Company Info

Help

What is Yardbarker?

Yardbarker is the largest network of sports blogs and pro athlete blogs on the web. This site is the hub of the Yardbarker Network, where our editors and algorithms curate the best sports content from our network and beyond.