Found February 06, 2013 on Fox Sports:
PLAYERS:
Mike Trout
,
Bryce Harper
,
Jurickson Profar
,
Ian Kinsler
,
Wil Myers
,
Evan Longoria
,
Trevor Bauer
,
Nick Franklin
,
Dustin Ackley
,
Brendan Ryan
,
Mike Zunino
,
Jesus Montero
,
Billy Hamilton
,
Ryan Ludwick
,
Shin-Soo Choo
,
Jay Bruce
,
Oscar Taveras
,
Matt Holliday
,
Jon Jay
,
Carlos Beltran
,
Zack Wheeler
,
Shelby Miller
,
John Buck
,
Tyler Skaggs
TEAMS:
Los Angeles Angels
,
Washington Nationals
,
Texas Rangers
,
Tampa Bay Rays
,
Cleveland Indians
,
Seattle Mariners
,
Cincinnati Reds
,
St. Louis Cardinals
,
New York Mets
,
Arizona Diamondbacks
The 2013 rookie class may not have Mike Trout or Bryce Harper, but this is still a strong first-year group with the potential to make an impact this season. Trout's season spoiled what many expected from rookies, but the players below are the types of lottery tickets we all chase on draft day hoping for a big prize. Talent does not always win out because opportunity is king with the rookies. If a very talented rookie finds himself behind a crowded 25-man roster, that player will not have the opportunity to showcase his skills. Worse yet for fantasy players, that player will have less of an opportunity to earn the return on investment they had in mind for that player when they spent the pick or the dollars at the draft table. This is where Trout's 2012 season can be a double-whammy as players will look at 2013 rookies and wonder why they did not do more. Additionally, owners will be more courageous in reaching for rookies in the draft further reaching into Pandora's box. Here are six names from each league that should compete for Rookie of the Year honors. AMERICAN LEAGUE Jurickson Profar (Texas): By press time, hopefully the Rangers will have either convinced Ian Kinsler to move to the outfield or have traded someone on the infield to get another starting pitcher. If neither happen, then it is tough to envision a clear path to 450 plate appearances for the talented infielder. His chances at the award are good with full playing time since he is even better in the field than he is at the plate. Wil Myers (Tampa Bay): Myers is coming off a monster season in the minor leagues in which he was named the Player of the Year by Baseball America. Sure, he struck out 140 times, but he was also just 21 years old and facing Triple-A pitching for a good portion of the season. The only question with Myers is when he will reach the majors as the Rays will slow his roll if the youngster does not work out a deal similar to what Evan Longoria did in 2008. Trevor Bauer (Cleveland): Bauer gets a fresh start for a team that is not expected to compete in its division. Bauer butted heads with people in Arizona but one has to assume Cleveland is going to let him do what made him successful in college and work on tweaking his delivery a bit rather than trying to change everything Bauer does. Bauer will also get to pitch in one of the easier divisions in baseball. Mike Olt (Texas): Like Profar, it is not quite clear yet where Olt is going to play. He should see time at first base as well as DH, or could even end up playing some corner outfield. Olt was overmatched in his brief callup, but that came after the Rangers skipped him over Triple-A deciding that his .288/.398/.579 slash line in Double-A was good enough. Olt is a dual threat in that he can hit and pick it in the field and a power bat in Texas is always worth following closely. Nick Franklin (Seattle): The shortstop saw a lot of time at second base in the Arizona Fall League which hinted at what the Mariners have in store for Franklin in 2013. Dustin Ackley has not set the world on fire at second base and while Brendan Ryan has been an amazing defender at short, the bat is very limited. The Mariners clearly want Franklin at the big league level, but his work is not done. He had a good AFL and hit well in Double-A but had issues adjusting to more experienced pitchers after a promotion to Triple-A. Mike Zunino (Seattle): Zunino had an amazing professional debut. It was only 190 plate appearances, but his .360/.447/.689 slash line was amazing. The catching depth chart in Seattle now has multiple defensively-challenged catchers with Zunino joining Jesus Montero. Even though Zunino has only seen 15 games in the advanced minors, it would not surprise anyone to see him up no later than June to stay and make an impact with Seattle. NATIONAL LEAGUE Billy Hamilton (Cincinnati): Hamilton is the ultimate wildcard because there is no clear path for him. The Reds re-signed Ryan Ludwick and traded for Shin-Soo Choo's OBP abilities to join Jay Bruce in the outfield. Hamilton has played both short and second in the minors, but everyone sees him as a center fielder. He could be a late callup and still make an impact on the Reds and fantasy rosters, or he could spend five months in Triple-A and get called up on August 31 so that he is eligible for the playoffs. Oscar Taveras (St. Louis): Taveras is also blocked by an outfield of Matt Holliday, Jon Jay, and Carlos Beltran, but health is in play here as both cornermen have had their struggles with injuries in the past. Taveras is arguably the most complete hitter in the minor leagues and may not need much time in Triple-A. He skipped over High-A last year and showed no ill effects in Double-A hitting .321 with a .953 OPS. Zack Wheeler (Mets): The Mets will not be a contender in 2013 which should allow for Wheeler to see significant time for the team save any workload limits they may put him on. Wheeler has the chance to be something special for the Mets and could make fans forgive ownership for their roster management rather quickly. Wheeler is legitimately a future staff ace and those do not just grow on trees. Shelby Miller (St. Louis): His cup of coffee late last season was entertaining as he continued the dominance he displayed in Triple-A. Miller's ERA was high in the minors last season, but the Pacific Coast League will do that to a guy. Focus on the 160 strikeouts in just 136 innings for the kind of upside Miller could provide in 2013 if he can work his way into the Cardinals' rotation. Travis d'Arnaud (Mets): The Mets traded both of their catchers to the Jays in the Dickey deal so John Buck and d'Arnaud will share those duties in 2013. D'Arnaud offers good offensive upside from a position desperate for it most of the time. Mets fans may not like trading the defending Cy Young winner, but prospects like d'Arnaud are rarely made available for trade on the precipice of their major league career. Tyler Skaggs (Diamondbacks): Skaggs has a clearer path to the Arizona rotation with Bauer now in Cleveland. Some even said they preferred Skaggs over Bauer long term, and in him, Arizona has a talented insurance policy for their rotation. Skaggs will almost certainly go back to Reno to start the season, but only three of the five starters for Arizona last season threw more than 130 innings so the opportunities should be there for Skaggs to make an impact in 2013. Follow @jasoncollette on Twitter. Get a FREE RotoWire 10-day trial (no credit card required) at RotoWire.com .
Original Story:
http://msn.foxsports.com/fantasy/base...
THE BACKYARD
BEST OF MAXIM
RELATED ARTICLES
Texas Rangers general manager Jon Daniels might have spoken too soon in his Tuesday media conference call. Daniels said that Jurickson Profar, the No. 1 prospect in baseball, had informed the club that he had decided not to play in the World Baseball Classic for the Netherlands this year. Once word got back to Profar's native Curacao Tuesday of that decision, Profar is now...
Heralded prospect Wil Myers is among seven minor leaguers the Tampa Bay Rays have invited to major league spring training this month. The 22-year-old was one of the key acquisitions in an offseason trade that sent pitchers James Shields and Wade Davis to the Kansas City Royals. Myers hit a combined .314 with 37 homers and 109 RBI in 134 games with Double-A Northwest Arkansas and...
The February 7th, 2013 edition of daily news for the Los Angeles Angels of Anaheim including Keith Law's top ten Angels prospects, Mike Trout is now an answer on Jeopardy and much more... The Story: Keith Law unveiled his top ten Angels prospects. The Monkey Says: The most notable part is that he is so high on Taylor Lindsey. I like Lindsey a lot too, but rating him second...
With one week to go until pitchers and catchers report, the Tampa Bay Rays extended spring training invites to seven minor leaguers, the team announced Monday. Chief among the invites is outfielder Wil Myers, the key return from the deal with Kansas City that sent pitchers James Shields and Wade Davis to the Royals. Also showing up in Port Charlotte on Feb. 15 will be first basemanoutfielder...
Spring training is nearing and team's are sending out their invitations to join the big club during camp. Today, the Rays announced they have invited seven players to Port Charlotte. Among the seven invited were OF Wil Myers, 1B/OF Leslie Anderson, INF Cole Figueroa, RHP Matt Nevarez, RHP Jim Paduch, LHP Jim Patterson, and LHP Neil Schenk. The following is from the team's press...
The Texas Rangers organization continues to churn out high-ceiling prospects but, unlike some clubs, it relies heavily on home-grown players rather than flipping them in trades for established big-leaguers. If the playing time develops, look for Jurickson Profar to have a Bryce Harper-type impact in 2013. #1 Jurickson Profar (2B/SS) Age PA HR SB AVG OBP SLG wOBA wRC+ Fld WAR...
The World Baseball Classic is viewed favorably by some and with skepticism by others, but the Red Sox should look at this year's event as an interesting opportunity. Xander Bogaerts — the Red Sox' top-ranked prospect who also happens to be the 20th-ranked prospect in baseball — figures to be a big part of Boston's future. The question surrounding the 20-year-old, however...
2013 Rookie of the Year Candidates The 2013 rookie class may not have Mike Trout or Bryce Harper, but this is still a strong first-year group with the potential to make an impact this season. Trout's season spoiled what many expected from rookies, but the players below are the types of lottery tickets we all chase on draft day hoping for a big prize. Talent does not always...
The February 8th, 2013 edition of daily news for the Los Angeles Angels of Anaheim including optimizing the Angels' batting order, the Halos have the best defense in the league and much more... The Story: Optimizing the Angels' batting order. The Monkey Says: I'm pretty sick of this topic, but the point about Hamilton being such a free-swinger making him a poor...
You have to give MLB.com credit for jumping on fans like me the day after the NFL season ends and striking while the iron is hot. I got the e-mail in each of my three inboxes this morning, MLB.tv is now available for order. MLB.tv Premium is the one you want, and it's $129.99. That one will allow you to watch baseball on your computer, your smartphone or iPad, or your Playstation...
There was the Reggie Bar, named for and endorsed by Reggie Jackson. There was Yogi Berra and Mickey Mantle in a prominent ad for Yoo-Hoo Chocolate Drink. Stan Musial was on the back of the Wheaties box and paired with Ted Williams in ads for Chesterfield cigarettes. Roger Clemens was in a Zest soap commercial and Rafael Palmeiro talked about erectile dysfunction for Viagra. Okay...
MLB News

Delivered to your inbox

You'll also receive Yardbarker's daily Top 10, featuring the best sports stories from around the web. Customize your newsletter to get articles on your favorite sports and teams. And the best part? It's free!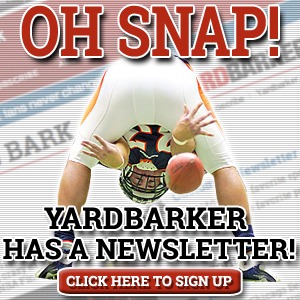 Latest Rumors
The Backyard

Today's Best Stuff

For Bloggers

Join the Yardbarker Network for more promotion, traffic, and money.

Company Info

Help

What is Yardbarker?

Yardbarker is the largest network of sports blogs and pro athlete blogs on the web. This site is the hub of the Yardbarker Network, where our editors and algorithms curate the best sports content from our network and beyond.