Found March 19, 2013 on Pirates Prospects:
Could Alex Dickerson's back problems be over? If you've been following my daily lineup notes, you probably noticed that Alex Dickerson had been out of the lineup for about a week. The first baseman wasn't a red shirt, and finally returned to game action today. "Now I'm feeling real good," Dickerson said of the stiffness. "It was rough for a couple of days. Just kind of locked up, and then after we worked on it, released the joint and I felt a lot better." Dickerson was out because of a back problem, with his side joint locking up. He's had a lot of back problems in the past, dating back to before he was drafted by the Pirates. He didn't have this specific problem until last year. He had it in the first half last year, then his back started to loosen up after the All-Star break. It may or may not be coincidence that he hit for a .289 average and a .766 OPS before the break, and a .301 average and an .837 OPS after the break. He also had nine homers in 256 at-bats after the break, compared to four in 232 at-bats prior to the break. The Pirates and Dickerson hope that they've finally found a solution to the back problems — orthotics. Dickerson wore them in his shoes in high school, but stopped wearing them in college. That's when his back problems started back up. So far he hasn't experienced any issues while wearing the orthotics. "We found out it was my feet that were doing it," Dickerson said about the cause of the back issues. "We just ordered orthotics and I think that's been a huge difference. I've only been wearing them a week, and all of a sudden I'm not having any set-backs. So I think that's going to be a big deal." During Spring Training you hear a lot of improvement stories. This one would fall in a similar category as "Lasik eye surgery". On the surface it makes total sense. Dickerson had back problems in college, after he stopped wearing orthotics. He started wearing them again, and so far he hasn't had any pain. His back was an issue in the first half last year when he was struggling at the plate, but not the second half, when he was hitting fairly well. It seems like it would be an obvious solution. However, that's not always a guarantee. I think that the Pirates and Dickerson would hope that this would be the solution. It would be great for him if this was the simple fix that ended his back issues. It would also be great if the back issues were the main reason he was struggling in the first half last year. When he was drafted, Dickerson was considered a compensation round talent. He had a lot of power, and the big downside was his back. Last year he didn't show a lot of the power, although the power numbers were better in the second half. The Pirates lack a long-term first base answer right now. It would be great for them if Dickerson's big downside was eliminated, and the elimination of those back injuries led to him showing the power that was advertised when he was drafted. So far the orthotics have worked, although it has only been a week. Dickerson has been spending a lot of time with the Double-A squad, and could be in line for a promotion to Altoona to start the year. That will be a big test for his hitting abilities, not just to test out the effects of the orthotics, but because that jump to Double-A is usually the most difficult for hitters. For now it wouldn't be accurate to say that Dickerson's back problems are solved. Instead, it's probably best to say that the Pirates and Dickerson hope that they've found a solution to his back problems.   Dylan Child Retires In 2009 the Pirates signed Australian catcher Dylan Child. The catcher spent the last three years in the GCL, but only combined for 141 at-bats. Child was in camp earlier with the team, but recently decided to retire. Position Player Notes **In one of the at-bats I saw today, Andrew Lambo hit a single up the middle. Lambo has been spending a lot of time with the Triple-A team, but it might be hard to make that squad once more major league cuts come. I could see guys like Alex Presley and Felix Pie pushing him to Double-A. **Alex Valdez, a 28-year-old shortstop who was signed as a free agent over the off-season, has flashed a really good glove this Spring. He also has a strong arm. Valdez didn't hit much in the minors up until last year, where he had a great season in the Mexican league. I haven't noticed his bat yet, but the defense has been there. **Oscar Tejeda had a triple that was hit to the wall in center field. He also had a few good defensive plays at second, including a nice diving stop and a bare hand play while charging in to get the runner at first. The Pirates claimed Tejeda off waivers last year from the Red Sox, and almost immediately put him in the infield, despite the fact that he spent most of his recent time in the corner outfield spots. He's looked good at second so far this Spring, and he's still young enough that he could realize his potential with the bat. **Chris Lashmet has been getting a lot of playing time at third base. Today he got a lot of plays, and showed off a good arm. Lashmet is built more like a linebacker than a baseball player, but has yet to hit for power in the lower levels. Because of his body type, he profiles more for first base. **Jeremy Farrell crushed one off the top of the batter's eye in center field. The hit went for a double, but would have been a home run in any other park. Pitcher Notes **Andy Oliver started the Triple-A game today. He had some control problems in the first inning, throwing at least three wild pitches. The inning ended up being rolled due to his pitch count. He had much better results in the second inning. Overall he gave up three runs on two hits in two innings, with three walks and no strikeouts. His fastball was 88-95 MPH and he threw 43 pitches, 21 for strikes. Oliver was throwing his slider 82-87 MPH, but couldn't throw it for strikes, getting only three strikes in 14 pitches. **Luis Sanz started the Double-A game. The Pirates added him as a minor league free agent, and he's been getting a lot of playing time with the Double-A squad. He gave up a home run in the first inning, but looked good in the following frames. Sanz pitched three innings, giving up two runs on five hits, with a walk and two strikeouts. His fastball was 89-94 MPH. **Eliecer Navarro threw two innings in the Double-A game. He was sitting 86-87 MPH with his fastball, and had a good curveball. **Recently demoted players Erik Cordier and Kyle Waldrop pitched today in the Triple-A game. Cordier had some control problems, while Waldrop got a lot of ground balls. That's pretty much been the story with each player throughout their careers. **Other velocity readings: Josh Poytress (86-88), Philippe Valiquette (89-91, good low 70s curve), Jason Townsend (91-92, good low 80s slider), Joan Montero (93-95), Kenn Kasparek (86-88).
Original Story:
http://feedproxy.google.com/~r/Pirate...
THE BACKYARD
BEST OF MAXIM
RELATED ARTICLES
Vic Black The majority of Pirates fans haven't had many chances to see Vic Black pitch. They've probably seen the numbers, highlighted by a 1.65 ERA and an 85:29 K/BB ratio in 60 innings in Altoona last year. They might have heard of his fastball, which usually sits in the 96-98 MPH range, and has touched triple digits. He's been on top prospect lists, is named as one of the...
  Bryan Morris has an extra option year. Baseball America has a list of players who received the rare fourth option year (h/t Bucs Dugout). We already knew two of the Pirates on the list who had received fourth options: Pedro Alvarez and Andy Oliver. One player who was unexpected was Bryan Morris. From what I can gather from Baseball America's description of the rules, Morris...
Evan Chambers is out eight weeks with a broken foot. Here are some injury updates from minor league camp. **Evan Chambers broke his foot and will be out for eight weeks. The 2009 third round pick had successful surgery last week, and had his cast removed this week. He has been walking on crutches with a boot the last few days. **Aaron Pribanic had labrum surgery in the off-season...
The Pittsburgh Pirates have released the following six players, per a team press release: Alex Lukashevich, RHP Porfirio Lopez, LHP Mike Colla, RHP Philippe Valiquette, LHP Martires Cadet, LHP Wilson Lee, LHP They have also converted Jared Lakind from a first baseman to a pitcher. More details to come on all of these players.
lidom.com (LIDOM) Who is Gregory Polanco? Why is he here? Is this 'pop-up' prospect for real or is it just my imagination? This Pittsburgh Pirates outfielder has a chance to be a special player beyond what his pedigree suggests. Profile Gregory Polanco was signed as an international free agent in 2009 out of the Dominican Republic. He signed for a $75,000 bonus. The 21 year old...
To continue my journey into belief of the sleeper team, I am going with the Pittsburgh Pirates as a team I think can finally get over that hump this season. Ever since Barry Bonds left after the 1992 season to sign with the Giants, the Pirates have yet to have a winning season. It seemed like it would finally happen in 2012 when they were 58-42 after July 28th. Unfortunately, for...
Andrew McCutchen insists he will not change even while he becomes one of baseball's biggest young stars. The 26-year-old finished third in National League MVP voting in 2012 after hitting .327 with 31 homers and 96 RBIs. His performance made Pittsburgh's decision to offer him a six-year, $51-million contract extension last spring a downright bargain. The baseball world...
First baseman Gaby Sanchez burst on the scene with the Marlins in 2010 and was an All Star in 2011. Last season he had been demoted to Triple-A and was traded to the Pirates. Sanchez was hurt and missed most of his preseason conditioning last year because he was coming off knee surgery. Now healthy again Sanchez told PiratesDugout.com's George Von Benko that he is feeling great at the plate.
The Pirates reassigned right-hander Gerrit Cole to Triple-A after the former 2011`No. 1 overall pick threw 10 spring training innings.
I've been waiting patiently for this day.  Waiting to see the outrage, the irrational hate that the Pirates would receive after cutting Gerrit Cole. I was kind of disappointed.  Sure there have been rumblings.  There has been some disappointment.  Overall though?  Genuine understanding. It reminds me of that scene from classic comedy movie Major Payne.…
With the Pirates on a two-day hiatus from playing baseball anywhere near where I am in Florida, I've been trying to take a break from the internet because that keeps me from worrying about work and, believe it or not, there aren't a lot of fun things that surround your sixth year in grad school. And so I missed out on some actual Pirate news this afternoon because I was off...
MLB News

Delivered to your inbox

You'll also receive Yardbarker's daily Top 10, featuring the best sports stories from around the web. Customize your newsletter to get articles on your favorite sports and teams. And the best part? It's free!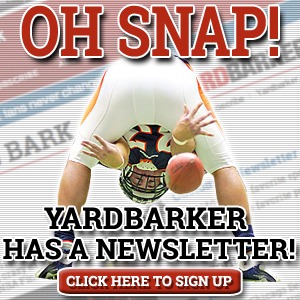 Latest Rumors
Best of Yardbarker

Today's Best Stuff

For Bloggers

Join the Yardbarker Network for more promotion, traffic, and money.

Company Info

Help

What is Yardbarker?

Yardbarker is the largest network of sports blogs and pro athlete blogs on the web. This site is the hub of the Yardbarker Network, where our editors and algorithms curate the best sports content from our network and beyond.