Found March 22, 2013 on Pirates Prospects:
PLAYERS:
Stolmy Pimentel
,
AJ Burnett
,
Joel Hanrahan
,
Luis Urena
,
Jin-De Jhang
,
Mel Rojas
,
Matt Curry
,
Clint Robinson
,
Matt Hague
,
Jared Goedert
,
Adalberto Santos
,
Vic Black
,
Angel Sanchez
TEAMS:
Pittsburgh Pirates
,
Boston Red Sox
Pimentel fanned six in five shutout innings Well, okay, A.J. Burnett isn't a prospect, but he was pitching against them today as the Yankees' AAA and AA squads visited Pirate City. Burnett struggled throughout his outing, a lot of it due to control issues, and didn't manage to complete all his innings due to per-inning pitch limitations. Odd things like that happen in spring training games, so there's no point getting stressed about it. By contrast, Stolmy Pimentel tore through the Yankees' AA team, throwing five shutout innings while allowing one hit and no walks. He fanned six and required only 53 pitches, 31 going for strikes. His fastball ranged from 92-95 throughout the outing and he showed a nasty upper-80s slider. He also threw a change that, Pimentel says, cuts sometimes. He went with that and the slider more in innings 3-5. "The first inning I used my fastball a lot," Pimentel said. "The last inning I was throwing a little bit more of my changeup and my slider. I was trying to change the view for the hitter. Show them all my pitches. All of my pitches were working really well today." Pimentel represented a challenge for the Pirates from the time they acquired him from Boston in the Joel Hanrahan trade. He's always been highly regarded for his arm, but he's out of options and has yet to pitch well above class A. It appears the Pirates will go with him as a starter, possibly in AA (although his assignment today doesn't necessarily mean as much, because the team no doubt wanted Burnett facing the AAA hitters). Pimentel needs to get off to a fast start or the Pirates could fact a tough decision with him a year from now. Rookie Level Action Sometimes you get bonus action out at Pirate City, like today.  Along with the scheduled AAA and AA games, the teams threw in a third game featuring rookie-level players.  The position players seeing action for the Pirates were a mixture of players who could either head to Jamestown when the season opens or stay in the GCL.  Among the players likely slated for the New York-Penn League were outfielders Harold Ramirez and Elvis Escobar.  Outfielder Luis Urena, shortstop Maximo Rivera, third baseman Kevin Ross and second baseman Ulises Montilla could all move to Jamestown as well.  Unlike Urena and Ross, Rivera and Montilla have yet to play in the US, but both have spent three years in the Latin American summer leagues and the Pirates often skip more experienced players over the GCL.  Rivera has bounced all around the diamond defensively, playing mainly the outfield last year, but in camp he's been playing short and third.  The catcher for this game was Jin-De Jhang, who's mainly been playing with the low A squad.  This could indicate he's slated for Jamestown, but it also could simply be that the low A team, which was on the road, had other catchers with them today. The pitchers, by contrast, were mostly players who are just up from the Dominican Summer League and likely headed for the GCL.  One notable exception was Zack Dodson, who will be featured in an article by Tim later tonight.  More on the pitchers below. Position Player Notes Mel Rojas, Jr. — Rojas has been having a good spring and today was no exception, as he hit an opposite-field triple and at least two singles. Carlos Mesa — Mesa has also been having a good spring, possibly helped by the fact that he's slimmed down.  He also had a triple and at least one single today. Matt Curry — Curry played first in the AA game.  With Indianapolis likely to be overloaded with corner infielders, including Clint Robinson, Matt Hague and Jared Goedert, Curry appears headed back to Altoona.  He'll have to share first and DH with Alex Dickerson. Adalberto Santos — Santos is still with the AAA team, which is good to see considering that he hit .340 for Altoona last year.  He played second today.  He'll probably also get forced down to Altoona once all the cuts take place. Pitcher Notes Vic Black — Black threw inning in the AAA game and struggled with his control.  He failed to get three outs in the inning before he hit his pitch limit.  His stuff was the same as ever, with a fastball ranging from 95-98 and a sharp slider. Jon Sandfort — Last year's third round pick threw two innings.  His first went fine, but he failed to get three outs in his second inning as he hit his pitch limit.  He was sitting around 89 with his fastball. The remaining pitchers all threw in the rookie-level game.  They each threw one inning and, for the most part, stuck with fastballs.  This was probably the first time throwing to hitters in games for each of these pitchers, so radar gun readings at this stage may not mean much. Adrian Grullon — Probably the most notable of the pitchers up from the DSL, along with Cesilio Pimentel, Grullon has thrown only 33 innings as a pro.  His fastball ranged from 89-92, mostly at the upper end of that range. Miguel Rosario — Rosario is a short (6'0″) righty who's thrown just 6.2 IP as a pro, but his fastball sat at 92 today. Melvin Del Rosario — A lefty with good size, Del Rosario reportedly could throw 93 mph when the Pirates signed him, but he was throwing only 83-84 today.  He did show a promising curve. Angel Sanchez — A  6′ 7″ lefty, Sanchez has struggled with sometimes-severe control problems over three years in the DSL.  He was sitting in the mid-80s today. Christian Santiago — Santiago was nearly 22 when the Pirates signed him a little over a year ago.  He was hitting 89-91 today.
Original Story:
http://feedproxy.google.com/~r/Pirate...
THE BACKYARD
BEST OF MAXIM
RELATED ARTICLES
Brad Hawpe has been released. The Pittsburgh Pirates have granted Brad Hawpe his unconditional release today, cutting camp down to 36 active players. Hawpe didn't really have a shot at making the team, and it seems that he didn't want to go to Triple-A. He wouldn't have had much of an opportunity there, since the Triple-A outfield is starting to look crowded. The Spring Training...
Bryan Morris was optioned to Triple-A today. One day after we learned that Bryan Morris had a fourth option year, the Pittsburgh Pirates optioned Morris to Triple-A. It's coincidental in the way that it played out. Baseball America reported the players with additional option years yesterday. The Pirates and Morris had known for a few months. I've been saying for the better part...
Bryan Morris was optioned to Triple-A. The Pittsburgh Pirates made a few cuts from major league camp this morning. They optioned right-hander Bryan Morris to Triple-A, and reassigned infielders Ivan De Jesus Jr. and Jared Goedert to minor league camp. It was previously believed that Morris was out of options, although earlier this week we learned that he was granted a fourth option...
For three years now, Pirate fans have broken down every tiny aspect of Pedro Alvarez's game. What's his strikeout rate? What does that mean? Is he struggling with fastballs? Breaking balls? Is the "Daydro" thing actually a thing or a weird sampling problem? Why would he hit better during day games? Does he need contacts or something? Did you see how far he hit that...
Is Gaby Sanchez really available? Ever since the New York Yankees lost Mark Teixeira, there have been plenty of rumors connecting the Pirates to the Yankees. Most of those rumors seem to be of the message board type. One team has a need, the other team has a strength in that area, so they match up. In this case, the Pirates have a strength, the Yankees have a need, and baseball doesn't...
The sixth weekend of the college season is about to get under way. The Pirates have the #9 and #14 picks in the upcoming June amateur draft. Throughout the college/HS season, leading up to the draft, we will cover the interesting players that are being discussed in the Pirates draft range. There will also be daily notes on past picks by the Pirates who went unsigned. For a recap...
The Pirates made a surprising move today, sending Bryan Morris to Triple A.  The writing was written on the wall for Bryan Morris when he was given a rare fourth option.  When I wrote my Roster Watch it was before he was given the option. I still think this move hurts the team.  It hurt…
Garrett Jones had an very good season last year. He put together a nice looking .274/.317/.516 triple slash line, hitting 27 HR, and driving in 86 RBI. He figures to platoon with Gaby Sanchez at first base and see time in right field. Jones told PiratesDugout.com's George Von Benko that he is excited about the upcoming season.
Jose Tabata is still supposedly young. He is only 24. I don't think people realize how young he is. He is only two months older than Starling Marte for reference. It's really easy to think of him as a veteran player because he's had some MLB success.  He doesn't get the benefit of the doubt…
Clay Buchholz pitched four-hit ball into the sixth inning, but the Boston Red Sox lost 5-3 to the Pittsburgh Pirates on Saturday. The Pirates scored four times in the eighth. Pedro Alvarez hit a tiebreaking two-run shot off Anthony Carter for his first home run of the spring. Buchholz allowed four hits, struck out four and walked one in 5 1-3 innings. Garrett Jones hit his first...
Ben Zobrist homered leading off a three-run sixth inning Friday for Tampa Bay, but Stefan Welch hit a three-run homer in his first spring training at-bat to help the Pittsburgh Pirates beat a split squad 6-4. Welch, a third baseman who played last season at Double-A, hit a towering shot to right field off Dane De La Rosa. The Rays scored three runs to take a 4-3 lead in the sixth...
MLB News

Delivered to your inbox

You'll also receive Yardbarker's daily Top 10, featuring the best sports stories from around the web. Customize your newsletter to get articles on your favorite sports and teams. And the best part? It's free!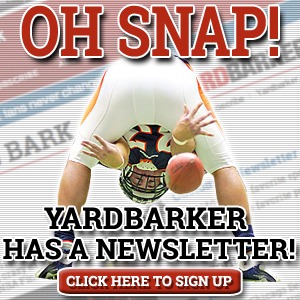 Latest Rumors
The Backyard

Today's Best Stuff

For Bloggers

Join the Yardbarker Network for more promotion, traffic, and money.

Company Info

Help

What is Yardbarker?

Yardbarker is the largest network of sports blogs and pro athlete blogs on the web. This site is the hub of the Yardbarker Network, where our editors and algorithms curate the best sports content from our network and beyond.